JetBlue Airways charges ahead in south Florida with plans to build out Fort Lauderdale
Analysis
JetBlue's recent launch of new service from Fort Lauderdale to its southern most destination Lima, Peru, marks an important milestone in the carrier's strategy in Southern Florida that entails building up Fort Lauderdale to roughly 100 daily departures. Once Fort Lauderdale reaches that point, its strategic importance in JetBlue's network will be solidified as the carrier penetrates deeper into the Caribbean and Latin America from Southern Florida.

The airline's expansion from Fort Lauderdale continues unabated during 2014 when it launches flights to Montego Bay, Punta Cana and Port of Spain, further pressuring Spirit and Caribbean Airlines.
JetBlue presently serves two out of the three destinations – Montego Bay and Punta Cana – from other points in its network, so it believes it is executing the expansion from Fort Lauderdale efficiently as highlights its method of "connecting the dots".
JetBlue can use some pages from its Boston playbook in Fort Lauderdale
JetBlue's strategy in Fort Lauderdale during the past few years mimics its build up in Boston. As major carriers pulled down their operations in Boston early in the last decade JetBlue saw an opportunity to backfill some of that service, and more recently, diversify from its traditional passenger base by targeting corporate travellers in Boston.

See related report: Delta Air Lines adds pressure on JetBlue's market leadership with new market roll-outs

With Fort Lauderdale-based Spirit turning its focus towards a rapid domestic US expansion during the last two-to-three years, JetBlue has opted to use the airport as a springboard to round out service to its existing Caribbean and Latin American markets and launch new routes from Southern Florida into those regions, with Lima serving as the latest example.

Based on current schedules in OAG, JetBlue now accounts for approximately 21% of the one-way seats on offer from Fort Lauderdale. Presently, its share is about 2ppt higher than Spirit, which reflects each carrier's respective strategy in regards to Fort Lauderdale. On an ASK basis, JetBlue's share at Fort Lauderdale is about 5ppt higher than Spirit's capacity deployed from the airport.
Fort Lauderdale-Hollywood International Airport capacity by carrier (% of seats): 18-Nov-2013 to 24-Nov-2013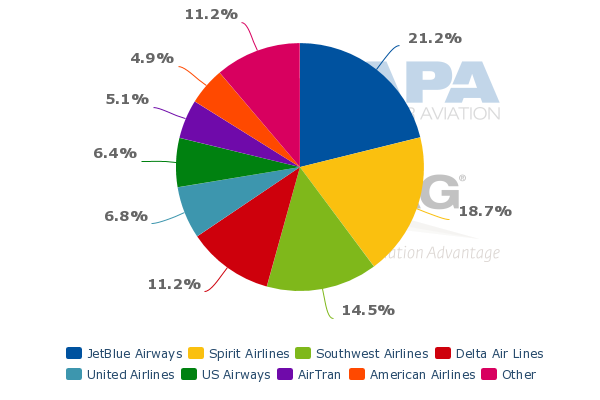 Fort Lauderdale-Hollywood International Airport capacity by carrier (% of ASKs): 18-Nov-2013 to 24-Nov-2013
JetBlue uses a mix of connecting the dots and launching new markets in Fort Lauderdale
It appears that JetBlue has no plans to slow its expansion from Fort Lauderdale as carrier CEO Dave Barger recently indicated the airline could grow its daily departures from the airport to 100. The carrier currently estimates when the service begins to Montego Bay, Punta Cana and Port of Spain in May-2104, the carrier will offer roughly 70 peak-day departures from Fort Lauderdale.

Mr Barger noted those route additions from Fort Lauderdale are "indicative of what we're doing" with respect to part of its strategy in the market. Markets like Montego Bay and Punta Cana where JetBlue already has an established presence make adding those routes from Fort Lauderdale easier given there is less need to concentrate on building brand awareness. JetBlue currently offers service from Montego Bay to Boston, JFK and Orlando and from Punta Cana to JFK and San Juan.

Punta Cana is a logical choice for service from Fort Lauderdale given that JetBlue represents nearly 21% of the seats on offer to the Dominican Republic, serving Punta Cana from JFK, Boston and San Juan and Santiago to Boston, JFK and San Juan. It serves Santo Domingo from Orlando, Fort Lauderdale, Boston San Juan and JFK.
Dominican Republic capacity by carrier (% of seats): 18-Nov-2013 to 24-Nov-2013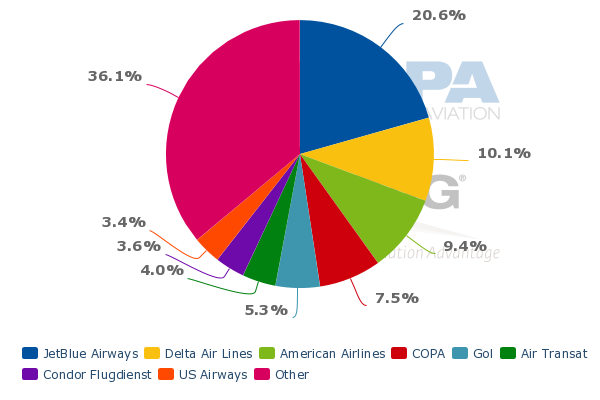 Mr Barger also noted JetBlue's route additions from Fort Lauderdale to Worcester, Massachusetts. Traffic from Worcester and the carrier's nearby Boston focus city as well as passenger flows from JFK likely represent some connecting traffic onwards to Latin America and the Caribbean while also bolstering Fort Lauderdale as an end-destination.

As JetBlue examines its growth pattern in Fort Lauderdale, "[we] think a lot about what we did up in Boston". Mr Barger remarked. Although given Fort Lauderdale's higher portion of leisure traffic, JetBlue's scheduling in Fort Lauderdale will not exactly its service pattern in Boston.

Perhaps one of the reasons now is the time to strike in Fort Lauderdale was Mr Barger's assessment that he cannot name another airport in the US where USD2.3 billion worth of investment is taking place. The money is being allocated to expansion of the airport's southern runway, a new international arrivals facility and other airside improvements, Mr Barger explained. Even as JetBlue still works towards its goal of 150 daily departures from Boston, Mr Barger noted that carrier was "looking at doing Fort Lauderdale" with 100 daily departures.
JetBlue steps up pressure on now familiar competitors
Other carriers currently serving JetBlue's markets are now familiar competitors to the airline. Once JetBlue begins service to Montego Bay, it will account for roughly 26% of the 2,744 one-way seats on offer, with Caribbean holding a 40% share and Spirit accounting for 35%.
Fort Lauderdale-Hollywood International to Montego Bay Sangster (seats per week, one way): 19-Sep-2011 to 25-May-2014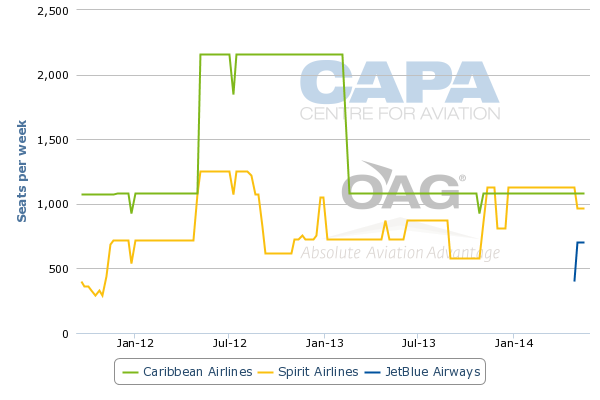 JetBlue will also introduce new competition for Spirit on service between Fort Lauderdale and Punta Cana. JetBlue's new service will account for 48% of the seats on offer compared with Spirit's 51%.
Fort Lauderdale-Hollywood International to Punta Cana International (seats per week): one way, 13-Feb-2012 to 25-May-2014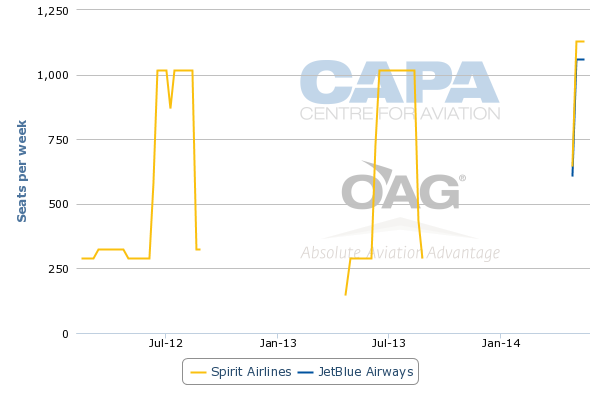 Spirit and JetBlue by now are familiar competitors from Fort Lauderdale to the Caribbean and Latin America as they compete on nearly every route JetBlue operates from south Florida to those regions.

See related report: JetBlue sees an opportunity to mine Fort Lauderdale as Spirit turns its attention elsewhere
For the moment it seems the two carriers can co-exist in their respective competitive markets as their business models differ. Generally, JetBlue's fares are higher than Spirit's given JetBlue's medium frills approach – leather seating, some free live television and complimentary drinks and snacks. Spirit charges for nearly all touch points of the travel experience outside the ticket price, which has served the carrier well given its solid financial performance.

Despite some cost creep JetBlue has executed its medium frills model soundly, and has deftly succeeded at creating an ancillary strategy where the passengers feel they are being offered valuable add-ons instead of having something stripped away from them, then to have to pay for them.

The catchment area of Fort Lauderdale and some level of connecting traffic across the airport from JetBlue's north-south US east coast routes seems to be driving enough demand to fuel JetBlue's expansion at the airport. While Spirit is maintaining a presence in those markets, its overall proposition is essentially a bottom-feeder mentality to target passengers that would not otherwise travel by air, and might even find JetBlue's fares, while overall lower than legacy carriers, too steep.
Opportunities sprout in Port of Spain as struggling Caribbean works at profitability
According to its website, Trinidad and Tobago-based Caribbean Airlines serves Port of Spain-Fort Lauderdale through a stop in Kingston. So JetBlue will have a scheduling advantage on the pairing, which is debuting weeks after JetBlue introduces new flights from JFK to Port of Spain in Feb-2014.

JetBlue has an ability to leverage strong point of sale from both JFK and Fort Lauderdale into Port of Spain. It is also worth noting that Caribbean has its own set of problems including the recent removal of a government fuel subsidy as the carrier attempts to attain profitability. JetBlue could have an advantage of putting more marketing resources into Port of Spain brand awareness since it already has an established presence in most of the markets it is adding from Fort Lauderdale.

Port of Spain also fits JetBlue's visiting, friends and relatives (VFR) market profile from south Florida and has a leisure travel mix that underscores JetBlue's strategy to build-out its corporate base while targeting other passenger segments to smooth out historical peaks and troughs in demand.
JetBlue should be successful with its strategy in Fort Lauderdale as it joins the dots
One slight difference in JetBlue's build-up in Fort Lauderdale is that it will likely be largely shielded from legacy attack given Miami (roughly 45km from Fort Lauderdale) is a fortress for American. JetBlue is seeing pressure from Delta in some business markets from Boston, but there is a different set of competitive dynamics at that airport.

The expansion planned by JetBlue from Fort Lauderdale is also based on the carrier's calculations that overall routes from the airport ramp up to profitability fairly quickly. While the competition with Spirit appears to be remaining consistent, Spirit's domestic focus perhaps gives JetBlue some breathing room in Fort Lauderdale, and an opportunity to more acutely target the medium frills passenger looking for a price point and experience that falls between the legacy carrier offering and the bare-bones strategy that for the moment leaves Spirit essentially in a class by itself.