In conversation with Spirit Airlines CEO Ben Baldanza
Analysis
Spirit Airlines has proven there is room in the mature US market for a new model and unusual network strategy.
A portion of this interview is being published in the September/October edition of Airline Leader, CAPA's flagship strategy magazine.

Spirit Airlines is not your typical US carrier. The little-known low-cost carrier has posted annual profits for four consecutive years and remained in the black in 1H2011 despite soaring fuel costs. Spirit has 23% of its capacity (seats) allocated to international markets – equalling the allocation at American and surpassing every other US major.
Spirit also has been a pioneer in many respects. It was the first and remains the only LCC serving several airports and even countries throughout the Caribbean and Central America. Spirit's controversial Ryanair-esque pure no-frills model has also pushed the boundaries in terms of ancillaries, which include charging for carry-on bags that can only fit in the overhead bins and, starting in Nov-2011, boarding passes that are printed at the airport. See related article: Spirit launches travel packaging in bid to further grow industry-leading ancillaries.
CEO Ben Baldanza is one of the longest-serving executives in the US airline industry. The ex-US Airways senior vice president joined Spirit in 2005, when the carrier was floundering, operating ageing MD-80s in a highly unprofitable domestic network. He led a major transformation, embracing an ultra low-cost model, rapid fleet renewal and a network strategy focussed on bringing low fares to international markets.
Over the last few years Spirit has focussed expansion primarily on markets in the Caribbean and Latin America. Spirit now has 25 international destinations, all of which are served from its Fort Lauderdale base and cater primarily to South Florida's large and rapidly growing population of Hispanic and Caribbean immigrants. Focussing almost entirely on the low-end visiting friends and relatives (VFR) sector, Spirit has become the seventh largest US carrier in the international market by seat capacity.
Spirit is also now the 11th largest carrier in the US domestic market, serving 22 destinations with high-density A320 family aircraft based in Fort Lauderdale, Detroit and Atlantic City. Domestically, Spirit has traditionally focussed on niche markets such as Atlantic City and Myrtle Beach – two otherwise poorly served leisure destinations where Spirit accounts for a majority of capacity. Spirit continues to add capacity in Atlantic City and Myrtle Beach and has launched service this year to some small US cities which previously had no or little service, including Latrobe in Pennsylvania and Niagara Falls and Plattsburgh in upstate New York. But unusually for Spirit, most of its additional capacity this year has been directed at three of the top 10 US airports – Chicago O'Hare, Dallas-Fort Worth and Las Vegas.
Spirit is launching five new routes in 2011 from O'Hare – the slot-constrained hub of American and United which traditionally has not had any LCC service. From Las Vegas, Spirit has launched this year four new routes, including Las Vegas-Los Angeles – the fourth largest route in the US and the only route served by all top five US carriers.
Mr Baldanza simply explains that Chicago, Dallas and Las Vegas became "the next best places" to put additional capacity as Spirit continues to take delivery of additional A320s. He says he refuses to embrace "very old school thinking" in which airlines open or maintain routes simply in pursuit of market share. As other US carriers such as American are widely criticised for refusing to drop or cut capacity in unprofitable markets in order to maintain market share at key airports, Spirit is taking a refreshingly different approach. "We don't have any market share kind of driven goals. That's very old school thinking. All I want is for the airline to make money so we will deploy the assets where they make the most money," Mr Baldanza explains.
Some of Spirit's strategy is on the edge – so much so that US politicians have proposed laws to block some of its controversial ancillary fees. But the pioneering Mr Baldanza has proven there is room in the mature US market for a new model – a model that is actually profitable and in May-2011 led to a rare IPO of a US airline. Here he talks to Airline Leader about the carrier's IPO, growth plan and network strategy.
--------------------------------------------------------------------------------------------------------------------------------------------
Spirit remained in the black in 1Q2011 and 2Q2011 despite the sudden spike in fuel prices, turning a net profit of USD25 million in 1H2011 on a revenue base of just over USD500 million. Spirit made more money in 1H2011 than three of the four main US legacy carriers and recorded a higher margin than all the legacies as well as the country's two largest low-cost carriers – Southwest and JetBlue. How has Spirit been able to stay profitable and outperform most of the US industry?
We've been able to maintain profitability in this fuel environment for two principle reasons. One is our non-fuel costs are very low and are continuing to get lower especially as we bring in the larger gauge A320 as our growth vehicle. The main aircraft the airline flies today is the A319 with 145 seats. As we've been growing though, we've been adding the A320 with 178 seats and that is a more unit efficient plane. So we have a very low ex fuel cost. Also because we have high density seating in our aircraft we have a natural fuel hedge within the business. For example, between New York and Florida both we and JetBlue fly A320s. They put 150 seats on the airplane; we put 178 seats on the airplane. In an environment where the price of fuel goes up for both of us, our fares don't need to go up as much as theirs. Over the last number of months the industry has generally been aggressive at trying to recover fuel costs through higher tickets revenues. When the industry goes in that direction, we cover all the extra fuel costs plus a little bit more because we don't need as much per seat as the other guy. These are the two main reasons why we've been able to remain profitable in a high fuel price environment.
2Q2011 EBITDAR margin for Spirit Airlines vs seven other US carriers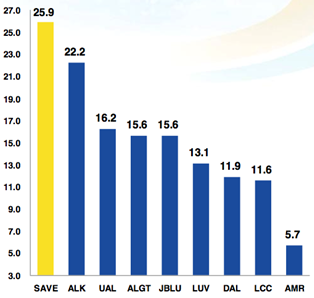 Spirit completed an IPO in late May, raising USD171 million. Were you happy with the results? Was there any disappointment given you had to shrink the planned offer from 20 million shares to 15.6 million shares and reduce the target share price from between USD14 and USD16 to USD12?
First of all, there were some people who may have questioned whether or not this was a good time to IPO given the high fuel price environment and the relative uncertainty of fuel and uncertainty of airline sector profitability in general. But the fact we were able to launch the IPO was actually a good confidence builder and a good testament to the fact investors saw Spirit as a little more resilient than others. That is really good. The fact is we did change the economics of the IPO a bit during the process when market realities sort of leaned forward. We originally suggested that we would raise USD300 million with a share price of USD14 to USD16 and of that USD300 million, USD150 million would come to the company balance sheet and the remaining USD150 million would be used to pay off debt on the balance sheet. All that debt was shareholder debt and the debt that wasn't paid off would covert to equity at the IPO price. That's the way the prospectus was structured and the way the recapitalisation was structured in the deal. What happened is the market didn't support the USD14 to USD16 price at that point and the offering ended up issuing at the USD12 price. So we didn't sell as much as planned because of the lower price and the IPO raised USD170 million instead of USD300 million, but the company still received the full USD150 million in cash for the balance sheet. There was just less money left to pay off the debt so more of the debt converted to equity. So from a company standpoint, the company got 100% of what it wanted out of the IPO. We got USD150 million in cash for our balance sheet and it expunged the balance sheet of all debt. That's what we originally were going to get and that's what we got. To the extent the market didn't support the higher price at the IPO, that cost was all borne by the shareholders not by the corporation.
What was the appetite like generally? Spirit was first IPO for a US airline since 2007. Earlier this year there were relatively more successful airline IPOs in Latin America, which is a big market for Spirit, with Aeromexico and Avianca-TACA. Do you think within the investor community there's a stigma at all against US carriers?

I don't think that was an issue. I think it was generally just high fuel prices and uncertainty of where energy prices were going. I don't think it was a domestic versus Latin issue or anything like that. Spirit has been going through a fairly dramatic transformation over the last five years, from a company that flew old aircraft and lost a lot of money to a company flying new aircraft that flies to different places, prices its product differently and has been profitable the last four years. We were confident that there were investors in the market that recognised a good company independent of the macro-economic environment. Now certainly if there was an environment where there were many more people interested in buying airlines because fuel prices were lower, maybe at that point we would have done better in the IPO. But the reality is the IPO was a very strategic move for us. It cleaned up the company's balance sheet in a major way. It gives us a cash balance as percentage of revenue that is among the best in the industry. And it set the company up very well for growth over the next five years. With a 33 airplane fleet order, we are basically going to double the fleet. It was a good thing to do and we are very happy that it got done.
Proceeds from IPOs typically are used to help fund fleet expansion. With the proceeds of Spirit's IPO being entirely used to clean up the balance sheet, how do you plan to finance the 33 A320 family aircraft Spirit has on order?
We haven't made that decision yet. We will take two more airplanes this year that are already committed from a sale leaseback agreement. Beyond that what the balance sheet does for us is it gives us the ability to think about other options, but we haven't made any commitments as to what we are going to do yet. We can potentially consider debt financing, other structures or maybe just better rates in the sale leaseback environment. Again, now the balance sheet is clean and the company's liquidity is strong, it just puts us in a little different financial risk position from a potential lender who would want to help us finance.
After the two deliveries for 2H2011, Spirit is now slated to receive seven aircraft per year over the next three years. Do you still think the market can bear such a rapid rate of growth? Are you considering slowing down Spirit's capacity expansion rate?
Certainly things can change over time but we have a contract with Airbus and basically after the two aircraft this year, we take seven per year from Airbus for the next three years – 2012, 2013 and 2014 – and we will take 10 deliveries in 2015. That will give us a capacity seat count increase of about 15% to 20% per year. We like that kind of pace. We are a smaller company. If United Airlines was going to grow 20%, you would think that's enormous growth. Starting at a 35 aircraft base, 20% per year is not that much to swallow. We're optimistic about our ability to deploy those airplanes going forward. At this point, we don't anticipate either accelerating or slowing down those deliveries. The contract is the contract.
Spirit fleet as of 12-Sep-2011
In recent years, most of Spirit's expansion has been focussed on opening new international markets and, domestically, on underserved niche markets such as Atlantic City and Myrtle Beach. But this year Spirit has been launching service on several US domestic trunk routes, particularly from Chicago, Dallas and Las Vegas. Why the shift in network strategy? Do you see opportunities on trunk routes as US majors cut capacity?
There have been a lot of changes in the last couple of years. If you looked back to 2008 or 2009 and asked where you would plan deployments in late 2011 and 2012, I think we would have said Vegas, Dallas and Chicago would be awkward options for us. What's happened is there have been a couple of consolidations in the industry that has reduced the number of competitors on individual routes. There's been big rises in average ticket prices that have made fares a lot higher in a number of domestic markets. US Airways basically pulled their hub out of Vegas, where they used to have hundreds of flights per day and they now just use it as a spoke. The new flights we've added to Vegas are because we believe the competitive capacity and fare environment are attractive to bring in our model into the marketplace. Vegas is also a nice seasonal balance to Fort Lauderdale. Fort Lauderdale is a good market for us but there are certain times of year obviously that demand for travel to Florida and into the Caribbean. At other times of the year, this is not as strong – Vegas gives us a place to balance the aircraft. Making money is great but making money every quarter is even a better thing. We want to make sure that when we buy an aircraft, and we buy crews and facilities for the full year that we make money for the full year – not just one quarter. We have 33 aircraft coming between now and 2015 – basically almost doubling the size of the airline in that timeframe. We've got to look at the world from Canada through northern South America and say: 'What is the best thing we can do with every new asset that comes?' The reality is if you look around for places we can fly with our aircraft and you look for markets where the fares are still pretty high so we can go in and lower fares and make the market even larger, as we look out over the next few months more of these tend to be more domestic markets because that's the way the world is shaking out. It's not because we have to be a certain size domestically and a certain size internationally.
Spirit Airlines top 10 domestic routes by capacity (seats per week, 12-Sep-2011 to 18-Sep-2011)
Does your recent focus on more domestic flying mean that right now domestic is more profitable than international?
I think it's a stretch to say it's more profitable than international – it's just the next best profitable thing for us to go do next. As we grow we will add domestic markets and we are going to add international markets as they make sense for us, and as they create opportunities for us to lower fares, stimulate the market and fill our capacity.
Do you plan to return next year to focussing more on international expansion? What is your ideal domestic/international mix as you continue growing?
We don't think about it as an ideal mix. We tend to think it purely in terms of the net income potential of the deployment. When we have new capacity to deploy what our market planners do is they attempt to find the best place to put that aircraft where it will make the most money. Spirit isn't an airline that makes money on one route and subsidises a bunch of losers. We expect and believe every one of our airplanes makes money for us and we expect that to continue. International boundaries don't create a constraint for us.
Do you plan to continue growing the focus cities of Atlantic City and Myrtle Beach although most of Spirit's additional capacity is now being allocated to bigger markets such as Chicago and Las Vegas?
They've both actually been growing a little bit. Last year we added a number of routes into Myrtle Beach. Atlantic City has grown in the last few years as well and is bigger than it's ever been. We will put capacity wherever we believe it can make money. You will never see Spirit put out a press release that says 'Congratulations we now have 100 flights per day out of a certain city'. We don't really care about that. What we care about is that everything we fly makes money. We don't have any market share kind of driven goals. That's very old school thinking. All I want is for the airline to make money so we will deploy the assets where they make the most money.
This year less of your expansion has been in Fort Lauderdale than it has traditionally. Are you now focussing less on your main base (Spirit is already Fort Lauderdale's largest carrier)?
It's certainly not growing now at the rate a lot of things are growing, but that's only because it's been the majority of the growth for the last four or five years. It's now at a more mature size. It's at a much latter part of the growth curve. It won't grow as much but it's still big. Also, it's partially a reality of how Florida unemployment is still higher than the national average. South Florida housing prices still seem to be on the decline. As a percentage, South Florida will grow a little bit slower.
Spirit now has crew bases in Fort Lauderdale, Atlantic City and Detroit. Will you need to start putting crews in the western US to start supporting the expanded flying there, particularly in Las Vegas (where Spirit will soon have 25 flights per day)?
We're not currently basing any crews in the west coast at this point but we are evaluating at what point that does make sense for us. Certainly at some point, as we get bigger, it will be more efficient to have a crew based in the west coast than to bring them from Detroit, Atlantic City or Fort Lauderdale. Our flight operational people are evaluating right now with the network shifting where are the right places with these crews, where are the right places with mechanics as well to support the operation as efficiently possible.
Colombia has emerged as one of Spirit's largest markets with four destinations. How has Spirit been able to succeed in Colombia? How has Spirit benefited from Colombian low-cost carrier Aires dramatically scaling back its Fort Lauderdale operation after it was sold to LAN late last year? Will there be opportunities for more growth in Colombia as US-Colombia open skies is phased in?
We never really considered Aires much of a competitor. Basically there have been increases in capacity to Colombia from a number of different players. It was an extremely restrictive market in a couple of years as a result of (bilateral changes) a lot of capacity flooding into the market. Now it's kind of working itself out. Aires pulled back. The market is getting back to normal. You see that every time a constrained market becomes unconstrained. We are very happy with our service to Colombia and Colombia has proven to be a good growth market for us, especially because fares were very high and competitors generally had much higher costs than we have. As Colombia becomes more open skies, we'll continue to evaluate Colombia the way we evaluate everything we do. It will really come down to the economics of flying to more cities in Colombia or more frequencies to Colombia versus the next thing the aircraft can do. It's old school thinking to say the market opens up so I have to go there now. Basically we will go anywhere to make more money. If Colombia has opportunities to make more money of course we will go there but if we can make more money flying Vegas to Oakland, we'll go Vegas to Oakland.
Spirit Airlines top 10 international routes by capacity (seats per week, 12-Sep-2011 to 18-Sep-2011)
Spirit international capacity by region (seats per week, 12-Sep-2011 to 18-Sep-2011)
With the recent addition of San Salvador, Spirit now serves 12 destinations in the Caribbean and six in Central America (excluding Mexico). Do you see potential in further expanding Spirit's Caribbean/Central American operation or is this market fairly saturated?
It certainly is more mature than other parts of our system. When we added San Salvador, El Salvador that was our sixth city in Central America and the biggest city we didn't fly to yet. There's not much more in Central America we can realistically add. In the Caribbean we also already fly to everywhere that is big. [But] there's certainly the opportunity to take some of the non-dailies up to dailies. As the markets expand and the economies support that kind of deployment, then we would look at that.
Spirit also began serving Toluca, Mexico in June. But that is only Spirit's second Mexican destination after Cancun. What opportunities do you see in Mexico, in particular in light of last year's collapse of Mexicana? Several other US carriers quickly launched several Mexican routes after Mexicana suspended operations, but so far Spirit has only added one Mexican route. Are there opportunities there for more expansion? Up until now all your international flying is from Fort Lauderdale but would you consider flying to Mexico from other cities – such as Dallas and Las Vegas (where Spirit been expanded domestically and where this is high demand for flights into Mexico)?
From Florida there's relative limited Mexican affinity, especially for the kind of traffic we carry. The Mexican affinity from the US has always been more Southwest and the west coast. So over time some of things we are doing will give us the ability to think about Mexico to west coast the same way talk about Fort Lauderdale to the Caribbean. What's worked well for us is where we've been able to go into markets where the fares are high and the competitive capacity is generally higher cost than we are. If we find that situation, we can go in and lower the fares and grow the market as more people fly with lower fares and we can make money at those lower fares because our costs are lower. If there are opportunities to fly Mexico from anywhere we fly in the US where those things are true and where we believe we can make good money flying to more cities in Mexico, then of course we will fly to more cities in Mexico. In the pecking order right now, these haven't been the next best things to do.
Are there any markets that Spirit would like to add but cannot due to continued constraints?
I would say there are only two markets we think about where there are constraints limiting our ability to serve. One of those is Venezuela. We don't have the rights to serve Venezuela today and rights to serve Venezuela are held up in the broader macro US-Venezuelan Government relations issue – that's frustrating to us but we understand it. That's where the world is right now. The other is Cuba. You can serve Cuba on a charter basis but that is convoluted and it's not the kind of market we like. Some day we would like to be there and obviously Fort Lauderdale-Cuba makes sense for us to fly. Beyond Cuba and Venezuela we don't see anything that is an unworkable constraint in terms of our ability to grow.
How about constraints in the domestic market? For example, do you now have enough gates at Chicago O'Hare to support your desired expansion there?
We got two gates in Chicago which can support all the flying we are doing now. The City of Chicago likes us. We are really the only low-fare carrier at O'Hare. The reality is we have found as we have grown that cities and countries have made our entry more possible because they like what we do for their economies. In Colombia they built a terminal for us in Armenia and built a fence around the airport so we can fly to the US legally and have it TSA approved. In Colombia they also changed the government regulation on minimum fare so we can offer really cheap fares to the country. In the US we've had people give us tax incentives or cover our costs from some period of time, making the market entrance less risky for us. People like what we do in terms of bringing fares down and that makes for more traffic. Government officials and airports are generally encouraged by our growth. Everything takes time but over time we don't see any serous constraints from a physical standpoint stopping our growth.
How about slot controlled New York LaGuardia and Washington National (where Spirit is currently limited to 11 and three daily flights, respectively). Do you see the potential of securing more slots at LaGuardia and National as a result of the slot divestment required there as part of the US Airways-Delta slot swap deal?
If that US Airways-Delta deal goes through on the slots, we have publicly, formally said that as part of the divestiture of slots at LaGuardia we would like to get some of those. Certainly if there is a divestiture of slots as result of that deal at LaGuardia or at National we would be interested, but we just don't know at what terms. If there were economic terms that were good for us then we'd consider. But if you absorb the profitability of the slot with the slot price then it's not worth it. US Airways and Delta paid nothing for those slots – they were granted them. We will see what happens.
What are your thoughts about consolidation in the US industry? Do you expect more mergers and acquisitions? What opportunities could further consolidation potentially create for Spirit?
We just don't know. We wouldn't have predicted what has already happened and we don't spend a lot of time worrying what other people will do. We focus on our own thing – keeping our costs low and working on ways to lower our costs, finding more ways for customers to save money by giving them a lower ticket price. We don't sit here and say 'I hope JetBlue buys Frontier because that will mean XYZ for us' or 'I hope American buys US Airways because it will do XYZ for us'. We don't think about that at all. If we read some day that these or some other sort of consolidation happens, then we will think about what that will mean for our growth opportunities. In the meantime we will just focus on what's right for Spirit.
-------------------------------------------------------------------------------------------------------------------------------------------------------------------------
Spirit is such an odd carrier it is very unlikely it could be involved directly in a merger or acquisition. But as a relatively small and flexible LCC with plenty of new capacity to deploy in the coming years, Spirit is positioned well to take advantage of any further consolidation or simply major network changes at larger carriers. Its sudden move into Las Vegas, including the popular Las Vegas-Los Angeles route, shows Spirit is not afraid to make bold moves. But what has been most impressive is Spirit's ability to go into small international destinations – which in some cases have no service from other US carriers – and create totally new markets through low fares.
Spirit and Mr Baldanza have received a lot of negative public attention in the US for their controversial ancillary fees and relative lack of customer service that comes with its pursuit of an ultra low-cost and pure no-frills model. But Spirit's pioneering work in bringing low fares to routes connecting South Florida with the Caribbean, Central America and Colombia has gone practically unnoticed.
Background information
2007, 2008, 2009 and 2010 EBITDAR margin for Spirit Airlines vs 11 other US carriers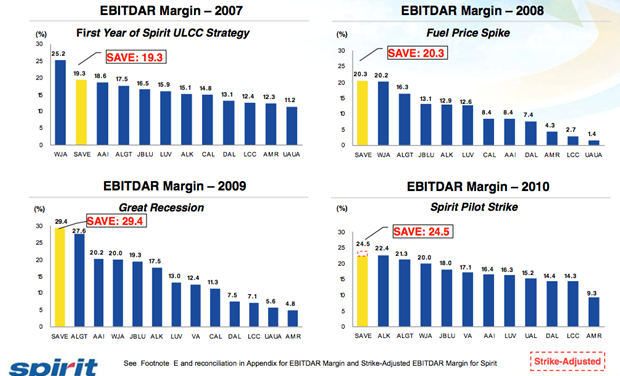 Spirit Airlines average daily fleet utilization and average fuel consumed per seat