IAG's 2Q results and reiterated profit targets set it apart from Lufthansa and Air France-KLM
Analysis
International Airlines Group (IAG)'s 2Q2014 results revealed another strong improvement and 1H2014 recorded the first positive operating result for IAG since 2011. Unit revenues were under pressure and so the profit improvement was achieved by unit cost reductions.
All three of IAG's operating airlines - British Airways, Iberia and Vueling - improved their 2Q operating profit year on year, with BA and Iberia also recording higher margins.
Recognising the progress made by Iberia, which returned to operating profit in 2Q and 1H, IAG has announced that the Spanish airline will see 16 new wide bodies enter its fleet from 2015 to 2020 to replace A340 aircraft. A year ago, CAPA suggested that IAG might have reached a turning point. Its results since then, and its reiteration of its profit targets, appear to confirm that this was the case as it has outperformed its major European rivals Lufthansa and Air France-KLM.
See related report: IAG returns to profit in 2Q2013. Is this a turning point?
IAG 2Q operating profit up 55%
IAG raised its pre-exceptional operating profit in 2Q2014 by 55% versus 2Q2013 to EUR380 million. For 1H2014, the operating result swung from a loss of EUR33 million last year to a profit of EUR230 million. In both 2Q and 1H, Group revenues increased by 6.7%.
IAG financial highlights 2Q2014
| | 2Q2013 | 2Q2014 | Change | 1H2013 | 1H2014 | Change |
| --- | --- | --- | --- | --- | --- | --- |
| Revenue | 4,768 | 5,086 | 6.7% | 8,707 | 9,289 | 6.7% |
| Operating profit before exceptional items EUR million | 245 | 380 | 55.1% | -33 | 230 | -797.0% |
| Operating margin % | 5.1 | 7.5 | 2.3 | -0.4 | 2.5 | 2.9 |
| Net profit EUR million | 127 | 280 | 120.5% | -503 | 96 | -119.1% |
| ASK million | 58,282 | 64,576 | 10.8% | 108,641 | 120,892 | 11.3% |
| RPK million | 47,392 | 52,111 | 10.0% | 86,378 | 95,331 | 10.4% |
| Passenger load factor | 81.3 | 80.7 | -0.6 | 79.5 | 78.9 | -0.7 |
| RASK* EUR cent | 8.18 | 7.88 | -3.7% | 8.01 | 7.68 | -4.1% |
| CASK EUR cent | 7.76 | 7.29 | -6.1% | 8.04 | 7.49 | -6.9% |
| CASK ex fuel EUR cent | 5.18 | 4.95 | -4.5% | 5.41 | 5.10 | -5.8% |
ASKs up 10.8%, but load factor dips slightly
IAG grew ASKs by 10.8% year on year in 2Q2014, but RPK growth fell slightly short of this and passenger load factor dipped by 0.6 ppts to 80.7%. The prior year period only partially included Vueling, which was acquired on 26-Apr-2013, and this distorts the reported growth rates.
ASK growth excluding Vueling was 6.3%, with British Airways increasing capacity by 7.4% and Iberia by 3.1%. BA's traffic growth did not match its ASK growth and this was the reason for the small drop in the Group's load factor.
IAG operating statistics 2Q2014 versus 2Q2013

BA was the biggest contributor to improved profit in absolute terms
Out of the EUR135 million year on year improvement in the Group's 2Q operating profit, the biggest contribution (EUR85 million) was due to BA's result growing from EUR247 million to EUR332 million.
Iberia was responsible for EUR51 million of the improvement, turning a EUR35 million loss into a EUR16 million profit. Vueling improved its own result by EUR5 million to EUR30 million and contributed EUR3 million to the year on year improvement in the Group's 2Q result.
For both BA and Iberia, margin improvement was achieved by lowering unit costs (CASK) faster than the fall in unit revenues (RASK). For Vueling, both RASK and CASK increased, but its slight margin erosion was the result of CASK growth outpacing RASK growth. This is clearly not a trend that Vueling will wish to see continue.
IAG 2Q2014 headline figures by operating company
Asia Pacific has highest ASK growth and heaviest RASK fall
The combined 6.3% ASK growth of BA and Iberia (but excluding Vueling) had some significant regional variations. The highest growth was to Asia Pacific (+12.0%), followed by AMESA (Africa, Middle East, South Asia, +9.0%) and Europe (+7.7%).
Perhaps not surprisingly, Asia Pacific suffered the heaviest fall in RASK (-3.2% at constant currency). Speaking at the 2Q results presentation to analysts, IAG CEO Willie Walsh said that BA's new route to Chengdu was not performing as well as hoped, with load factor at only 56%, and is suffering from the UK's tight visa controls for Chinese visitors.
The North American network enjoyed a healthy RASK increase (+4.2% at constant currency) in spite of a 5.1% increase in ASK. Mr Walsh said that BA's new Austin route was performing well and added that he believed BA had a strong JV partner in American Airlines. The new joint venture between Virgin Atlantic and Delta had not had an impact on BA's market share on the North Atlantic, according to Mr Walsh.
Europe and AMESA also saw falls in RASK at constant currency. In the UK and Spain domestic markets, there was a 2.2% drop in RASK in spite of a modest capacity cut (-0.1%).
Referring to situation regarding market capacity in general, Mr Walsh said that IAG was "very relaxed about it", adding that "some competitors are creating their own problems". This latter comment was presumably a reference to recent profit warnings from Air France-KLM and Lufthansa, which mentioned overcapacity in some markets.
In Mr Walsh's view, IAG is more flexible in its approach to capacity and follows a disciplined approach to capacity growth.
IAG passenger capacity and unit revenue by region 2Q2014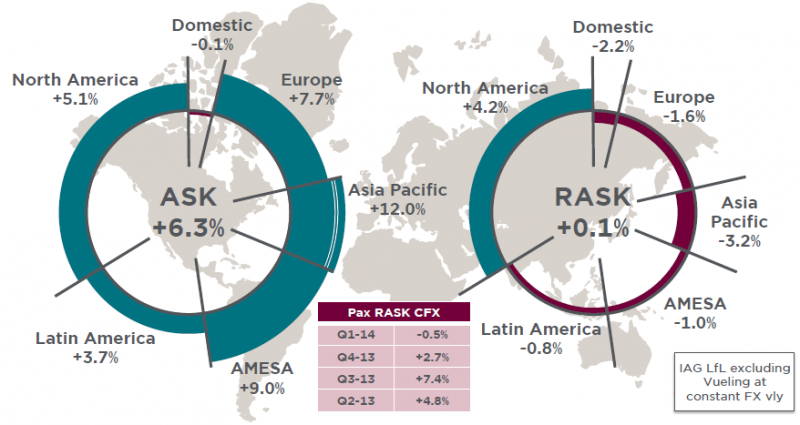 Vueling capacity was up nearly 24%
IAG's LCC subsidiary Vueling increased its ASK capacity by 23.6% year on year in 2Q2014 and also increased its load factor and RASK (although its yield was lower). Its 92 new routes in the quarter represented 30% of its total number of routes, but only 7% of its total ASKs. IAG said that the new routes were performing in line with expectations.
In ASK terms, one quarter of the new route capacity was in Italy (with the Italian domestic market taking a large part of this), reflecting its new base at Rome Fiumicino. Benelux accounted for 23% of new route ASKs, following Vueling's establishment of a new base in Brussels, and other South Europe markets 16%.
With new routes accounting for only 7% of ASKs, there was also strong growth on what Mr Walsh called "mature routes where we are seeing strong demand". He added that Vueling was very flexible about where it placed capacity.
Vueling capacity on new routes 2Q2014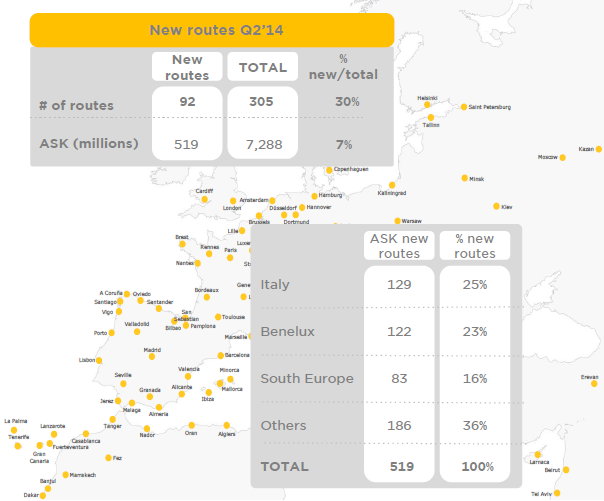 Group revenues were up 6.7% in 2Q
IAG's revenues grew by 6.7% year on year in 2Q2014, les than the 10.8% increase in ASKs, driven by passenger revenue growth of 8.7%. Cargo revenues fell by 12.2%, reflecting both a 5% fall in cargo volumes and a 7% fall in cargo yield. The fall in cargo revenues accelerated from a 7% drop in 1Q following a significant reduction in IAG's freighter programme from 30-Apr-2014.
Other revenue was down 2.9% year on year, a lesser decline than the 10.5% fall in 1Q, as the elimination of Iberia's handling and maintenance revenue related to Vueling passed its anniversary during the quarter. BA Holidays revenue, also included in Other revenue, continued to grow.
IAG revenues 2Q2014 versus 2Q2013

Costs were up 4.0% in 2Q
Operating costs increased by 4.0%, slower than the growth in ASKs and in revenues. This performance was helped by fuel costs only rising by 0.5%, but the 5.8% increase in ex fuel costs was also lower than ASK growth. Employee costs increased by 3.9% in spite of a 1.4% reduction in average headcount, as productivity improvements ensure that employee costs per ASK fell.
Currency movements lowered costs by EUR65 million in the quarter. Reported CASK fell by 6.1%, or by 4.8% at constant currency. Excluding Vueling, CASK fell by 3.3% at constant currency.
IAG operating costs 2Q2014 versus 2Q2013


Cost efficiency helped by BA fuel burn reduction and Iberia labour productivity improvement
A contributory factor to IAG's lowering of fuel cost per ASK has been BA's fleet replacement programme as A380 and Boeing 787 aircraft have taken the place of less efficient 747 and 767 equipment. BA's fuel burn per ASK fell by 1.7% year on year in 2Q2014, roughly equally due to the new aircraft and to underlying efficiency improvements, according to IAG's 2Q results presentation. By q$2014, IAG expects that BA's fuel burn per ASK will be down by 2% year on year.
A key source of cost reduction for Iberia is in labour productivity. Agreements with unions over salary cuts, new pay scales, increased flying hours and voluntary redundancy allow IAG to project ongoing reductions in employee costs per ASK. By 2020, it expects employee CASK to be down by 29% relative to 2012.
Iberia receives new long haul aircraft as restructuring achieved
This successful negotiation with unions on cost restructuring, which includes a recent agreement on a voluntary redundancy scheme that could lead to a further 1,427 job reductions, and the improved profitability of Iberia, have prompted IAG to announce that Iberia will receive 16 new long haul aircraft.
The new aircraft will replace A340s and will be delivered between 2015 and 2020. The 16 aircraft will consist of eight A350-900s, acquired by the conversion by IAG of options secured under its 2013 order, and eight A330-200s, either through converting options from the 2011 Airbus order or from the operating lease market.
Iberia expected employee cost per ASK reductions versus 2012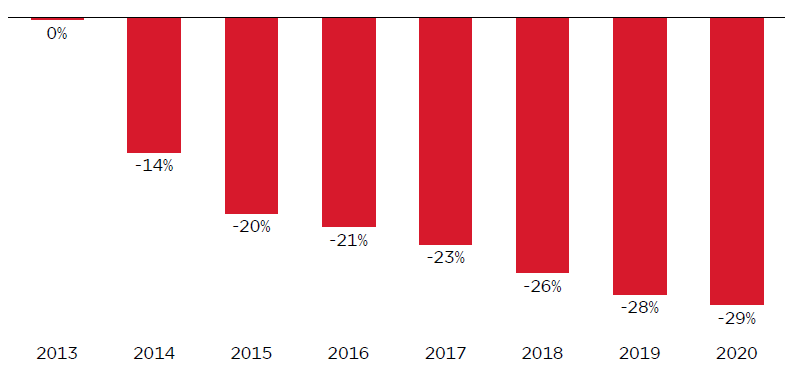 IAG retains 2014 profit target, but with lower ASK growth
IAG has retained its 2014 profit outlook to achieve at least a EUR500 million improvement on 2013's EUR770 million operating result. In the details, it has lowered its ASK growth plan from 10.3% to 9.3% (from 8.1% to 7.1% on a proforma basis, ie treating Vueling as part of the group for the whole of 2013). IAG's winter 2014/2015 capacity plan is now 3ppts lower than previously and so 4Q will be the main focus of the Group's lower growth plans in 2014.
BA's ASK growth plan for 2014 has been trimmed from 6.4% to 5.8%, while Iberia's plan has been lowered from growth of 4.6% to 3.3%. Vueling plans growth of 26.1%, down from 28.6% previously envisaged.
Mr Walsh argues that IAG has more control and flexibility over its capacity than some of its competitors and than in the past and that this has helped it to respond better to changing market conditions.
IAG guidance for 2014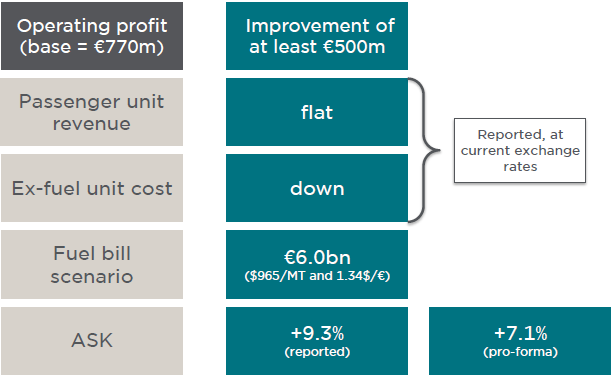 Year on year growth in seat capacity at major European hubs on North Atlantic and short haul markets Aug-2014 and Nov-2014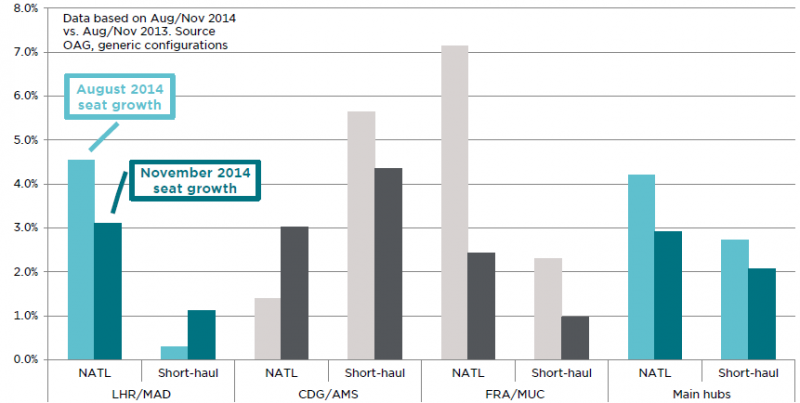 IAG had the best 1H of the European Big Three
Compared with the two other European Big Three legacy airline groups, IAG produced the best operating margins in both 2Q2014 and 1H2014. It was also the only one to record revenue growth in both periods. While this was clearly assisted by the Vueling acquisition, the combined sales of BA and Iberia without Vueling were also up slightly.
In addition, IAG had the greatest year on year increase in 1H operating profit among the three. Air France-KLM's 2Q operating profit increase was a little higher than IAG's, but it was starting from a much lower point.
Lufthansa stands out as the laggard of the three when it comes to profit improvement. Indeed, adjusting for its change in depreciation policy, Lufthansa's operating profit declined year on year in both 2Q and 1H 21014.
See related reports:
IAG, Air France-KLM and Lufthansa revenues and operating profit* (EUR million) 2Q and 1H 2014 versus 2013
| | 2Q2013 | 2Q2014 | Change | 1H2013 | 1H2014 | Change |
| --- | --- | --- | --- | --- | --- | --- |
| | | | | | | |
| Revenue | 4,768 | 5,086 | 6.7% | 8,707 | 9,289 | 6.7% |
| Operating profit EUR million | 245 | 380 | 135 | -33 | 230 | 263 |
| Operating margin % | 5.1 | 7.5 | 2.3ppts | -0.4 | 2.5 | 2.9ppts |
| | | | | | | |
| Revenue | 6,541 | 6,451 | -1.4% | 12,222 | 12,005 | -1.8% |
| Operating profit EUR million | 84 | 238 | 154 | -448 | -207 | 241 |
| Operating margin % | 1.3 | 3.7 | 2.4ppts | -3.7 | -1.7 | 1.9ppts |
| | | | | | | |
| Revenue | 7,836 | 7,704 | -1.7% | 14,464 | 14,166 | -2.1% |
| Operating profit EUR million | 439 | 409 | -30 | 144 | 219 | 75 |
| Profit change ex change of depreciation policy | | | -118 | | | -99 |
| Operating margin % | 5.6 | 5.3 | -0.3ppts | 1.0 | 1.5 | 0.6ppts |
IAG, Air France-KLM and Lufthansa year on year change in operating profit (EUR million) 2Q and 1H 2014 versus 2013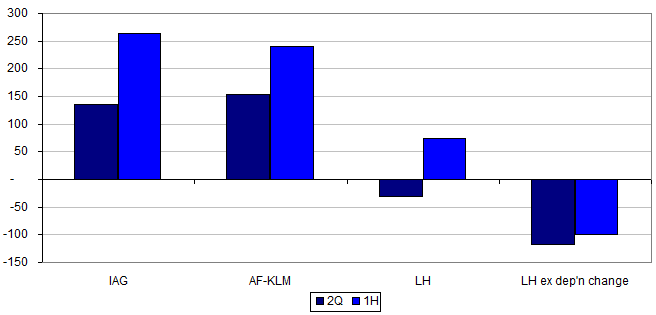 IAG is the only one of the Big Three not to lower its targets this year
IAG's 2014 profit target compares favourably with those of Lufthansa and Air France-KLM. An improvement in IAG's operating profit by at least EUR500 million in 2014 implies a figure of around EUR1.3 billion, similar to Lufthansa's target (before one-off costs). IAG is smaller in revenue terms than Lufthansa and so its 2014 target represents a higher margin. Moreover, adjusting for Lufthansa's change in depreciation policy, its 2014 target is below its 2013 result.
Air France-KLM is starting from a lower level of profit and so has higher growth potential, but it still has a lot of catching up to do. The operating profit implied by its target 2014 EBITDA range of EUR2.2 billion to EUR2.3 billion (assuming that its depreciation/amortisation is the same as in 2013) is only around EUR525 million.
IAG is also the only one of the Big Three not to have lowered its guidance this year, both for 2014 and 2015. Moreover, with an improvement in profit of EUR263 million already achieved in 1H and 2H typically much more profitable, its 2014 target to improve by at least EUR500 million should be comfortably achieved.
As CAPA said after IAG's 1Q results in May-2014:
…it does seem that IAG is achieving a structural improvement in its profitability as a result of strong discipline over capacity, capital and costs and a firm stance on labour productivity. More than its European legacy peers, the momentum is with IAG.
Its 2Q2014 results confirm that this momentum is still with IAG.
See related report: IAG's 1Q losses narrow. Discipline over capacity, capital and costs provides momentum
IAG, Air France-KLM** and Lufthansa* operating profit before exceptional items and one-off costs (EUR million) 2013 and targets for 2014 and 2015