IAG's 1Q losses narrow. Discipline over capacity, capital and costs provides momentum
International Airlines Group significantly reduced its seasonal losses in 1Q2014. Iberia cut its operating loss almost in half and British Airways came within touching distance of breakeven. Vueling kept its 1Q loss more or less unchanged, in spite of rapid capacity and revenue growth. IAG's unit cost reduction outstripped a dip in unit revenue; and labour productivity improved across all three airlines.
Iberia's restructuring is starting to pay off and it will return to capacity growth from 2Q2014 after cuts in 2012, 2013 and 1Q2014. BA has integrated its first A380 and Boeing 787 aircraft and has more deliveries to come. Together with its A350s on order, this should help it to make further improvements in the cost efficiency of its long-haul fleet.
The airline sector globally is in a cyclical upswing and this is helping to drive better profits for almost everyone. However, it does seem that IAG is achieving a structural improvement in its profitability as a result of strong discipline over capacity, capital and costs and a firm stance on labour productivity. More than its European legacy peers, the momentum is with IAG.
IAG's 1Q2014 loss reduced significantly
IAG significantly reduced its net loss in 1Q2014 to EUR184 million from a loss of EUR630 million in the corresponding period of 2013. 1Q2013 figures were hit by exceptional costs mainly relating to Iberia restructuring, but the underlying improvement was still strong: the group's operating loss before exceptional items narrowed to EUR150 million from EUR278 million.
EUR30 million of this year's loss came from Vueling, which was not part of the group in 1Q2013 and so the like for like improvement from British Airways and Iberia was EUR158 million. Revenues increased by 6.7% to EUR4,203 million.
IAG financial highlights: 1Q2014


IAG Group ASKs were up 11.85%
The group's reported increase in capacity (ASK) was 11.8%, with the like for like increase for BA and Iberia being 3.7% (excluding Vueling). RPKs increased at the slightly slower rate of 10.9% and load factor for the group dipped by 0.7ppts to 76.7%. Cargo tonne kilometres were just above flat year on year (+0.5%).
IAG operating statistics: 1Q2014

Iberia's operating loss almost halved; BA was almost breakeven; Vueling's loss was contained
EUR91 million of the improvement in the group's operating result was due to Iberia, which almost halved its operating loss to EUR91 million. Its restructuring programme is bearing fruit, even before the impact of new labour agreements that took effect from Apr-2014. Iberia's unit costs (CASK) fell 8.3% year on year, while unit revenues (RASK) held stable (-0.3%). Iberia lowered ASKs by 3.3% in 1Q2014, but will return to positive capacity growth over the rest of this year.
British Airways almost achieved a breakeven operating result in 1Q2014, recording a loss of GBP4 million compared with a loss of GBP58 million in 1Q2013. BA lowered its unit costs by 5.9%, more than the 3.9% reduction in unit revenues, while increasing capacity by 5.9%.
According to IAG CFO Enrique Dupuy, BA's breakeven result was "a very significant achievement" when compared with other legacy carriers in Europe. 1Q is typically loss-making for the majority of European airlines. Speaking on a conference call with analysts to discuss the 1Q results, he added: "That doesn't mean that we are happy with it" and said that further improvements could be made.
Vueling grew ASKs by 24.5% and RPKs by 28.3% and managed to keep its 1Q2014 operating loss almost level with the prior year period, reporting a loss of EUR30 million against EUR28 million. In spite of strong capacity growth, its RASK decline was limited to 2.4%.
All three companies saw a decline in employee cost per ASK, reflecting a focus on labour productivity.
IAG headline figures by operating company: 1Q2014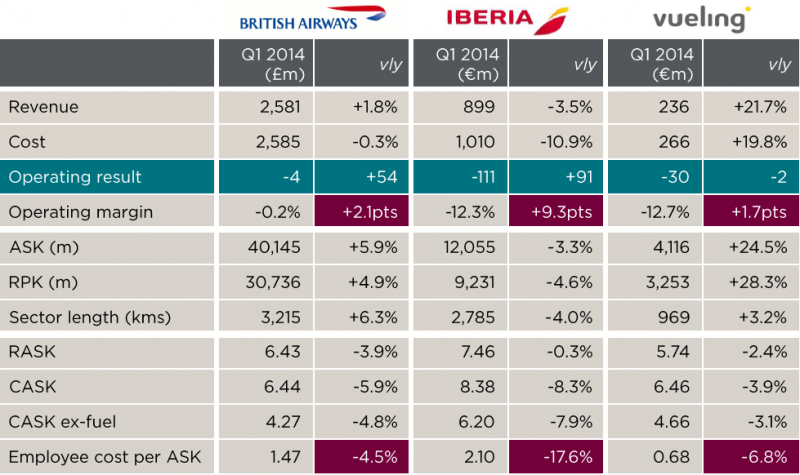 North American capacity grew 8.8%, while Asia-Pacific was the "star performer"
Looking at the combined BA and Iberia networks, but excluding Vueling, ASK growth was 3.7% in 1Q2014. By region, the strongest growth was to North America, where ASKs were up 8.8%, reflecting the introduction of the A380 and the new route to Austin (commenced in Mar-2014). Ex currency impacts, RASK fell by 1.4% to North America, a response to the increased capacity described by Mr Dupuy as "reasonable and balanced".
IAG CEO Willie Walsh, also speaking on the analysts conference call, said that he was "very relaxed" about market capacity growth on the North Atlantic, adding that overall seat numbers between London Heathrow and New York JFK were still below the 2007 peak, while passenger numbers were higher.
Mr Walsh also noted that the peak week seats allocated to New York from Heathrow in summer 2014 were 1.5% below the corresponding figure for 2013, according to the UK slot coordinator Airport Coordination Limited (ACL data also show a year on year reduction in the number of seats from Heathrow to Chicago and Los Angeles for the peak week this summer). Mr Walsh described any capacity additions by British Airways on the North Atlantic as "demand driven".
IAG lowered its ASKs to Latin America by 2.5% in 1Q2014 and RASK (ex currency) fell by 0.8%. Mr Dupuy said that the group had seen a "mixed performance" in Latin America, with weakness mainly focused on Brazil. Europe saw a RASK decline of 1.8%, on capacity growth of 3.1%, with particular weakness on Spain to Europe routes. Strikes at Iberia in the prior year period had the effect of increasing load factors in Europe as a result of schedule adjustments and this meant that 1Q2014 growth calculations for load factor and RASK had high base figures.
Asia-Pacific experienced the strongest increase in unit revenues, with ex currency RASK growing by 7.4% on a 2.7% increase in ASKs.
Describing the region as the "star performer", Mr Dupuy said that the strength was mainly due to BA's Sydney and Shanghai routes. By contrast, the region AMESA (Africa, Middle East, South Asia) saw ex currency RASK fall by 1.7%, with ASKs increasing by 5.8%. The capacity growth was focused on Johannesburg and also on India, which Mr Dupuy called "a bit over-served".
Domestic markets saw a 6.2% reduction in ASKs, reflecting Iberia's cuts in Spain, and this helped to boost ex currency RASK by 1.8%.
IAG passenger capacity and unit revenue by region: 1Q2014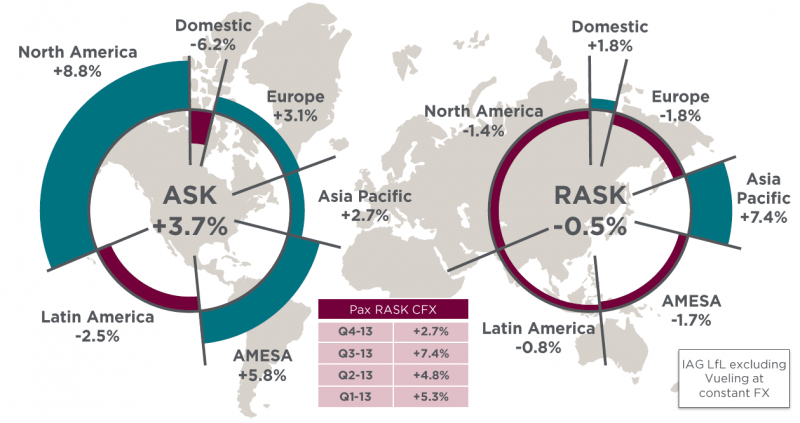 IAG's RASK was down 4.6%
The group's total reported unit revenue (revenue per ASK, RASK) fell by 4.6% year on year, including the negative impact of foreign exchange movements (which lowered revenues by EUR34 million). At constant currency, RASK fell by 3.8% and, excluding Vueling (which was not part of the group in the prior year period), it fell by 1.2%.
Part of this RASK weakness was due to the small decline in load factor, but there was also an underlying modest weakness in yield, compounded by weakness in non-ASK related revenues (see below). Passenger unit revenues, as reported, fell by 2.0%; this becomes a fall of 1.4% at constant currency and 0.5% excluding Vueling and at constant currency.
IAG unit revenue and unit cost data: 1Q2014


IAG revenues rose 6.7%
Total group revenues grew by 6.7% year on year in 1Q2014, with passenger revenues up 9.5%. Excluding Vueling, passenger revenues were up 2.4%. Cargo revenues fell by 7.4%, with both cargo volumes and cargo yields falling. IAG said: "Due to overall excess capacity in the market, cargo demand and yields remain weak". Against this backdrop, it is removing (wet leased) freighter aircraft from the fleet and expects this to have a net positive impact on its results as the revenues lost should be more than offset by costs saved.
Other revenues fell by 10.5%, but this mainly relates to Iberia's handling and maintenance revenue connected to services provided to Vueling, which were included as third party revenues in 1Q2013, but not in 1Q2014. Mr Dupuy said that like for like third party revenues were "behaving regularly" and that the business case for British Airways Holidays was "improving year after year".
IAG revenues: 1Q2014 vs 1Q2013

IAG costs rose 3.2% as fuel costs moderated
Operating costs grew by 3.2% year on year (excluding exceptional items), less than the growth in revenues and capacity. This performance was helped by a slower rate of growth in fuel costs, which were up by 2.0%, while non-fuel costs grew by 3.8% (still less than the growth in revenues and capacity). Fuel cost growth benefited from lower prices (net of hedging) and from the introduction of new aircraft such as the A380 and the Boeing 787.
Labour costs fell by 1.3%, in spite of a modest increase in average manpower equivalent (+0.6%) and the 11.8% increase in ASKs. ASK per employee increased by 11.2% and employee cost per ASK fell by 11.7%, demonstrating that the group's restructuring is making a positive impact on labour productivity.
Landing fees and en-route charges grew faster than capacity as a result of Vueling's proportionately higher sectors and passenger numbers. The consolidation of Vueling also pushed the growth in operating lease costs above capacity growth. Depreciation costs also grew faster than capacity, as a result of the reduction in the estimated residual value of BA's 747 fleet.
Total unit costs for the group fell by 7.6%, helped by currency movements (which lowered operating costs by EUR47 million). At constant currency, CASK fell by 6.7%; at constant currency and excluding Vueling CASK fell by 4.7%.
IAG operating costs: 1Q2014 vs 1Q2013


Group ASK projected growth is 10.3% in 2014
IAG's FY2014 capacity growth plans are virtually identical to those announced at the time of its 2013 results in Feb-2014. The group plans to grow ASKs by 10.3% in 2014 versus 2013, compared with 10.2% previously planned. The like for like growth rate (treating Vueling as part of the group for the whole of 2013) is 8.1%.
BA's ASK growth plan for 2014 has been trimmed modestly from 6.9% to 6.4%, while Iberia's plan has been accelerated from growth of 1.9% to 4.6%. After a final quarter of year on year capacity cuts in 1Q2014, Iberia will grow ASKs by 3.3% in 2Q2014 and increase this in 3Q and 4Q. Mr Walsh sees a "short term opportunity to repair some of the network changes made".
Vueling plans ASK growth of 28.6% in 2014, slightly less than the 30.1% previously announced, with a strong focus on the Italian domestic market and on international markets into Spain.
IAG planned capacity (ASK) changes by quarter: 2014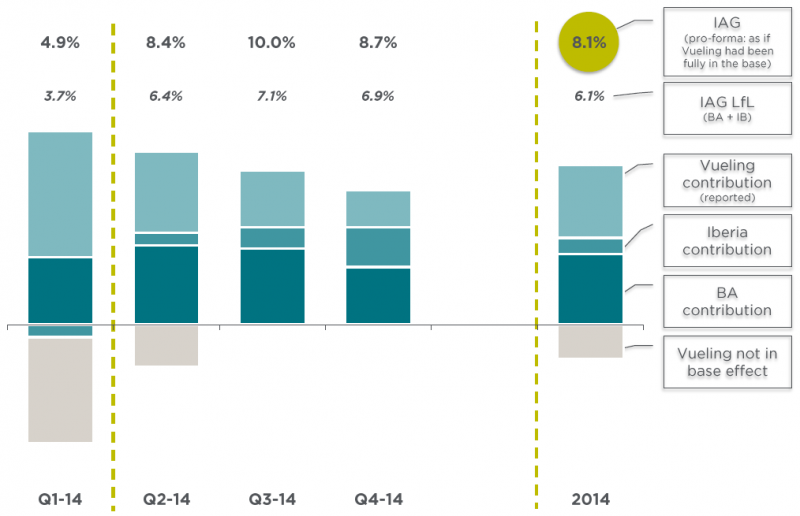 The biggest driver of ASK capacity growth for both BA and Iberia is increased frequencies to existing destinations, but longer sector lengths are also important. BA's frequency changes focus on New York, Seattle and long-haul destinations from London Gatwick. Iberia is adding frequencies to Chicago and Mexico City.
For BA, larger aircraft gauge makes a further contribution to ASK growth, while Iberia is seeing a negative impact from this factor. There is also a small positive growth impact from new routes for both legacy carriers of the group. BA has new long-haul destinations Austin and Chengdu.
It is also adding short-haul leisure destinations from Heathrow and adding new CityFlyer routes. Iberia has new routes to Berlin and Stockholm.
British Airways and IAG planned year on year growth in capacity (ASK): 2Q2014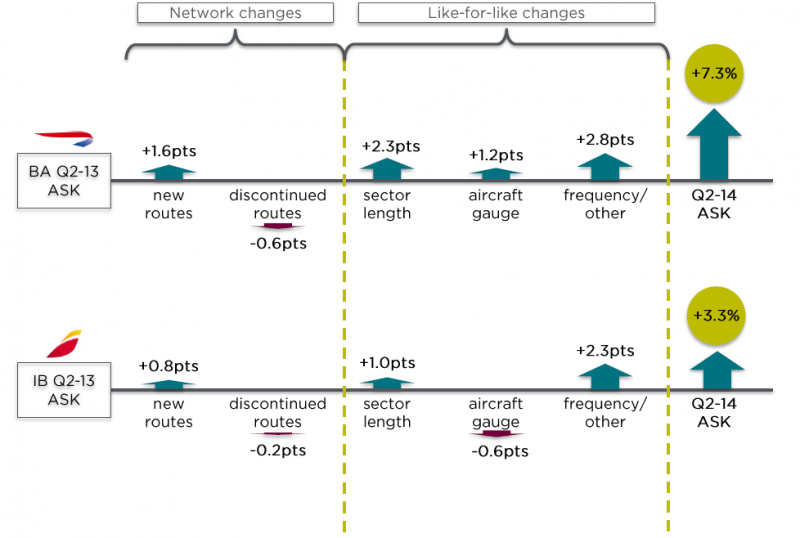 IAG expects 2014 operating profit at least EUR500 million higher than in 2013; this looks like a minimum target
IAG's 2014 guidance is broadly similar to that issued in Feb-2014: it expects flat unit revenues, a decline in ex-fuel unit costs, a fuel bill of EUR6.0 billion (EUR6.1 billion in previous guidance), and ASK growth of 10.3% (10.2% previously).
The key variable in this is the extent of the decline in ex-fuel unit costs. At constant currency, they fell by 6.2% in 1Q2014 and by 2.7% in FY2013. IAG did not give a profit forecast in Feb-2013, but, as CAPA pointed out at the time, its guidance suggested an operating result for the year of at least EUR1.3 billion, based on unit costs remaining flat. Any decline in unit costs would drive the operating result higher than EUR1.3 billion, assuming no change to the other elements of IAG's guidance.
See related report: IAG back in profit. British Airways' profit doubles, Iberia losses narrow & Vueling shows its worth
IAG has now added to its guidance that it expects to improve operating profit by at least EUR500 million compared with the result of EUR770 million in 2013. However, this target adds nothing new and is the least optimistic interpretation of IAG's guidance, as it could be achieved with no reduction in ex fuel unit costs.
If ex fuel unit costs fell by 1%, the other elements of IAG's guidance point to an operating result of around EUR1.5 billion, while a reduction in line with 2013's fall of 2.7% would push the result above EUR1.7 billion. Its target of flat unit revenues may be a little optimistic, but an operating profit improvement of more than EUR500 million looks like a minimum for 2014. Certainly, its 2015 target to reach an operating result of EUR1.8 billion looks very much within its reach.
IAG's major European legacy carrier group competitors Air France-KLM and Lufthansa also reiterated 2014 guidance following their recent 1Q2014 results.
Unlike the other two, whose 2014 targets look achievable but probably challenging, IAG is the only one with clear scope to raise its guidance.
See related reports:
IAG guidance for 2014