Air France-KLM: a new strategic plan awaits as 2Q marks another step on the recovery path
Air France-KLM's recovery continued with another year on year improvement in quarterly results in 2Q2014, mainly because it cut unit costs more quickly than the fall in unit revenues. Following its early Jul-2014 profit warning, it has made no further changes to its FY2014 EBITDA target, which remains EUR2.2-2.3 billion, and it continues to target net debt of EUR4.5 billion at the end of 2015 (versus EUR5.4 billion at the end of Jun-2014).
On the strategic front, Air France-KLM is accelerating the growth of its Transavia LCC subsidiary, although this unit is still loss-making, and is re-grouping its Air France point to point and Hop regional operations into a single business unit. In addition, it is examining further reductions to its full-freighter fleet, beyond those previously announced.
Air France-KLM is also working on its next five year strategic plan, to follow its Transform 2015 restructuring plan. To be unveiled in Sep-2014, the "Perform 2020" plan will focus on growth and competitiveness.
See related report: Air France-KLM: 1Q losses narrow, but needs more cargo restructuring. Will financial targets slip?
2Q net result almost back to breakeven
Air France-KLM reported a narrowing of 2Q2014 and 1H2014 net losses. For 2Q, the net loss was reduced from EUR158 million last year to EUR6 million this year. This result was adversely affected by a EUR106 million impairment of assets in the cargo segment and by other non-operating items. The Group calculates its adjusted net result to be up from a loss of EUR34 million to a profit of EUR143 million.
The operating result improved from a profit of EUR84 million to a profit of EUR238 million. 2Q revenues fell by 1.4% to EU6,451 million (but were up 1.7% at constant currency and scope of consolidation). For 1H, the net loss narrowed from EUR799 million to EUR614 million and the operating loss from EUR448 million to EUR207 million.
Air France-KLM 2Q2014 and 1H2014 financial result highlights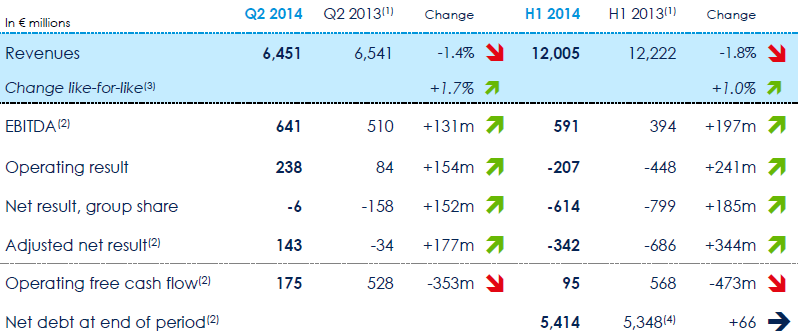 Unit cost reduction was the biggest contributor to the improvement in operating profit
The EUR154 million year on year improvement in the 2Q operating profit was primarily due to constant currency unit cost reduction, but there was also a significant contribution from constant currency unit revenue improvement.
Currency movements depressed both costs and revenues, but had a net negative impact on the operating result.
Air France-KLM change in operating result (EUR million) 2Q2014 versus 2Q2013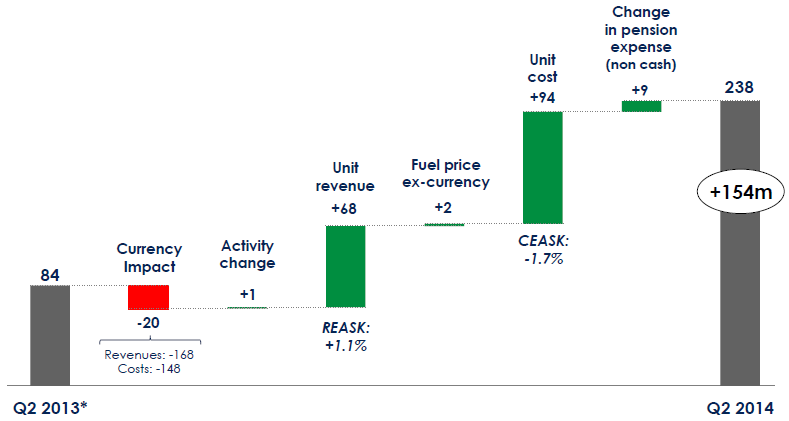 Passenger segment is the key business unit
In terms of business segments, the key driver of the improved 2Q group operating result was the passenger segment, whose result improved by EUR159 million to EUR255 million.
The cargo segment remained in losses, with an operating result of minus EUR45 million, although this was EUR5 million better than 2Q2013. The maintenance segment's operating profit fell by EUR7 million to EUR30 million, reflecting USD weakness and what the company called "one-off items".
Air France-KLM 2Q2014 revenue and operating result by segment
ASKs up 1.0% and load factor up 1.5ppt
The passenger business increased its ASK capacity by 1.0% in 2Q2014 and achieved a 1.5ppt load factor gain to 84.8%. Its 1H load factor of 83.8% (+1.0 ppt) compares favourably with the average for the Association of European Airlines of around 79% for the period.
However, the load factor gains were partially at the expense of weaker yield. Revenue per RPK fell by 2.9%, although at constant currency, this decline was only 0.4%. Revenue per ASK fell by 1.1% (up 1.3% at constant currency). The passenger business cut unit costs by 4.4%, or by 2.3% at constant currency.
Air France-KLM passenger traffic, unit revenue and unit cost development 2Q2014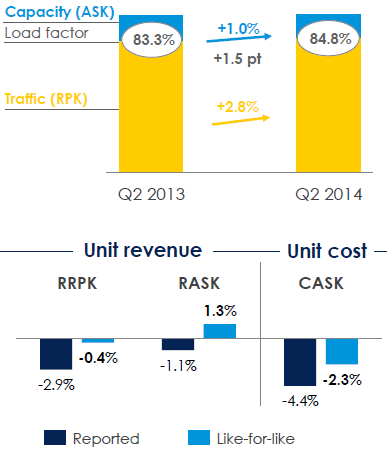 Like-for-like RASK growth of 1.3%, but varies by region
The underlying, or like-for-like (ie at constant currency) RASK increase of 1.3% in 2Q reversed the fall of 0.7% seen in 1Q. The long haul network's RASK was up 1.6% like for like, while medium haul saw a like for like increase of 1.7%. Long haul premium unit revenue was up 3.5% on a like-for-like basis and long haul economy RASK up 2.0% on the same basis.
By region, RASK growth at constant currency was strongest on the short and medium haul point to point network, where it was up 10.6%, reflecting a 7.1% cut in ASKs. On long haul, all regions saw constant currency RASK growth, with the exception of Latin America, where it fell 2.1%.
However, CFO Pierre-Francois Riolacci told analysts at a presentation on the 2Q results that there has been a noticeable deterioration in yield half way through June, especially on the North Atlantic and that there was also pressure in Asia. On the North Atlantic, the group was experiencing particular yield pressure in Canada, he said.
Air France-KLM passenger traffic and unit revenue development by region 2Q2014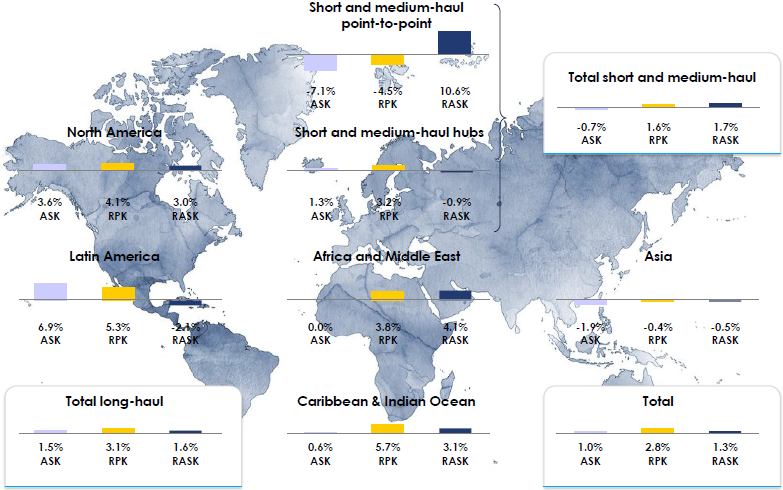 Transavia ASKs up 4.8% in 2Q, but operating loss widens
Transavia is not included in the group's passenger segment, but is grouped with catering in the 'Other' segment. The group's leisure LCC grew its ASKs by 4.8% in 2Q, with Transavia France growing by 10% and Transavia Netherlands by 3%.
In 1H, Transavia grew its ASKs by 5.8%, compared with a cut of 1.2% in the short and medium haul capacity of the core Air France-KLM passenger business. Transavia's share of the Air France-KLM Group's short and medium haul ASKs was 25% in 1H2014 (up from 24% in 1H2013).
Transavia France is growing more rapidly than its Dutch counterpart, as Air France-KLM increases its use as a competitive response to other LCCs. It is making use of slots freed up at Paris Orly by Air France's capacity reduction on its point to point network. Transavia Netherlands is accelerating its strategic change from mainly relying on charter traffic with tour operators to a scheduled LCC model.
Transavia's load factor gained 0.9 ppts to a very creditable level of 90.7%, putting it in the same bracket as easyJet at the top of the European airline industry in load factor. However, this was achieved at the cost of lower yield (revenue per RPK fell 2.8%) and Transavia's unit revenue (RASK) fell by 1.7%. Its unit cost (CASK) fell by 0.8% (up 0.9% at constant currency) and its operating loss widened by EUR3 million year on year to EUR6 million in 3Q2014.
Air France-KLM CEO Alexandre de Juniac said that the French arm of Transavia was close to breakeven, but that the Dutch operation's results had deteriorated this year due to the shift in its business model. It has a target to lower its CASK by around 10%.
Transavia traffic, revenue and operating result development 2Q2014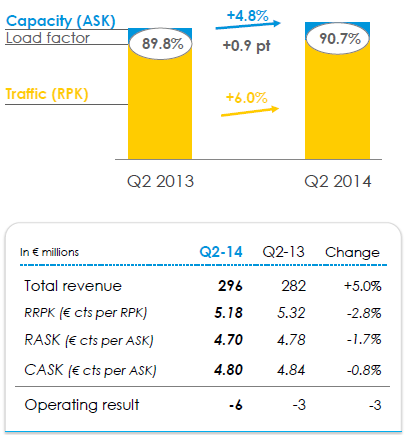 Transavia's growth is to accelerate; scope clause seeks to slow it
Transavia France is opening 19 new routes in summer 2014 and its capacity growth will accelerate to 30% in 2H. Mr Riolacci told analysts that it is achieving a load factor of more than 85% on newly opened routes in 2Q.
Mr de Juniac said that medium term growth for Transavia would likely be greater than 10% pa. He presented a fleet plan for Transavia that shows an increased level of growth is now planned compared with the Group's presentation in Oct-2013. At that time, the Transavia fleet was planned to increase from 41 in summer 2013 (30 for Transavia Netherlands and 11 for Transavia France) to 56 in summer 2016 (30 and 26 respectively).
The 3Q2014 results presentation indicates that the Transavia fleet will grow to 64 aircraft in summer 2016 (35 in the Netherlands and 29 in France). However, the two presentations are not directly comparable, since the more recent one includes additional leased summer capacity and has summer 2013 figures of 34 aircraft and 14 aircraft for the Netherlands and France respectively. If Transavia is to exceed 10% annual growth in the medium term, it will probably need to add even more to this fleet plan.
See related reports:
A factor that has limited the growth of Transavia is a scope clause in Air France-KLM's agreement with its French pilots that restricts the number of aircraft. Mr de Juniac told analysts that negotiations aimed at increasing the scope clause limit are to start soon.
"They have demonstrated an ability to negotiate cleverly," Mr De Juniac said, "But also in the interests of the company."
Transavia fleet plan to summer 2016 (number of aircraft)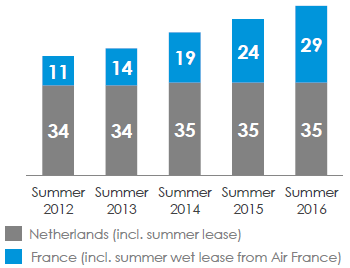 Cargo capacity down 2%; full freighter capacity down 8.6%
The cargo segment cut its 2Q capacity by 2.0% year on year, with full freighter capacity down by 8.6%. Cargo load factor increased modestly, by 0.3 ppts to 63.2%. Revenue per ATK fell by 2.1%, but was up 1.1% at constant currency.
Air France-KLM had already decided to reduce its full freighter fleet to 2 in Paris and 8 in Amsterdam by 2015 (from 5 and 13 respectively at the end of Jun-2014) and has now decided to make further reductions in Amsterdam.
It is considering whether to do this through third party partnership or internal restructuring or disposal. As a result of the group's decision to reduce its use of full freighters, it recorded a EUR106 million impairment charges in 2Q.
Air France-KLM cargo traffic, unit revenue and unit cost development 2Q2014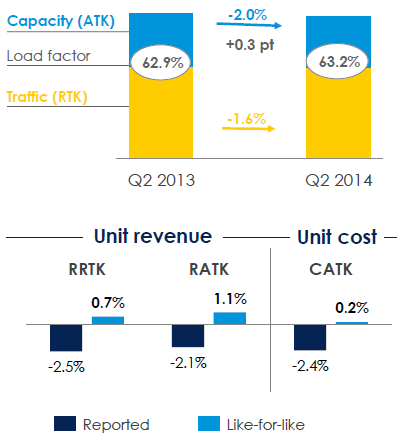 Transform 2015 has had a positive impact on unit costs and financial results
Air France-KLM's Transform 2015 restructuring plan has had some success, particularly with achieving its unit cost reduction targets. The Group has achieved year on year unit cost reduction every quarter since 2Q2012, typically of close to 2%, according to its 2Q2014 results presentation.
This has led to cost reduction of more than EUR1 billon in three years, in line with its Transform 2015 targets. As a result, it has followed a steady recovery path in terms of EBITDA, operating cash flow and net debt reduction (although some targets, in terms of EBITDA and net debt reduction, have slipped relative to the original plan at the start of Transform).
Air France-KLM improvement in selected financial indicators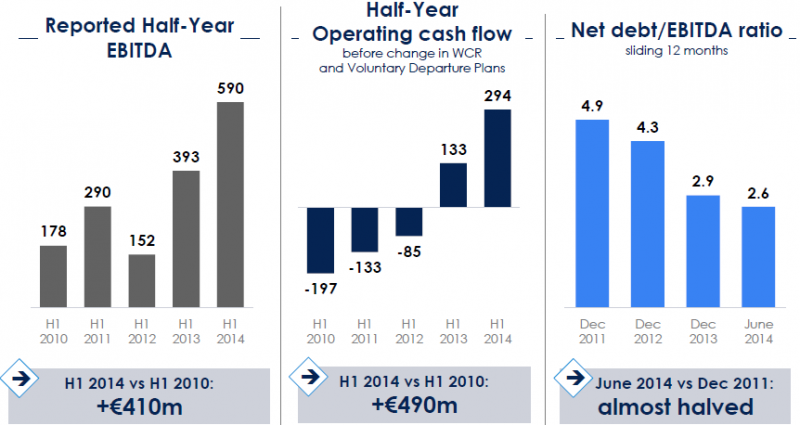 Medium haul restructuring and long haul product upgrades
Under Transform 2015, the Group it has restructured its short and medium haul network, growing its leisure LCC Transavia and reducing the narrow body fleet of both Air France and KLM. It has also integrated its French regional operations through the creation of Hop, which itself has also seen a reduction in its fleet.
Mr de Juniac said that the point to point operations of Air France on short haul will now be more closely integrated with Hop by the creation of a single business unit, albeit with two brands continuing to operate. Air France operates on bigger routes, while Hop flies regional routes.
The Group has also commenced the upgrade of Air France and KLM's long haul products, with new business class and economy cabins for Air France and new business class for KLM. This is vital for maintaining the brands and ensuring that it has at least some chance of competing with Gulf and other long haul competitors.
Cargo: further full freighter cuts to come
The cargo segment has remained stubbornly difficult to fix. The initial Transform 2015 measures were supplemented by additional measures in Oct-2013. It more than halved its full freighter capacity from 9.1 billion ATKs in 2008/09 to 4.5 billion ATKs in 2013. Its share of the group's total cargo capacity fell from 53% to 28% over this period as bellyhold freight grew.
The Group is now investigating further scenarios in order to minimise its exposure to full freighter activity. It expects to have more details in time for its Capital Markets Day on 11-Sep-2014.
Air France-KLM net full-freighter cargo capacity (billion ATK)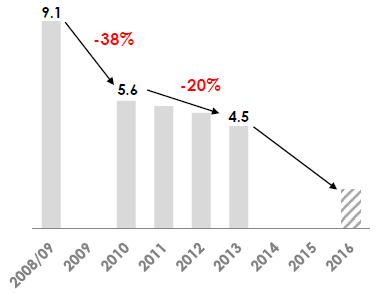 From Transform to Perform, in "the race of giants"
Air France-KLM's Capital Markets Day in Sep-2014 will present details of its next five-year strategic plan, to take the Group forward from its three-year Transform 2015 plan.
Mr de Juniac told analysts that the two key words for the new plan, to be called "Perform 2020", will be growth and competitiveness. He argued that there are growth opportunities in the industry and that growth was necessary, because "size matters" in a "race of giants".
However, Mr de Juniac added that the company must be competitive and de-risk its business as a pre-condition for growth. Moreover, growth would not compromise the Group's financial structure. "We will not target growth at any cost", he said.
Unanswered questions to be addressed in Sep-2014?
Although 2015 capacity growth plans have not yet been announced, Mr de Juniac said that Air France-KLM would remain cautious. His comments on growth and competitiveness are certainly welcome if they translate into control over capacity and costs.
The accelerated growth of Transavia is also welcome, although this should be pushed even further, given its low cost base. Most of its growth is coming from adding new routes, rather than from, more controversially, taking over routes from higher cost Air France. The creation of a single business unit to integrate Air France point to point and Hop seems sensible, but the dual branding is confusing.
On long haul, the product upgrades commenced by the Group are a necessary condition for remaining in the game and Mr de Juniac is rightly anxious to protect and enhance his global brands Air France and KLM. However, this does not fully combat the threat from lower cost competitors with products that are at least as good, or often better (ie Gulf carriers and certain Asian airlines), although Air France-KLM's codeshare with Etihad should help.
Moreover, the long haul low cost model is becoming well established in Asia and has taken a foothold in Europe in the form of Norwegian, not to mention Lufthansa's recent indication that it plans to establish a low cost long haul unit. This long-haul low cost entry means that price, and therefore unit cost, will become increasingly important on long haul over time.
"Perform 2015" will need to address these issues, in addition to the problems of the cargo sector, while ensuring that Air France-KLM can carry its employees harmoniously in the same direction and deliver sustainable value creating returns to investors.
The Investor Day on 11-Sep-2014 promises to be an interesting one.