Lufthansa's 2Q profit falls on weaker revenues
After reporting 1Q results that were modestly better than last year before one-off costs, Lufthansa Group's 2Q2014 results show a deterioration in its underlying profits. Weaker revenues, especially in Asia Pacific and on the North Atlantic and in the cargo segment, and the effect of strikes and the Venezuelan currency devaluation weighed on the 2Q figures.
These factors were flagged by the company last month when it lowered its 2014 and 2015 operating profit targets and the reduced targets are unchanged. The group has reiterated its previous unit cost reduction target and so the lower profit outlook is entirely due to the revenue environment.
'Normalised' operating profit was down 7% in 2Q
In aviation it is an anomaly to talk of normalised conditions - they are never normal. Nonetheless, the concept does give some basis for comparison. In 2Q2014, the Lufthansa Group's net income fell by 32% to EUR173 million. The operating result, which more closely reflects the underlying performance of the group, fell by 17% to EUR359 million. The 'normalised' operating result, which adjusts for restructuring costs and project costs, fell by 7%, or EUR30 million, to EUR409 million. Revenues fell by 1.7% year on year to EUR7,704 million.
Given that a change in the group's depreciation policy benefited the result by EUR88 million, the like-for-like deterioration in the 2Q result amounted to EUR118 million. This followed a 1Q result that had been modestly better than last year, after taking account of the new depreciation policy.
See related report: Lufthansa's 1Q2014 losses narrow, but its new CEO has a busy agenda, with helpful partners scarce
In spite of continued cost reduction measures under its SCORE programme, the group's 2Q performance was hit by a combination of revenue weakness, pilot strikes (EUR60 million impact) and the Venezuelan currency devaluation.
Lufthansa Group financial highlights: 1H2014 and 2Q2014

All major business segments showed lower results in 1H
The Passenger Airline Group's operating loss for 1H widened by 50% to EUR96 million. Adjusting for one-off restructuring and project costs, this loss narrowed by 67%, but the EUR43 million improvement is much less than the EUR174 million benefit from the change in depreciation policy. For 2Q, the Passenger Airline Group's operating profit before one-off items fell by 8%, even after a EUR88 million benefit from the new depreciation policy.
Within the Passenger Airline Group, Lufthansa Passenger Airlines' 1H operating loss widened by 60% to EUR146 million. Adjusting for one-offs, the loss narrowed by 22% (again, the improvement was less than the depreciation benefit).
In 2Q, Lufthansa Passenger Airlines' operating profit before one-offs fell by 10% in spite of lower depreciation charges.
SWISS improved its 2Q operating profit by 9% to EUR86 million and its 1H operating profit by 46% to EUR92 million. SWISS is the only one of the group's airlines on an improving path of profitability in the half year, although this is largely due to the group's new depreciation policy.
Austrian Airlines' 2Q operating profit fell by 52% to EUR10 million and its 1H operating loss widened by 26% to EUR44 million. Provisions to settle legal claims in connection with the transfer of flight operations from Austrian Airlines to subsidiary Tyrolean Airways were cited by Lufthansa as the main reason for the decline in Austrian's 1H operating result.
Court decisions on the legality of this transfer are expected in 2015. Austrian also suffered from lower revenues and traffic in Russia and Ukraine as a result of the geopolitical events there.
See related report: Austrian Airlines: questions raised over Tyrolean transfer and Austrian's long-haul future
The Logistics segment's 2Q operating profit fell by 62% to EUR13 million and its 1H result fell by 45% to EUR34 million. Its revenues fell by 7% and 5% in 2Q and 1H respectively, but costs fell by 6% and 4%. Cargo load factor was maintained at around 70% in 1H on 2% lower capacity, but cargo yields fell by 3%. The replacement of MD-11 freighters by new Boeing 777F aircraft should improve the segment's cost base.
The Maintenance, Repair & Overhaul (MRO) division's 1H operating result fell by 6% to EUR206 million, in spite of revenue growth. Lufthansa Technik has a healthy contract pipeline and grew its activities in the half year, but pricing pressure meant that revenue growth was not quite sufficient to offset the increased costs.
Lufthansa Group results by segment: 1H2014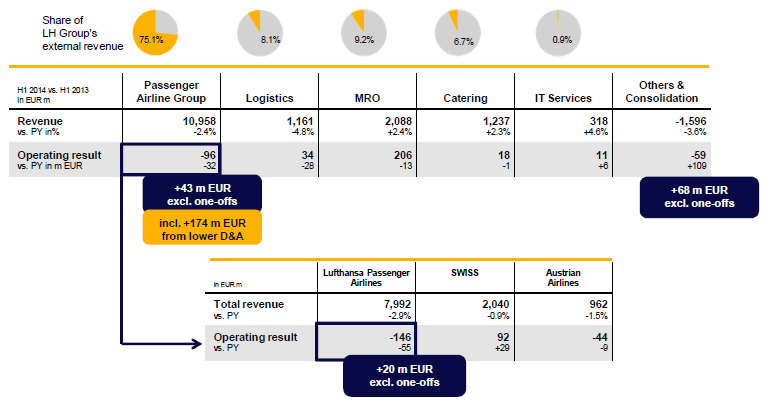 ASKs up 1.6% in 2Q; RASK was down 3.3%
The Passenger Airline Group increased its ASKs by 1.6% year on year in 2Q2014 and RPKs grew by 2.2%, although the number of flights was reduced by 3.1%. Passenger load factor was up 0.5 ppts to 80.2% in 2Q. 1H load factor was flat at 78.1%, a little short of the AEA average of close to 80%. In spite of the modest 2Q load factor gain, yield weakness and adverse currency movements meant that revenue per ASK (RASK) dropped by 3.3%. At constant currency, 2Q RASK was down 2.1%.
The performance of RASK varied by month in 2Q, according to CFO Simone Menne on a conference call to discuss the results. The pilot strike in Apr-2014 had a negative impact, but RASK was then stable in May-2014, before it fell by a "high single digit" percentage in Jun-2014 (leading to the profit warning issued in that month).
Ms Menne added that there had been some improvement in Jul-2014, with short term booking slowly recovering, but the post holiday booking season from Sep-2014 would be key. Lower ASK growth than previously planned in Q4 should ease yield pressure, she said.
Lufthansa Passenger Airline Group KPIs: 1H2014 and 2Q2014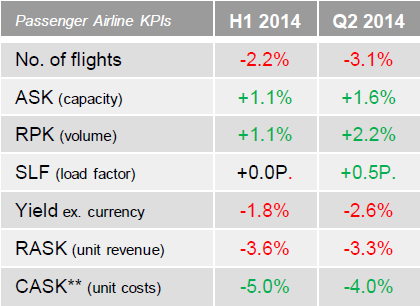 Asia Pacific RASK was down more than other regions
Unit revenue performance varied by region and was generally more stable on existing routes, but weak on new routes. Middle East/Africa was the only region where the group's 2Q RASK increased (+1.9%), although this was entirely due to a strong load factor gain (+4.1 ppts) and, as with all regions, yield was down.
The heaviest fall in 2Q RASK was on the Asia Pacific network (-7.0%), mainly as a result of weak pricing and also due to adverse currency movements (although RASK ex currency was still down 5.5% in this region). Asia Pacific RASK weakness was particularly linked to new capacity to Tokyo Haneda and additional capacity to Bangkok.
RASK was also weak on the group's North American network (down 4.7% in 2Q), where both load factor and yield declined. This region also saw the biggest increase in ASKs from the group (+5.8%). Ms Menne said that yield pressure in the region was particularly noticeable on the US east coast and in Canada (Lufthansa commenced Frankfurt-Montreal and added capacity on Frankfurt-Toronto during the period).
In Europe, RASK was down by 1.6% (-1.1% ex currency) and Ms Menne said that the group had felt particular pressure on Europe-Europe hub connections as more direct routes became available in the market.
Lufthansa Passenger traffic and unit revenue by region: 1H2014 and 2Q2014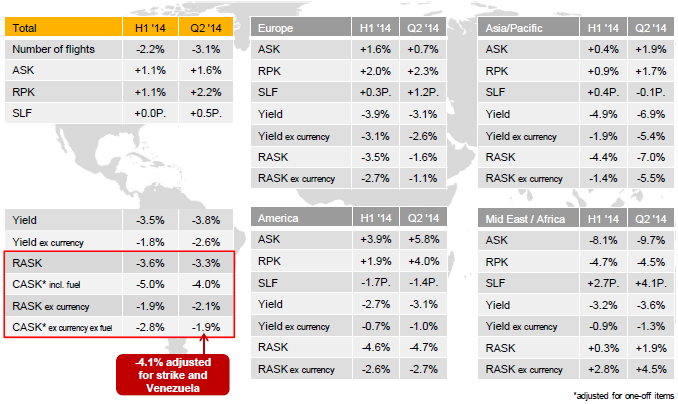 2Q cost reduction less than the fall in revenues
Reported operating costs fell by 1.5% year on year in 2Q2014, in spite of the capacity increase, but the cost reduction was less than the 2.3% fall in total operating revenues. Adjusting for one-off restructuring and project costs, operating costs fell by 2.0%.
Fuel costs were down by 5.5%, thanks to favourable USD/EUR movements and lower prices, while non-fuel costs were just below flat at -0.2% (-0.5% excluding one-offs). The new depreciation policy was an important contributor to the small reduction in non-fuel costs, which were up slightly (+0.5%) excluding one-offs and depreciation.
2Q Labour costs increased by 1.5% year on year, or by 1.3% excluding one-offs, just less than the increase in ASKs and less than the 1.9% increase in headcount.
Lufthansa Group operating costs: 1H2014 and 2Q2014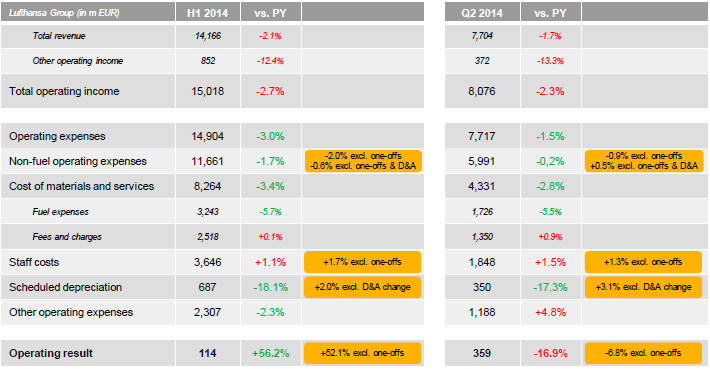 2014 capacity growth trimmed again, CASK reduction target retained
Lufthansa has again trimmed its FY2014 capacity growth plans. At the start of the year, it had planned ASK growth of 5%, but this was lowered to 4% in May-2014 and has now been further reduced to around 3%. Ms Menne said that in reality this would likely be in the region of 2% to 3%. The group's winter capacity will be reduced by the equivalent of five short-haul and three long-haul aircraft. Summer capacity plans are broadly unchanged.
Cargo capacity plans have also been trimmed, with FY2014 now expected to see available tonne kilometres cut by around 1%, compared with growth of 1% planned at the start of the year and aero growth targeted in May-2014.
All other FY2014 trading assumptions are unchanged from May-2014 (see graphic below). In particular, Lufthansa is retaining its unit cost (CASK ex fuel ex currency) reduction target for the passenger business of -4% (of which half from the new depreciation policy).
Lufthansa FY2014 trading assumptions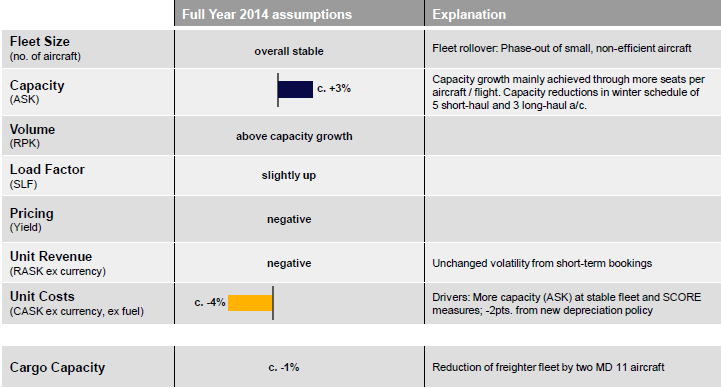 2014 operating result target is less than 2013 result, excluding change in depreciation policy
The profit warning of 11-Jun-2014 lowered Lufthansa's 2014 operating result target to approximately EUR1 billion (EUR1.3 billion before one-offs) from its previous guidance range of EUR1.3 billion to EUR1.5 billion (EUR1.7 billion to EUR1.9 billion before one-offs). It also lowered the long-held 2015 operating profit target of EUR2.65 billion, set under the SCORE programme, to EUR2.0 billion.
Both of these targets have been reiterated following the publication of the 2Q2014 results. Focusing on the 2014 normalised operating profit target of EUR1.3 billion (ie before one-offs), this compares with EUR1,042 million in 2013, but Lufthansa has previously said that the new depreciation policy will benefit this year's result by EUR340 million.
This means that Lufthansa's current 2014 target represents a deterioration against 2013's result of around EUR80 million, or around 8%, on a comparable basis.
There is probably some headroom in the 2014 target, but Lufthansa is currently the only one of Europe's Big Three legacy groups to be guiding to a lower like for like result in 2014 than in 2013.
Lufthansa FY2014 outlook by segment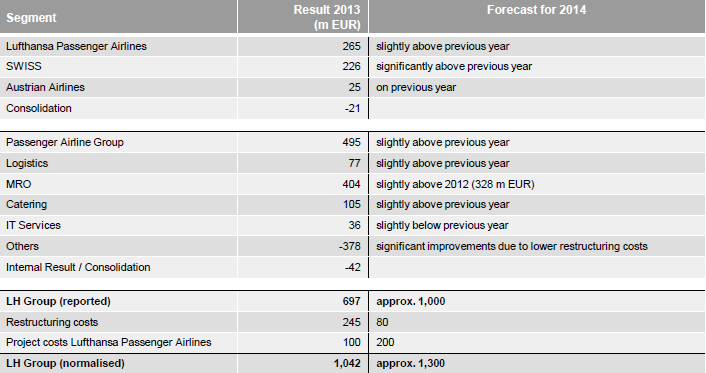 See related reports: