IAG confirms its leadership among Europe's Big Three after growing 3Q profit and raising 2014 target
Analysis
International Airlines Group (IAG) has improved its profitability once more in 3Q2014 and raised its target for FY2014. This sets IAG well apart from Air France-KLM and Lufthansa and confirms its leadership position among Europe's Big Three legacy airline groups. For the group as a whole, unit cost reduction more than compensated for weaker unit revenues.
Nevertheless, the development of its principal airlines was not uniform. IAG's LCC subsidiary Vueling Airlines is still the only profitable LCC subsidiary of any Big Three parent, but its margin fell as its rapid expansion into new markets led to costs being added faster than revenues. British Airways recorded a solid improvement in its margin, built on the performance of its long-haul network (North America in particular). Iberia's turnaround was confirmed by a more than doubling of its 3Q operating profit as its lease-adjusted margin equalled that of BA.
IAG must continue to improve its financial performance, so that it can meet its cost of capital, a target that it has set for 2015. Achieving this will require some assistance from the market, but this is a valuable prize that is now within its grasp.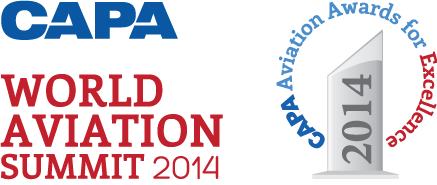 CAPA's World Aviation Summit will he held at the Hilton Antwerp Hotel on 20/21 November 2014, preceded by a Corporate Travel Innovation Day on 19 November.
Register now to hear:
- Director General João Aguiar Machado of DG MOVE
- 20+ airline CEOs
- the highest level debates on EU objectives,
- global liberalisation and the Gulf carriers,
- the role of unions and many other critical issues,
involving over 20 airline CEOs and numerous other industry and government decision makers. Please click here: CAPA World Aviation Summit and Corporate Travel Innovation Day
IAG's underlying operating profit was up 30% in 3Q2014
In 3Q2014, IAG's net profit increased by 3% year on year to EUR580 million, although the comparison with the same quarter a year earlier is distorted by a higher tax rate. The pre-exceptional operating profit, which gives a better reflection of the underlying performance of the business, increased by EUR210 million, or 30%, to EUR900 million. Revenues were up 9% and the operating margin gained 2.6ppts to 15.3%.
For 9M2014, IAG's pre-exceptional operating profit increased by 72% to EUR1,130 million, with the operating margin improving by 2.8ppts to 7.5%.
IAG financial highlights: 3Q2014
| | 3Q2013 | 3Q2014 | Change | 9M2013 | 9M2014 | Change |
| --- | --- | --- | --- | --- | --- | --- |
| Revenue EUR million | 5,406 | 5,866 | 8.5% | 14,113 | 15,155 | 7.4% |
| Operating profit before exceptional items EUR million | 690 | 900 | 30.4% | 657 | 1,130 | 72.0% |
| Operating margin % | 12.8 | 15.3 | 2.6 | 4.7 | 7.5 | 2.8 |
| Net profit EUR million | 580 | 598 | 3.1% | 77 | 694 | 801.3% |
| ASK million | 63,594 | 69,342 | 9.0% | 172,235 | 190,234 | 10.5% |
| RPK million | 53,842 | 58,206 | 8.1% | 140,220 | 153,537 | 9.5% |
| Passenger load factor | 84.7 | 83.9 | -0.7 | 81.4 | 80.7 | -0.7 |
| RASK* EUR cent | 8.50 | 8.46 | -0.5% | 8.19 | 7.97 | -2.8% |
| CASK EUR cent | 7.42 | 7.16 | -3.4% | 7.81 | 7.37 | -5.6% |
| CASK ex fuel EUR cent | 4.88 | 4.83 | -1.1% | 5.21 | 5.00 | -4.1% |
ASKs were up 9.0% as Iberia accelerates and Vueling maintains double digit growth
IAG's capacity in ASKs grew by 9.0% in 3Q2014, although this was not quite matched by RPK growth, up 8.1%, so load factor dipped by 0.8ppts to a still creditable 83.9%. The quarter was the first this year for which Vueling was also included fully in the same prior year quarter (Vueling was acquired in Apr-2013).
Vueling's ASK growth in 3Q2014 accelerated to 28.1% from 23.9% for 1H2014, particularly reflecting its expansion into Rome and Brussels, but its 3Q RPK growth of 25.5% fell short of this. British Airways' capacity growth was 6.7% in 3Q, maintaining the rate of 1H. BA's ASK growth was principally due to longer sector length, but also larger aircraft, some increased frequencies (New York, Cape Town, Seattle) and new routes (eg Austin).
Iberia increased its ASK growth to 6.1% in 3Q, after holding it flat in 1H. Iberia's return to growth has mainly been driven by restored routes, including Amsterdam, Montevideo, Istanbul, Santo Domingo and Berlin. Iberia has also increased frequencies on Mexico City, Chicago and Panama City.
IAG operating statistics: 3Q2014 versus 3Q2013

Iberia's margin up 7ppts, BA up 2.2ppts, but Vueling's margin contracts
According to IAG CEO Willie Walsh, speaking on a webcast to discuss the 3Q results, "The star performer of the quarter has to be Iberia". Iberia grew its revenues by 3.4% and increased its operating margin by 6.9ppts to 13.1%. Adjusting for operating leases (Iberia makes greater use of them than BA and this depresses the operating margin), Iberia's margin was up 7.0ppts to 15.2%, the same level as BA's.
Iberia's business is more seasonal than BA's and 3Q represents its peak quarter, but this demonstrates the progress made by the Spanish airline, which has made full year losses for each of the past six years. Its 3Q margin improvement was largely driven by unit cost reduction (CASK was down 9.8% year on year), which significantly outpaced the fall in unit revenue (RASK fell by 2.6%).
BA's 3Q2014 operating margin improved by 2.2ppts to 15.0%. Like Iberia, its CASK cut (-7.2%) outstripped the fall in RASK (-4.8%), although the gap between the two was narrower. Both Iberia and BA achieved labour productivity improvements, as shown in falling employee cost per ASK (see chart below).
In terms of 3Q2014 operating margin, Vueling is the most profitable airline in the group. However, its operating profit grew by less than 1% in spite of a 21% increase in revenues and its margin fell 4.2ppts to 20.7%. Its lease adjusted margin fell 4.0ppts to 23.1%.
As with the other two airlines, Vueling suffered a fall in unit revenues in 3Q (RASK-5.4%), but CASK held flat (-0.1%). Its RASK performance was diluted by its expansion into new markets, while its CASK was burdened by costs associated with this expansion. In particular, the new bases have led to increased costs of staff training and accommodation.
Nevertheless, Mr Walsh said that he was "comfortable" with Vueling's development, which was in line with what IAG expected. The group's CFO, Enrique Dupuy, said that the contract with Airbus for the delivery of new A320 aircraft would improve Vueling's unit cost structure, particularly as much of the recent expansion had been through the use of second hand leased aircraft.
IAG headline figures by operating company: 3Q2014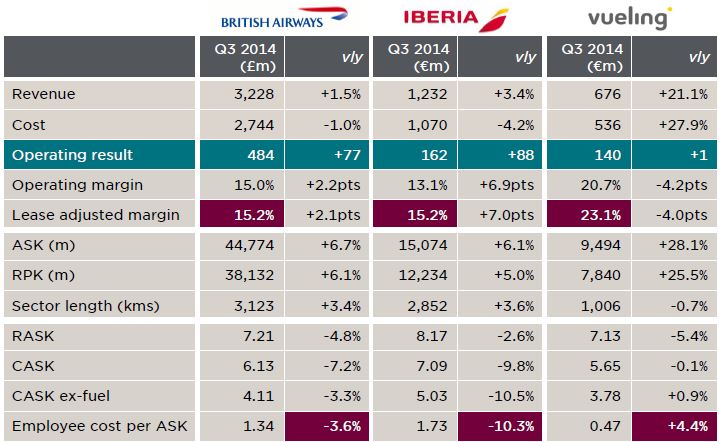 IAG's Ggroup revenue rose 8.5%
IAG's total revenue increased by 8.5% year on year in 3Q2014, just below the 9.0% increase in ASKs. The main revenue driver was passenger revenues, up 9.5%, while cargo revenues fell by 7.8% (a bigger drop than the 3.4% fall in cargo tonne kilometres). Total revenue per ASK was almost flat (-0.5%).
IAG revenues: 3Q2014 versus 3Q2013
Passenger unit revenue (passenger RASK) for the group increased by 0.4% in 3Q2014. Excluding the positive impact of foreign exchange movements, passenger RASK fell by 0.9% and there were some significant regional variations in this indicator.
LatAm RASK falls heavily; North America RASK up modestly in "disciplined" market
IAG's Latin America network suffered the biggest fall in RASK, -6.7% at constant currency, while North America enjoyed a modest increase of 0.6% in constant currency RASK. These contrasting RASK growth rates occurred in spite of fairly similar capacity growth rates (ASK +6.0% in Latin America and +7.1% in North America).
However, competitor capacity growth between Europe and Latin America has been strong and both Air France-KLM and Lufthansa have recently reported weak unit revenues for 3Q2014 in this region. Mr Walsh noted the growth of the LATAM Group, but did not see it as a threat. In the longer term, IAG hopes to form a joint venture with its oneworld partner on the South Atlantic.
By contrast with the Latin American market, Mr Dupuy said that the North America market was "behaving strongly and being managed rationally". Mr Walsh added that capacity in this market was "very disciplined" and additional capacity was supported by economic growth. He said that IAG continued to grow its share of premium traffic in this region and was not concerned by the new alliance between Virgin Atlantic and Delta.
Asia Pacific and AMESA (Africa, Middle East and South Asia) had only slight falls in RASK in spite of fairly strong capacity growth and both regions made a positive contribution to the group's profits, according to Mr Dupuy. A number of BA routes in Asia have performed better, including Singapore, Bangkok, Beijing, Chengdu and Tokyo. This reflected the strength of London-originating demand and the acceptance in the market of BA's fleet changes.
More than half of the ASK growth in Europe (+13.5%) was due to Vueling's expansion and this also had an impact on the RASK performance in the region (-3.9% at constant currency).
IAG passenger capacity and passenger unit revenue* by region: 3Q2014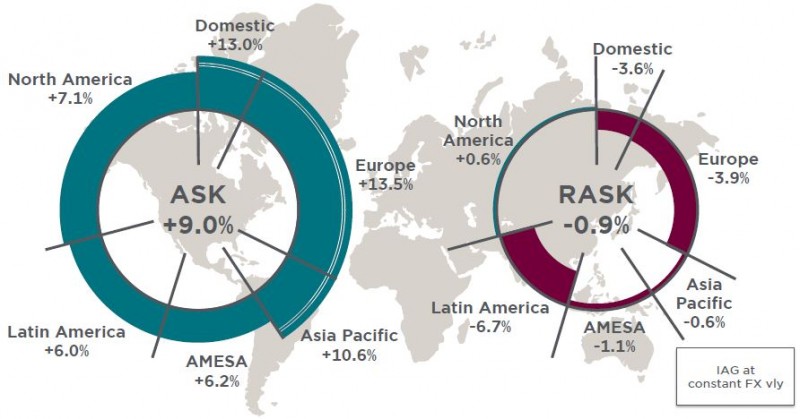 Group operating costs rose 5.3%
IAG's 3Q2014 operating costs (before exceptional items) grew by 5.3% year on year, less than the growth in revenues and ASKs. This performance was helped by fuel costs remaining almost the same as last year's level (+0.5%), while non-fuel costs grew by 7.8%. Fuel costs benefited from lower prices, but also from the deployment of more efficient aircraft such as the 787, A330 and A340.
Labour costs increased by 8.0%, which was more than the 0.8% increase in average headcount, but still less than the growth in ASKs. BA and Iberia enjoyed a year on year reduction in employee costs per ASK, partly offset by an increase in employee costs per ASK at Vueling.
Currency movements had a negative impact on 3Q operating costs of EUR112 million. The reported CASK reduction of 3.4% would have been a reduction of 5.7% at constant currency. The reported ex-fuel CASK cut of 1.0% would have been a cut of 4.5% at constant currency.
IAG operating costs: 3Q2014 versus 3Q2013

IAG to grow 4Q ASKs by 6.0%
In 4Q2014, BA's ASK growth is planned to slow to 3.4% year on year, while Iberia's will accelerate further to 8.5%. Vueling will increase its ASKs by 21.7% in 4Q. The group's overall ASK growth in 4Q2014 will be 6.0%.
BA's growth will come from a mix of new routes (eg Austin, Punta Cuna and London City to Dublin, Florence and Rotterdam), larger aircraft and increased frequencies. The bulk of Iberia's growth will derive from restored routes, with a contribution also from increased frequencies (as in 3Q). Vueling's growth in 4Q will be driven by its new base at Rome Fiumicino.
IAG planned ASK growth by operating company: 4Q2014
IAG's FY2014 profit target has been raised
For FY2014, IAG's ASK growth plan remains unchanged at 9.3% as reported, or 7.1% on a proforma basis (ie treating Vueling as if it were included for the whole of 2013). BA's ASK growth will be 5.8%, Iberia's 3.7% and Vueling's 24.9% for the year.
Regarding passenger unit revenue, IAG was previously expecting this to be flat at constant exchange rates. At the 9M stage, this measure was a little weaker than this target, having fallen 1.0% (mainly due to lower load factor). On ex-fuel unit cost at constant currency, IAG had only said that this would be down for the year. At the 9M stage, this indicator was down by 5.0% and this has more than offset the weaker unit revenue performance.
IAG has consequently increased its guidance for FY2014 pre-exceptional operating profit. It now expects this to improve by between EUR550 million and EUR600 million on 2013's result of EUR770 million, implying operating profit in the region of EUR1.3 billion to EUR1.4 billion. Previous guidance was for an improvement of EUR500 million.
See related report: IAG's 2Q results and reiterated profit targets set it apart from Lufthansa and Air France-KLM
IAG did not make reference to its 2015 operating profit target of EUR1.8 billion, which it regards as being necessary for it to generate a return on capital that will cover its cost of capital. Its annual Capital Markets Day on 7-Nov-2014 may reveal whether this target will also be increased.
IAG guidance for 2014

IAG reinforces its leadership position among Europe's Big Three
IAG's performance in 3Q and 9M2014 continues to set it ahead of the other two big European legacy groups, Air France-KLM and Lufthansa, both in terms of the margins achieved and also in terms of year on year improvement (see table below).
Moreover, it is still the only one of the three not to have cut its pre-exceptional operating profit targets for 2014 and 2015 during the course of this year.
See related reports:
IAG, Air France-KLM and Lufthansa revenues and operating profit* (EUR million): 3Q and 1H 2014 versus 2013
| | 3Q2013 | 3Q2014 | Change | 9M2013 | 9M2014 | Change |
| --- | --- | --- | --- | --- | --- | --- |
| | | | | | | |
| Revenue | 5,406 | 5,866 | 8.5% | 14,113 | 15,155 | 7.4% |
| Operating profit EUR million | 690 | 900 | 210 | 657 | 1,130 | 473 |
| Operating margin % | 12.8 | 15.3 | 2.6ppts | 4.7 | 7.5 | 2.8ppts |
| | | | | | | |
| Revenue | 7,175 | 6,695 | -6.7% | 19,397 | 18,700 | -3.6% |
| Operating profit EUR million | 641 | 247 | -394 | 193 | 40 | -153 |
| Operating margin % | 8.9 | 3.7 | -5.2ppts | 1.0 | 0.2 | -0.8ppts |
| | | | | | | |
| Revenue | 8,303 | 8,458 | 1.9% | 22,767 | 22,624 | -0.6% |
| Operating profit EUR million | | 785 | 68 | 861 | 1,004 | 143 |
| Profit change ex change of depreciation policy | | | -19 | | | -109 |
| Operating margin % | 8.6 | 9.3 | 0.6ppts | 3.8 | 4.4 | 0.7ppts |
In some ways, all three have been doing broadly similar things in recent years, namely restructuring their network airline businesses, while limiting or cutting their capacity, and seeking growth opportunities through lower cost point to point operations. IAG's superior profit performance reflects its better execution in both of these areas.
On network airline restructuring, IAG started earlier than the other two majors, set clear targets for its subsidiaries and has taken a more consistent stance in the face of challenges by labour groups. And in the low cost area, its LCC is more independent, more pan-European and more efficient.
IAG, Air France-KLM** and Lufthansa* operating profit before exceptional items and one-off costs (EUR million) 2013 and targets for 2014 and 2015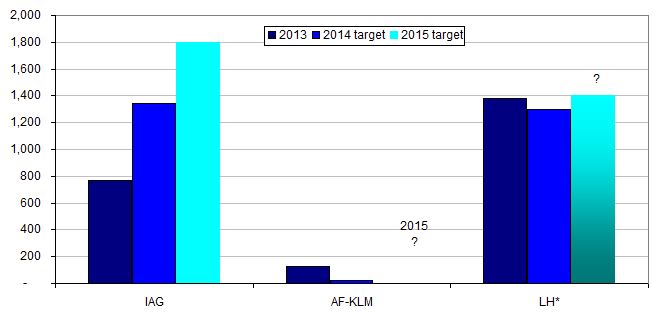 In spite of this success, IAG knows that it still has more to do in order to improve its returns so that it can cover its cost of capital.
Moreover, although reaching that milestone will be a significant achievement, maintaining that level of performance through the economic cycle will be a much bigger challenge in the notoriously cyclical airline sector.
Perhaps its Capital Markets Day will say something about how it plans to meet this challenge. Meanwhile, the other two of the Big Three would gratefully face the same challenge.