How FSCs can regain short haul share from LCCs Part 2: high level. CAPA Airlines in Transition.
Analysis
Part 1 of the report on the ways full service airlines can regain short haul market share from LCCs considered more detailed issues at the 'coal face' of the business. These included pricing strategy, ancillary revenues, the approach to cost reduction, changes to the product and service and, crucially, how to gain the support of employees.
This second part looks at three higher-level issues, namely distribution strategy, establishing new business models and the use of partnerships. Both parts of the report are based on themes arising from a panel discussion under the chairmanship of Professor Rigas Doganis at the CAPA Airlines in Transition conference in Dublin on 10 and 11-Mar-2016, and the related votes taken on these topics by delegates.
Since CAPA's first Airlines in Transition event four years ago, there has been considerable movement in the business models of both LCCs and FSCs, mostly towards each other. In spite of the emergence of a hybrid model, LCCs still have a unit cost advantage and FSCs still face a competitive challenge. However, LCC seat share has levelled off since 2013.
This report should be read in conjunction with part 1: CAPA Airlines in Transition. How FSCs can regain short haul share from LCCs Part 1: at the coal face
Distribution: there is a need to improve the digital platform
When the LCC model first emerged, distribution was one of crucial areas of differentiation from legacy airlines. LCCs pioneered the use of direct sales channels, firstly through call centres and then through the internet. It can even be argued that the advent of web-based distribution was the key catalyst sparking the growth of the LCC model (market deregulation was also crucial, at least in the US and in Europe).
Direct sales channels, particularly through the internet, offer two very significant advantages over traditional methods in the airline industry. Firstly, they provide substantial cost savings and, secondly, they bring the customer and airline into direct contact, giving an opportunity to develop a closer and more meaningful relationship.
In recent years, direct distribution has taken great strides from its early days. Not only have airline websites benefited from major overhauls, enhancing their appeal and functionality to users, but even more importantly, mobile apps have added a whole new direct channel. The very personal nature of people's interaction with their smart phones, tablets and other mobile devices, further opens up opportunities to deepen and personalise the relationship between airline and customer.
Although almost all airlines now use direct sales channels, LCCs still typically make a higher proportion of their sales online and through mobile apps, when compared with legacy airlines. Travel agents and GDSs are typically still more important to legacy airlines, particularly in order to reach corporate clients and premium passengers.
However, many LCCs now also use third party channels to increase their visibility with business travellers. In some cases (such as Ryanair), LCCs have re-engaged with GDS companies, many years after disintermediating entirely. Moreover, FSCs have also been using direct channels for a long time, even if they account for a lower proportion of sales than they do for LCCs.
It is clear that an effective digital distribution strategy is essential for all airlines, whether LCC or FSC, and there continues to be an increasing convergence between the business models in this area. However, according to research carried out by Dr Michael Hanke of consultancy SkaiBlu, there is a wide range of competency levels in airlines' digital activities (see chart below).
The Digital Airline Score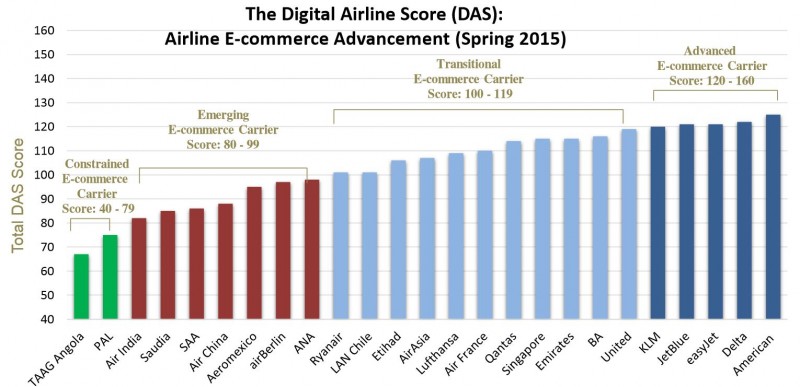 Moreover, FSCs and LCCs are approaching the digital question from different angles. LCCs are in the search for revenue enhancement while attempting to maintain their cost advantage. For FSCs, digital technology is not sufficient to allow them to become low cost operators. Rather, it provides an opportunity for brand enrichment through an enhanced customer experience.
The precise mix of channels varies, but most airlines recognise that the interests of customer choice and customer experience are best served by making use of a wide range of distribution options. Nevertheless, for a legacy airline needing to fight back against the incursion of LCCs into its short haul market share, distribution strategy must be devised to suit its specific needs.
Delegates at the Airlines in Transition (AIT) event considered the distribution strategy options that were discussed by the panel, taking on the role of the board of a legacy airline considering how to win back short haul market share from LCCs, on which they were offered a vote.
The clearly preferred option, backed by half of the delegates voting, was to improve both the properties and the performance of the airline's digital capabilities. In second place, but a distant second with fewer than a third of votes, was to make greater use of online travel agencies and service providers. The final two options, improving web customer service and selling through the airline's own website and app, received a combined total of under a quarter of votes.
New business models: partnership with LCC was favoured over buying, launching, or becoming one
Some FSCs have established new business models as a way of regaining market share from LCCs on short haul. This can involve converting themselves into something different, for example transforming short haul operations to the LCC model. Aer Lingus went some way down this road in the early 2000s under Willie Walsh. Other options include setting up a new LCC subsidiary, buying an existing LCC, or developing partnerships with an LCC. Previous attempts by legacy airlines to establish new LCCs, such as British Airways with Go, KLM with Buzz, or United Airlines with Ted, have met with only limited success.
More recently, Lufthansa has developed Eurowings into a low cost operation, both short haul and long haul (not strictly a new airline, but re-established with a new model). Singapore Airlines has established Scoot as a long haul LCC.
IAG followed the approach of buying an established LCC with its 2013 acquisition of Vueling. Singapore Airlines has also chosen this route in short haul markets through its acquisition of Tiger.
Some FSCs have responded by cutting short haul capacity and increasing their focus on long haul. British Airways followed this approach for several years (after selling Go), but has returned to a more growth-oriented strategy on short haul more recently.
No single right answer - but maintaining a low cost culture is vital
There is no single correct answer to the question of whether a legacy airline should buy or create a new LCC. However, the result of the industry's experience in this area suggests that LCC subsidiaries of FSCs must be allowed to create and maintain their own culture, in which cost consciousness can flourish. The important point is to determine which approach will create value for investors by generating a sufficient return on invested capital. Sound economics should be the objective, not market share in itself.
Speaking on the AIT panel, Aer Lingus CEO Stephen Kavanagh questioned whether IAG could have been as successful in building a new LCC as it was in buying Vueling; "Probably not," was his verdict, adding that previous attempts at creating LCC subsidiaries did not work, other than as a defensive strategy. This has now become a "crowded space", according to Mr Kavanagh.
The imperative of long haul feed can be gained from other airlines, if necessary. This could be done through developing a commercial partnership with an established LCC. This point was developed by Star Alliance CEO Mark Schwab. "Don't try to convert to a low cost carrier," he argued at AIT, "short haul needs to shrink. You can get feed from other providers". As they were with all the panellists, Mr Schwab's remarks were made in the context of the panel playing the role of the board of a fictitious FSC.
A significant practical and financial challenge is that market valuations of LCCs are often now much higher than FSC valuations. With this in mind, Mr Kavanagh suggested that, rather than considering buying or investing in an LCC, it would be more realistic to ask how best to position the FSC with a view to attracting investment from an LCC.
For Decius Valmorbida, VP Distribution Marketing at Amadeus, shrinking on short haul risks losing connectivity to LCCs. "What is to stop them moving up to long haul?" he asked. Mr Valmorbida argued that, by buying a low cost carrier, "you start with the right economics".
After considering the issues discussed by the panel, an open poll was made of those attending CAPA's AIT event. The audience strongly backed the option of a codeshare or JV partnership with a low cost airline to provide long haul feed. Attracting almost two thirds of the votes cast, this was comfortably the preferred option for establishing new business models.
In previous times, such a solution would have met a significant challenge in the form of IT compatibility. However, this issue has either gone away altogether, or is at least solvable. Examples of FSC-LCC partnerships are plentiful and include British Airways and Iberia codesharing with Vueling; several FSC codeshares with JetBlue; Emirates' codeshare with Jetstar; and China Eastern and China Southern with Virgin America.
However, with the exception of Vueling, codeshares with FSCs are still rare among Europe's larger LCCs. Ryanair has publicly courted a number of long haul airlines with a view to at least an interline arrangement to help feed their long haul routes, but has so far not reached any agreements. An important obstacle in Ryanair's case is the apportionment of risk in the event of a missed connection, something that Ryanair is not prepared to assume.
A sizeable minority, almost a quarter, of delegates voted in favour of converting to the LCC model (this went against the prevailing view of the "board"). Only a very small minority supported either buying an LCC, or reducing short haul activity to focus on long haul. No votes were given to the option of launching a new LCC.
Partnerships: bilateral cooperation is the preferred approach
Considering the idea of partnerships more generally, the panel considered the options available to a full service airline in this area when competing with LCCs in short haul markets. Codeshares are a base level of bilateral cooperation that can be used tactically when and where they add to an airline's network and connectivity.
Joint ventures allow a much closer level of cooperation, although they are more complicated and take time to agree. JVs typically evolve from looser forms of partnership, rather than materialising from nothing.
Global alliances provide members with benefits in terms of mutual feed, marketing and branding. Not surprisingly, Star Alliance CEO Mark Schwab regards the alliances as a "good thing", as they result in "the rest of the world selling onto your network". The access provided by alliances to a global network is an advantage against LCCs, according to Mr Schwab.
When considering partnerships, airlines must also consider the impact on customer loyalty and frequent flyer programmes. For Erik Venter, CEO of Comair, it is important for an airline that intends to retain a premium component to its business model to retain an FFP, in addition to product features such as lounges. This means choosing a partner with a strong premium brand. Factors such as having access to a global network and loyalty scheme should help a full service airline to differentiate itself from LCCs and to reduce customer price sensitivity, thereby giving some support to RASK. These factors are important in deciding on a partnership strategy.
Echoing the vote on establishing new business models, delegates at AIT also favoured bilateral codeshares or JVs over other forms of partnership. This option received more than 70% of votes cast, while the options of joining a global alliance and establishing equity partnerships each only received a smattering of votes. The low vote by delegates for global alliances may reflect the levelling out of momentum in membership growth in recent years. Bilateral relationships offer a more pragmatic and flexible solution to a legacy airline planning to strengthen its access to particular markets.
Moreover, the alliances can never be a 'one size fits all' solution. A number of smaller airlines have become less satisfied with every aspect of their membership, particularly since the advent and growing importance of the immunised JVs within each alliance (typically involving larger airlines and excluding smaller ones).
Although it is clear that very few airlines can go it alone and that partners are essential, a sizeable minority, around one in five AIT delegates, took the view that alliances of any kind may not be sufficient in competing against LCCs on short haul.
The strategic response to LCC competition is complex, but may be starting to work
As these discussions highlighted, there is a complex array of strategic factors for any FSC to consider as it attempts to regain market share from LCCs on short haul routes. The decisions on the best way forward, voted by conference delegates, were grouped into "coal face" issues (see part 1 of this report) and higher level matters.
The first set of decisions was to adopt more dynamic pricing; to grow ancillary revenues to 15% to 20% of total revenue; to focus cost reduction efforts on outsourcing and labour productivity; to unbundle the short haul product, while also improving the product to justify higher fares; and to gain employee support for change by improving labour relations and introducing a profit share.
On the high level issues, the decisions were to build a distribution strategy around improved digital performance; to develop a codeshare or JV with a low cost airline; and to favour bilateral partnerships over other forms of alliance/cooperation.
The breadth of the issues, and the note of caution sounded over the possible insufficiency of alliances and partnerships, serve to highlight the significant challenges still faced by legacy airlines in regaining market share from LCCs on short haul routes.
That said, there is some evidence that the share taken by LCCs is no longer advancing as rapidly as it once was.
Indeed, CAPA's analysis of the share of seats taken by LCCs, using data provided by OAG, indicates that their global share has levelled off at around 25% since 2013.
LCC share of seats world-wide 2007 to 2016*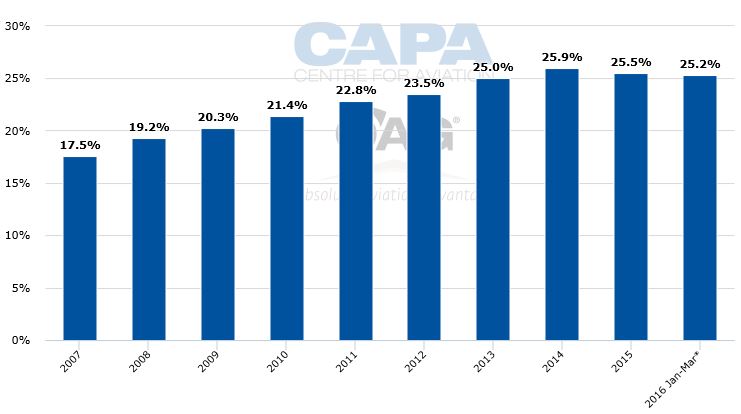 This may be partly a matter of reclassification, as LCCs hybridise - a good example in itself of the airline transitions occurring as the role and positioning of LCCs evolves and as business models converge.
It may also reflect the extent to which the strategies discussed by the AIT panel have actually helped FSCs to compete more effectively with LCCs.