CAPA Airlines in Transition. How FSCs can regain short haul share from LCCs Part 1: at the coal face
Analysis
From the time when the penny finally dropped for full service airlines – that LCCs were not in fact going away – full service airlines have sought many ways, usually without great success, to counter the erosion of their short haul operations by the new entrant, lower-cost, specialist point-to-point airlines. The impact has been not only on their regional operations, but usually also on their global network, since short haul services feed into their hubs, fattening long haul loads.
This was more or less tolerable while the competition on long haul transferring over their hub was stable and their alliances, global and bilateral, were able to protect them. Then the super connectors (Gulf airlines and Turkish) came along disturbing the comfortable equilibrium, and in turn placing renewed importance on short haul.
At the CAPA Airlines in Transition conference in Dublin on 10 and 11-Mar-2016, a "Board" under the chairmanship of Professor Rigas Doganis considered how a full service airline's board should respond to the loss of short haul share. Their deliberations were then voted on by delegates. This is the first part of two reports on the issues raised.
In every region of the world full service airlines have lost market share to low cost airlines in short haul markets. The nature of this challenge has varied market by market, but FSCs must consider a number of common and important issues in formulating their strategies and responses.
Selected European countries' international LCC seat share Mar-2016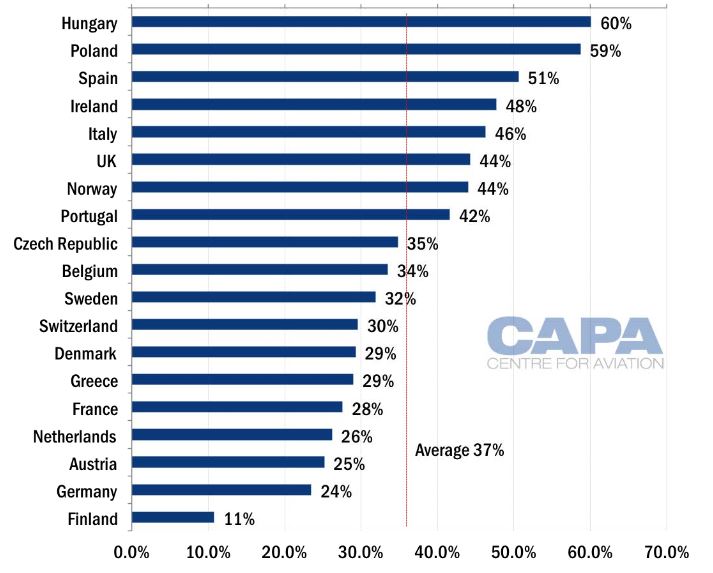 Starting with more detailed issues at the 'coal face' of the business, a number of factors will determine the look and feel of such an airline in its short haul markets. These include pricing strategy, ancillary revenues, approach to cost reduction, changes to the product and service and, crucially, how to gain the support of employees.
Pricing strategy: segmenting the market and dynamic pricing
The impact of LCCs on pricing strategy in short haul markets has been significant. Aside from the simple and obvious impact that they have had in reducing average fares, two other important pricing features have become commonplace as a result of LCC influence.
Firstly, the presence of LCCs has led to the unbundling of the airline offer into its component product and service features, each priced separately. Starting with the simple seat from A to B, separate prices are on offer for additional features such as seat reservation, priority boarding, onboard catering, hold baggage check-in and ticket rebooking flexibility.
Secondly, LCCs pioneered the use of a dynamic pricing strategy, which typically involves prices rising as the departure date approaches, but also increasingly involves a more subtle adaptation of prices according to demand. Passengers typically value a last-minute booking more highly than one booked a long time in advance, since last-minute bookings are generally made for reasons of greater necessity.
Both unbundling and dynamic pricing are forms of market segmentation through what economists call 'price discrimination'. In essence, this means offering each customer a combination of product/service features and time availability, so to maximise the total price that each customer is prepared to pay.
These pricing features have been adopted by many FSCs in short haul markets, just as, more recently, many LCCs have offered bundled fares to those who are looking for the convenience of buying additional features at an all-inclusive price, and are prepared to pay a premium.
This has led to the so-called hybrid model, where both FSCs and LCCs have taken elements of each other's approach to the short haul market. Pricing needs to be consistent with what Martin Sedlacky, COO at airBaltic called, the airline's "identity profile".
Short haul business class is still relevant, but perhaps not with separate seats
The key is to offer consumers a choice and to retain product and service features that attract a premium on a profitable basis. An important consideration for FSCs is whether or not to continue to offer a business class cabin on short haul routes. Premium passengers on long haul routes will often require a business class product when transferring to/from short haul routes.
Moreover, there is still a segment of customers that is prepared to pay for business class on short haul point-to-point, although this can vary from region to region. Business class can still be a point of differentiation for FSCs (although there are hybrid LCCs offering business class, and others offering business fares).
A common, and pragmatic, approach now followed by many FSCs is to use at least a small part of the aircraft cabin for business class on a flexible basis. This means that the seats will be the same as in economy, often with the middle seat empty, and additional features bundled into the fare.
The number of seats and rows offered as business class can be varied by market, time, and date according to demand. This approach avoids some of the higher costs associated with traditional business class cabins, such as seats and cabin infrastructure.
Some FSCs continue to argue that their superior schedules and networks can justify a premium on their short haul economy fares, taking them above LCC prices. The level of any such premium is being eroded, however, particularly as the larger LCCs continue to expand and improve their schedules and networks.
Dynamic pricing: the favoured option
After a discussion of pricing, a clear majority of delegates at Airlines in Transition (AIT) voted in favour of adopting more dynamic pricing. This option was significantly better supported than the other options offered, which were to simplify fare rules, to lower fares and to match LCC fare levels.
Ancillary revenues: FSCs need to grow
Ancillary activities have become an increasingly important source of revenue. Levels of disclosure on ancillaries in airlines' annual accounts vary widely, making reliable comparison a little challenging. Nevertheless, research in this area by IdeaWorks and Dr F O'Connell of Cranfield University indicates that ancillaries typically account for a higher proportion of total revenue for LCCs than for FSCs (and for US airlines than for airlines elsewhere). In 2014, this varied from 20% to 39% for LCCs, while it ranged from 0% to 15% for FSCs.
Ancillary revenue as a percentage of total revenue for selected LCCs 2014
Ancillary revenues can be extremely profitable. According to Professor Doganis, Ryanair's profit margin from ancillaries is 96%. For many FSCs a large part of ancillary revenue is the result of unbundling, and therefore not from new revenue sources. Where genuinely new revenues can be generated (or where unbundling leads either to a higher overall price or increased passenger traffic volume), ancillaries are an important means for growing both revenue and profit.
The research noted above indicates that for many FSCs there is a clear opportunity to increase the level of ancillary revenue. At Finnair, 5% of revenue came from ancillaries in 2015, according to the airline's Chief Commercial Officer, Juha Jarvinen, speaking at CAPA's AIT conference. This was the equivalent of EUR12 per passenger, but Mr Jarvinen hopes to increase this to EUR20 in two years.
Nevertheless, growing ancillary revenue is not a goal to be pursued indiscriminately by legacy airlines wishing to preserve their brand. If too much revenue comes from unbundling and from non-core additional activities, this risks damaging the core product and focusing too much attention on price alone.
Delegates at AIT voted to increase the proportion of revenue coming from ancillaries, although there was not a clear majority in favour of one particular target. Broadly equal support, with close to one third of the votes for each, was given to a target of 15% and to a 20% target. There was also a sizeable minority in favour of increasing it as high as 25% to 30% or more.
Unit cost reduction: from fleet, outsourcing, network and labour
Even allowing for differences in product and pricing strategies that may allow FSCs to price above their LCC competitors, price has become a critical dimension of competition in short haul markets.
This means that prices must be low in order to attract volume and, consequently, unit costs must be low in order to allow a profit margin. It might seem self-evident and in a sense tautological, but LCCs have lower unit costs than FSCs and this enables their lower fares.
Cost per available seat kilometre (CASK) for global airlines 2014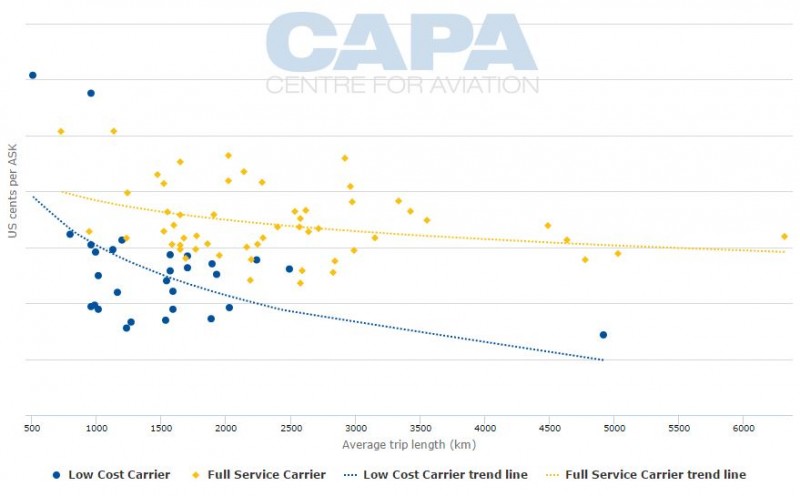 Legacy airlines can change a number of factors to achieve cost reduction. These can be grouped into four areas: fleet, outsourcing, network and labour.
Fleet: unit cost savings through modern technology, size and seat density
In the area of fleet, unit cost reduction can be achieved through the use of more modern, more fuel efficient aircraft. Against the margin improvement, which can be derived from the consequently lower unit operating cost, must be weighed the associated capital cost.
Ultimately, sustainable profitability does not just mean generating higher margins, but also a higher return on invested capital. Moreover, not every airline has the financial means to upgrade its fleet every time there is an upgrade in the available technology.
Before investing in newer technology, airlines must consider what the right aircraft size is for their network. Larger aircraft tend to offer a unit cost advantage over smaller aircraft. However, on any given route, a larger aircraft must be operated with fewer frequencies and this compromise to the schedule will dilute its appeal to premium passengers, diluting yield.
There will always be some routes on which it makes commercial sense to operate regional jets rather than A320/Boeing 737 narrow bodies (in addition to those where airport infrastructure precludes narrowbodies). Nevertheless, it probably only makes sense for the larger FSCs to operate both regional jets and narrowbody aircraft. On routes that require service by regional jets, it can be better to outsource operations to a regional specialist.
A related issue to aircraft size is seat density. Reconfiguring aircraft to take more seats lowers unit cost with a relatively low capital cost. Modern seat materials technology has led to the development of thinner, lighter seats which can be installed into more rows compared with older seats.
Network: cost savings versus network integrity
FSCs have often made cuts to their networks as part of a cost reduction programme. Clearly, it is not sustainable to keep routes that are loss-making, although there may sometimes be a short-term argument to do so, for example it market conditions are likely to improve.
It is sometimes also argued that FSCs should maintain a wide range of destinations in order to preserve their network integrity and superiority over LCCs. If persevering with a loss-making route offers advantages such as helping to maintain customer loyalty, providing essential feed to other routes, these arguments may be valid.
However, the airline should satisfy itself that the network as a whole is more profitable with the loss-making route than it would be without it. Again, it might be a better solution to close or outsource the route.
Outsourcing can achieve unit cost reduction
In addition to outsourcing the operation of some routes and/or market segments to third parties, as mentioned above, a range of support services can also be outsourced to suppliers. If the process is effectively managed, savings can be achieved by outsourcing activities such as maintenance, catering, handling and IT services.
Third party suppliers can achieve greater economies of scale by concentrating on such activities, while outsourcing them allows the airline to concentrate on its own core strengths. In addition, depending on the structure of the contract, outsourcing can convert the cost of such activities from fixed to variable. Nevertheless, a minimum level of in-house activities must be retained in order to protect the brand and core service.
Labour is one of the biggest costs for most FSCs
Labour is a crucial cost area, often ranking as their number one or number two cost category (depending on the price of fuel).
Among Europe's Big Three legacy airline groups, IAG has had the greatest success with cost efficiency improvements, mainly thanks to agreements over labour productivity. Its establishment of Iberia Express and acquisition of Vueling demonstrated to its workforce that IAG had alternatives, and this helped to secure labour agreements in the mainline Iberia operation.
The benefit of developing alternatives has not been lost on other legacy airlines in Europe. "It keeps labour relations healthy to have alternatives", said Finnair's Mr Jarvinen. This point was echoed by Daniel Roeska, VP Business Development at Lufthansa German Airlines, who said, "What is Plan B if agreement fails?"
Outsourcing: the preferred approach to cost reduction
More than two in five AIT conference delegates voted for more outsourcing as the preferred option for reducing costs. Not far behind, with around one third of votes, was improved labour productivity.
Perhaps the strategy of outsourcing as a means of increasing negotiating power with unions struck a chord with delegates. Cost reduction from changes to network and fleet received only a combined quarter of the votes cast.
Unbundling: the favoured choice for reformatting the product
Another response to LCC competition by FSCs involves reformatting the product. Keisuke Okada, Special Adviser to the Chairman at ANA Holdings, argued for four areas of change.
Firstly he said that airlines need to prepare for new booking channels, particularly the digitalisation of distribution. Secondly Mr Okada supports improvements in connectivity on both domestic and international markets. The third change is that ancillary revenue needs to grow, and the fourth – he believes that a LCC subsidiary should be established.
Almost half of the votes cast by AIT attendees on the options for reformatting the product were in favour of unbundling (also discussed under pricing, as outlined above). More than one third of votes backed improving the product to justify higher fares compared with LCCs. A small minority favoured the option of maintaining the product, but also lowering costs.
Employee buy-in: improved labour relations and introducing a profit share
Making decisions about pricing, ancillaries, costs and the reformatting of the product are of no use if employees are not happy with implementing those decisions. Achieving support from the workforce, gaining employee 'buy-in', is crucial in any strategic plan.
As discussed above, an important approach to securing this is to create alternatives to the status quo. IAG's launch of Iberia Express and acquisition of Vueling; Finnair's outsourcing of crewing on certain routes; and Lufthansa's creation of its new Eurowings LCC brand are all examples of this.
In addition, it is important to retain open channels of communication with labour representatives and to avoid what Lufthansa's Mr Roeska called "delegating employee communications to unions, so that the sense of belonging is with the union, not the company".
Achieving this involves senior management teams spending time with employees, according to the flynas CEO Paul Byrne: "the more successful airlines tell a consistent story top down," he said.
Almost 80% of votes on the best way to achieve this were fairly evenly split between two options. Just ahead was improving relationships between management and employees, thereby improving the culture, while close behind this was introducing some form of profit share for staff.
Part 2 of this report on the issues arising from the discussion at CAPA's Airlines in Transition on how FSCs can regain share from LCCs will look at high level issues. These include distribution strategy, establishing new business models and the use of partnerships.