Hong Kong Airlines IPO Part 3: Improved links with group airlines and new partnerships essential
Analysis
This is Part 3 of CAPA's analysis of Hong Kong Airlines' proposed IPO. Part 1 reviewed the airline's operational and financial performance and its competitiveness in the local market.
Part 2 looked at the impact of capacity constraints at Hong Kong's Chek Lap Kok Airport and the proposed long-haul routes that Hong Kong Airlines is considering.
This concluding Part examines Hong Kong Airlines' heritage and explores its options as a second full service airline in Hong Kong.
One avenue to be pursued must almost inevitably be establishing some firm partnerships, where its own organic growth may be constrained. Here Hong Kong Airlines offers potential partners a highly attractive entree to the Hong Kong SAR and, behind it, into the mainland.
| | |
| --- | --- |
| | CAPA's Asia Aviation Summit and LCC Congress will he held at the Capella, Sentosa in Singapore 13/14 October, followed by a Corporate Travel Day on 15 October. To hear about China's new LCC movements and from all of Asia's key aviation markets and players, and meet 20 airline CEOs, click here: CAPA Asia Aviation Summit |
For Part 1 of this report, see: Hong Kong Airlines IPO Part 1: reportedly profitable but with improvements needed
For Part 2 of this report, see: Hong Kong Airlines IPO Part 2: Main opportunities may lie in partnerships, careful strategic growth
Hong Kong Airlines has sought to distance itself from HNA and Hainan Airlines. But an investment in Hong Kong Airlines will be inherently tied to HNA and Hainan Airlines. There are several reasons and this is not entirely a bad thing, provided the large and well-funded HNA remains profitable and in growth mode.

Lease revenue/profit contribution:
Hong Kong Airlines sub-leases aircraft to other airlines, all part of the HNA family. This accounted for 15.3% of revenue in 2013, and what the carrier says was a "significant" (but undisclosed) part of profit.
For this financial stream to continue, Hong Kong Airlines will need a positive relationship with HNA, and for HNA to be doing well.
Hong Kong Airlines states that HNA Tourism made the single largest contribution to its passenger revenue, accounting for a quarter – 24.8% – of revenue in the five months to 31-May-2014. An undisclosed percentage of this revenue is from block seats, in which HNA Tourism guarantees it will fill seats or pay otherwise.
HNA Aviation made the single largest contribution to Hong Kong Airlines' cargo revenue, accounting for 14.5% of cargo revenue in the five months to 31-May-2014.
Decision making is likely to be linked to HNA, at least at first:
Key management and executives have HNA heritage. While they may be employed by Hong Kong Airlines, the HNA relationship will endure for some time at least. Loyalty may still be to Beijing; this can be positive if it generates special benefits for Hong Kong Airlines. But control of one airline by another airline is an increasing concern of regulators on multiple continents, suggesting this practice may be more widespread than initially appears.
Questions of effective control come at an inflection point in Hong Kong as local regulators review airline control. Opening the airline to retail investors will give the company more of a local feel. The IPO is expected to be Hong Kong's first dual-currency listing to tap retail investors' large yuan deposits. With a high exposure to Chinese tourism, the IPO effectively becomes a proxy to benefit from China's growth. The IPO will help Hong Kong Airlines, with gearing at over 200%.
Hong Kong Airlines has the potential for a positive contribution from HNA – but not realising it yet
Hong Kong Airlines appears to be carrying much of the baggage from HNA but, as yet, without the positive parts. For example, Hong Kong Airlines in 2010 commenced flying between Hong Kong and Beijing, the largest city for Hainan Airlines. But it was only in Nov-2013 that the two commenced codeshare services on the flight. Hong Kong Airlines has six codeshare partners as of Sep-2014, but only one of them (Hainan Airlines) is from the HNA Group despite the large number of airlines owned by the HNA Group.
In comparison, Etihad's equity partners cooperate with each other, even across alliance lines: airberlin working with Virgin Australia, for example, Jet Airways with Air Seychelles.
Fleet sees limited synergies as Hong Kong Airlines operates A330s and has A350s on order while Hainan Airlines is placing long-haul growth on the 787.
80% of Hong Kong Airlines passenger revenue is from travel agencies
One issue that Hong Kong Airlines clearly needs to address and clarify is its positioning in the marketplace.
It is seeking to position itself as a premium full-service airline – but 82.7% of passenger revenue in 2013 was from travel agencies, with 66.3% of agency revenue from agents in mainland China.
Hong Kong Airlines passenger revenue sources: 2011-2014

Hong Kong Airlines agency revenue by geographic location: 2011-2014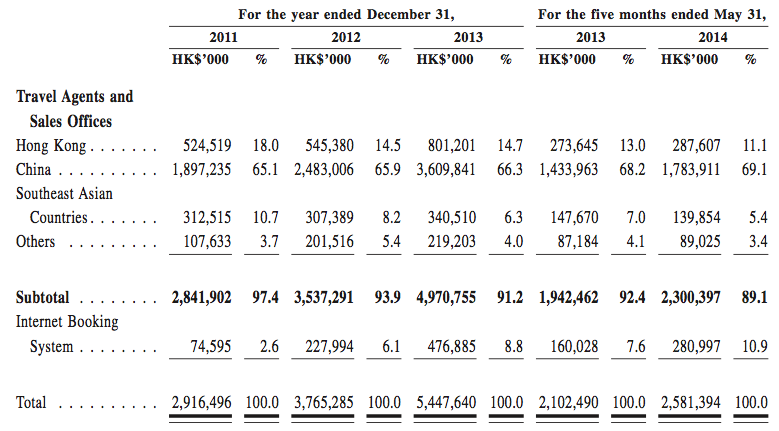 As noted earlier, a quarter of revenue is derived from HNA Tourism. Combined with anecdotal evidence, Hong Kong Airlines has been primarily moving large group traffic with its selling point being price. It is typical for airlines to sell more through agencies in China, but Hong Kong Airlines' exposure is significant.
Agency, and especially group, sales are typically low-yielding, with large commission payments. Group sales also are seldom for premium seats. To enrich yields, Hong Kong Airlines will need to move away from agency sales.
While the same can be said of other airlines, most others have demonstrated an ability in other locations to market themselves to consumers and win business. Hong Kong Airlines is only in its infancy in doing this, and management – of HNA pedigree – may not have enough experience yet.
A de facto charter business is not commensurate with a premium strategy. Developing a premium operation requires a fixed purpose

Hong Kong Airlines appears currently to be caught in the middle of having a de factor charter business while aspiring to be a premium full-service airline. However, there are signs of a metamorphosis. This full-service airline with more diverse selling patterns (not relying on group bookings) is evident on the key Hong Kong-Shanghai/Beijing routes, where Hong Kong Airlines has made inroads, even capturing market share.
For now these are only part of capacity and it will be challenging for other Hong Kong Airlines' destinations to command the same corporate traffic as Shanghai and Beijing do.
Airlines do not need to drop themselves into a certain pre-determined bucket, but must have a model, even if it is one they define themselves and one that allows for considerable flexibility. Hong Kong Airlines has not yet achieved this across its system.
These are steps that will need to be focussed on. Some of the fundamentals are there, but implementation of the full premium operation is going to take some time. Hong Kong Airlines in 2014 invested in a new premium lounge at Hong Kong airport and continues to fly business class seats more spacious than competitor Dragonair. Hong Kong Airlines fits 32 business class seats in the first zone of its A330-300 while Dragonair in the same area fits 42 – 31% more. However, Dragonair has the size, network, branding and premium proposition to support a premium cabin whereas Hong Kong Airlines' premium proposition is for now at least significantly weaker. Partnerships and Hong Kong Airlines' frequent flyer programme are limited, and robust performance in this area is critical for a premium strategy.

Being a full-service regional airline in Asia is a questionable proposition. The only other major full-service regional airlines in Asia are Bangkok Airways, Dragonair and SilkAir. The latter two are wholly-owned by a long-haul carrier, Cathay and Singapore Airlines respectively, while Bangkok Airways operates a niche and has a large domestic market, which Hong Kong Airlines lacks. The implications are clear: there is a clear need to have strong links into a parent, or other strong carrier.

If the full-service model is to continue at Hong Kong Airlines, premium cabin space (including large in-flight bars) may need to be reduced or made more flexible, as a starting point; otherwise they will be a significant drain on economics. Alternatively, Hong Kong Airlines could elect to focus on the mass-market leisure segment that, especially in China, is driven by price. Although there is premium demand, it is smaller, and is captured through excellence, through delivering a standout product.
Hong Kong Airlines' figures show the carrier to be operationally profitable, even though this includes the highly profitable revenue from leasing. If we assume that, excluding leasing revenue, Hong Kong Airlines is just profitable or even loss making, the most significant potential upside factor would be Hong Kong Airlines' premium strategy. Economy class is largely optimised, although under a more budget approach could be further so, such as with nine-abreast seating instead of the carrier's current eight-abreast seating. Moving away from agency sales would also permit ancillary revenue growth.
Partnerships are the best stepping stone to overcoming the current handicaps

Partnerships can be a growing opportunity for Hong Kong Airlines. As part of the fourth – and largest private – airline force in China, there will automatically be interest from other airlines, although the carrier's image is largely lacking and many know the airline for its short-lived attempt at all-premium flights to London Gatwick. This can be a hurdle to partnership growth unless the airline demonstrates a new direction and clarity of purpose.
Hong Kong Airlines sits in one of Asia's best hubs with a growing network that partners will find attractive to tap into, especially for China flights. At the extreme, partner revenue accounts for over half of the revenue at Bangkok Airways and a quarter at Etihad Airways. There are nuances: Bangkok Airways has a large domestic market foreign airlines cannot access with their own metal. Hong Kong Airlines will be handicapped by the reticence of China to grant third-country codeshares.
But nonetheless there is opportunity to grow partnership revenue. It is tantalising for someone else to do the hard bit – selling seats – and also provide some insulation against competition. Hong Kong Airlines is not a member of a global alliance, and a successful partnership strategy could mean alliance membership does not become necessary.
In addition to Hong Kong Airlines' six codeshare partners (Air India, Air Seychelles, China Eastern, EVA Air, Hainan Airlines and Shanghai Airlines), the carrier has approximately 70 interline partners, although its IPO application says over 50 are with non-HNA affiliated airlines.
Hong Kong Airlines does not disclose a total partnership revenue figure, but figures about codeshare/interline revenue from (i) HK Express and (ii) Hainan Airlines and its associates indicate this group accounts for approximately 4% of passenger revenue.
Factoring in the other partners is unlikely to make this figure significantly higher. Most of the Hainan Airlines or associate partnership revenue was from Hainan Airlines with minimal contributions from Lucky Airlines and Tianjin Airlines.
Hong Kong Airlines continuing transactions with Hainan Airlines: 2011-2014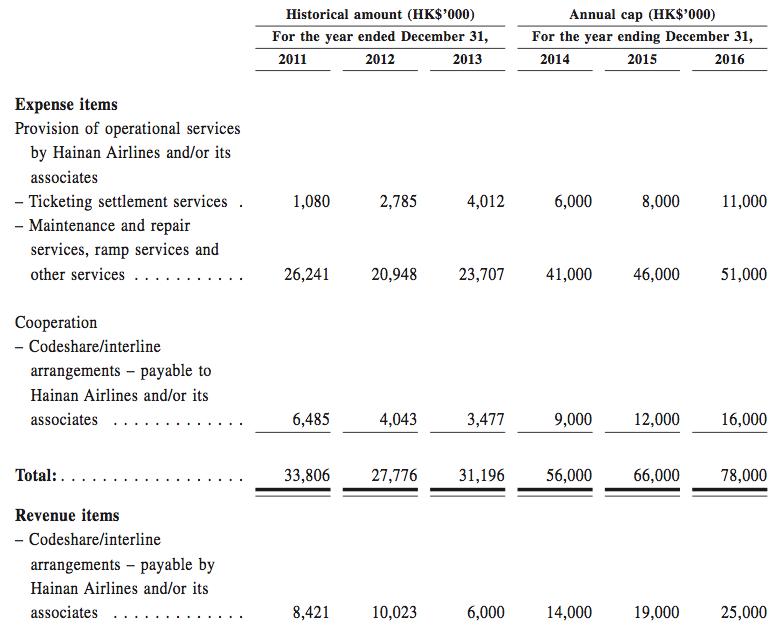 Hong Kong Airlines continuing transactions with HK Express: 2011-2014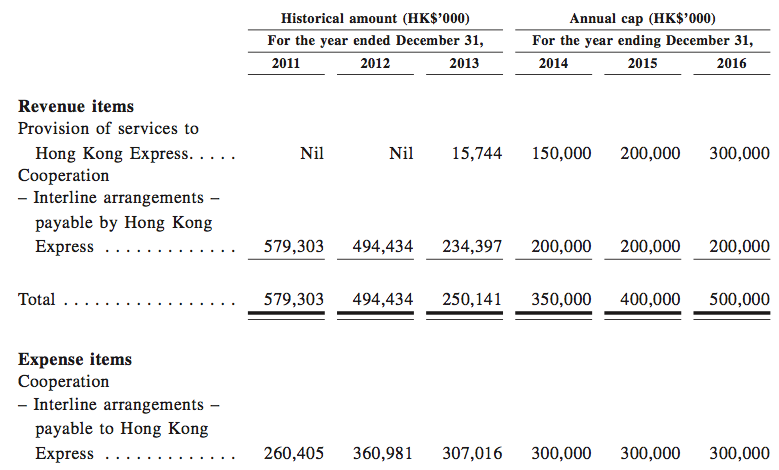 An integrated strategy with HK Express may be better, even necessary
Hong Kong Airlines' accounts show that 39% of LCC HK Express' unaudited revenue in 2013 was from interline payments from Hong Kong Airlines. For most of 2013, Hong Kong Airlines and HK Express were effectively an integrated unit with little distinction between them. HK Express is opening new destinations and increasing frequency to levels neither it nor Hong Kong Airlines had prior to their separation.
Yet the interline revenue illustrates clearly the potential for closer strategic cooperation between the two. Under the dual-brand strategy, beach holiday destination Okinawa is a full-service destination under Hong Kong Airlines but beach destination Phuket is a low-cost destination under HK Express. Nagoya is a low-cost destination under HK Express while Sapporo will be a full-service destination under Hong Kong Airlines; the difference here seems to hinge on Hong Kong Airlines' A330s being able to operate better to Sapporo than HK Express' all-A320 fleet.
HK Express flies to Seoul, but Hong Kong Airlines codeshares on Air India's three weekly fifth-freedom services – and competes with HK Express on price. For now, the threat between the two is limited: they do not overlap on any routes with their own metal while HK Express directors, who also sit on Hong Kong Airlines, are supposed to try to ensure a business opportunity goes to Hong Kong Airlines before HK Express.
The greater concern is missed opportunity. Hong Kong Airlines cannot tap HK Express' double daily Seoul flight and instead relies on Air India's three times weekly flights. A number of hybrid LCCs like Vueling have shown the ability to accommodate premium passengers on an otherwise LCC-configured and managed aircraft. Hong Kong Airlines cannot sell HK Express' Southeast Asian network the way it used to.
HK Express' brand and market visibility has arguably become more vibrant and perhaps overall stronger than Hong Kong Airlines, something that the latter will need to account for and hopefully use in a complementary way.
Hong Kong Airlines' application is at pains to segment itself from HK Express, but some critical facts do not support the argument. While HK Express operates A320s in an all-economy configuration, Hong Kong Airlines also operates a handful of all-economy A320s. Hong Kong Airlines is positioned as a full-service and charter carrier, but HK Express is also conducting charters.
Time may force change. Full-service carriers look to reduce their offering to lower their cost base while LCCs look to enhance their services to improve yield. Should this happen at Hong Kong Airlines and HK Express, overlap would be too much to ignore. It could also lead to financial pressure as the two compete with each other.
Outlook: Hong Kong needs a strong competitor for Cathay. Hong Kong Airlines has yet to achieve that, but with the right partnership strategies could mount a challenge

In short, while there is no straightforward path by which Hong Kong Airlines can simply grow, a carefully managed strategy that accentuates its strengths and uses partners to extend its reach could produce a more than satisfactory outcome.
Other North Asian hubs have competing airlines: Asiana and Korean Air; ANA and JAL; and China Airlines and EVA. Hong Kong will benefit from Hong Kong Airlines being a more formidable competitor to Cathay. Already Hong Kong Airlines generally outpaces Dragonair on market share on thinner routes. Hong Kong Airlines has brought benefits to where it overlaps with Cathay or Dragonair.
But there is a long way to go before Hong Kong Airlines is to Cathay as Asiana is to Korean Air or EVA to China Airlines. The difference is not just in size but also premium position and strategic thinking. Hong Kong Airlines' application attributes the "Eurozone crisis" to the failure of its all-premium service to London. But, while this was undoubtedly a contributing factor, only a radical decrease in fuel prices would have given the route a chance of breaking even. Short term planning saw surplus A330s deployed to Singapore with poor scheduling and frequency; Hong Kong Airlines pulled out. A330-200s that could be used on long-haul routes have been given a regional premium product while A330-300s better suited for regional routes have a long-haul premium product. As North Asia becomes more competitive, Hong Kong Airlines will need to respond faster and reduce its miscalculations.
Some appeared to have already weighed in on Hong Kong Airlines' IPO plans: Apple Daily reported four banks (Morgan Stanley, JP Morgan Chase, Bank of China and Standard Chartered) would sponsor the IPO, but JP Morgan is the sole sponsor.
Whatever the outcome of Hong Kong Airlines' IPO, if it goes ahead, there are larger questions about the airline's future.
As China liberalises, will the HNA Group be able to access more markets than it currently can? HNA on Chinese AOCs could surely not carry the passenger volumes Hong Kong Airlines does; China's state-owned carriers seek to restrict HNA.
But over the long term this is likely to change, a two edged sword, potentially reducing the value of Hong Kong Airlines and its Hong Kong hub. Alternatively or in combination, the sprawling HNA Group – with an ever-increasing number of airlines in China, and now passenger airlines in France and Ghana – may find Hong Kong Airlines too much of a distraction. It may lose benefits from being in Hong Kong but gain from a stronger operation elsewhere.
To guard against this possibility, it is very much in Hong Kong Airlines' best interests to be exploiting its unique position in the still-rich Hong Kong market and using that to encourage valuable partnerships.
Although it is raised every time a partnership possibility is mentioned, there would be considerable mutual benefits for Etihad to invest in Hong Kong Airlines; Etihad is keen to gain a bigger foothold in the China SAR/mainland market and there will be few other opportunities in the medium term that will offer a similarly large imprint. An association with HNA's favoured son could also generate wider benefits for the airline and its government.
HNA greatly values its Hong Kong Airlines offspring, but no doubt a foreign entity could help steer the airline in a much more productive direction. The true growth potential of the region is still in its infancy, and with a 2020 vision, Hong Kong Airlines could offer a one-off chance to engage more fully in that upside.