HNA/Hainan stake in Virgin Australia its most significant acquisition yet; & a smart move by Virgin
Analysis
HNA/Hainan Airlines' 13% stake in Virgin Australia for USD114 million expands HNA's equity airline network outside mainland China to nine airlines on five continents – two airlines more than Etihad has invested in. Even once HNA grows the Virgin Australia stake to 19.99%, as it intends, it will not be HNA's largest in equity or percentage; but it is the most momentous and strategically important yet. It is accompanied by a strategic alliance, subject to approval, through which Virgin Australia will fly to mainland China and Hong Kong.
HNA's past investments have either not met their originally anticipated strategic value (Aigle Azur) or are airlines (Africa World, Comair) that do not have HNA services and are unlikely to be significant in the near future. HNA's Virgin stake is different: Australia is China's largest outbound long haul market after the US but Hainan has had a limited presence. Hainan has previously focused on the US market while regulatory constraints (in both mainland China and Hong Kong) and lack of partnerships have restricted growth.
For Hainan Airlines, Virgin presents a partner for Australian connections and a vehicle for HNA to circumvent regulatory constraints by having Virgin fly to China and Hong Kong. HNA can be expected to do most of the selling on Virgin flights, which become quasi-charters.
This will be profitable for Virgin although the margins will be reduced, a trade-off for the value add. A stronger benefit for Virgin is access to inbound Chinese tourism and domestic on-carriage – China is Australia's second largest and fastest growing market with over 1 million visitors in 2015. Chinese visitors typically take two to three domestic flights per visit.
Virgin also receives much-needed capital; however HNA's presence further complicates its board with now a fourth airline shareholder. HNA's stake is independent of Air NZ looking to sell its stake in Virgin, and the Air NZ-Virgin relationship is being further damaged, but the two still have a common competitor in Qantas.
See related reports:
The HNA-Virgin alliance is similar to, but will be less powerful than the Qantas-China Eastern, given the respectively larger size of each JV. HNA's quest for growth could mean that Virgin Australia, currently with no long haul flights other than Los Angeles and Abu Dhabi, will soon have more flights to China than Qantas. Virgin becomes a test for HNA's coordination and potentially a platform for HNA to pursue larger airlines, more strongly then entering the corporate and premium space.
HNA-Virgin disrupts the status quo, but further changes to global aviation are to be expected as China pursues its own aviation agenda independent of the establishment.
HNA's stake in Virgin Australia is initially 13% and planned to be increased to 19.99%, potentially putting it on par with Virgin's other major investors. HNA secures a seat on the Virgin board. HNA buys the shares – AUD0.02 higher than at close on 30-May-2016 – via a new share issuance. Virgin Australia is undertaking a capital review.
Although Virgin is yet to conclude its capital review, JP Morgan has previously estimated that Virgin needs AUD700 million (USD507 million). HNA brings Virgin AUD159 million (USD114 million).
Virgin Australia shareholder structure prior to HNA investment: 31-May-2016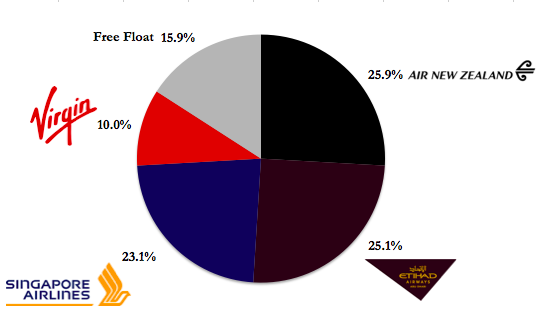 Virgin Australia anticipated shareholder structure after HNA investment: 31-May-2016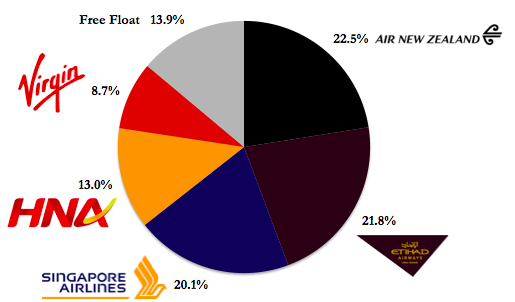 HNA is not buying into Virgin Australia by taking Air New Zealand's stake. Air NZ is Virgin's largest investor and close behind it are Singapore Airlines and Etihad Airways. The three, along with the Virgin Group, account for over 80% of Virgin's capital.
Australia permits unlimited foreign ownership of domestic operations and Virgin Australia – cleverly to some, annoyingly to Qantas – restructured its corporate entity to separate its domestic and international operations. International is a small part of Virgin. Its strength and interest to foreign shareholders is mostly in delivering access to the domestic Australian market.
Air NZ previously announced that it was exploring options to sell its stake in Virgin. The stake was taken up in a different era: not only of different Air NZ management, but before Virgin restructured to allow more foreign capital. Air NZ's stake, the first to be made, and without prior consultation, was largely regarded as set to block a foreign airline from investing in Virgin, a proposition that became a reality – one of a number of disappointments in Air NZ's view. But the two airlines are still united in that the far bigger Qantas is their common competitor. The two have a trans-Tasman Australia-NZ JV that they intend to maintain even after Air NZ decides on the outcome of its stake review, a decision that it expects to complete in coming weeks. This is despite the fact that there is a considerable rift between the CEOs of the two airlines.
Air NZ potentially faces needing to keep its investment in Virgin. At the same time, Air NZ believes that it can use the capital from the Virgin stake sale for new purposes. Most immediately, Air NZ is conducting significant long haul growth, including to emerging markets; Ho Chi Minh and Manila have been announced so far. This is a change from Air NZ previously anchoring itself around core, predictable markets, such as North America.
After Air NZ unsuccessfully tried to replace Mr Borghetti to redirect the airline's strategy, Air NZ left Virgin's board of directors and announced that it would consider options to sell its stake. The Virgin CEO, John Borghetti, has said that Air NZ was consequently not consulted about the HNA stake – and did not need to be. "We didn't lock them out," Mr Borghetti said. "Air New Zealand is not on the board...they weren't privy to the decision." Following the HNA stake Air NZ's stake has consequently been reduced from 26% to 22.5% – a considerable blow by Virgin to Air NZ, but in Virgin's view Air NZ initiated the situation by its CEO, Christopher Luxon, calling for Mr Borghetti to resign, a move rejected by the Chairperson.
HNA had been mooted as a potential buyer of Air NZ's stake.
See related report: China Southern and Hainan Airlines evaluate Virgin Australia stake to grow tourism potential
Mr Borghetti, responding to Bloomberg about whether issuing new shares to HNA cannibalised Air NZ's stake sale, commented: "They are two different things. The Air New Zealand stake and what happens to it, is entirely up to Air New Zealand. We don't have a say or control."
HNA buying into Virgin via new shares – instead of taking up Air NZ's stake – was unexpected and raises questions so far unanswered. The key questions are whether: HNA thought Air NZ was asking for too much; Air NZ was not strategically interested in HNA; or Virgin simply grasped the opportunity to benefit from the cash from HNA rather than letting Air NZ receive it.
Virgin Australia's capital review and Virgin Group's stake important as gaining a majority becomes more complex
The share dilution as a result of issuing new shares to HNA means that Singapore Airlines and Etihad Airways could not so easily attain majority ownership of Virgin. SIA would be keen to increase its shareholding to 51%, but As CAPA has previously noted, Etihad Airways is unlikely to pursue majority ownership as it looks to reduce spending and bed down investments. Australia is a far more important market to SIA than to Etihad and SIA has the cash, albeit that amount has been reduced following previous investments into Virgin and Tigerair.
Prior to HNA's stake, Etihad – with a 25.1% stake in Virgin – could have achieved majority ownership by purchasing Air NZ's 25.9% stake. Singapore Airlines, with 23.1%, would have come in at 49% and would have needed to seek some shares from the market. With the share dilution Air NZ's stake now brings only 22.5% to Etihad (now 21.8%) or SIA (now 20.1%). Significant shares would therefore need to be acquired on the market.
The Virgin Group's stake now becomes more important. With Virgin America, the group has shown itself willing to divest itself of brands for the right price. Virgin Australia would likely retain the Virgin brand – and pay royalties to the Virgin Group – but it is yet to be seen how much strategic, or personal, value Virgin Australia has for the Group.
Alternatively, Virgin Australia's capital review could enable existing shareholders to increase their stakes, assuming they are prepared to invest further.
Virgin Australia is HNA's most important partner yet. It now becomes the test case for bolder growth
With a sprawling equity network and larger group purchases outside airlines, HNA has its sceptics. In hindsight, HNA might not have invested in some of the airlines that is has taken on. Yet in the larger picture of the sums that HNA spends on capital expenditure to expand its fleet, some of the investments pale in comparison. In untested waters, there will be mistakes. HNA's investments, where they have gone quiet, have not become a drain on HNA financially or for management bandwidth. And there is always the opportunity to use an investment to curry favour with those really in charge: the Chinese government.
It is not possible to evaluate HNA's acquisitions fairly based on western expectations. But by all measures Virgin Australia is clearly different for HNA's airline investments, and exhibits the best rationale yet for the airlines and other HNA companies, including travel agencies and tourism infrastructure.
Now HNA must implement the deal. HNA will need to coordinate between Virgin and its airline shareholders, and the various airlines in the HNA group. Although under HNA, these airlines can have different ownership and investors and thus do not always come to the table equally.
Virgin Australia and TAP (via Azul) will be added to HNA's airline equity network outside of mainland China (map below).
HNA (and affiliate) airline investments outside mainland China: 24-Nov-2015
Questions remain around SIA's position on the HNA partnership; meanwhile Virgin has made a sound strategic move
As CAPA has previously noted, mainland China is SIA's third largest connecting market from Australia but this makes up 6% of total traffic. The near-term threat to SIA is limited, and far lower than it would have been had China Southern bought Virgin.
China Southern is already significantly larger in the China-Australia market and has a hub strategy to develop connecting traffic in the future. That is a play for another market that SIA – and Etihad – are operating in.
Hainan, in contrast, is mostly focused on point-to-point traffic. Its fragmented bases and numerous airlines make it difficult to leverage hub power. China Southern is still a sleeping giant, although it – and Air China and China Eastern – have already caused market shifts.
HNA's investment in Virgin is for leisure travel to a relatively small market, with only one other major airline group. Experience from investing in Virgin will be useful for HNA to deploy in larger and more complicated markets – such as North America.
SIA has been Virgin's closest partner at a personal level and provides valuable access to China and other Asian markets. Mr Borghetti has effectively stated the Singapore flag carrier is happy with the HNA deal. If that is the case – as it possibly is – it should not be ruled out that there could be a closer relationship between SIA and HNA. There will be some market overlap if there is merely confrontation, but SIA remains conservative and choosy in its partners.
SIA has tried, unsuccessfully, in the past to buy into China Eastern in order to cement itself in a critical market for its future. None of the big three mainland Chinese airlines appears a likely target now. SIA could be advised that since it is faced with a fait accompli between HNA and its most important equity partner, Virgin, it may be wise to explore what can come of the potential. Dating before marriage is healthy.
HNA meanwhile comes to the Virgin deal with a grand, long term view. Virgin's focus is more short term. It wants to promote the HNA deal as anchoring its position in a vital market and as a vote of confidence in a strategy under pressure. In this respect and in delivering more than a gentle sideswipe to Air NZ, Mr Borghetti and his board have undoubtedly achieved some satisfaction.
The financial benefits to Virgin from the HNA deal are somewhere between unclear to uncertain. There were definite grounds for exploiting an unusual opportunity. HNA brings Virgin some cash in the short term, but Virgin must still focus on immediate survival while its airline investors play their own jockeying game.