Virgin Australia explores a post-Air NZ future. Singapore Airlines favourite to increase investment
Analysis
Virgin Australia's future is fundamentally sound, but ownership uncertainty was introduced after Air New Zealand flagged the potential sale of either part, or all, of its 25.99% stake in the airline. Air New Zealand CEO, Christopher Luxon, has been the only shareholder to state publicly that Virgin "needs to get profitable", and he was reported to have called for Virgin Australia CEO John Borghetti to resign before his own departure from the board. Chairman Elizabeth Bryan equally, reportedly rejected the call.
The announcement leaves the door open to another airline joining the share register, or for existing shareholders Etihad and Singapore Airlines to increase their holdings - or even a possible full takeover and subsequent delisting of the airline. Singapore Airlines has the most obvious strategic investment in Australia and the funds to easily acquire and recapitalise Virgin and therefore favourite to move. But this is far from certain; no public indications have been made and (though unlikely) it is possible that no buyer is interested.
Although Virgin is a highly valued strategic asset, with its domestic market reach, it must also be a profitable airline for its owners. For a variety of reasons, perhaps partly because of a divided board, Virgin has not achieved the recent success of its domestic competitor Qantas.
The repositioning: Virgin completes the impossible, but at a cost
Since taking over as CEO in 2011 John Borghetti has led an ambitious and unprecedented brand repositioning from the cheap-and-cheerful 'new world carrier' Virgin Blue into an upmarket and glossy full service airline, Virgin Australia. With a clear objective to compete in the business market Mr Borghetti oversaw heavy investment into product, including refreshed airport facilities, rebranded aircraft, upgraded onboard products and new lounges. However, with the slump in mining activity and a slowing economy, the market is struggling to absorb the new product, and the resulting increase in fares has alienated a previously loyal base of low-fare travellers.
But more importantly, Virgin has produced a full-year net profit just once since Mr Borghetti took the reins: AUD22.8 million only, in FY2012.
This corresponded with Qantas Airways' industrial troubles, which concluded in a lock-out and the suspension of operations in 2011.
Virgin Australia Holdings net profit - FY2008 to FY2015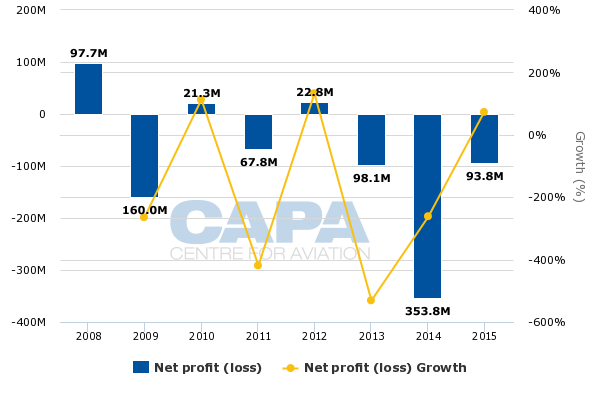 Virgin is on track now to achieve a FY2016 profit, but recent performance suggests it is taking longer than expected for the airline to find its new niche; the share price has hovered around AUD0.40/c since 2011, a far cry from a high of AUD2.78 in 2007 and well below the airline's IPO price of AUD2.45 in 2003. Over the same period, Qantas was in contrast one of the best performing stocks on the ASX.
A significant portion of Mr Borghetti's leadership has been in aggressive competition with Qantas, which infamously pursued a "line in the sand" approach to its capacity share, provoking an unsustainable level of capacity growth in the domestic market. This took a remarkable toll on both airlines' bottom lines. Having since been subdued, Virgin however continues to perform below expectations.
By way of comparison, the Qantas Group reported its best 1HFY2016 result in history with a net profit of AUD688m; Virgin followed with an AUD45 million net profit. The disparity in results reflects the different stages each airline has reached in its respective transformations – Qantas has realised AUD1.36 billion of the AUD2 billion planned in just over two years of the three and a half year programme.
As a result of this transformation Qantas' domestic business has narrowed its unit cost disadvantage to Virgin to within 5%, reduced from almost 40% gap when the flag carrier established Jetstar in 2004 (though Virgin argues that the gap is wider).
Virgin Australia and Qantas Airways CASK minus fuel (AUD/c)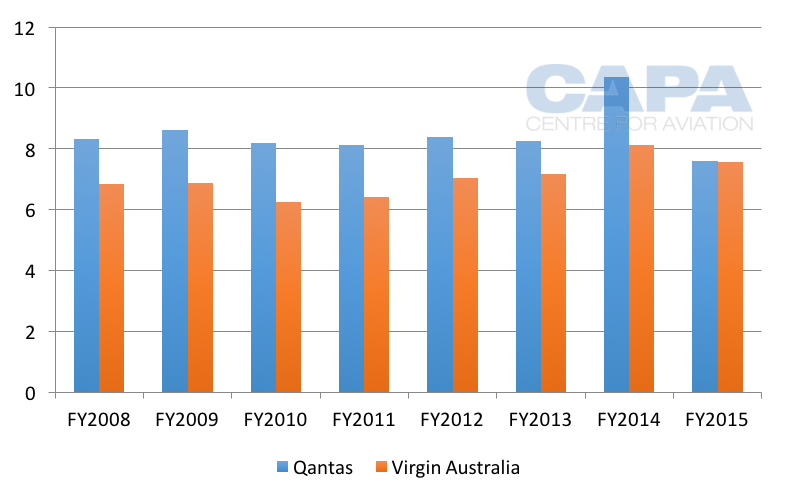 Cost is a core challenge for Virgin moving forward - since FY2010, Virgin's operating costs have increased by 65.5%, from AUD2.9 billion to AUD4.8 billion, while passenger revenue grew at a slower 48%. Virgin's CASK increased 21.3% over the same period, while margins have shrunk below levels the airline experienced as an LCC.
While Virgin stopped reporting its group yield at the end of FY2014, the numbers published at the time showed the airline had yet to achieve yield higher than Virgin Blue's AUD0.1145 in FY2008.
Virgin Australia's Operating Costs from FY2008 to FY2015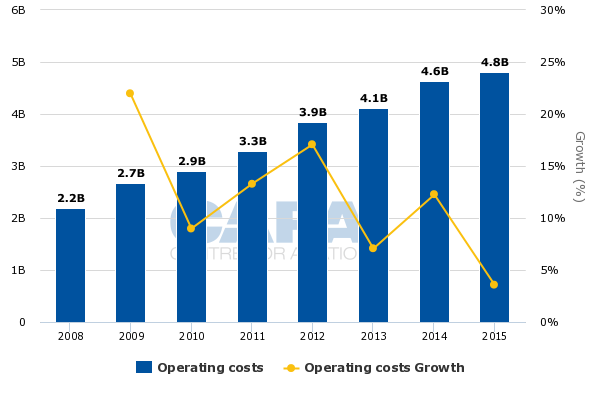 Virgin launches capital review as it calls on shareholders for a short-term loan facility
On 21-Mar-2016 Virgin again called on shareholders Air New Zealand, Etihad Airways and Singapore Airlines to support the airline through a new unsecured term loan facility. Each airline will separately provide funding via a new loan facility in an initial step in strengthening Virgin Australia's. The facilities are for a term of 12 months and based on arm's-length commercial terms. They are for an aggregate amount of AUD425 million with pro-rata participation from each shareholder based on their relevant interest.
Corresponding with the loan, Virgin announced a capital review to optimise its balance sheet and ensure it has an appropriate structure to access capital and improve cash flow generation and profitability. The review will include an assessment of the appropriate mix of debt and equity capital and operational initiatives to enhance cash flow and profitability, and could include options such as the issue of new share capital and possible asset sales. Former Nine Entertainment CFO and COO Simon Kelly is leading the review.
Standard & Poor's has downgraded Virgin's outlook from stable to negative following announcement of the loan and review, and while this does not affect Virgin's B+ overall corporate credit rating, S&P did revise the airline's liquidity profile to "less than adequate," noting: "While we view Virgin Australia's operating performance to be fundamentally sound, we expect adverse currency and working capital movements, as well as increased capital expenditure relative to our previous base-case forecast, to affect the airline's current debt and liquidity levels". Standard & Poor's added: "This may require a sizeable new funding commitment over the next 12 months".
Air New Zealand makes plans to exit Virgin after four years and zero financial returns
Nine days after Virgin announced another loan from its shareholders, Air New Zealand CEO Christopher Luxon moved to distance himself and his airline - resigning from the board of directors and reporting that the airline would explore a part or full sale of its 25.99% stake. Air NZ's stake is currently valued at AUD350 million (USD268 million), although a premium would be likely in any takeover.
Air New Zealand chairman Tony Carter said that the airline "does not want a large minority equity position in Virgin Australia as it focuses on its own growth opportunities", though it appears to have left the door open to a smaller position – perhaps around 10%. The airline is currently assessing other uses for the capital currently tied up in Virgin Australia, either in product reinvestment or to fund further expansion.
The existing trans-Tasman alliance between the pair will reportedly remain in place regardless of the outcome, where Virgin and Air New Zealand operate an immunised JV. Mr Luxon noted: "We look forward to continuing our partnership on the Tasman alliance, providing customers of both airlines with the most comprehensive trans-Tasman network."
Under previous CEO Rob Fyfe, Air New Zealand first took a stake in Virgin during 2012 but Mr Luxon has always been the most vocal about the airline's performance. In Feb-2015, Mr Luxon noted that Virgin's product investments were over and the end of the capacity war meant that now "is the time to get profitable" – a comment that was met with a reminder that criticism should stay within the boardroom. In comparison, both Etihad Airways and Singapore Airlines have remained mute over Virgin's performance, and in public statements have expressed support for both Mr Borghetti and the strategy.
Air New Zealand is in a period of its own expansion and product refreshment, and is likely at a point where – without a clear path for future returns – it does not find any value in an equity stake with Virgin.
Singapore Airlines the most likely buyer, but would require a takeover bid
Under Australia's Corporations Act 2001, a new shareholder is prohibited from purchasing more than 20% of Virgin Australia due to the prohibition in section 606(1)(c)(ii) of the Act. Likewise, an existing shareholder who has more than 20% but below 90% cannot automatically increase its holding under section 606(1)(c)(iii). If an airline wishes to acquire a holding that takes it above the limits in section 606, it must do so via a full takeover offer, as outlined in Part 6.3 of the Act.
There are several exemptions available in section 611 that would allow a new entrant to increase its holding outside the prohibition in section 606 without initiating a full takeover bid. For instance, Virgin Australia could issue new equity under section 611 item 10, allowing a new holder to enter the share register without triggering the requirement of a takeover bid. This is the method by which Virgin achieved its existing shareholding initially.
Section 611 item 9 also provides a "3% creep" provision, which allows an entity to increase its holding every six months by 3%, if it already holds at least 19% of the voting power in the company. Foreign entities are also subject to approval by Australia's Foreign Investment Review Board.
If a potential buyer cannot meet the non-takeover exemptions in section 611 and still wishes to acquire a larger holding in Virgin, they must institute a takeover offer by means of either an on-market bid or off-market bid, as required in section 611 items 1-4, and outlined in Part 6.3 of the Act. In most instances, an off-market bid is the preferred option as this allows the bidder to set conditions on the takeover bid. This is subject to the approval of the target shareholders, as well as the Australian Securities and Investments Commission (ASIC), who maintains regulatory oversight of the process.
If the buying entity is a foreign company - as most likely in this instance - all of the above is also subject to FIRB approval.
However, a more likely scenario could be either Etihad Airways or Singapore Airlines further increasing its stake to take majority control.
Etihad currently holds 25.1%, meaning that it could reach 51% with approval from Australia's Foreign Investment Review Board. Australia is near-unique in having no limit on foreign ownership of a domestic airline (New Zealand is the only other country to adopt this policy).
But Singapore Airlines is the more likely candidate, having a long history of interest in Australia's domestic market – including an attempt to purchase Ansett Australia from News Corporation in 2000 and later from Air New Zealand in 2001 – along with the strategic (and financial) means to do so.
Singapore Airlines' cash balance of USD3.2bn would be sufficient to fund the estimated USD1.5bn required to purchase, delist and recapitalise Virgin Australia. This would be a better fit for the airline's recent preference for avoiding minority stakes where it cannot exert full control (the results of which are evident at Tigerair, and to a lesser extent, here).
Distribution of Virgin Australia shareholding as of Apr-2016
| | | |
| --- | --- | --- |
| Shareholder | Stake Held | Last Reported |
| | 25.9% | Jan-2016 |
| | 25.1% | Jan-2016 |
| | 23.1% | Apr-2016 |
| Virgin Group | 10.0% | Dec-2015 |
| Free Float | 15.9% | Jan-2016 |
Singapore Airlines is currently authorised to increase its shareholding in Virgin Australia from 23.1% to 25.9%, but noted in Jan-2016 that it had made no decision on increasing to this point: "Whether or not we increase to that level is something we will decide along the way". In response to reports on Virgin Australia potentially being delisted, CEO Goh Choon Phon said that Singapore Airlines was "happy with Virgin being listed." Mr Goh said: "If something changes we will have to evaluate it as a shareholder, but this is not the point at which we would evaluate it".
In Apr-2016 Singapore Airlines physically settled a series of equity swaps that it had entered into with a counter-party at a cost of AUD3.18 million, or AUD0.467 per share – a significant premium to Virgin's closing price of AUD0.35 on 07-Apr-2016. The decision to settle the swaps over Virgin shares rather than settle by cash increases Singapore Airlines' exposure to any future financial support required by Virgin, and to quote Citi: "If one wanted to draw a 'loose' conclusion from last night's announcement, it's that Singapore Airlines does not seem to have objections to injecting further cash into Virgin".
However a purchase by Singapore Airlines may give pause to Australia's regulators. While domestic airlines can be fully foreign-owned, those operating international services cannot. Virgin Australia currently circumvents this requirement by ring-fencing its international operations using a separate (majority Australian-owned) vehicle, which complies with international bilateral agreements and Australia's Air Navigation Act — requiring majority local ownership of an international airline.
This structure consists of the domestic (and listed) Virgin Australia Holdings (VAH) and the international division as Virgin Australia International Holdings (VAIH).
VAIH is owned by existing VAH shareholders and has its own independent board of directors, but operates under a long term service and loan agreement with VAH: to provide aircraft, crew, maintenance and administration services. VAIH is subsequently billed for these services; however the airline notes its loan and future capital requirements are all funded from VAH. The split has had no operational impact. While this may continue to satisfy regulators, those opposed to the move would undoubtedly express their concerns.
Several options are possible but nothing is certain as Virgin explores its options
Air New Zealand has been silent since announcing its review, and the airline is certainly canvassing several options for a sale. As noted, any full acquisition of its stake would require a takeover bid to be filed - though Air New Zealand could also consider a sale of a <20% share of its holding to a new buyer, avoiding this requirement.
An entrance by a wildcard player such as Delta Air Lines or United Airlines is unlikely but possible; likewise the arrival of a Chinese airline to the share register. Having endured a three-way marriage, both Etihad and Singapore would be eager to avoid a new airline trying to make its mark. Singapore Airlines would be particularly reluctant to have a Chinese airline partner. Etihad and Singapore could also increase their stakes proportionately, preventing a new entrant but limiting the need to absorb the airline.
Delisting Virgin Australia and launching a wide-reaching operational review could be the simplest way of reviving the airline; Virgin's operating fundamentals are sound and the domestic Australia market is high-yield with significant propensity to travel. Attempting the kind of review Virgin needs could be difficult under the eyes of three other major shareholders.