Has Southwest Airlines lost its market disruption powers as it quietly enters Washington National?
Analysis
Southwest Airlines' planned new markets from Washington National Airport set to debut in Aug-2014 make it look increasingly like its Big Three competitors as the carrier appears to be playing to its network strength, adding routes to markets where it holds a strong position.
There was a time when the onetime LCC would strike fear into the hearts of incumbents as its brand appeared across the horizon. Not any more.
Southwest's arrival in DCA looks set to fall far short of the US Department of Justice (DOJ)'s hopes that the airline still has the power to disrupt markets.

Southwest, along with JetBlue and Virgin America, gained new slot pairs at National that American and US Airways were required to divest as part of the process of gaining approval from the DoJ for their merger.

DOJ concluded consumers would benefit from so-called low-fare carriers gaining enlarged access at the slot-controlled airport. But as a result of the divestiture, many small markets are losing air service to National. It is arguable whether Southwest will create any meaningful consumer benefit in the new markets it is introducing from the airport.
American and US Airways were required to divest 52 slots pairs at Washington National in order to move forward with their merger, which officially closed in late-2013 after a settlement was reached with the DoJ, which sued in mid-2013 to block the tie-up.

Southwest gained 27 slot pairs at the airport and aims to add seven new markets from National beginning in Aug-2014 and continuing through Nov-2014. Two of the markets – Chicago Midway and Dallas Love Field – are included in the carrier's top destinations measured by departures.
Southwest top 10 airports by departures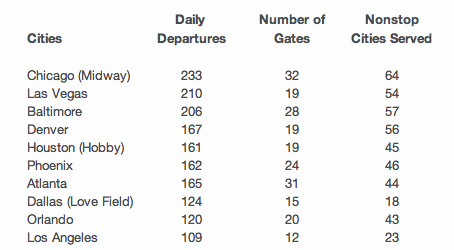 Obviously, Southwest has a commanding seat share at those two airports – 87% at Chicago Midway and 97% at its Love Field headquarters. But it also holds the largest share in the remaining five new markets – Nashville, New Orleans, Tampa, Akron-Canton and Indianapolis.
All of those markets with the exception of Akron-Canton are also served by Southwest from its third largest base in terms of departures, Baltimore Washington International Airport, which is 48km from Washington National. Southwest's doubling up in some of the markets show the demand patterns specific to the Washington metro area. Southwest also operates flights from Washington Dulles to Midway and Denver.
Southwest's competition on new Washington National markets and its seat share at those airports
On the surface it appears that Southwest is executing DoJ's philosophy of expanding low-fare competition from Washington National.
American and US Airways, now the "new" American, offer flights in all of those markets, and are the sole operator in five – Nashville, New Orleans, Dallas, [Dallas/Fort Worth International] and Akron.

But outside of the buzz Southwest hopes to generate with lower introductory fares, it is tough to conclude there really will be a huge price differential between the two carriers once promotional pricing blitz ends.

Even as the DoJ pressed to ensure fares at Washington National remain low post-merger given the market concentration caused by the merger of American-US Airways (a combined 61% of seats for the week of 24-Mar-2014 to 30-Mar-2014), data from the US Department of Transportation (DoT) show that the airport's average fares were below the US national average for 3Q2013.
From 3Q2012 to 3Q2013 average domestic fares increased 6% year-on-year to USD390 while average prices at National increased 5% year-on-year from USD359 to USD377. Fares at Dallas Love Field where Southwest is the dominant carrier rose 9% year-on-year from USD276 to USD300.
Washington Ronald Reagan National Airport capacity by carrier (% of seats): 24-Mar-2014 to 30-Mar-2014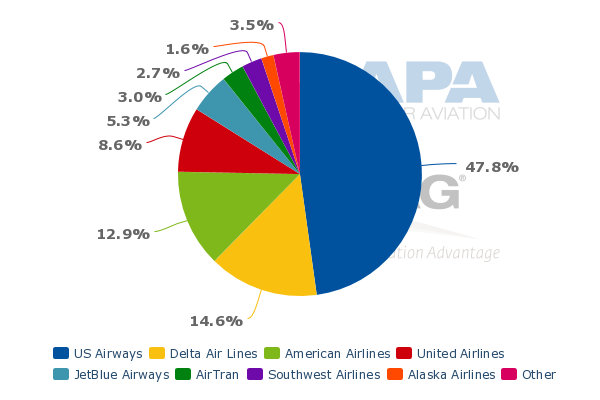 While DoJ still seems to believe that Southwest continues to have the ability to disrupt markets in the same way it did 30 years ago, the reality is Southwest looks more like its US legacy colleagues than the carriers that actually stimulate traffic in the current US market, mainly Spirit Airlines.

For FY2013 Southwest's average fare increased 5% to USD155. It is unlikely the self-described low-fare leader can record a lower average fare in FY2014 given its projected cost increases of 2% to 3% for the year, which as previously recorded by CAPA is in line with unit cost inflation estimates supplied by Delta and United.

See related report: Southwest Airlines: solid financial performance for FY2013, but challenges are piling up

The reality is that Southwest in the long run is not going to charge drastically lower fares than its competitors at National; instead it will set its prices at what the market will bear. In the short-term American will no doubt match Southwest's fares and ensure it retains the passenger base it already enjoys as the incumbent carrier in those markets.
Also, the legacy US Airways always had a larger domestic mix of markets than its US network peers, and as a result had more competitive overlap with Southwest. The new American's executive team is heavily populated with legacy US Airways brass who are very familiar with Southwest as a competitor.
Small communities are the big losers in the slot divestiture at National
All those factors point to a conclusion that even as Southwest enlarges its presence at National, the desired effect DoJ hoped to achieve is not likely to live up to the department's expectations in terms of significantly protecting consumer interests at National.

What the changes do create, however, are sizeable service gaps to communities that are losing flights. As part of the requirement to divest slots, American and US Airways are ending services to numerous markets from National (and also LaGuardia, where the carriers are divesting 34 slots). Its market cuts in LaGuardia are to hubs of competitors, and the carrier is redirecting those slots to smaller, but strategic business routes.

See related report: American Airlines intensifies competition with Delta Air Lines in small markets from LaGuardia

Of the 17 markets American and US Airways are dropping from National, only two – Detroit and Montreal – are served by other airlines. Those are two large markets, and hubs for Delta and Air Canada, respectively.
No other carrier is likely to launch service in the roster of mostly small markets, which means that those cities are losing direct service, resulting in the need for a connection through another hub. So far only one carrier has stepped in to fill the void left by the cuts initiated by American and US Airways: JetBlue. The low-cost hybrid plans to launch service to Nassau in Jun-2014 with a portion of the 12 slot pairs it picked up at National, but Nassau is a different market with a high leisure bent. Other markets JetBlue is adding from National with the new slot pairs are Charleston, South Carolina and Hartford, Connecticut.
Planned service cuts by American and US Airways from Washington National Airport

Virgin America has not outlined specific plans for the four slot pairs it picked up from National resulting from the American-US Airways divestiture, other than tabling plans to serve National from Dallas Love Field if it is successful in its quest to obtain two gates at the airport – that are also being freed up as a result of the American-US Airways merger.

See related report: Virgin America vies to inject competition at Love Field, as Southwest, Delta, Spirit line up
The "new" American could prove an interesting competitor for Southwest – an ex-disruptor?
Overall the changes ushered in by Southwest at National airport contain no surprises. And they will not drastically change the competitive landscape at the airport. The biggest losers in the game of slot exchanges at the airport are the small cities that are losing service, and hold little promise of attracting other carriers, given the slot constraints at National.

It is certainly debatable how viable those small markets were to American-US Airways in the first place, but if the DoJ really aimed to preserve consumer benefits through its required divestitures, perhaps it should have conducted a more in-depth study of how low-fare carriers would use the slots gained at the airport. Measuring relative fares is a relatively easy – albeit not simple – exercise; but more qualitative issues like service variety become much more subjective and easily lost in the political haze.

Given Southwest's fading ability to uphold its price-maverick image, it is in any event tough to imagine that average fares will drastically fall at National once all the new service is in place. So in a broad sense the competitive dynamics at the airport remain status quo.
However, it also sets the groundwork for direct competition between Southwest and the "new" American with a management team in place that no doubt plans to compete aggressively in order to prove its worth on both the domestic and global airline stage.