Virgin America vies to inject competition at Dallas Love Field, as Southwest, Delta, Spirit line up
Analysis
The most interesting aspects of the long-awaited repeal of the Wright Amendment that prohibits long-haul flights from Dallas Love Field are not how Southwest plans to position itself post-Wright, but the scramble for gates made available at Love as a result of the American-US Airways merger.

Delta, which currently leases two gates from American at Love Field, has already published a schedule of new service from Love even though the US Department of Justice has yet to render a decision over which carrier will ultimately operate from Love. Now Virgin America has revealed its desire for the two gates at Love, and tabled a schedule that includes flights to desirable business markets from the airport. Incumbent airline Southwest has also stated its desire to pick up the extra gates freed by consolidation in the US market place.

If Virgin America emerges as the victor in the battle for access at Love, it will create an interesting competitive dynamic. Its presence would result in a full service carrier (American) an ultra low-cost carrier (Spirit), a hybrid airline (Virgin America) and the hard-to-define Southwest all serving the Dallas metro area.
Virgin America argues the legal reasons why it is vying for Love Field gates
Virgin America believes it has a solid case in lobbying the US Department of Justice (DoJ) to gain access to Love Field. In an interview with the Fort Worth Star Telegram, carrier CEO David Cush remarked that in the agreement reached among US Airways, American and the DoJ, it was clear the assets required for divestiture (which also included gates at Washington National and LaGuardia) need to be awarded to low-cost carriers. Mr Cush stated the agreement named Jetblue, Virgin America, Allegiant, Spirit and Southwest specifically.

As part of the deal to lift the Wright ban completely in Oct-2014, Love Field gates were capped at 20 versus 32 available in 2006. Presently, Southwest occupies 16 gates at its Love Field headquarters.

See related report: Southwest Airlines wins Love – but also new competitive forces with the repeal of the Wright Amendment

Mr Cush told the Fort Worth Star Telegram that Southwest in 2006 voluntarily agreed to operate from 16 gates, and from a legal standpoint, Virgin America is more deserving of the gates than Southwest.
Virgin America aims to leverage's Love's O&D traffic
Currently Virgin America offers flight from Dallas/Fort Worth to its two top major bases San Francisco and Los Angeles.
Virgin America top 10 hubs/bases/stations by seats: 3-Mar-2014 to 9-Mar-2014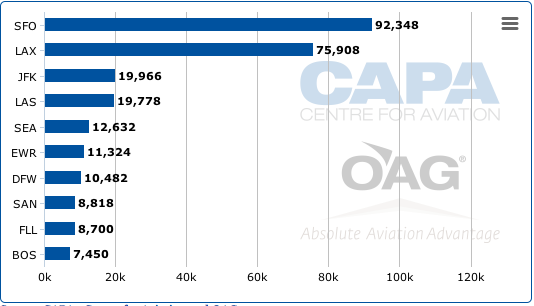 If the carrier succeeds in its efforts to gain access to Love Field, it would transfer that service from DFW and add new fights to New York JFK, Washington National in 2014 and Chicago O'Hare in 2015 for a total of 18 daily departures from Love.
Virgin America has already benefitted from required divestitures in order for the merger between US Airways and American to move forward. In Dec-2013 it announced it has acquired six slots pairs at LaGuardia and recently announced the acquisition of four pairs at Washington National.

Mr Cush in his interview with the paper remarked that Love Field is primarily an O&D airport where schedules flown by both Southwest and Virgin America would focus on local travellers.

With Love's higher focus on local traffic, Mr Cush remarked that instead of offering 16 flights per day to Chicago, four flights might be flown since passengers would not be connecting through DFW. That creates a different dynamic in competing with American (which holds an 83% seat share at its Dallas/Fort Worth hub), since Virgin America would not necessarily have to match American's schedule, Mr Cush explained.

Based on current schedules in CAPA and OAG (2-Mar-2014 to 8-Mar-2014), Virgin America represents roughly 10% of the approximate 25,000 seats on offer from DFW to Los Angeles and 16% of the 16,500 seats deployed from DFW to San Francisco.
By moving its flights to Love Field and targeting more local passengers, Virgin America stands to have a larger share and perhaps some competitive advantages over Southwest, which plans to begin serving Los Angeles and Washington National from Love in Nov-2014, and Chicago Midway in Oct-2014.
Dallas/Fort Worth International to Los Angeles International (seats per week, one way): 4-Mar-2013 and 3-Mar-2014

Dallas/Fort Worth International to San Francisco International (seats per week, one way): 4-Mar-2013 and 3-Mar-2014

Virgin America enters Love with a distinct and not so high priced product offering
Spirit Airlines has rapidly built up service at DFW during the past few years, serving Chicago O'Hare from Dallas and Baltimore Washington International airport (which services the Washington DC metro area).

See related report: Spirit continues rapid expansion from American's stronghold of Dallas/Fort Worth

In some markets Virgin America would offer another level of product. It is upscale compared with Spirit's bare-bones model, and with prices a notch above Southwest, Virgin America could stand a chance of attracting passengers willing to pay a bit extra for assigned seating and a more appealing cabin that includes leather seats, power plugs and a variety of dining choices for sale.

Southwest's average fare in 2013 was USD154.72, a 5% rise year-on-year. Virgin America's average fare during 9M2013 was USD202.50, an increase of 6.4%. For just USD48 more, some passengers may find Virgin America's added amenities attractive over Southwest's.
It could be an easier proposition for Virgin America to compete and siphon some passengers from Southwest on an O&D basis rather than trying to compete with American's larger network proposition. However, Mr Cush told the Fort Worth Star Telegram Virgin America's flights at DFW were profitable.
New Love Field flights could help Virgin America survive a US transcon bloodbath
Dallas is one of the fastest growing metroplexes in the US, and for Virgin America, establishing a smaller base at Dallas Love Field gives the carrier another location in the central US on its route map. It also serves the important corporate market of Chicago located in the central US. But Dallas Love Field could be an attractive springboard for Virgin America in serving larger corporate markets.

Flights at Washington National must operate under the 1,250nm "perimeter rule" that governs the airport, so Virgin America needs to ensure its flights comply with that regulation or seek an exemption. The nm distance between Washington National and Dallas Love Field is about 1,029. If Virgin America fails in its efforts to win gates at Love Field, it will need to find routes out of National for its slots.

Virgin America's Love Field service could also deflect some competitive pressure it will endure as a trans-continental bloodbath from New York to California ensues with American, Delta, United and JetBlue all offering lie-flat seats on those routes in 2014.
Virgin America has no plans to enter the fray, which means some high-yielding passengers may choose to jump ship to JetBlue if its "Mint" premium product has a price point that is not dramatically higher than the Virgin America's pricing for its first class product. Getting a stronger foothold in Dallas could help alleviate the competitive and pricing pressure Virgin America faces on some of its transcon routes from New York as 2014 unfolds.
Virgin America shows much-needed initiative in its quest to expand at Love
Virgin America's efforts to build-up Dallas signal an evolution in its strategy and perhaps recognising a market where its mid-level product has decent chance of gaining traction. The competitive proposition against Southwest is viable given Southwest is facing cost creep and labour unrest as it remains locked in negotiations with all of its organised labour groups.

The quest by Virgin America for gates at Love Field is also occurring as the carrier turned a profit in 3Q2013 and showed strength in yield, unit costs and passenger unit revenues for 9M2013, which increased 9%, fell 4.6% (exlcuding fuel) and rose 10%, respectively.
Virgin America select financial information: 3Q2013 vs 3Q2012 and 9M2013 vs 9M2012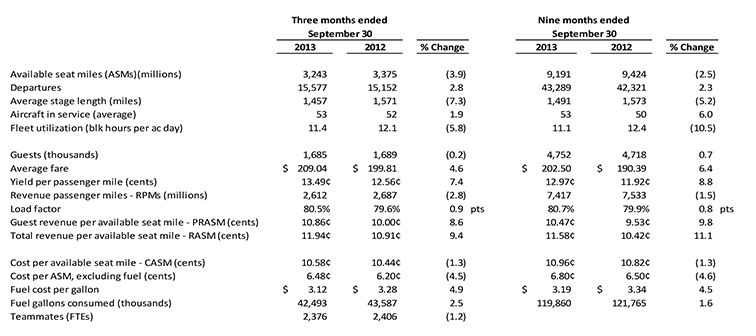 There is no doubt Virgin America has a lot to prove with respect to its long-term staying power in the US market place.
But the moves it is trying to make in Dallas are no doubt interesting, and could introduce a healthy dose of competition into the market place. Positioning itself in O&D markets does not mean American won't retaliate, but with merger integration under way its strike back may be less intense. Whatever the outcome, it looks as if rivals want to mount an attack on Southwest, whose celebrations of Wright's long-awaited repeal may become increasingly more subdued.