Southwest Airlines wins Love - but also new competitive forces with repeal of Wright Amendment
Analysis
Southwest Airlines marks a watershed historical moment in Oct-2014 with the official repeal of the Wright Amendment that has restricted flights from its home at Dallas Love Field for nearly 36 years. The carrier kicked off what could be a year-long celebration in Oct-2013 when it installed a clock at its headquarters officially counting the days, minutes and hours until the restrictions expired.

In early Feb-2014 Southwest revealed 15 non-stop longer-haul routes it plans to inaugurate from Dallas Love Field in late 2014. The markets unsurprisingly comprise some of Southwest's largest markets in terms of daily departures including Denver, Chicago Midway and Baltimore-Washington. Other markets listed on the roster are strategic business routes including New York LaGuardia and Washington National.

Free from the years-long artificial constraints of the Wright Amendment, Southwest believes it can ignite true competition in North Texas, weakening American's stronghold on higher fares in the market. But the US airline industry is drastically different today from when Southwest successfully campaigned to demolish the amendment in 2006, and its repeal in 2014 may be more of a unifying force for Southwest employees than a major game changer in the current competitive landscape.
Drawing battle lines in North Texas
The Wright Amendment's history illustrates the complex intertwining of politics and the airline business. Southwest successfully litigated to launch operations from Love Field in 1971, defeating opponents who argued the carrier should operate from the newly established Dallas Fort Worth regional airport. DFW was created with the goal of handling future air traffic, and each city (Dallas and Fort Worth) agreed that all airlines operating at airports within Dallas and Fort Worth (including Love Field) would move to the new airport.

That agreement was finalised prior to Southwest's creation, and the carrier fought hard to base its operations at Love Field, which is approximately 9km from downtown Dallas compared with DFW's 33km distance from the city centre.

Southwest's opponents eventually opted to craft a legislative strategy to ensure DFW remained the metro area's primary airport and Fort Worth resident and US Congressman Jim Wright in 1979 successfully pushed through the amendment that bears his name. It limited operations from Love Field to the adjoining states of Louisiana, Arkansas, Oklahoma and New Mexico. A provision did allow for the operation of aircraft with 56 seats or fewer to operate beyond those perimeter states.

During 1997 some Wright restrictions were softened, and direct flights were allowed to Alabama, Kansas and Mississippi.

After current CEO Gary Kelly took the helm in 2004 Southwest launched a massive campaign to "Set Love Free". The efforts culminated in a 2006 law that allowed for immediate one-stop sales (instead of the requirement that customers purchase two tickets for connecting flights) and full repeal of the law in 2014. But the heavy hand was reluctant to disappear entirely. Included in the legislation is a stipulation that Love Field gates would be capped at 20 versus the 32 available in 2006. Southwest presently has 16 gates at Love Field.
Delta also wants to take advantage of the Wright repeal
In early Feb-2014 Southwest coined the phrase "good bye Wright Amendment hello America" as the carrier revealed 15 destinations it plans to serve directly from Love beginning in Oct-2014.

While Southwest was licking its chops to serve key cities from Love Field, American and US Airways were required to relinquish two gates at Love Field as part of a settlement with the US Department of Justice to allow them to move forward with their merger. Delta has signalled its wish for those gates, and even loaded schedules for service from Love Field to serve its hubs in New York LaGuardia, Los Angeles, Detroit and Minneapolis beginning in Oct-2014.

Presently, Delta operates service to its Atlanta hub from Love Field with gates leased from American. It wants to buy those gates and expand at the airport, presumably to target business class passengers that prefer Love's proximity to downtown Dallas. Although other areas of the metroplex north of DFW are growing rapidly, which changes the dynamics of air travel in the region.

It may seem odd that Delta wants to split operations in Dallas – it serves Atlanta, Detroit, Salt Lake City, Memphis, Cincinnati and LaGuardia from DFW. But the move may involve more than simply wishing to confront Southwest; the Dallas metro area is one of the fastest growing regions in the US, and the revenue potential for Delta might justify split operations.
Southwest targets pockets of strength from Love Field
With the lifting of the Wright Amendment Southwest plans to add routes from Love Field in two phases – Oct-2014 and Nov-2014. During October the carrier is launching service to five of its top 10 markets measured by daily departures – Baltimore, Denver, Las Vegas, Orlando and Chicago Midway.
Southwest's top 10 cities by departures as of Oct-2013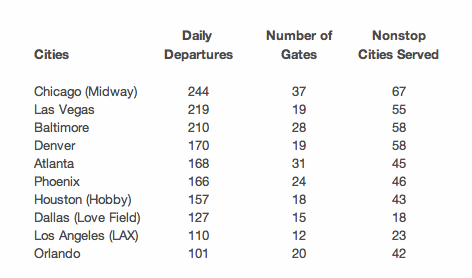 Denver and Chicago O'Hare are the most heavily served markets from DFW on that list. American, Frontier, United and Spirit offer roughly 17,800 one-way seats from DFW to Denver while American, United and Spirit deploy about 18,900 seats to O'Hare.
Carriers serving Southwest's first round of new Love Field flights from DFW: 2-Feb-2014 to 8-Feb-2014
Southwest launches its second round of Wright-free service in Nov-2014 with the introduction of flights to Atlanta, Fort Lauderdale, Los Angeles, Nashville, New York LaGuardia, San Diego, Orange County, Tampa and Washington National (Southwest recently won 27 slot pairs at the airport). Of those markets Los Angeles and Atlanta are the largest from DFW measured by seat deployment.
Four carriers – American, Spirit, United and Virgin America – deploy roughly 26,100 weekly one-way seats to Los Angeles. American and Delta offer approximately 21,300 seats to Atlanta.
Carriers serving Southwest's second round of new Love Field flights from DFW: 2-Feb-2014 to 8-Feb-2014
Spirit adds unwelcome competitive dynamics not present in Dallas eight years ago
It is difficult to determine how much revenue Southwest will ultimately capture by adding service to key markets from Love Field. For FY2013 the carrier stated its Wright Amendment revenues (cities served with one stop) for FY2013 were USD300 million. Obviously Southwest believes there is substantial upside in the new direct service as Mr Kelly cited a huge opportunity stemming from the repeal of the restrictions.

But the Southwest of 2006 is a much different carrier from the airline that is presently grappling with cost creep and labour strife. US airline industry dynamics have also changed during the past eight years. There are three distinct models in the industry – full service, hybrid and ultra low-cost. Southwest really does not fit into any of those models, and the so-called Southwest effect of traffic stimulation through lower fares has faded given the carrier's rising costs and increasing average air fare, which grew 5% year-on-year during FY2013.
So the premise that fares are going to fall drastically in North Texas now that Southwest is unleashed at Love has become outdated. The 20-gate cap also results in Southwest shifting service from other markets to support the new route launches slated for late 2014.

Ultra low-cost carriers (ULCCs) have assumed Southwest's traffic stimulation model, evidenced by Spirit's calculation that it can enter larger metro areas with lower fares and capture low yielding traffic that is increasingly unattractive to full service carriers. DFW has featured prominently in Spirit's strategy during the past couple of years, and the carrier serves 11 of the 15 markets Southwest is launching from Love in late 2014.
And while it only represents a small portion of seats in each market, some of the traffic Southwest could have captured in 2006 has now migrated to Spirit, which was just initiating its ultra low-cost strategy eight years ago.

See related reports:

Recently Mr Kelly stressed that Southwest is not experiencing an identity crisis, and the carrier has not yet hit its stride on costs. But getting its costs to ULCC levels is going to be an impossible challenge given Southwest is in contract talks with all its major labour groups - and some of the negotiations have proved difficult.

Southwest also arguably has some product deficiencies – unassigned seats, no extra legroom option and lack of first class – that will create challenges in gaining a certain level of top-tier flyers in Dallas. American also is not going to rest on its laurels, and will attack Southwest's new service by matching fares and offering various frequent flyer promotions to retain its most loyal customers, who in reality are not likely to jump to Southwest.
How Southwest looks post-Wright is a bit of a mystery
Southwest deserves credit for its persistent efforts to roll-back the artificial and anti-competitive constraints placed on air travel in North Texas decades ago. Love has been a long time coming.
Consumers will no doubt benefit from lower fares in the markets Southwest plans to debut from Dallas during 2014; but any drastic passenger shift from DFW to Love Field, or from American to Southwest, seems unlikely in the new competitive dynamics in today's US airline business.
Even as the lifting of the Wright Amendment holds significant historical significance for Southwest Airlines, the post-Wright chapters have yet to be written. The trailblazer may now be found in need of a little competitive protection itself.