First quarter to disappoint but that is not unexpected with fuel increases
After a robust 2010, the optimistic outlook for 2011 is dampening with the first quarter likely to yield a US industry loss, according to analysts who have begun publishing their prognostications for earnings calls which kick off Wednesday with AMR. The bottom line - airlines have not been able to cover the full cost of fuel increases with fares.
Watch the guidance for the second quarter, as the earnings calls take place, as they will be an indicator of how airlines see their fortunes this year. The legacies are all expected to post losses with Southwest and JetBlue posting slight gains. Of interest will be the expectations for industry leader Alaska Airlines whose first quarter is usually abysmal, although management has worked hard to break that cycle and expected to succeed this year.
A key metric to watch is load factor after airlines reported flying more empty seats during March confirming anecdotal evidence. Most executives have already peppered their first quarter comments with diminished comparables, saying the first quarter can't compare to last year when Easter was in the quarter. This year it is in the second quarter.
Airline Forecasts Analyst Vaughn Cordle expects that the USD15 billion+ fuel increases this year faced by domestic airlines must be met with an 11% increase in revenue. But with the resulting drop in demand, he said, revenues must rise 17% to cover fuel increases which doesn't seem likely.
The first quarter is historically weak and analysts have been predicting that half the US industry will post losses since the twin hits of rising fuel and the Japanese crisis. The real question is whether airlines can pull out a profitable year. American was the sole loss leader in 2010 and analysts have not been shy about predicting more losses this year and next.
American's expectations were never thought to be good compared to its peers but airlines across the board have been downgraded on weather, fuel and the Japanese catastrophe. Indeed, Delta's suspension of its new Haneda service until May has prompted calls to take back the slots it received.
Dahlman Rose Analyst Helane Becker is expecting a first quarter industry net loss of USD1.07 billion in net income on USD31.86 billion in revenues. In a recent research note, Ms. Becker indicated the higher jet fuel costs will compress margins, adding that the upward mobility on fares is expected to significantly dilute demand. February fuel prices were ahead of February 2008 increases and it remains to be seen whether further increases will top the peak rise in fuel in the third quarter of 2008.
Conflicting signals
Even so, as late as US Airways recent media day, executives were reporting strong demand continuing, despite their ability to pass along fuel increases. CEO Doug Parker also emphasized how much better the industry was positioned to deal with the higher fuel than in 2008.
His analysis was confirmed by a recent survey by the Global Business Travel Association indicating demand remains strong, despite a 2.5% increase in travel prices in 2010 and a projected increase of between 2-4% for 2011. The travel prices include the entire chain, including hotels, air fares, ground transport, restaurants and rental cars.
"For Q1 2011 the Business Travel Index (BTI) is projected to fall slightly to 110 [from 112 in 4Q-2010], a small cyclical reduction from a stronger-than-expected fourth quarter but still well above 106, where the BTI™ stood in Q1 2010," said the organisation.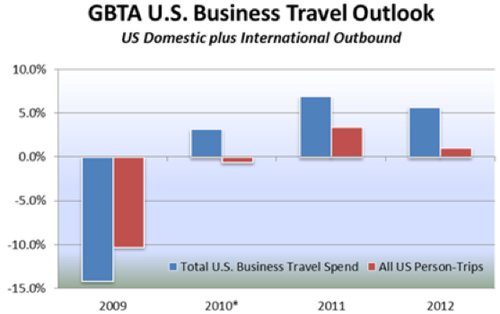 Prices don't match increasing costs
The Wall Street Journal recounted the price hikes since November and recent price rollbacks. The American Express Business Travel Monitor reported sequential increases in fares paid, up 2.2% in November, 4.5% in December, 7.5% in January and 11.1% in February. Indeed, for the first two weeks of February average ticket prices were up 15.9% domestically and nearly 30% internationally, generally tracking last year's experience. However, in March prices dropped 1.5% for domestic ticket sold in the back half of the month but dropped through the floor - 25.7% for international trips.
Ms Becker indicated that spot jet fuel is currently at USD3.31, adding "at these levels the airlines will struggle to be profitable." Casting a cloud over the entire year, Ms. Becker said, with projected jet fuel price over USD3.41 per gallon, margins for the second and third quarters will be equally constrained. She called airline shares over valued.
"In our chart of the week, we show the ratio of XAL [ARCA Airline Index] to Brent Crude plotted against industry revenue over the past 4 years," said Ms Becker in her note. "The chart shows the industry was able to climb higher in a rising jet fuel environment despite relatively flat revenue, but recently the ratio declined with rising jet fuel. The industry has not been able to offset these costs at a rapid enough pace since the beginning of the year. In the near term, we do not expect to see a significant rally in the airlines with jet fuel continuing to squeeze margins. If Brent were to correct to around $100 - $105 per barrel, we would be more positive on the group."
XAL to Brent Ratio
The Air Transport Association expects the US industry to set records for fuel costs for the first quarter, adding USD3 billion in fuel costs compared with last year. The organisation said it will likely slow recovery as fuel as a percentage of operating expenses rises again to 35-40% of costs, perhaps over the 36% reached in 3Q-2008.
ATA is awaiting the first quarter reports to confirm that, but noted that fuel has risen 35% from USD8.8 billion a year ago to USD11.8 billion.
The International Air Transport Association already dropped its 2011 earnings estimate from USD9.1 billion to USD8.6billion for worldwide airlines citing weakening traffic, fuel and Japan.
Zacks Investment Research sees opportunities from industry consolidation and ancillary revenues which could possibly offset fuel. Ancillaries accounted for much of airline profitability in 2010, so airlines will have to get more creative in rolling out new products sooner rather than later to keep up with fuel.
The site, however, also pointed to the headwinds that have already been covered by industry analysts, weakening economy, Japan, fuel prices, but it also added government regulation, unionisation, airport infrastructure constraints among additional headwinds. Zack's holds a long-term neutral rating on both Delta and Southwest but an underperform rating on United Continental for the fact is is slashing capacity more than its peers which is expected to lower profitability.
Canadian carriers are expected to follow US carriers in diluted profitability from fuel, labor and Japan. The Conference Board of Canada (CBC) released a report recently saying the headwinds will impact the next three years, adding that last year's profitability was not sustainable. It surveyed Air Canada, WestJet, Transat AT and Jazz, now known as Chorus Aviation.
Pre-tax profits for Canadian carriers are expected to be slashed by a full third this year, reducing such profits from CAD1.2 billion in 2010 to CAD785 in 2011. The board projected that after that, profitability will remain flat for the foreseeable future. Costs, said the CBC will rise more than 9% this year on higher oil and labour costs. The labor costs increase follows staff and wage cuts in 2009 totaling 17.5% while fuel is projected to be between US100-120 through 2015.
Despite the recent fare increases, fares are still below inflation levels as over all revenues are expected to rise 5.9% this year and 6.3% on average through 2015, said the board.
CBC reported international travel has recovered to just above pre-recession levels although domestic, about 60% of all Canadian travel, rose a modest 1.6% in 2010 and constituted the highest chance for growth.
Air Canada reported a drop in load factor in March and although traffic rose 4.2% during the month it was outpaced by a 7.6% capacity increase.
"We expect EBITDAR levels for the first half of 2011 to be approximately at the same level as the first half of 2010," CEO Calin Rovinescu said earlier this month. The company added advanced bookings remained strong including on the Atlantic and Pacific regions, despite over capacity and the Japanese crisis, respectively.
Analyst are chafing at the lack of action by American to cut capacity more than the 1% reduction to its previous capacity plans, calling it "difficult to justify" in various research reports. Even so, its capacity initiatives all hinge on its new joint businesses with British Airways and Iberia and JAL so it is largely between a rock and a hard place on more cuts.
Morgan Stanley's Bill Greene has already expressed his usual frustration with management while Hudson Securities expects American to increase its 2010 losses this year to USD634 million. CRT Capital Group Analyst Michael Derchin pegs the year-end loss of USD775 million worse than his original USD700 million loss estimate. He called its burden of not filing for bankruptcy "too large a hurdle" to overcome.
In a research note, Hudson Analyst Dan McKenzie suggested a permanent over capacity situation in Chicago, New York and Los Angeles -- three of American's five cornerstone markets. Ms Becker projected a 2011 loss of USD1.1 billion for AMR and, for the first quarter, she estimated the loss of USD450 million compared to original projections at USD373 million. Before the run up in fuel, AMR was expected to post its first profit in four years. AMR CEO Gerard Arpey said "crisis is not too strong a word" on fears rising fuel will derail the economic recovery.
Consensus indicates a first quarter loss of USD440 million and few see any recovery for the airline outside a major restructuring through either a merger or bankruptcy. Analysts also suggest its labor-cost disadvantage will not change for many years.
Delta, too, is suffering from reduced expectations as Hudson Securities lowered its 2011 earnings estimated from USD2.11 billion to USD1.52 billion.
The company reported it has a USD2 billion exposure to the Japanese crises which will likely cost it between USD250-400 million this quarter. Its quick action to cut capacity by 15-20% in the market drew praise but worries persisted when executives cited the USD3 billion in fuel expenses. Its quest for 10% margin over the business cycle won't be helped much with its expectations of a negative 2-3% operating margin in the first quarter compared to a positive 1-3% expected during its fourth quarter conference call.