Fiji's Air Pacific, revived and rebranded, is ready to embark on a new future
Analysis
Air Pacific believes it is almost ready to take the fight back to its Australian and New Zealand rivals with a revitalised staff, an overhauled in-flight product, new identity and distinctive traditional livery on a new fleet of A330-200s in 2013.
Financially Fiji's national carrier, which will revert to its original name of Fiji Airways, is back on its feet, recovering from a record loss to return to profit this year, and with arch rival Virgin Australia focused on a bigger battle for the Australian domestic market, Air Pacific/Fiji Airways could look to recoup some of the more than 50% market share it has lost in recent years.
But Managing Director Dave Pflieger, a former senior executive at Virgin America, warns that the 46% Qantas-owned airline still has a long way to go as it works its way through the final phase of its three-stage transformation programme. Key risks remain, including an uncertain global economy, volatile fuel costs and the threat of renewed competition. And somewhere along the line, the commercial/political/legal squabble with Qantas needs to be resolved.
Fiji Airways will try to restore the flag carrier's previous strengths
Air Pacific announced in May-2012 the latest initiatives in a turnaround strategy, including a rebranding of the airline and a return to its 1958 name of 'Fiji Airways'. The move is the latest in a series of initiatives that are part of a 360 degree review and restructure of the airline, which has seen the flag carrier reverse losses, improve its schedules and network, and make significant investments in new aircraft and its on-board product.
'Fiji Airways' was the name of the airline between 1958 and 1970, changed to 'Air Pacific' in 1970 to reflect its greatly expanded regional presence. But Mr Pflieger said at the rebrand launch in Oct-2012 that global awareness of Fiji as a holiday destination was high. "We want to strengthen that association and also promote Fiji in every country we fly to. Returning to 'Fiji Airways' will better reflect our role as Fiji's national carrier, and also assist Fiji by growing tourism and interest in the nation."
See related article: Air Pacific's trouble in paradise
Three new Airbus A330-200s arriving in March, May and November 2013 will be the first painted in Fiji Airlines colours and a livery based on traditional Masi symbols. The A330s are also the first aircraft Air Pacific has bought outright and will be the first aircraft to feature cabins fitted out to its own specifications.
The aircraft will initially be deployed on the Sydney, Auckland, Hong Kong and Los Angeles routes replacing Boeing 747-400 aircraft. An ageing Boeing 767-300ER has been replaced with a third Boeing 737-800. The A330s will bring instant fuel cost savings of up to 45% over the three Boeing 747-400s they will replace, helping to keep a lid on fuel costs that have risen FJD94 million (USD52.6 million) in the past two years. They partly replace a cancelled order for five Boeing 787-9s placed in 2006, originally slated for delivery in 2011.
The rebranding project is expected to be complete across the entire business by the end of 2013.
Air Pacific's domination of the inbound Fiji market came to an end when Australian LCCs Virgin Australia and Jetstar began competing for a slice of the rapidly growing Fiji holiday traffic in 2009. The Australian carriers' lower cost base allowed them to quickly snare 51% of Air Pacific's share of the Fiji-Australia market. Though Air Pacific still carries around 60% of all inbound traffic to Fiji, its higher cost base places it at a substantial disadvantage.
See related articles: Air Pacific will not fail as restructuring continues ownership questions remain
Fiji international capacity (seats) by carrier: 29-Oct-2012 to 04-Nov-2012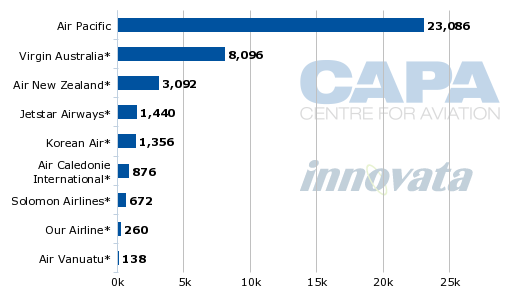 Fiji international capacity share (% of seats) by carrier: 29-Oct-2012 to 04-Nov-2012
Mr Pflieger said he was "very optimistic" that Air Pacific could compete against the LCCs and was already holding its own against Jetstar and Virgin Australia by trying to match price, frequency and increasingly on product.
Air Pacific has steadily grown capacity against Virgin and Jetstar over the past year
While Jetstar remains focussed on more lucrative markets and Virgin Australia remains nearly steady, Air Pacific has been steadily entrenching its position.
Australia will always be Air Pacific's main inbound market. The carrier operates to Sydney, Brisbane and Melbourne, currently with a total of over 8,000 seats a week, all from the Nadi hub, with no direct service from the capital, Suva.
Network changes to take advantage of key routes have included increasing frequency on the Nadi-Sydney route from daily to 13 times a week. Capacity has also been added to Los Angeles, Hong Kong and Auckland.
Air Pacific top 10 international by capacity (seats): 29-Oct-2012 to 04-Nov-2012
Air Pacific and Tourism Fiji working better together to promote mutual expansion
Tourism is a vital industry for Fiji. Its reliance on Australian tourists, most of whom are fortunately oblivious to the until-recently fractious relations between the respective governments, is probably too high to be healthy. But finding and keeping new markets can be costly as well as risky.
Inbound tourism numbers have more than doubled since 2000 from 293,183 to 675,050 in 2011, despite political ructions which included a military takeover, leaving the once-democratic country under the control of a relatively benevolent dictatorship.
With most of these extraneous issues hopefully behind it, Air Pacific hopes that the re-fleeting will give it a new edge. The superior range and payload capabilities of the new A330s are expected to allow Air Pacific to expand its international network and grow the business.
The US tourism market is now a high priority
High on the list of priorities will be fortifying the position on the Australia routes, but growing the US market now becomes a more realistic proposition. The Australian market, traditionally the nation's biggest, has boomed since the turn of the century growing nearly 350% to 344,829 last year. New Zealand as the second biggest source market has also doubled, but has stagnated at around 100,000 annual visitors since 2004.
Air Pacific capacity share (% of seats) by region: 29-Oct-2012 to 04-Nov-2012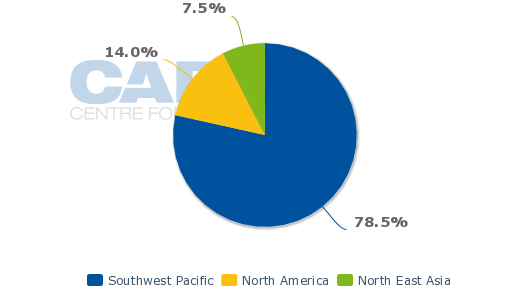 With his American market background, Mr Pflieger is well placed both to understand and implement connections with the potentially much more valuable US market. In Dec-2011 Air Pacific and American Airlines launched a codeshare agreement providing access to 23 destinations in the US and giving Air Pacific the potential to boost marketing and grow its American tourist base. American Airlines also placed its code on Air Pacific's Los Angeles-Nadi, Honolulu-Nadi and Nadi-Suva flights.
Additionally, in order to improve Fijian brand visibility in the US, Tourism Fiji and Air Pacific announced in Aug-2012 that they had appointed Ogilvy PR to promote them in the US. As the anouncement stated, "The Tourism Fiji appointment follows an extensive destination marketing audit completed in late 2011 that concluded there was a pressing need for a globally standardised Fiji brand that could be adopted and implemented in local markets."
Data from Fiji Bureau of Statistics is not yet available to gauge the success of the Air Pacific-American partnership to date. The most recent full-year figures show US visitors have actually declined since their peak of 66,631 in 2006, but regained some ground to 55,089 in 2011 from a low of 51,592 in 2009 in the wake of the global financial crisis. As the US economy stumbles towards recovery, travellers should be more receptive to the charms of the South Pacific country, especially given improved marketing and sales opportunities.
Europe, notably the UK, have been a longstanding tourism staple, not just for Fiji but also for its larger New Zealand and Australian neighbours. They however bring a more difficult challenge and one probably better left for later.
British tourist numbers have halved since 2003 to 24,000 in 2011. This has been partly offset by visitors from continental Europe increasing 48% over the same period to 32,354, but Fiji is still a long way and struggles to be heard among the many other options closer to home in a more cautious spending environment.
China and North Asia are also good targets for Fiji tourism – and the flag carrier
China is however another story, showing large and often remarable growth rates to countries throughout the Asia-Pacific region. Chinese inbound tourism has gone from a standing start to 24,389 in just three years, providing steady stream of about 2,000 visitors each month last year. A particularly good feature of Chinese visitation, at least for the time being, is that the numbers are consistent, regardless of season.
Renewed confidence among Japanese travellers could also present another opportunity. Japan accounted for around 23,000 visitors a year for much of the last decade, but began a sharp decline in 2009 and attracted just 9616 visitors in 2011.
Australia and New Zealand tourism data shows short-term visitor numbers to those countries from the US remaining relatively flat, but there is reason for cautious optimism for Japan. Japanese visitors to Australia were trending up 7.5% in Aug-2012 compared to Aug-2011. The number of Japanese travelling to New Zealand, while down nearly 22% month-on-month for September, Japanese arrivals at Auckland International Airport were up more than 15% in the three months to Sep-2012 compared to the same period in 2011.
Air New Zealand is working to rebuild demand from Japan and will double the number of charter flights to 14 from seven Japanese centres in addition to a 20% capacity over the same time last year to Tokyo which returns to a daily service in Dec-2012.
Fiji's need is to attract visitors to its shores even where there is no direct air service. In north Asia, Air Pacific only has a once weekly service to Hong Kong, although Korean Air maintains a regular three times per week operation. This has helped maintain a steady flow of inbound Korean tourists.
Air Pacific's financial turnaround has been remarkable in 2012
Just two years after reporting the biggest operating loss in its 60-year history of FJD91.8 million (USD51.4 million) Fiji's national carrier's books have returned to the black, posting a FJD16.5 million (USD9.2 million) operating profit in the fiscal year ending 31-Mar-2012 on revenues of FJD645.9 million (USD361.6 million). Revenues were up 16.3% as the rewards from severe cost cutting, network and service improvements which added 85,000 more passengers, lifting revenue by FJD90.5m to a record FJD645.9m (USD361.6 million).
The company reduced its head count by some 100 jobs to about 800 staff, in the first of a three phase restructure over two years designed to reposition the airline to better compete against Virgin Australia, Jetstar and Air New Zealand.
But in announcing the results on 25-Jun-2012 Mr Pflieger said there was still a long way to go. "To be clear, we are not out of the woods yet, and we remain ever mindful of the possible challenges posed by market uncertainty, a slowdown of major world economies, and the ever-present threat of further volatility in oil prices. At the same time, we are clearly making great progress towards our future success and sustainable profitability. With new airplanes and a complete rebranding ahead of us, we remain confident and excited about the future of our airline and the many great things we have planned for our customers."
And the uncomfortable Qantas board dispute rumbles on
As Air Pacific sets out on its new future an increasingly contentious relationship with 46% shareholder Qantas remains to be resolved. On 28-Mar-2012 the Fiji Government issued a contentious decree requiring the airline to have local citizens comprise two-thirds of the board. The Fiji Government owns 51% of the airline but Qantas holds four of the nine board seats. Faced with having to give up one of the directorships, Qantas withdrew all four on 30-May-2012, "in response to the intervention in the management of Air Pacific by the Fiji Government" which Qantas says wants to take full control of the carrier – but without paying for it.
Fiji argued that the new legislation would merely bring the airline's ownership regulations into line with international standards, but it is also annoyed that Qantas LCC Jetstar is competing directly with Air Pacific to Australia – albeit in a limited way to date. Qantas has been trying to sell its holding to the Fiji Government, which while willing to buy, is not prepared to pay Qantas' USD70 million asking price. The Government plans to have Air Pacific independently reviewed.
Air Pacific/Fiji Airways takes bold steps forward, but conditions remain fragile
In the meantime Mr Pflieger insists it is business as usual at the airline. However he is planning more than the "usual" for the next year. The bold steps he is taking look to be backed with a useful degree of caution and the re-fleeting exercise will position the newly branded Fiji Airways with a much needed update.
The success or otherwise of these initiatives will however depend to a large extent on matters beyond the airline management's control – the global market, on fuel prices and the always-unpredictable Fijian government. There is always the threat too that a miffed Qantas may upgrade its Jetstar competition.