Air Pacific's trouble in paradise
Analysis
In 1971 the carrier became "Air Pacific", a more generic name - chosen at least partly in a bid to establish the airline as a regional hub carrier, which could represent the interests of the many small island nations, which find it difficult to maintain viable stand-alone airlines of their own.
Regional rivalries and a general desire for all countries to maintain their own flag carrier meant this aspiration was never realised, even though small airlines of various neighbouring countries have failed and been forced to close their doors in intervening years.
In 1984, Air Pacific itself had expanded its long-haul routes at a rate which rendered it technically bankrupt, causing the Fiji government to invite Qantas to enter a support agreement to bolster the airline, through the provision of training and management.
While various shareholders have come and gone over the years, Air Pacific is now owned by the Fiji Government (51%), Qantas (46.32%), with minor stakes held by Air New Zealand (1.94%) and the governments of Kiribati (0.27%), Tonga (0.27%), Nauru (0.08%) and Samoa (0.12%).
In May-2008, the Fiji interim military government announced that a Cabinet Task Force had been established to review the airline's performance. This was to include a review of the shareholder's agreement between Air Pacific and Qantas – which was widely interpreted as a signal of dissatisfaction by some Fijian officials. Since the review was announced there have been several changes in Cabinet membership, and no apparent progress on the review.
Air Pacific acquired Sun Air, a domestic airline, in 2007. This carrier formed the basis for Pacific Sun, now Air Pacific's domestic and regional subsidiary.
The airline currently employs some 800 staff, mostly working from its main base at Nadi airport.
Is there any hope for more regional cooperation?
An initiative of the Australian and New Zealand Governments to promote an open skies regulatory environment in the South Pacific, known as the Pacific Islands Air Services Agreement (PIASA) has now been ratified by the requisite six nations to bring it into effect. But as Fiji is a notable non-signatory, it is unlikely to have any immediate practical effect.
The hoped-for impetus for the growth of airline services throughout the region to be provided by endorsement of the treaty will be put on hold, especially in the prevailing economic circumstances.
This is not unexpected. Most commentators have never held the view that PIASA would provide a simple solution through deregulation in an environment where thin passenger volumes and widely dispersed markets, lack of Business traffic and low per capita incomes continue to impact the likelihood of sustainable and profitable air services.
An unusually profitable small airline
Right throughout the 1990s, Air Pacific was a notable success, being profitable in every year – until a military coup in 2000 reversed its fortunes, with a large drop in tourist numbers plunging the carrier into loss.
This was shortlived, and Air Pacific stormed back to profit the following year, with the only glitch since being a barely profitable year in 2006-07, attributable to yet another military coup, before another strong result in 2007-08.
The airline is yet to report on its performance for the year ended 31-Mar-09.
A good route network– and a willingness to change
Air Pacific's route network is under constant appraisal, and the airline has not been slow to add or cut routes depending on results. Last year services to Vancouver were cut and, in Mar-2009, long-operated services to Japan were suspended, in the face of dropping Japanese visitor numbers.
A recent foray into Australia's Gold Coast was short-lived, with services now withdrawn. New services between Nadi and Hong Kong are on the drawing board, but have been postponed until 03-Dec-09, due to the adverse economic climate, and to permit the airline to undertake more long range selling and promotion.
Air Pacific route network: Jun-2009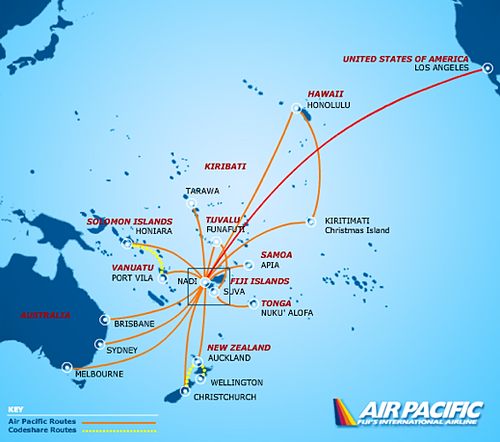 Fleet plans indicate confidence in the future
Air Pacific already operates a relatively modern all-Boeing fleet, but has looked to the future by ordering eight B787s, for delivery from 2013 onwards.
Air Pacific fleet in service and on order
| Manufacturer | Type | Total In Service | Total On Order |
| --- | --- | --- | --- |
| | 737 (NG) | 3 | 0 |
| | | 2 | 0 |
| | | 1 | 0 |
| | | 0 | 8 |
| Total | | 6 | 8 |
Air Pacific B787 delivery schedule
| Manufacturer | Type | Delivery Year | Total |
| --- | --- | --- | --- |
| | | 2013 | 4 |
| | | 2014 | 1 |
| | | 2016 | 2 |
| | | 2017 | 1 |
| Total | | | 8 |
Sister airline, Pacific Sun operates a combination of ATR42-500s, De Havilland Twin Otter's and Britten Norman Islander's on Fiji domestic routes with the ATR42s also servicing regional sectors between Suva, Tonga, and Funafuti as well as between Nadi and Port Vila.