Europe's Top 20 airline groups by passengers 2017; Lufthansa wrests top spot from Ryanair
Analysis
In 2017 the Lufthansa Group has reclaimed from Ryanair the title of Europe's biggest airline group by passenger numbers.
Lufthansa's 18.6% increase, to 130 million passengers, was fuelled by its Jan-2017 acquisition of Brussels Airlines and strong growth by Eurowings (which benefited from airberlin's demise). Wizz Air was the fastest-growing among the top 20 groups, followed by a resurgent TAP Air Portugal.
Ryanair (whose growth is, by contrast with Lufthansa's, organic) would have kept the number one position – won for the first time in 2016 – if it had not trimmed its winter growth to address operational problems. Even then, the Irish LCC still grew at 10.3%, to 128.8 million passengers, and comfortably remained Europe's biggest individual airline.
IAG remained third among airline groups, growing by 4.1% to 104.8 million passengers, and Air France-KLM retained fourth position, with 98.7 million – an increase of 5.7%. The next three groups – the LCC easyJet (81.6 million passengers, up 9.6%), Turkish Airlines (68.6 million, up 9.3%) and Aeroflot Group (estimated 50 million, up 16%) – also held their 2016 positions, completing a top seven that is still some way ahead of the rest.
This CAPA report ranks Europe's top 20 airline groups by passenger numbers in 2017, and also includes a ranking of the top 20 individual airline brands.
Summary
See related report: Ryanair's 117million pax in 2016 tops European airline groups. The first time an LCC topped rankings
IMPORTANT NOTICE: CAPA will convene the World LCC Summit in Singapore on 1/2 March, 2018. For further details please see CAPA LCC SUMMIT
LCCs and leisure groups gain significance; Alitalia the only top 20 group that is shrinking
LCCs account for six of Europe's top 11 airline groups, and leisure groups account for a further two of the top 14.
Norwegian jumped over its Scandinavian rival SAS into eighth place, growing passenger numbers by 13.1% in 2017, to 33.2 million. SAS carried 29.7 million, only 1.2% more than in 2016.
Wizz Air broke into the top 10 for the first time (from 13th in 2016), with growth of 24.1% (the highest growth rate in the top 20) to 28.3 million passengers. Pegasus remained 11th, in spite of its 15.2% growth, with 27.8 million, but could join the top 10 in 2018.
The tour operator TUI Group does not publish its airline passenger numbers and so, it was not included in CAPA's top 20 for 2016, but CAPA estimates that it carried of the order of 23 million, and it is now added to the 2017 list at number 12.
Alitalia, which entered administration in May-2017, has not reported a 2017 figure, but OAG data show a 2.4% drop in seat numbers. If its traffic followed this trend, Alitalia carried an estimated 22 million passengers – the only top 20 group to experience a decline.
Note that airberlin has dropped out of the ranking, since it ceased operations in Oct-2017.
Thomas Cook Group, the second tour operator now included in the list, carried 18.5 million airline passengers (year ended Sep-2017), ranking it 14th. TAP Air Portugal's growth of 21.7% (the second highest rate in the top 20) pushed it into 15th place, from 18th in 2016.
S7 Airlines Group remained in 16th, with an estimated 14 million passengers (up 8.2%) and Aegean Airlines Group stayed 17th, with an estimated 13 million (growth of 4% in spite of a 4% cut in seat numbers).
Finnair moved up from 19th to 18th place, with 11.9 million passengers (growth of 9.6%), and Air Europa moved up from 20th to 19th, with an estimated 10.8 million (up 1%).
Flybe entered the top 20, with 9.3 million passengers (12 months to Sep-2017), which was an increase of 8.9%.
Europe's top 20 airline groups by passenger numbers: calendar 2017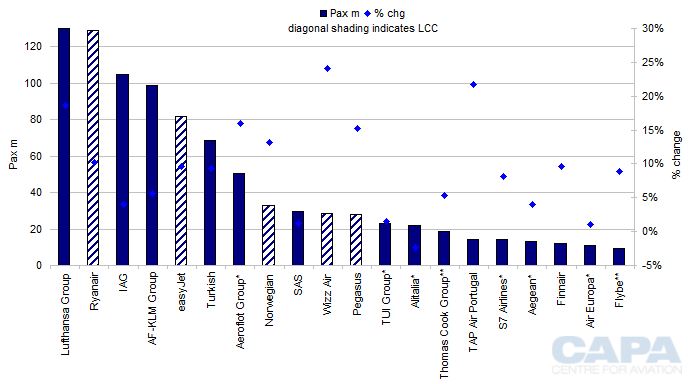 Jet2.com leads chasing pack of airlines outside the top 20
There were eight airlines/airline groups just outside the top 20, with passenger numbers in the range of 4 million to 9 million in 2017 (many based on estimated figures).
Five of these were growing at strong double-digit rates in 2017, led by Jet2.com, with 38.7% growth to 9.2 million passengers, driven by its new Stansted base. The Spanish LCC Volotea does not report passenger figures, but grew seat numbers by 25% (source: OAG).
Eastern/Central European airlines feature strongly in chasing pack
Three rapidly growing airlines are based in Eastern/Central Europe: Ural Airlines (22.8% growth), Ukraine Airlines (estimated growth over 20%) and LOT Polish (targeted passenger growth of 27.5% seat growth).
In addition, UTair Aviation grew passenger numbers by 9.6%, and Icelandair by 9.8%.
By contrast Virgin Atlantic cut its seat numbers by 4.6%.
European airline groups just outside the top 20 by passenger numbers calendar 2017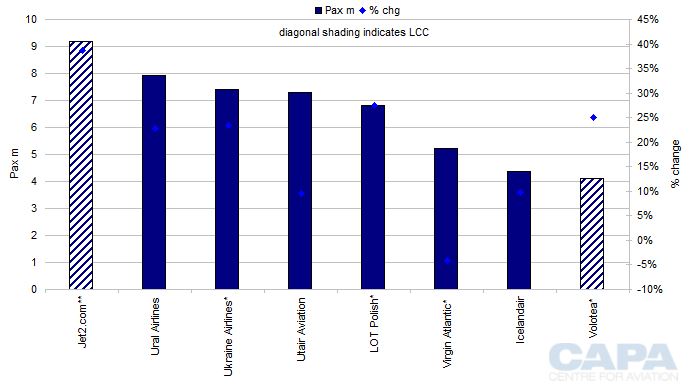 LCCs are important growth drivers for Europe's leading groups
Focusing on the top seven groups and their individual airline brands – they each tell a slightly different story.
The Lufthansa Group's main growth engine was its point-to-point airlines division, which grew passenger numbers by 77.0%, to 32.6 million, thanks to the addition of Brussels Airlines to Eurowings in this division. Like for like, Eurowings grew by 29.0% to 23.5 million, and Brussels Airlines by 17.2% to 9.1 million.
Among Lufthansa Group's network airlines, Austrian Airlines grew the fastest, with a 12.8% increase to 12.9 million passengers. Lufthansa remained the biggest brand, with 66.2 million passengers (up 6.1%), while SWISS carried 18.9 million (up 5.4%).
IAG has not reported the breakdown of its 2017 passenger numbers into its individual airlines, but CAPA estimates are shown in the graph below.
The highest growth among IAG airlines is likely to have been achieved by the LCC Vueling, estimated by CAPA at 8% (to an estimated 30 million passengers), while British Airways remains the group's largest airline, with approximately 45 million passengers (growth of only 1.8%). Estimated 2017 traffic is almost 19 million passengers for Iberia, and 11 million for Aer Lingus.
In the Air France-KLM Group, which increased passenger numbers by 5.7% in 2017, Air France returned to growth, with a 3.0% increase to 51.3 million. KLM grew by 7.5%, to 32.7 million passengers, but Transavia grew at the fastest rate – an 11.2% increase to 14.8 million.
Unlike the leading Western European legacy groups, the only Aeroflot Group airline not to enjoy double-digit growth in 2017 was its LCC Pobeda (estimated 2% increase to 4.5 million passengers). Aeroflot itself grew by 13%, to 32.8 million passengers.
Ryanair and easyJet operate as single airline brands, each of which has more passengers than the individual airline brands of the other leading groups.
Europe's top seven airline groups by passenger numbers and their subsidiary airlines: calendar 2017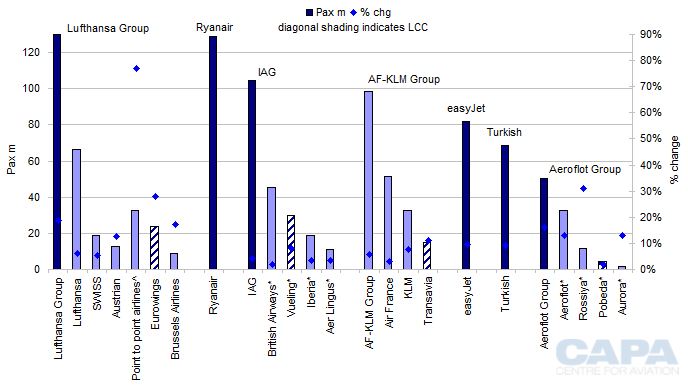 Ryanair remains Europe's biggest individual airline
Although Ryanair lost the top spot among European airline groups, it remained the biggest individual airline brand by passenger numbers in 2017.
Ryanair carried 47.2 million more passengers than second placed easyJet (more than the total number of passengers carried by sixth placed British Airways).
LCCs accounted for eight out of the top 20 airlines, including seven out of the top 14 and both of the top two.
Europe's top 20 individual airline brands by passenger numbers: calendar 2017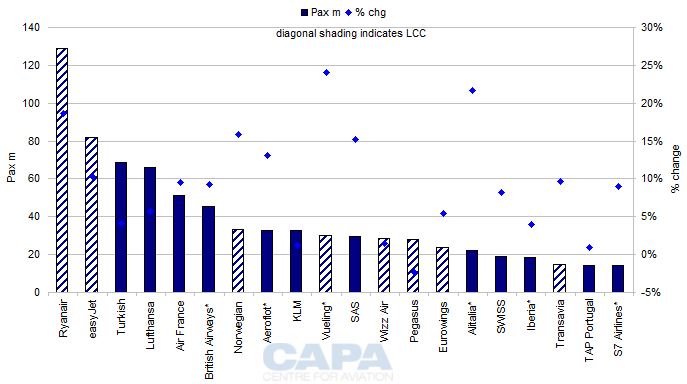 Ryanair is very unlikely to relinquish the top spot among individual airlines in Europe any time soon, even after easyJet adds assets acquired from airberlin, from Jan-2018.
Ryanair could even reclaim the number one spot among airline groups in 2018. However, Lufthansa Group's acquisition of parts of airberlin (if approved by regulators), plus a possible acquisition of parts of Alitalia, could give it another year at the top.