EgyptAir eyes return to profitability and capacity growth in 2012
Analysis
EgyptAir is aiming to return to profitability and resume rapid expansion in early 2012 as the carrier continues on the path to recovery following the turmoil in its home market. The Star Alliance carrier continues to report low demand and below average load factors but believes recently implemented network adjustments will lead to improved traffic.
EgyptAir was able to exit crisis mode and restore its network in late Mar-2011, only two months after civil unrest erupted in Egypt. While some capacity was added back at the beginning of its summer 2011 schedule in late March, a second more ambitious capacity increase was phased in over the past few weeks.
As a result, EgyptAir's capacity is now tracking slightly above Jun-2010 levels. EgyptAir says it is now operating 944 weekly international flights, compared to 924 weekly international flights one year ago.
Load factors remain depressed
But EgyptAir CEO Hussein Massoud told CAPA at the IATA AGM earlier this month the carrier's capacity is still about 15% below the original capacity plan for summer 2011. Mr Massoud said demand was also still down 20% to 30% and load factors have been hovering around 65%, compared with 75% pre-crisis. In addition, yields have been affected as EgyptAir has not been able to increase fares to offset the surge in fuel prices.
Mr Massoud is hoping EgyptAir will again be profitable in 2012 and back at its originally projected capacity level next winter. But he warns how long it takes to fully recover "depends on other factors" which the carrier cannot control. Mr Massoud in particular cites security, political stability and economic stability. "These issues affect a lot of our business," he says. "It's not in our hands."
EgyptAir expected to lose about USD250m in 1H2011
After incurring USD80 million loss in Feb-2011, EgyptAir lost about USD60 million in Mar-2011. Mr Massoud said Egyptair's bottom line has since been improving at a pace of about USD10 million per month, giving him some confidence that the carrier could return to the black in early 2012. In the meantime EgyptAir had adjusted its network to help offset the drop in the inbound tourism and business markets, which remain significantly impacted.
But Mr Massoud points out that EgyptAir traditionally has been less reliant on tourism traffic compared to the foreign carriers serving Egypt, most of which have not yet fully restored capacity to Cairo. He says only about 10% of the EgyptAir's pre-crisis traffic was tied to tourism.
The visiting friends and relatives (VFR) market has always been a bigger focus for EgyptAir. In the aftermath of the crisis this focus has increased further as the VFR market has recovered much more quickly than the tourism or business markets. While VFR traffic dropped significantly during the crisis itself, once the turmoil ended Egyptians living abroad were keen to quickly return to Egypt to visit their families.
Transit traffic is on the rise
In the aftermath of the crisis EgyptAir also has significantly increased its focus on transfer traffic. Cairo has traditionally not been a transit hub and Mr Massoud says five years ago transfers only accounted for 3% of EgytpAir's total traffic. This figure has increased to 12% and is expected to rise further following a restructuring of EgyptAir's network that is designed to improve connections between Europe and the Middle East, Africa and Asia.
Capacity is now higher than summer 2010 levels to six European and three African destinations. As part of the network changes EgyptAir also added a second connection bank of flights at Cairo, resulting in more options for connecting from Europe to the Far East and Middle East. In 2009 EgyptAir and its Star Alliance partners moved into a new terminal at Cairo which vastly improved the transit experience although security issues continue to dissuade some potential passengers from booking tickets which involve transferring aircraft in Egypt.
The network was also restructured to focus more on the Middle East, where demand has recovered more quickly as Egyptians living in the region are now again returning home for visits. Earlier this month service from Cairo to Abha and Medina in Saudi Arabia were launched as well as to Erbil and Baghdad in Iraq. The new routes mark EgytpAir's return to Iraq after a hiatus of two decades while the Medina route had been suspended in 2010. Capacity was also increased from Cairo to Beirut, Jeddah, Bahrain, Doha and Abu Dhabi.
Based on Innovata data, 56% of EgyptAir's international capacity is now directed on routes to the Middle East.
EgyptAir international capacity by region (seats per week), 20-Jun-2011 to 26-Jun-2011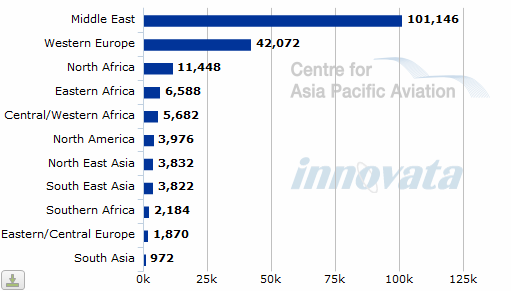 EgyptAir also has significantly boosted capacity on Middle Eastern routes from its secondary hub in Alexandria. Flights from Alexandria to Dubai and Jeddah were launched in June while service to Medina was restored and capacity was added to Dammam and Kuwait. These routes cater primarily to point-to-point VFR traffic as the UAE, Kuwait and particularly Saudi Arabia have large populations of Egyptians. But Saudi Arabia is also a fast-growing inbound tourism market for Egypt which has been less impacted than European arrivals. Saudi Arabia accounted for 15% of Egypt's 12.7 million inbound tourists in 2010.
Saudi Arabia now accounts for four of EgyptAir's five largest routes and five in its top 10. Of the carrier's 10 largest routes by capacity, eight are in the Middle East with Khartoum and London Heathrow being the exceptions.
EgyptAir's top 10 international routes (seats per week), 20-Jun-2011 to 26 Jun-2011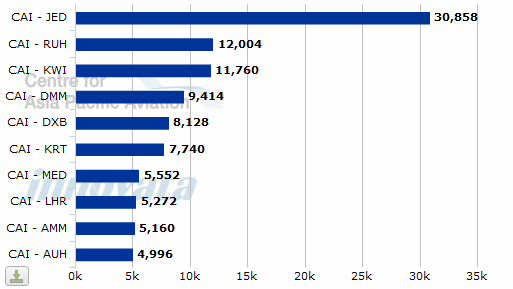 Saudi Arabian Airlines is also by far the largest foreign carrier serving Egypt, accounting for 12% of all capacity in the Egyptian market. Saudi Arabian currently accounts for just under half of the total capacity in the Egypt-Saudi Arabia market while EgyptAir accounts for just under 40%. It is a huge market, with over 50,000 seats one-way each week, according to Innovata data.
EgyptAir now accounts for 45% of all capacity to/from Egypt. Of the top eight foreign carriers now serving Egypt, six are from the Middle East. The only exceptions are European leisure carrier Thomson and Russia's Transaero. Russia is a large inbound tourism market for Egypt, accounting for 20% of tourism arrivals in 2010. But EgyptAir only has five narrowbody flights per week to Moscow and accouts for only 7% of capacity between Egypt and Russia, compared to 87% for Transaero, which further illustrates EgyptAir's focus on VFR rather than tourism markets.
Egypt capacity (sets per week, to/from) by carrier, 20-Jun-2011 to 26-Jun-2011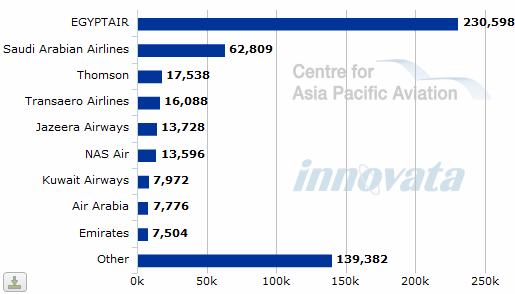 EgyptAir has decided to hold off on launching any new intercontinental routes, which tend to be more dependent on tourism traffic. For example, plans to launch new routes to Washington Dulles and Toronto Pearson this summer have been deferred to 2012. EgyptAir currently only serves one North American destination – New York – but has long eyed new long-haul routes, in particular Washington and Toronto as they are ideal for connections with its Star Alliance partners.
EgyptAir, however, decided to go ahead and take delivery in 1H2011 of the two new B777-300ERs which were initially earmarked for the new North American routes, giving it six of the type. As a result Mr Massoud said average aircraft utilisation has dropped but this has resulted in an improvement in EgyptAir's overall schedule. For example he says the lower utilisation has allowed EgyptAir to re-time its flight from Bangkok, opting to have the aircraft sit on the ground in Thailand for several hours in order to improve connections once the aircraft lands back in Cairo. Mr Massoud said EgyptAir also has taken the opportunity to deploy B777-300ERs on flights to Riyadh and Dubai, where there is high demand including for the aircraft's 49 lie-flat business class seats.
EgyptAir also has decided to stick to its original plan to take this year three A330-300s and two B737-800s. One B737-800 was delivered last week and the second B737-800s is slated to be delivered in Nov-2011. All three A330s are to be delivered in 3Q2011 – one in July and two in August. Mr Massoud said the fourth A330 which Egyptair has on order has been deferred from 2013 to 2015 but this was in response to issues with Airbus and not the turmoil in Egypt.
EgyptAir's current fleet

Mr Massoud said the carrier also decided against any adjustment to its existing fleet after briefly looking during the height of the crisis at wet leasing to other carriers up to 25 aircraft. He says EgyptAir didn't want to "destroy" its network and instead looked for opportunities to operate short-term charters.
EgyptAir was forced to temporarily ground up to 40% of its fleet as 80% of its revenues suddenly evaporated in early Feb-2011. But after a brutal two months, EgyptAir's operation was back to normal. Traffic has not yet fully recovered but is slowly crawling back.
In Feb-2011, travel at Egyptian airports plummeted two thirds and the number of flights were cut in half. By May-2011 the effects had eased, but airport data showed passenger numbers were still down by more than a third, with flight levels 29% lower than the previous May. Jun-2011 figures are expected to also be down but not as much given the capacity added back by EgyptAir this month. While EgyptAir's traffic for 2H2011 could be pretty close to 2H2010 levels, overall traffic at Egyptian airports are expected to remain down as several foreign carriers have been slow to add back capacity.
Egyptian airport passenger traffic: 1H2009, 1H2010 and 1H2011