Cuba's alluring new mystique quickly fades as US airlines face overcapacity and sluggish demand
Analysis
Close to a year ago the US airlines were rushing to gain approval to operate scheduled service to Cuba, after a hiatus of more than 50 years. The competition was intense, with airlines strongly criticising the touted merits of the service proposals offered by their rivals. The opportunity for operations to Cuba seemed endless, and US airlines from wide ranging business models worked feverishly to ensure that they earned access to what was deemed the next big market for burgeoning traffic potential.

But underlying the excitement were concerns over Cuba's ability to handle an influx of travellers to the US, and whether the expectations for demand between the two countries were overblown. Recent cuts in Cuban capacity by US airlines show that those operators were somewhat overzealous in their initial demand calculations, and the spool up period for those routes.

The tempered ambitions reflect the realities of actually operating in a market versus estimating the demand patterns of a new market but having little in the way of concrete data to work with. Due to market overcapacity, two US airlines are pulling service to Cuba altogether.
Warnings emerged over Cuba's promise, as airlines vied for access to the country
As a result of thawing relations between Cuba and the USA under the administration of former US President Barack Obama, the two countries forged a new bilateral agreement that allowed for the resumption of commercial flights to the island for the first time in more than half a century. Under that arrangement, airlines could operate up to 20 daily flights from the US to Havana and 10 daily flights to nine other Cuban airports, for a total of 110 daily roundtrip flights.

However, the agreement stills prohibits pure tourist travel between the two countries, and instead requires that passengers must fall into 12 opaque categories, ranging from family visits to educational activities.

See related reports:
One of the biggest obstacles that US regulators and airlines faced as operators prepared to resume services to Cuba was accurately forecasting demand between the two countries without relevant data for analysis, particularly to some of the smaller secondary markets outside Havana.

As airlines geared up for the historic resumption of flights in late 2016, CAPA warned of numerous unknown elements facing those operators, including infrastructure constraints, airport costs and demand patterns.
Overall, CAPA concluded that the relaunch of airline services to Cuba required a leap of faith.
See related reports:
Airlines pull back after a seat explosion between the US and Cuba
The over-eagerness by US airlines to test the appetite for travel to Cuba is reflected in the 162% hike in seats on offer between the two countries in the period mid Nov-2016 to early Jan-2017. During 1Q2017 news emerged that some airlines were adjusting their schedules to Cuba through aircraft downgauge and, in fact, the outright elimination of flights by other operators.
United States of America to Cuba (seats per week, one way): 16-Feb-2015 to 28-Aug-2017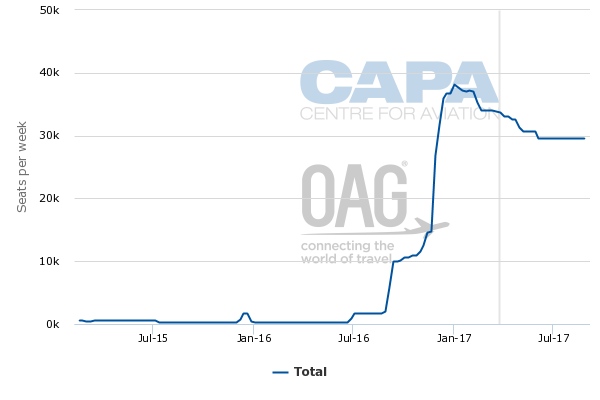 Most of the capacity between the US and Cuba is centred in South Florida, which is home to the largest Cuban American population in the US. The push from South Florida is reflected in the area's largest airports – Fort Lauderdale and Miami – ranking as the third and fourth largest international airports serving Cuba based arrivals.
Top ten Cuban airports for international arrivals: 27-Mar-2017 to 2-Apr-2017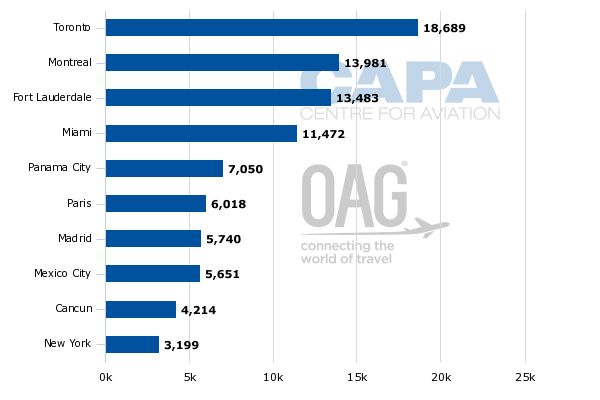 The airlines with the largest presence at those two airports – jetBlue in Fort Lauderdale and American in Miami – are the two largest operators between the US and Cuba based on seat share for the week of 27-Mar-2017 to 3-Apr-2017.
US airline seat share to Cuba: 20-Mar-2017
jetBue and American offer the broadest schedules to Cuba among the larger US airlines, with each operator offering flights to a number of secondary leisure destinations.
US airlines: number of weekly frequencies to Cuba and destinations served as of 25-Mar-2017
Airline
Weekly frequencies
Destinations served
American
140

Service from Miami to Havana, Camaguey, Holguin, Varadero, Cienfuegos and Santa Clara

jetBlue
96

Orlando-Havana

New York JFK-Havana

Service from Fort Lauderdale to Havana, Camaguey, Santa Clara, and Holguin

Southwest
84

Service from Fort Lauderdale to Havana, Santa Clara and Varadero

Delta
42

New York JFK-Havana

Silver
38
Service from Fort Lauderdale to Camaguey, Cayo Coco, Cienfuegos, Santa Clara, Holguin, Manzanillo, Santiago, Varadero
Spirit
28
Fort Lauderdale-Havana
United
16
Alaska
14
Los Angeles-Havana
Frontier
14
Miami-Havana
But both jetBlue and American are planning to cut down on their offerings to Cuba.
In late 2016 Fortune reported that American planned to cut its seats to Cuba by 25% in 2017, with reductions to smaller markets outside Havana. The industry resource Routesonline has recently reported that American is downgauging its daily Boeing 737-800 service on Miami to Camaguey, and Airbus A319 flights from Miami to Cienfuegos, to Embraer 175 jets.

jetBlue also plans to adjust aircraft gauge on some its services to Cuba, according to USA Today. On service to Havana, jetBlue is replacing 200-seat Airbus 321s with 15-seat A320s, and swapping out A320s for 100-seat Embraer 190s on flights to smaller Cuban cities.
Overcapacity drives Silver and Frontier from the US-Cuba market
Data from CAPA and OAG show that seats on offer between the US and Cuba are scheduled to drop 23% between early Jan-2017 and early Sep-2017.
Two airlines – Silver Airways and Frontier – have opted to drop all services to Cuba. Silver actually serves the most destinations in Cuba, but its seat share is lower because of its operation of Saab 340 turboprops to those markets. According to the US-Cuba Trade and Economic Council, Silver had made its own assessment that many airlines are serving Cuba with too many flights, and oversized aircraft. Silver also applied for rights to serve Havana from its Fort Lauderdale base, but didn't receive authorisation to operate in the market.

Frontier is suspending its flights from Miami to Havana in Jun-2017. According to USA Today, Frontier also cited overcapacity in the market, as well as operating costs exceeding its initial assumptions.

Towards a year ago CAPA concluded that the profitability of scheduled flights between the US and Cuba would be challenging, with landing fees just one issue among many that needed clarification as US airlines stood on the brink of offering services to Cuba.

With just few months of service under their belts, some US airlines are realising that there are significant challenges in launching flights to a market that has been closed off for decades. The excitement of market potential is giving way to the realities of sifting through operational expenses, distribution challenges and miscalculated demand.

Although American has adjusted its capacity on services to Cuba, it has emphasised its long term commitment to serving the region. The company has admitted that there are still restrictions in place that make sales in the market difficult, and has declared that Cuba "is going to be a bit of a long road". However, the airline has declared its intent to remain in Cuba for the "long haul".
Cuba's mystique fades as operational challenges create a tricky profit equation
Now that US airlines have a relatively short operating period to Cuba under their belts, the realities of operating in the market versus the excitement over the island nation opening up its airports to commercial flights from the US are setting in.

Most of the airlines operating to Cuba will maintain their presence in the market, but the spool up of their services into profitability will take some time, as operators attempt to solve the tricky equation of accurately calculating demand and the costs of air service.
The sudden mystique of serving Cuba again has morphed quickly into ensuring profitability of flights to the island for the long haul.