US airlines and the Cuba route awards Part 2: Cuba's smaller airports face a major influx
Analysis
Now that US regulators have made their decisions on service awards for Cuba, the airlines must now prepare to serve a country with unique challenges – ranging from airport infrastructure to hotel room availability. The significant hurdles have not quelled excitement over the re-establishment of scheduled airline services to Cuba, which will resume later in 2016.

Aside from the closely watched contest to win service to Havana, the US DoT also awarded service rights to nine other secondary Cuban cities and, not surprisingly, South Florida features prominently in those route assignments. Gauging accurate levels of demand in those markets could take some time to determine. With a 50-plus year absence of scheduled airline flights between the US and Cuba, there is no up-to-date data from which to measure demand patterns.

Although Cuba holds much promise, an ample level of guesswork will be necessary as airlines navigate dealing with the Cuban government in order to ensure a smooth service launch. Some level of passenger education is also necessary in order to create the right set of customer expectations for travel to Cuba.

(This is Part 2 in a series of reports examining route awards between the US and Cuba. Part 1 focused on awards rights from the US to Havana.)
South Florida receives the lion's share of new service to Cuba's secondary airports
In Jun-2016 the US DoT awarded airlines routes to nine secondary Cuban airports that included up to 10 daily flights from each location. The routes were part of a historic agreement between the US and Cuba that also included 20 daily flights from the US to Havana.

See related reports:
The nine Cuban airports that will receive new service from US airlines are Camaguey, Cayo Coco, Cayo Largo, Cienfuegos, Holguin, Manzanillo, Santa Clara, Santiago and Varadero.

Similarly to the routes awarded for Havana, South Florida received the most weekly frequencies to the nine airports. South Florida is home to the largest Cuban American population in the US, by a wide margin.
Top 10 Cuban American populations in the USA by metro area (thousands)
American Airlines received rights to operate service from Miami to Camaguey, Cienfuegos, Holguin, Santa Clara and Varadero. Fort Lauderdale-based Silver Airways also won a significant number of route awards to Cuba and will serve the largest number of secondary cities among the US airlines that were awarded route rights to the country. However, it did not receive any route rights to serve Cuba's largest market, Havana, despite having applied for five daily frequencies to Cuba's capital.
Southwest and jetBlue also won service rights for flights from Fort Lauderdale to secondary markets. jetBlue is Fort Lauderdale's largest airline measured by seats, holding a 25% seat share for the week of 11-Jul-2016 to 17-Jul-2016. Fort Lauderdale's second largest airline, Spirit, only applied for two daily services from the airport to Havana and was granted that request.
US airline route awards to Cuba's secondary cities
Other US cities that will gain flights to Cuba's secondary markets are Chicago O'Hare and Philadelphia (with service from Frontier) and Minneapolis (with flights operated by Sun Country Airlines).
Gauging US demand to secondary Cuban airports with a leisure bent poses challenges
In terms of the number of airlines currently serving them the Cuban airports receiving new service from the US vary in size. According to data from CAPA and OAG for the week of 11-Jul-2017 to 17-Jul-2017 Cubana is the only airline serving Cienfuegos, whereas 11 airlines operate service to Holguin.
On a system-wide basis, the top airlines measured by seats at some of those airports are foreign operators, reflecting demand from Canada and Mexico. A number of European operators also serve Cuba; these include Aeroflot, Air France, Air Europa, airberlin, Condor Flugdienst, Eurowings, Iberia, KLM, Thomas Cook Thomson Airways, TUI Airlines Netherlands and Virgin Atlantic.
Current top two airlines measured by seats, and number of airlines serving the small Cuban airports awarded US flights
Havana is obviously the largest airport in Cuba measured by arrivals but (as noted above) some of the country's smaller airports are receiving an influx of flights from the US. Initially 39 weekly flights will be added from the US to Santa Clara.
Cuba top 10 airports measured by system arrivals: 11-Jul-2016 to 17-Jul-2016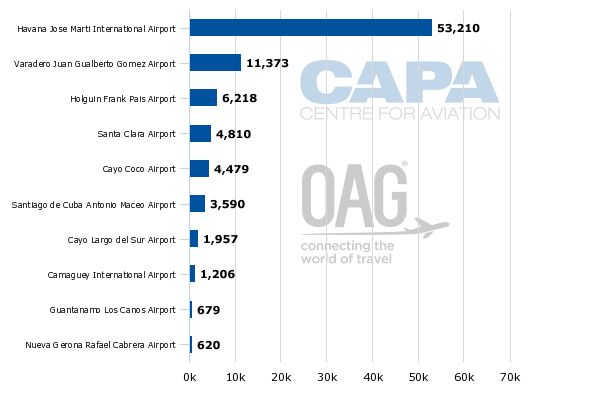 After Cuba and the US officially agreed to resume scheduled flights between the two countries questions arose about the exact level of demand between the two countries. Technically tourist travel is still prohibited from the US to Cuba, and passengers have to fall into one of twelve specific travel categories that include visiting relatives and undertaking educational activities. Many of the secondary airports that the US airlines plan to serve are leisure destinations that cater to tourists from other global regions.

American has been operating charter flights to Cuba since 1991 and has offered chartered service from Miami and Tampa to Camaguey, Cienfuegos, Havana, Holguin and Santa Clara. Within the last year American has also introduced charter flights from Los Angeles to Havana – a route that Alaska was approved to serve daily in Jul-2016.

See related report: US airlines and the Cuba route awards Part 1: The US DoT slices up many pieces of the Havana pie

jetBlue has also been operating charter services to Havana from Fort Lauderdale, Tampa and New York JFK, and has won rights to serve Cuba's capital from Fort Lauderdale, JFK and Orlando. But it is also now has authority to serve the smaller markets of Camaguey, Holguin and Santa Clara.

The charter flights allow some insight into demand patterns between the US and Cuba, but significant data has been absent for more than 50 years. The US DoT appears to have allocated most of the flights among the most concentrated Cuban American population centres, which is the reason that South Florida received the lion's share – for services both to Havana and to the other nine Cuban airports. Indeed, American has previously stressed to the DoT that more than 90% of its charter passengers originated in Miami from Jan-2014 to Feb-2016.

Spirit Airlines holds the view that similar comparisons are relevant between the market sizes of the Dominican Republic and that of Cuba. The Dominican Republic has a population of approximately 10.5 million and Cuba's is just slightly higher, at 11 million. The airline estimates that there are 7,511 passengers per day each way between the US and the Dominican Republic, and seats per day each way of 9,842. Spirit estimates 9,013 projected passengers per day each way from the US to Cuba, and seats each way of 10,687.

See related report: US-Cuba: US regulators must weigh likely demand in a hotly contested race to resume flights
Infrastructure is a major challenge for Cuba services. Passenger education is paramount
One of the most pressing issues facing US airlines planning service to Havana and the smaller airports is infrastructure constraints. Spirit has warned that many of the smaller airports could be overwhelmed by an additional 10 to 20 flights per day.

IATA has warned that Havana faces challenges in accommodating the 20 additional daily flights that the US operators will be operating to Havana. The association has also stated that one message it has communicated to the Cuba government is: "do not forget about domestic airports. Those airports will very quickly become international airports".

See related report: CAPA Americas Summit: Latin America remains promising as open skies drives US international growth

Given the infrastructure constraints at Cuban airports – prolonged time for security screening; the lack of amenities such as kiosks and e-boarding – US airlines need to educate their passengers about how travelling to Cuba differs in numerous ways from travel to other international destinations. Those airlines must be, and are likely to be, proactive in ensuring that customers understand those differences.
Cuba's mystique now lies in attempting to predict the success of new US flights
With the resumption of scheduled flights between the US and Cuba later in 2016 a different type of intrigue is now surrounding Cuba – namely, how those flights will perform for US airlines. There are many unknowns that will be defined as US airlines embark on new services; these will include issues of infrastructure, airport costs and demand patterns. For most it requires a leap of faith.
Those airlines believe that the risk in serving Cuba is worth the reward, and the route allocation process reflects that few airlines wanted to be left out of the race.