US-Cuba Air services Part 1: The Big 3 stake their claims. American Airlines seeks the lion's share.
Analysis
Now that Cuba and the US have finalised an agreement that liberalises some, but not all, air travel between the countries, a raft of US airlines has applied to launch services to Cuba. The three large US global network airlines are among the contenders for new service, and each offers nuanced reasoning for the merits of their prospective routes.

Delta argues that it can create meaningful competition for American, whose primary Latin American gateway of Miami serves the largest Cuban population residing in the US. In contrast, American believes that its commanding position at its Miami hub warrants a significant service pattern in order to maximise public benefit of new service between Cuba and the US. United is taking a measured approach, arguing that its proposed service would only constitute a small portion of available frequencies between the two countries.

It will take some time for regulators to wade through the various pitches that airlines are making in order to serve Cuba, but South Florida – home to Miami and Fort Lauderdale – will no doubt play the largest role in new scheduled air service to Cuba.

(This is Part 1 in a series of reports examining prospective service by US airlines to Cuba)
Airlines begin to present their cases for available frequencies to Cuba
During 2015 Cuba and the US reached a deal to start liberalising scheduled flights between the two countries, the last of which occurred close to 56 years ago. The agreement between the two countries prohibits tourist travel and instead requires that passengers must fall into 12 opaque categories, ranging from family visits to educational activities.
Free time for recreation in a traveller's schedule is officially prohibited. The bilateral allows for 20 daily flights from the US to Havana, and 10 daily flights to nine other Cuban airports for a total of 110 daily frequencies. Among Cuba's top airports measured by arrivals are Havana, Varadero, Santa Clara, Holguín and Cayo Coco.
Top 10 airports for flights arriving into Cuba, by seats: 7-Mar-2016 to 13-Mar-2016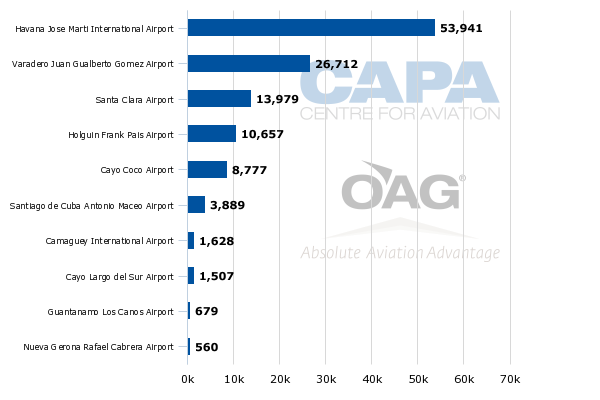 The tentative agreement was formally signed in Feb-2016, allowing airlines to begin submitting their requests for Cuban services to the US government.

Nearly 50% of the Cuban American population resides in South Florida.
Logic dictates that the dominant airlines at airports in that region – American in Miami and JetBlue and Spirit in Fort Lauderdale – would be the greatest beneficiaries of the new air services arrangement between Cuba and the US. But other airlines, particularly Delta, warn that in awarding service rights the US DoT needs to balance airline access and geographic concerns.
Top 10 Cuban American populations in the USA by metro area (thousands)
Delta's top priorities for Cuba are JFK and Atlanta, but it argues for access from Miami
Delta is proposing one daily flight on each of New York JFK to Havana, Atlanta to Havana and Orlando to Havana. It also is vying for two daily flights from Miami to Havana.
The logic for JFK is fairly straightforward: the second largest Cuban American population resides in the New York metro area (JetBlue is vying for twice daily service from JFK). Atlanta is Delta's largest hub, and the airline believes that the city's catchment area offers "an ideal interior gateway to Cuba". Based on seat deployment for the week of 7-Mar-2016 to 12-Mar-2016 Delta has the second largest presence at Orlando International airport, behind Southwest. From Delta's perspective, Orlando's ranking as the metro area with the fifth largest Cuban American population, and its location within Central Florida, "allows passengers from both coasts convenient access and flights to Havana".

Delta's highest-priority service requests to Cuba are from its JFK and Atlanta hubs to Havana. The proposed two daily flights between Miami and Havana are third on its list. Delta argues that its position as having the second largest capacity at Miami (a 6% seat share for the week of 7-Mar-2016 to 13-Mar-2016) puts it in a unique position to offer "meaningful" competition to American. Frontier Airlines and Eastern Air Lines have also made requests to launch service between Miami and Havana.
Delta's proposed services between the US and Cuba
United vies for daily service from Newark to Havana; once weekly flights from other hubs
In its pitch for new service to Cuba United also highlights the New York metro area's Cuban population. But the airline states that the Cuban population is evenly split between the two states that constitute the metro region (New York and New Jersey), with New Jersey representing 56% of that total. Newark, United's third largest hub by seat deployment (7-Mar-2016 to 13-Mar-2016), is located in New Jersey and the airline has made the point that nearly 90,000 Cuban Americans reside in Newark's catchment area.

A single daily service between Newark and Havana is United's priority for service to Cuba. It has also proposed once weekly Saturday service from each of its hubs at Houston Intercontinental, Washington Dulles and Chicago O'Hare. United cited data showing that Saturday demand for travel between the US and the Caribbean is 66% higher than for any other day of the week.

United also highlighted its conservative approach in frequency requests between the US and Cuba, noting its proposed flights represent 1.4% of the total daily frequencies available between the two countries, and approximately 7% of the total frequencies available for Havana.
United's proposed service between the US and Cuba
American argues that South Florida should command the lion's share of flights to Cuba
American is stressing that because of the prohibition on tourist travel from the US to Cuba, "service from outside Miami is necessarily limited"; that any decision to simply distribute frequencies to airlines for service at other gateways without considering Cuban American demand in Miami would fail to maximise public benefit.

The airline offers several points to support its reasoning. Due to still-existing sanctions and the shortage of hotel accommodation in Cuba, Cuban Americans visiting relatives will make up the majority of the traffic between the US and Cuba. "It follows that scheduled passenger traffic to Cuba will originate primarily from these cities with large Cuban American communities, and will be less dispersed throughout the entire US", American stated. Indeed, due to the fact that Cuba technically remains closed to tourists, it can be argued that for the foreseeable future the US and Cuba will remain a largely O&D market, with the heaviest demand in South Florida.

American is requesting 10 daily frequencies between Miami and Havana, but is also seeking rights for a single daily fight to Havana from its hubs in Charlotte and Dallas Fort Worth. It also has requested once weekly service from Los Angeles and Chicago O'Hare to Havana. American launched flights from Los Angeles to Havana in 2015, and the airline operated 1,064 charter flights in total between the US and Cuba in 2015.

The airline's reasoning for requesting service to Havana from its other hubs rests on American's position that the flights will ensure blanket connectivity for other significant Cuban American population centres "likely to pursue commercial, family and cultural ties to Cuba in the years to come". Clearly Miami is the top priority for American, and the request for service to other hubs is perhaps a diplomatic nod to those airports.

In addition to flights from Miami to Havana, American is seeking authority to serve several other Cuban destinations from its largest American gateway – two daily frequencies to Santa Clara, Holguín and Varadero, and a daily frequency to Camagüey and Cienfuegos. The airline operates charter flights to all those destinations, with the exception of Varadero.

The crux of American's argument for a significant share of the available frequencies is that it has been operating charter flights to Cuba since 1991, and its major Latin American gateway – Miami – has a metro area that is home to the largest Cuban American population in the US. If any of the other large US network airlines had an anchor hub in Miami, and extensive charter experience, they would likely make the same arguments.
Given American's history in Cuba and access to the largest Cuban American population, commercially it makes sense for American to operate a large number of services to the nation, followed by other airlines that have a large presence in the South Florida market – JetBlue and Spirit. Airlines that are making the case to serve New York to Havana also have valid arguments.

Necessarily US regulators have some responsibility to ensure equal access to airlines aiming to serve Cuba, but they also have to pay attention to areas where traffic patterns are strongest. Also a feature will be that a hybrid LCC (JetBlue) and a ULCC (Spirit) have dominant positions at South Florida's other large airport, Fort Lauderdale, which ensures that lower fares will be available from South Florida to Cuba.
American's proposed service between the US and Cuba
Airlines cast a wide net in their proposed service patterns to Cuba
The resumption of scheduled flights to Cuba after more than half century is understandably generating much interest and manoeuvring about prospects for travel to the country. But the recent liberalisation is more of an evolution than a revolution.
Airlines have nothing to lose by casting a wide net in their service requests for Cuba and US regulators face a delicate task in evaluating route requests, considering their commercial viability while ensuring that there is balanced access to Cuba.