US-Cuba Air services Part 2: LCCs and ULCCs rightfully argue for equal access for new services
Analysis
Low cost and ultra-low fare airlines are joining large global network airlines in the race to gain a set number of frequencies from the US to Cuba, made available through a new bilateral that allows for commercial flights to resume between the two countries, for the first time in more than 50 years. JetBlue and Spirit are touting their respective strong positions in the South Florida market, which is home to the largest Cuban American population in the US. Similarly to American, JetBlue is arguing that many of its focus cities are the largest markets for US-Cuba air services.
Alaska has joined American in applying to operate services from Los Angeles to Havana, promoting the fact that the city's metro area is home to the largest Cuban population outside the US east coast. Alaska submits that its offerings are an important alternative to the dominance of the four largest US airlines. Southwest is not so vocal in its applications to serve Cuba from Fort Lauderdale, Tampa and Orlando. A major component of the argument offered by Frontier is that it is the only ULCC operating from Miami, which along with Fort Lauderdale encompasses the South Florida air travel market.
US regulators are evaluating the merits of inclusion presented by LCCs and ULCCs, which are that the large US airlines need competition from low fare airlines on routes to Cuba. It is highly likely that one or more of those airlines will be partially successful in launching scheduled flights to the hitherto closed-off island nation.
JetBlue cites a weak argument for flights outside large US Cuban population centres
JetBlue has crafted an argument that shows some similarity to American's. This argument reasons that since leisure travel is still prohibited between the US and Cuba, the largest Cuban American population centres should receive the bulk of 30 daily frequencies available between the two countries – 20 to Havana and 10 to other Cuban destinations, for a total of 110 daily roundtrip flights between the two countries. Travel between the US and Cuba is restricted to 12 rather opaque categories, ranging from family visits to educational activities.

See related report: US-Cuba Air services Part 1: The Big 3 stake their claims. American Airlines seeks the lion's share
As part of their service requests Delta and United sought authority to operate service from their hubs in Atlanta (once daily) and Houston (Saturday only) to Havana. Additionally, American has sought service to Havana from some of its hubs outside Miami, including Charlotte.

JetBlue cited those three hubs specifically in its service request to the US DoT, concluding that those three metro areas have limited natural demand for US-Cuba service. Flights between Cuba and those hubs, says JetBlue, "will be almost entirely dependent on connecting traffic much of it backhauling to South Florida".

JetBlue joins American in arguing that travel between the US and Cuba will remain restricted for the foreseeable future. The 12 approved travel categories "closely match JetBlue's largest markets and focus cities, namely New York, South Florida and Boston".

Indeed, JetBlue has a strong presence in three of the top 10 Cuban American population centres – South Florida, New York and Orlando. Fort Lauderdale, JFK and Orlando are three of the airline's six major focus cities. It has a commanding seat share in Fort Lauderdale for the week of 7-Mar-2016 to 13-Mar-2016 of 22%. The airline holds a second place in system seat share of 23% at JFK, and a fourth place share of 12% at Orlando.

JetBlue is seeking approval to operate from Fort Lauderdale to Havana, Camagüey, Holguín and Santa Clara. American is also seeking flights to those Cuban destinations from Miami (approximately 35km away from Fort Lauderdale). Additionally, JetBlue aims to serve Havana from JFK, Newark, Orlando, Tampa and Boston.
JetBlue's proposed service between the US and Cuba:
Spirit argues that it can inject a decent mix of ultra-low fares into the US-Cuba market
Spirit has requested authority to operate two daily services to Havana from Fort Lauderdale, where it presently holds a third place system-wide seat share.
Fort Lauderdale-Hollywood International Airport capacity by airline (% of seats): 7-Mar-2016 to 13-Mar-2016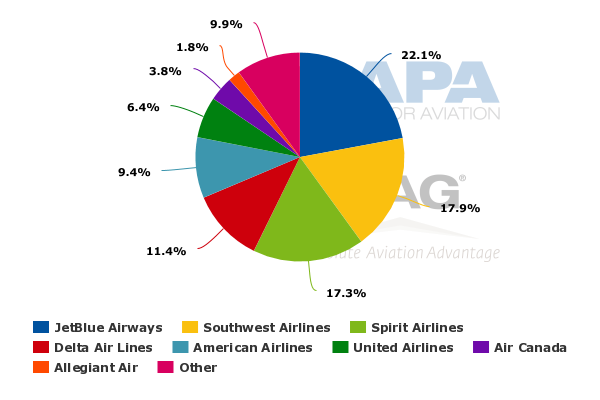 The South Florida airport is the airline's top base measured by seat deployment, as of early Mar-2016
Spirit Airlines global top 10 hubs/bases/stations by seats: 7-Mar-2016 to 13-Mar-2016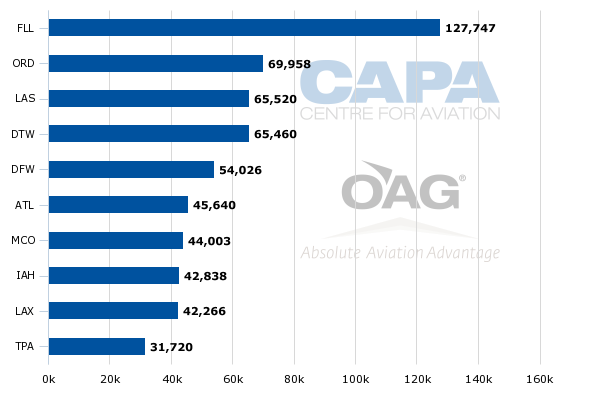 Spirit is highlighting its status as the only ULCC operating to Latin America and the Caribbean from South Florida, and estimates that its two proposed daily frequencies would represent 9% of the total seats to Havana. The company concludes that this would constitute enough service to "keep downward pressure on fares between the US and Havana".

Frontier, meanwhile, contends that it is the only ULCC serving Miami, and has requested three daily flights from the airport to Havana. The airline is seeking authority to serve the Cuban destinations of Camagüey, Santa Clara and Santiago. Other routes include Chicago O'Hare and Philadelphia to Varadero.
Frontier's proposed service between the US and Cuba
American is seeking 10 daily frequencies between Miami and Havana, as well as flights from Miami to Camagüey and Santa Clara. Delta has also asked for permission to serve Miami-Havana, but that route is a lower priority for the airline. In theory, it could be plausible for the US government to consider awarding Frontier some service between Miami and Havana to balance the allocation between large airlines and lower cost airlines at the airport, which seems to be a dominant theme in the service requests of smaller airlines.
Southwest is a viable competitor for flights from Florida to Cuba
Southwest is pursuing service to Cuba from Fort Lauderdale, Tampa and Orlando International. It holds an 18% seat share at Fort Lauderdale (second behind JetBlue), a commanding 37% share at Tampa and a leading 27% share at Orlando. (Based on data from CAPA and OAG for the week of 7-Mar-2016 to 13-Mar-2016)
The airline is requesting six daily flights between Fort Lauderdale and Havana, twice daily service between Fort Lauderdale and Varadero and a single daily flight between Fort Lauderdale and Santa Clara. Southwest has also asked US regulators for approval to serve Tampa-Havana twice daily, and Orlando-Havana with a single daily flight.
Southwest's proposed service between the US and Cuba
Unlike those of other airlines, Southwest's request did not tout its strong presence in some of the top Cuban American population centres. Fort Lauderdale/Miami is the largest, Tampa is the third largest and Orlando is the fifth largest Cuban American population centre. Southwest is, in some respects, a relatively new player to Latin America and the Caribbean. It inherited some routes to those regions from its merger with AirTran, and during the last couple of years since it has added its own branded flights.
Top 10 Cuban American populations in the USA by metro area (thousands)
JetBlue highlighted its strength from the US to the Caribbean. It is the second largest airline operating between the US and the Caribbean, with a 20% seat share for the week of 7-Mar-2016 to 13-Mar-2016.
Spirit, which offers a solid roster of flights from Fort Lauderdale to Latin America and the Caribbean, touted its connections from Fort Lauderdale to other metro areas with large Cuban American populations, including Tampa, Orlando, Los Angeles, Atlanta, Chicago and Houston.
Top five airlines operating between the US and Caribbean: (% of seats per week, one way, 9-Mar-2015 and 7-Mar-2016)
Alaska stresses a balance of power in Cuba allocations
Alaska joined American in requesting service rights from Los Angeles to Havana, a charter route that the latter launched in 2015. Alaska has highlighted that the Los Angeles metro area has the highest Cuban population outside the US east coast. The airline aims to anchor its proposed twice daily flights as a one-stop service from its hubs in Seattle and Portland to Havana.
The airline also declared that American, Delta, Southwest and United control 84% of US domestic revenue. "In this competitive environment, the service alternatives that Alaska offers have become an antidote to the Big Four's market dominance", Alaska has stated. Using that logic as a baseline, Alaska believes that it should win service from Los Angeles to Havana in order to provide key essential competitive diversity.
Low fare airlines make their case for Cuba. South Florida will play a key role in route awards
As US regulators work through the various requests to serve Cuba, the US LCCs and ULCCs are pressing for equal access to the opportunities presented by the recent bilateral agreement between the two countries. Their arguments will not fall on deaf ears, but not all the requests submitted can or will be granted. For now it seems that the LCCs/ULCCs, having an ability to inject low fares into the population centres with the largest concentrations of Cuban Americans, could have the upper hand.