Colombian airlines embark on 2022 with ambitions running high
Analysis
Although Colombia has battled waves of COVID-19 infections during the coronavirus pandemic, overall the country's recovery has fared better than other regions around the world. Domestic passenger levels in 2021 inched closer to pre-pandemic levels, and passenger numbers in Dec-2021 actually surpassed 2019's performance.
There are numerous developments to watch in Colombia as 2022 unfolds, including Avianca's post-bankruptcy performance, the launch of another ultra-low cost carrier in the country, and the unfolding of a new and unique partnership between two ULCCs on certain international routes.
Colombia was Latin America's third largest aviation market before the COVID-19 crisis, and the stage is being set for the country to remain a dynamic force within the region as the recovery continues, particularly as more low cost competition emerges both domestically and internationally.
Summary
Colombia posts a solid recovery in passenger numbers during 2021.
The country's largest airline, Avianca, has emerged from bankruptcy and a new ultra-low cost start-up, Ultra Air, has taken flight.
ULCCs are upping competition on some international routes and also forging interesting new partnerships.
Colombia tracks solid progress in its pandemic recovery
Colombia Aerocivil recently reported that approximately 30.5 million passengers had travelled by air in 2021. Of that total, 22.5 million travelled on domestic routes, which was 83% of 2019 levels. Approximately 8 million passengers travelled internationally, which was 56% of pre-crisis levels.
In Dec-2021 four million passengers travelled by air, which the country's civil aviation agency declared was "106% in relation to the same month of 2019".
Throughout the pandemic, Colombia's airlines have remained bullish on the recovery prospects for the country.
During the CAPA Live Jun-2021 conference, Viva CEO Felix Antelo stated that Colombia's market in Mar-2021 was around 70% to 75% of the total market for the same period in 2019.
See related CAPA report: CAPA Live June: Viva, CEO Felix Antelo "faithful to the A320neo"
LATAM, which is Colombia's second largest airline, has also said that the country remains a promising market. LATAM Airlines Group is currently working to exit the Chapter 11 bankruptcy restructuring process.
That bullishness shows no signs of disappearing: data from CAPA and OAG show that Colombia's domestic ASKs are projected to rise nearly 20% above 2019 levels in mid-Jul-2022, while overall system capacity will increase approximately 16%.
Colombia: weekly system ASKs from 2019 to mid-Jul-2022 (*projected)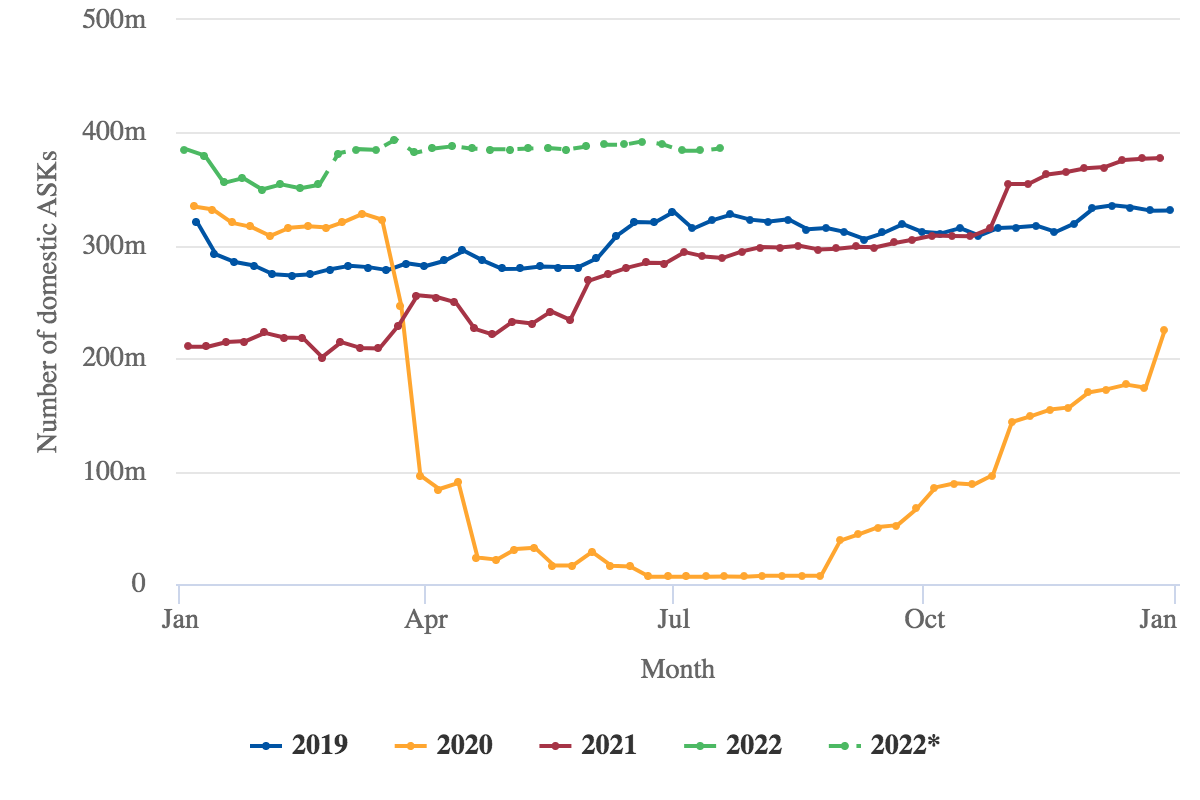 Avianca starts a new chapter and new ULCC Ultra Air launches
Colombia's largest airline, Avianca, was the first of three Latin operators that filed for Chapter 11 during the COVID-19 pandemic to emerge from the process. LATAM and Aeromexico are still working to exit bankruptcy protection.
A key component of Avianca's restructuring plan is adapting its model to compete more effectively with the low cost airlines that are rapidly proliferating in Colombia, and elsewhere in Latin America. The company is densifying a portion of its narrowbody fleet, and has previously noted its plans to operate approximately 130 higher-density aircraft on more than 200 largely point-to-point routes by the end of 2025.
Additionally, the airline has stated that its unit costs ex-fuel will fall more than 41% compared to pre-pandemic levels. During the 2019 fourth quarter, before the pandemic, Avianca's unit cost ex-fuel was USD8.62 cents.
As Avianca enters a new chapter as a much leaner operator, an ultra-low cost start-up – Ultra Air – recently launched with Airbus A320ceo narrowbodies.
Speaking at the CAPA Live Oct-2021 conference Ultra Air CEO William Shaw cited numerous reasons for the airline's market entry, including access to favourable aircraft pricing, tax incentives from the government, and a projection that Colombia's domestic market could grow to 50 million passengers during the next five years.
Mr Shaw also believes Avianca's rightsizing through the bankruptcy process creates an opportunity for a new low cost operator in Colombia.
See related CAPA report: Latin start-up airlines seize on low cost opportunities for growth
Colombia's three largest airlines already represent sizable shares of ASK deployment in the domestic market, but Ultra Air seems to believe it can grow the market rather than steal share from other operators.
Colombian domestic ASK share: by airline, as of early-Mar-2022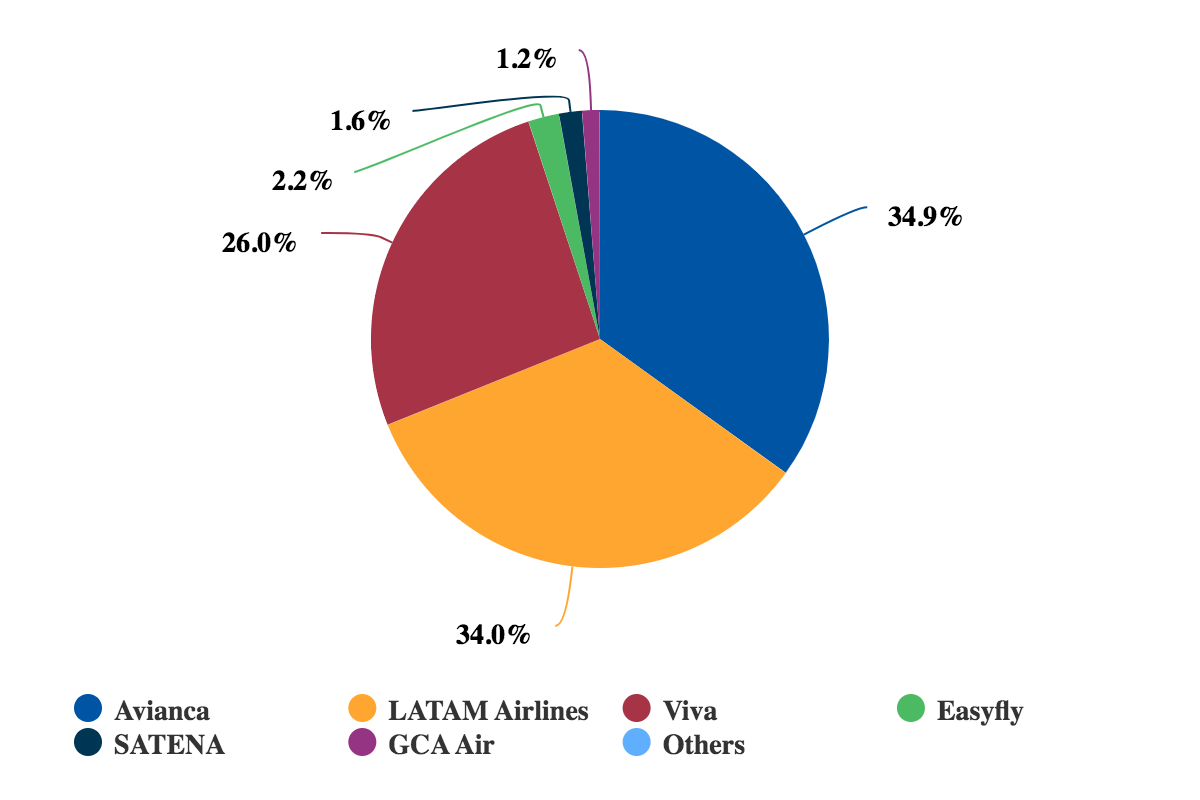 Ultra Air's inaugural route was from Medellin to Santa Marta, which is served by Colombia's three largest airlines, Avianca, LATAM and Viva. Those carriers also serve Ultra's second route, Santa Marta-Bogota. Avianca and Viva are Ultra's competitors on the new ULCC's route from Santa Marta to Pereira.
The upstart faces a renewed Avianca, LATAM, and a formidable ULCC competitor in Viva. Yet Ultra's ambitions to inject new competition within the country remain intact.
ULCCs work to inject new competition on Colombia-Mexico routes
Just as low cost competition is spreading within Colombia, it is also growing on key international routes to and from the country – particularly Mexico.
During the past year Colombia's Viva and the Mexican ULCCs Viva Aerobus and Volaris have launched flights between Bogotá and Mexico City Juarez International airport, joining Aeromexico and Avianca on the pairing.
Volaris and Viva Aerobus have also introduced flights between Cancún and Bogotá during the past year, which is a route also served by Avianca. Viva Aerobus aims to launch flights from Mexico City to Medellín in Apr-2022, joining Aeromexico and Viva, which has also entered the market during the last year.
Recently Viva and Viva Aerobus have decided to launch a one of a kind interline agreement between two Latin American ultra-low cost operators covering flights on the Bogotá-Mexico City route, but the second phase of the agreement will offer connecting flights to link their respective networks, including Viva Aerobus' markets in Mexico and the US and Viva's network in both Colombia and Peru.
The expansion by ultra-low cost operators between Colombia and Mexico reflects the opportunities those airlines are capitalising on in the pandemic and is also reflective of a broader trend of many low cost operators in Latin America, plotting expansion during the recovery from the crisis.
Colombian airlines believe the market holds great promise
As airlines start to look towards what is perhaps a steadier trajectory in the pandemic recovery, demand in Colombia seems to be recovering at a solid pace, and ambition among the country's airlines remains robust.