China is not the only game in town: Asia's other aviation growth markets
Analysis
China captures headlines and imaginations in terms of market growth potential, and rightly so - it will generate 100 million tourists annually by the end of this decade. But there are other markets in Southeast Asia that show high potential and remarkable promise for future growth opportunities.
The large aircraft order book hovering over the region has attracted significant attention from the global industry in recent years. Much of this is directed at short haul markets, as new LCCs expand and regional commerce develops. While the rate of growth has been slowing, the order book suggests at some point the rate of LCC growth in Southeast Asia will re-accelerate. Southeast Asian LCCs currently have over 1,100 orders, including almost 90 widebody aircraft. LCCs currently account for about 75% of orders among Southeast Asian airlines but only about 33% of the active fleet. Even when factoring in replacements the size of the LCC fleet should more than double over the next decade.
Three Southeast Asian markets recorded double-digit passenger growth in 2015 – Thailand, Vietnam and Cambodia – while another three experienced high single-digit growth – the Philippines, Laos and Myanmar. Indonesia and Malaysia have struggled recently but should see faster growth rates again in the medium to long term. Indonesia, with its 200 million population, is perhaps the quiet medium term performer. Thailand and Vietnam, for now, remain the hottest markets in Southeast Asia. Myanmar is also intriguing, but much smaller.
The outlook to 2030 as ranked by forecast fleet growth, Indonesia to dominate
Asia Pacific has the youngest fleet in the world at 9.4 years and the largest orderbook at 4,353 aircraft despite an in-service fleet of 7,966 aircraft. This has been driven by strong growth of many airlines in the region, including LCCs, and several mega-orders – notably AirAsia, IndiGo and Lion Air. These are in place to allow growth to continue, though question marks remain over the short term sustainability of some orders.
Fleet orders by region as at 31-May-2016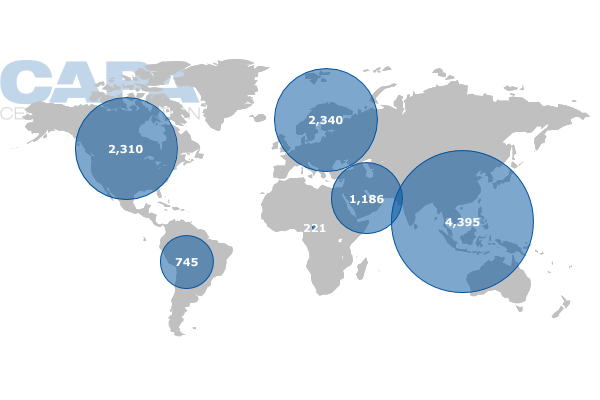 The largest orders in the region belong to Lion Air (496 orders), AirAsia (306 orders), China Eastern Airlines (201 orders), China Southern Airlines (141 orders) and All Nippon Airways (118 orders). Asia Pacific remains the standout area of growth in the global airline fleet market, with almost the same total of orders as Europe and North America and an orders vs in-service fleet ratio of 54%. Not only does it have the largest backlog of aircraft on order, but also the youngest average age of in-service aircraft.
Existing Fleet vs Orders by Region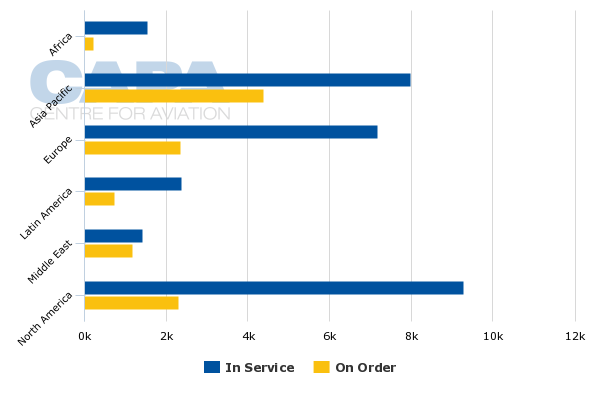 The Southeast Asian LCC fleet is expected to grow by approximately 80 aircraft in 2016 including 75 single aisle aircraft and five widebodies. Southeast Asia's 23 LCCs ended 2015 with slightly over 600 aircraft, including about 50 widebodies. The region's LCC fleet has grown 50% since the end of 2012, when there were only approximately 400 aircraft in operation across the region's LCCs, and this trajectory is likely to continue based off the current order book.
ASEAN markets are ripe; consumer demand growth still has plenty to go
While unwise to paint ASEAN with the same brush, it represents a combined bloc of emerging consumer growth. As per McKinsey & Company, there are some 67 million households in the bloc which can make "significant discretionary purchases" with the number expected to almost double by 2025. Leisure travel is of course a common discretionary purchase, while the multiplier effect of increased tourism, trade and business further adds to demand. Around 25% of ASEAN exports go to other ASEAN countries, for example.
The number of consuming households in ASEAN is expected to almost double by 2025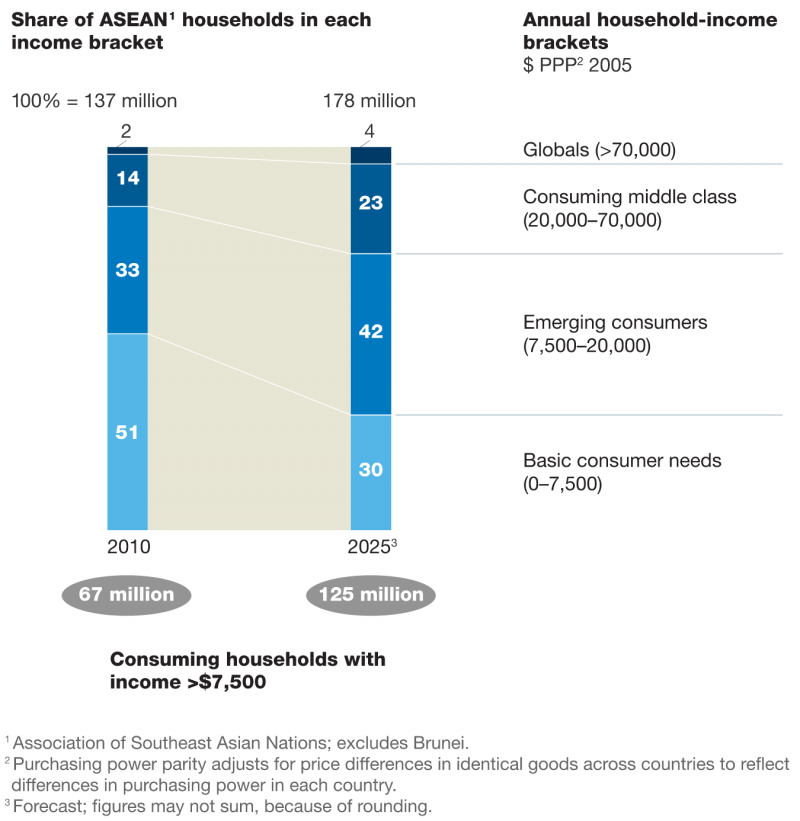 The GDP of Malaysia, Indonesia, the Philippines Thailand are expected to exceed GDP of USD1 trillion by 2030, and are expected to be the core growth markets. While other economies have experienced rapid growth - Vietnam doubled its per capita GDP between 1995 and 2006, for example - growth in incomes (and often proxied by GDP) are a fundamental driver of air travel demand, according to IATA, and thus can be used as a fairly reliable indicator of where the most attractive (and sustainable) markets will emerge.
However where the growth will come from is always much more interesting. The frontier markets of Vietnam, Myanmar, Cambodia and Laos hold the greatest potential given their relatively low propensity for air travel (relative to populations) at present. Vietnam is further along this curve than the others, having experienced ASK growth of 42.2% between 2012 and 2015.
Vietnam ASK capacity year-in-year systemwide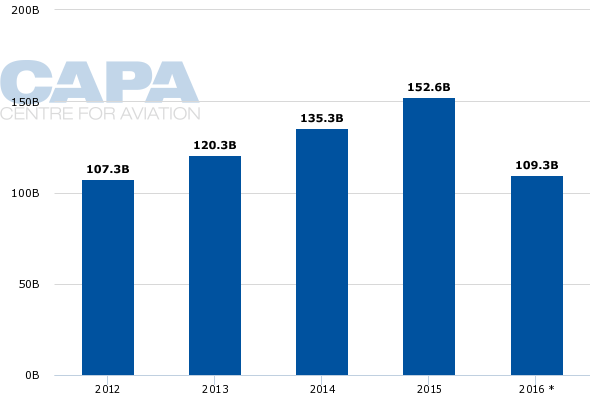 IHS study showed that Vietnam would grow at a pace of around 6.5% per year over the medium term, with growth expected primarily in manufacturing exports.
Laos is another to watch; the Lao international market is experiencing a surge of capacity growth particularly at the popular tourist destination of Luang Prabang. The number of foreign airlines serving Luang Prabang will increase from three to seven in 2016, while the capital, Vientiane, is also attracting several new routes from foreign and local airlines, along with additional capacity on some existing routes. Laos has almost doubled its ASKs over three years from 2012, and GDP has almost tripled since 2010, though off an extremely low base.
Thailand the fastest-growing market in 2015, followed by Vietnam and Cambodia
Thailand was the fastest-growing market in Southeast Asia in 2015 – and one of the fastest-growing in the world. Total passenger traffic in Thailand increased by approximately 21% in 2015, followed by Vietnam at 17% and Cambodia at 13%. The more mature markets of Singapore and Malaysia recorded low single-digit growth, while Indonesia was flat - though off an estimate primarily based on Jakarta Soekarno-Hatta passenger figures which declined in 2015.
Southeast Asia 2015 passenger growth rates by market
Thailand's domestic market grew by 23% to slightly over 30 million passengers, while the international market grew by approximately 20% to slightly over 63 million passengers. Thailand has Southeast Asia's largest international market and the second largest domestic market after Indonesia. For both segments Thailand led the region in year-over-year passenger growth.
Based on current seat capacity figures Thailand has the world's twelfth largest domestic market and also has the world's twelfth largest international market. Thailand is a huge and growing tourist destination, with 29.9 million visitors recorded in 2015.
Vietnam experiences rapid growth as the LCC segment rapidly expands
Vietnam was Southeast Asia's second fastest-growing market in 2015, with passenger growth of approximately 17%. More high double-digit growth is expected in 2016 driven by continued rapid domestic expansion, making Vietnam the second Southeast Asian market to watch this year.
Vietnam's domestic market has roughly doubled in only three years and is now one of the 20 largest domestic markets in the world. VietJet, which launched at the end of 2011 and has since pursued rapid expansion, has been the main driver of the growth.
VietJet carried 10 million passengers in 2015, primarily in the domestic market. Its only local competitor, the Vietnam Airlines Group, has also pursued rapid domestic growth, using both the full service parent airline and the LCC subsidiary Jetstar Pacific.
The domestic growth is partially strategic as the two competitors battle each other and try to secure the last available slots at Ho Chi Minh, which is becoming congested. However, the growth is also partially a response to surging demand as Vietnam's economy and middle class expand rapidly. With very low fares being the norm even for last-second travel, more and more Vietnamese are trading in long bus and train rides for domestic flights.
The number of LCC seats in the domestic market has increased threefold over the last three years, pushing up Vietnam's domestic LCC penetration rate above 50%. In the smaller international market the LCC penetration rate is only slightly more than 20%, but it will grow now that VietJet and Jetstar Pacific are starting focus more on international expansion.
LCC penetration rates in Vietnam: 2008 to 1Q2016
Vietnam has projected that its international market will reach approximately 19 million passengers in 2016, while its domestic market will reach approximately 26 million passengers. With the anticipated domestic growth rate of 23%, Vietnam will overtake Malaysia and the Philippines to become the third largest domestic market in Southeast Asia after Indonesia (which has the fifth largest domestic market in the world) and Thailand. As discussed earlier in this report, Thailand had 30 million domestic passengers in 2016 and continued domestic rapid growth should enable it to keep ahead of Vietnam for the time being.
Cambodia 'slows' to 13% growth after a period of leading the region
Cambodia has been the fastest-growing market in Southeast Asia over the last three years but on a relatively small base. The Cambodian market has doubled in size since 2010. The rate of growth reached approximately 18% in 2012 and 2013, followed by approximately 13% in 2014 and 2015.
Cambodia Airports, annual passenger traffic: 2006 to 2015
It is a rapid rise in visitor numbers – particularly from China – that has driven the growth, since Cambodia has small domestic and outbound markets. Visitor numbers from China have increased by 20% for five consecutive years and grown fivefold since 2009, albeit on a very small base.
The growth rate in Cambodia has slowed in recent months, however, driven by a slowdown in the tourism sector. Passenger numbers were up only approximately 5% in 1Q2016 and visitor numbers were up only 3%. China visitor number growth slowed to 10% while origin South Korea – which generates the second largest number of visitors by air – was down 25%.
2016 will almost certainly be the first year since 2009 that Cambodia will not experience double-digit passenger growth. Cambodia is Southeast Asia's sixth largest market, slightly ahead of Myanmar.
Philippines back on a positive trajectory, reaping the rewards of consolidation
The Philippines recorded 8.5% domestic growth in 2015 to 22.1 million passengers and 10.5% international growth to 19.8 million. Total passenger growth was 9.4% to 41.9 million.
The Philippines domestic market grew for the first time since 2012. The domestic market was roughly flat in 2013 and 2014 due to consolidation, while the international market grew a modest 3.4% in 2014.
Philippines annual domestic and international passenger numbers: 2006 to 2015
Philippines.png" alt="" width="600" height="358" />

Demand has grown, boosted by a surging economy. Airline profitability also has improved as there are now only three main local players. Cebu Pacific and the Philippine Airlines Group both posted strong profits in 2015, while the situation at the much smaller Philippines AirAsia has improved significantly. In 2016 Philippines AirAsia could turn its first profit since its 2012 launch.
Growth in the Philippines will likely again be in the high single digits – or even perhaps the low double digits – in 2016. It was the fourth fastest-growing market in Southeast Asia, but could be the third fastest-growing in 2016 as growth in Cambodia slows.
After rapid growth from 2012, Myanmar slows to a more sustainable pattern
The Myanmar market has grown rapidly since Myanmar opened up in 2012, but the rate of growth slowed down in 2015.
Total passenger numbers have increased from slightly over 3 million in 2011 to 5.7 million in 2016. However, passenger numbers were up only approximately 6% in 2015, including 4% domestic growth to 2.3 million and 8% international growth to 3.4 million.
Myanmar's international market has generally experienced higher growth rates, driven by an influx of new capacity from foreign airlines. The international market has more than tripled in size over the last six years, from approximately 1 million in 2009 to more than 3.4 million passengers in 2015. However, 2015 marked the first time that the international growth rate was in the single digits, for the first time this decade. The rate of international passenger growth peaked at more than 30% in 2012 and 2013, before slowing to a still-rapid 20% in 2014.
Myanmar annual international passenger traffic and year-over-year growth: 2008 to 2015
A slowdown was inevitable since the rapid growth in 2012 and 2013, which was in the immediate aftermath of the lifting of sanctions. From mid-2012 to the end of 2013 12 foreign airlines launched services to Myanmar, while virtually all of the 13 foreign airlines that were already serving Myanmar expanded.
In 2014 and 2015 the rate of capacity expansion slowed significantly. Several airlines stopped or slowed their expansion, while potential new airlines decided against entering the market.
The rate of capacity expansion has started to pick up again in recent months, driven by foreign airlines and ambitious expansion by the government-owned Myanmar National Airlines. International passenger growth will likely be approximately 10% in 2016 – higher than most other Southeast Asian countries, but relatively modest given the level of development in Myanmar and the rate of capacity growth.
Capacity levels generally remain too high for demand, resulting in load factors that are well below industry norms. In 2015, the average seat load factor on inbound international flights to Myanmar was only 66%, according to government data.
Chinese visitor numbers drive rapid international growth in Thailand
Total visitor numbers increased by 20% in 2015, driven by a 71% spike in visitor numbers from China – to 7.9 million. Thailand's tourism sector quickly rebounded after a challenging 2014, when a prolonged period of political unrest impacted demand.
Thailand annual visitor numbers and year-over-year growth: 2008 to 1Q2016
Visitor numbers to Thailand were flat in 2014, leading to a 6% decline in international passenger numbers. Thai Airways was particularly impacted, which prompted a restructuring at the government-owned flag carrier. Thai Airways significantly narrowed its losses in 2015 and was profitable in 1Q2016.
Thailand's international passenger market has nearly doubled since 2009, when there were approximately 33 million international passengers. Thailand's domestic passenger market has grown even faster, approximately doubling in size since 2011.
Thailand's domestic LCC share on track to exceed 66% in 2016
The domestic market has experienced consistent high double-digit growth, driven by LCCs. The launch of a third Thailand-based LCC at the end of 2013, Thai Lion, has particularly accelerated the rate of domestic growth over the last two years. The new Lion Group affiliate has so far focused primarily on the domestic market and is now almost as big domestically as the long-established LCCs Nok Air and Thai AirAsia. Nok is primarily a domestic airline, while Thai AirAsia has an approximately equal split of domestic and international capacity.
Nok and Thai AirAsia have accelerated domestic expansion in response to Thai Lion, whereas the Thai Airways Group has cut back its domestic operation – transferring most routes to its full service regional subsidiary, Thai Smile.
LCCs flew nearly 70% of total domestic passengers in Thailand in 2015. Based on current capacity figures, LCCs account for approximately 66% of Thailand's domestic market and 27% of the international market.
Thailand LCC penetration rates (% of seats): 2008 to 1Q2016
Bangkok Don Mueang, which is the hub for all three of Thailand's main LCCs, became the world's largest LCC airport in 2015. Don Mueang is primarily an LCC airport, with over 90% of its total traffic flown by LCCs. Don Mueang was one of the world's fastest-growing airports in 2015, recording 41% growth in passenger numbers to 30.3 million.
Don Mueang and the overall Thailand market are expected to experience another year of rapid growth in 2016. Don Mueang passenger traffic was up 23% in 1Q2016, while traffic at Bangkok Suvarnabhumi – the main international airport and hub for Thai Airways – was up 8%. Thailand overall recorded 12% domestic growth in 1Q2016 and 14% international growth. Visitor numbers were up 15%, driven once again by China, with a 29% increase.
The overall 21% growth rate from 2015 will not be matched in 2016, but Thailand should again chalk up double-digit annual growth. The rapid growth, combined with its large size and potential for further growth, make it the Southeast Asian market to watch.
Indonesia holds greatest potential but infrastructure continues to bottleneck growth
Finally there is Indonesia, the biggest country in Southeast Asia, which somewhat surprisingly had the slowest growth in 2015. The Indonesian domestic market expanded rapidly from 2008 to 2012 but experienced growth in the low to middle single digits in 2013 to 2015. Domestic demand has been impacted by a slower economy and depreciation of the rupiah.
The Indonesian market was also impacted by political instability in 2014 and in 2015, and by the implementation of a price floor in the aftermath of the 28-Dec-2014 Indonesia AirAsia crash. The price floor impacted LCCs – particularly the low-fare leader Lion Air – since they could no longer offer the cheapest fares. Growth at the market leader Lion Air slowed significantly as a result.
Indonesia has a growing middle class and the characteristics that make it an attractive emerging market. Demand in its much smaller international market has also been sluggish over the last year. International and domestic growth is likely to remain in the single digits in 2016, but Indonesia is still a market to watch over the medium to long term.
An imbalanced market, but one that will continue to grow
Overcapacity remains a concern through Southeast Asia given the region's huge order book and temptation by some airlines to continue or resume strategic expansion. Consolidation and more significant adjustments will ultimately be needed for the sector to achieve sustainable margins.
But Asia is far from mature; there are a number of markets with huge potential and a subsequent volume of new city-pairs to develop. While the headline numbers may shock, orders for the Asia Pacific region are likely still below where they should be when planning for 2030.
Overall, Southeast Asia has a lot of the same potential. There have been setbacks and some markets have struggled to maintain high growth rates. However, the long-term prospects remain bright.