Charlotte Airport remains key in American's network even as international growth is longer term aim
Analysis
Charlotte Douglas International Airport seems to be settling into its new role as part of the much broader joint American-US Airways network where the airport is part of a nine-hub operation that includes the much larger markets of Dallas/Fort Worth, New York and Los Angeles.

Charlotte's stability has remained intact since the two airlines closed on their merger at the end of 2013, and are now in the midst of some of the more difficult aspects of integration. The airport has a keen self awareness that while it is not the most important hub within American's network for international transit passengers, its geographic position in the US South East offers is key for connecting domestic passengers in the north-south East Coast corridor, and leisure passengers to the Caribbean and Central America.

Obviously Charlotte's long-term goal, like numerous other airports, is to boost international service. But for the short-term the airline is charting steady passenger growth while maintaining competitive costs.
Charlotte continues to chart steady growth as the American merger progresses
Charlotte recorded nearly 2% passenger growth in 2014 to 44.3 million passengers. The airport's international enplanements grew 4% to 1.4 million and international deplanements increased 4% to 1.5 million.
Charlotte Douglas International Airport annual passenger numbers: 2011 to 2014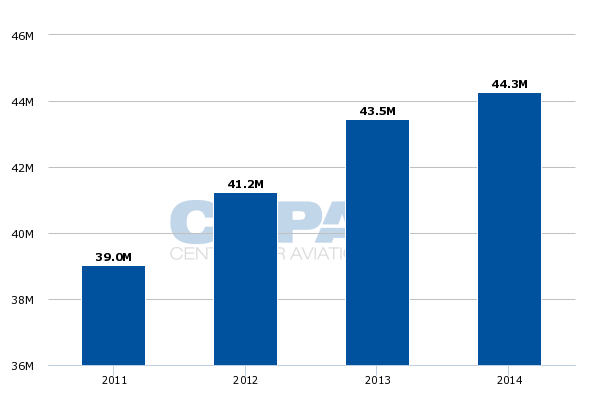 Charlotte Douglas International Airport annual passenger growth: 2011 to 2014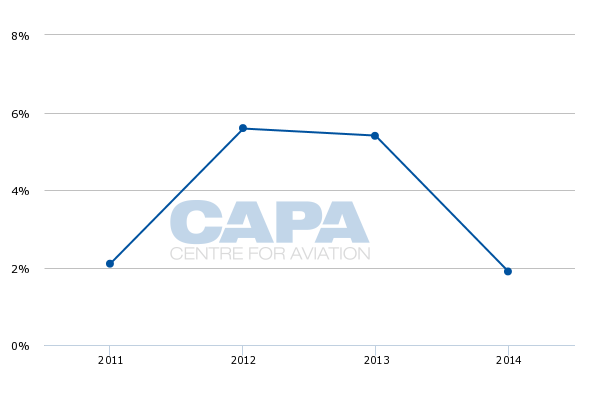 The international growth is promising given Charlotte's smaller international footprint compared with American's other hubs. Data from CAPA and OAG show that for the week of 6-Apr-2015 to 12-Apr-2015 nearly 92% of its seats are deployed into domestic markets and 77% of its ASMs are allotted to domestic routes. Philadelphia, which recorded 0.8% passenger growth in 2013 to 30.7 million, has approximately 84% of its seats and 60% of its ASMs deployed to domestic markets.
Charlotte Douglas International Airport international vs domestic capacity (% of seats): 6-Apr-2015 to 12-Apr-2015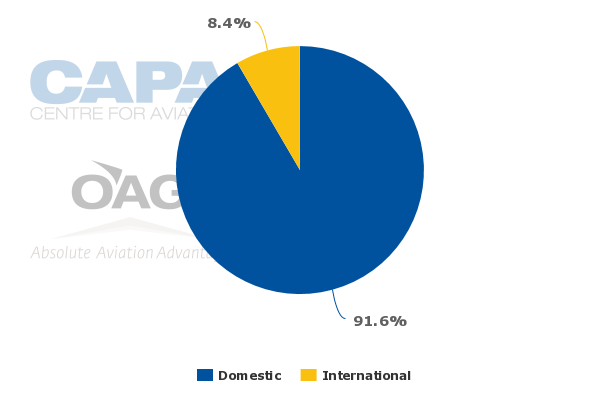 Charlotte Douglas International Airport international vs domestic capacity (% of ASMs): 6-Apr-2015 to 12-Apr-2015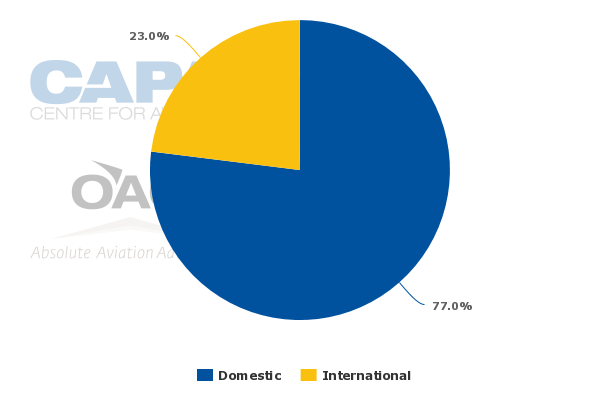 One change that occurred at Charlotte after the merger was the elimination of service to Sao Paulo and Rio de Janeiro. It is a logical move within the broader context of American's network since Miami is American's major gateway to Latin America. At the time the cut was revealed, American told local news outlet The Charlotte Observer that Charlotte is better suited to connect leisure customers to destinations in the Caribbean, Central America and Mexico.
Some of Charlotte's long-haul is seasonal, with some route cessations in 2015
The majority of international Charlotte's seats – 41%, and frequencies – 38%, are dedicated to the Caribbean. The bulk of its ASMs – nearly 54% – are deployed to Western Europe.
Charlotte Douglas International Airport international capacity (% of seats) by region: 6-Apr-2015 to 12-Apr-2015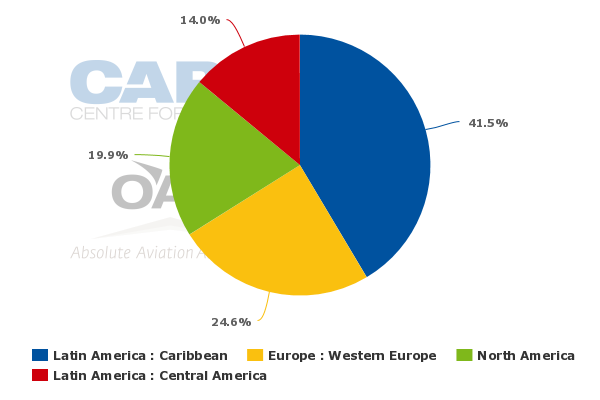 Charlotte Douglas International Airport international capacity by region (frequencies to/from): 6-Apr-2015 to 12-Apr-2015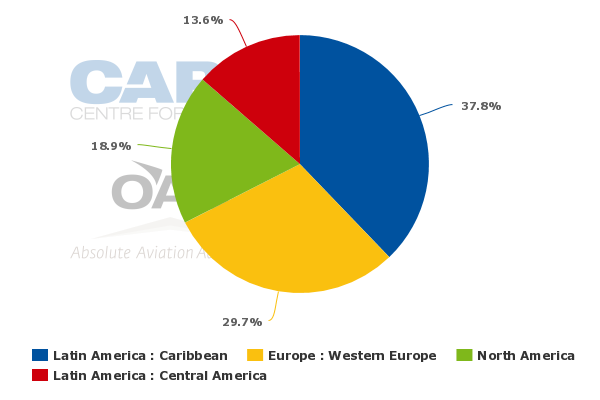 Charlotte Douglas International Airport international capacity by region (% of ASMs): 6-Apr-2015 to 12-Apr-2015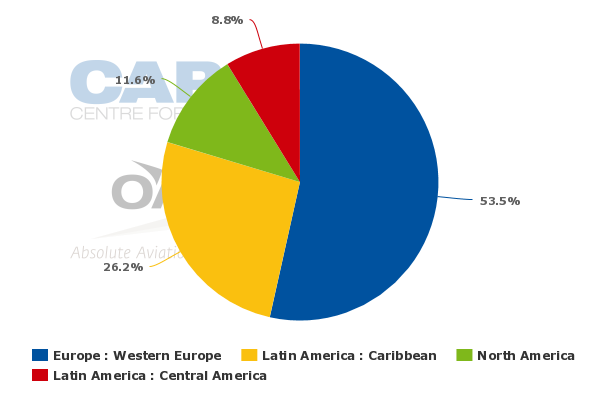 Charlotte's service offerings to Europe include Barcelona, Dublin, Frankfurt, London Heathrow, Madrid, Munich, Paris and Rome. Many of those routes – Barcelona, Paris, Rome, Dublin and Madrid have been operated seasonally in the past.
US Airways has also operated seasonal flights to Lisbon, Manchester, and Brussels, but it appears the airline does not have plans to resume flights to the latter two markets in 2015. That decision was likely partially driven by some overcapacity airlines experienced in the trans-Atlantic in 2H2014. American and US Airways cut trans-Atlantic capacity by 3% during that time, and perhaps has concluded that it can serve those destinations from elsewhere in its network, or through its partners.

It is likely that until the merger is complete Charlotte's international footprint will remain the same, or perhaps shrink slightly as American works to determine how Charlotte factors into a larger network that includes European gateways in New York JFK and Philadelphia, and an immunised joint venture with oneworld partners British Airways and Iberia.

Charlotte seems to accept its position within the larger American network. In 2014 airport officials told the Charlotte Observer that Charlotte's challenge is not having a large enough local travel base to support a major international hubbing operation.

The airport highlighted to the paper that Charlotte's approximate metropolitan population was 2.5 million compared with Chicago's 9.5 million, 5 million in Miami and 6.8 million in Dallas.
But Charlotte is poised for population growth over the long term. A study by the United Nations (cited by local Charlotte local news outlet WFAE), of world population growth indicates that Charlotte's population could jump by 71%. As the population density of the Charlotte metro region grows, the prospects for additional long-haul flights to Europe and elsewhere should grow brighter.
Charlotte has the benefit of lower operating costs; but records higher than average fares
One of the advantages Charlotte needs to maintain is its lower operating costs compared with other airports. Ratings agency Fitch estimated the airport's cost per enplanement in 2014 was roughly USD1.33, compared with USD20 for Miami International, which tends to be one of the higher cost airports in the US.

The lower costs have not drawn a huge presence from other low cost airlines. But ULCC Frontier Airlines launched flights from Charlotte to Philadelphia and Trenton, New Jersey in 1Q2015. JetBlue operates service from Charlotte to its focus cities of Boston and JFK, and Southwest operates flights to Baltimore/Washington, Chicago Midway and Houston Hobby.

The new service from Frontier, while small, could prove to be an interesting test case for Charlotte. Although the airport has one of the lowest operating costs for airlines, its fares during 3Q2014 were above the US domestic avferage. Data from the US DoT show that Charlotte's average fare increased from USD422 to USD439 while the average was USD396. The higher fares no doubt reflect American-US Airways' dominance in the market.

But Charlotte now seems ready to court new airline service. Airport officials told the Charlotte Observer in 2014 that facility did not have a strong air service development programme, largely due to the airport operating at capacity. Now it seems that Charlotte over the long term would like to gain service to Asia. It is a long shot at the moment as American just finished significant expansion to Shanghai and Hong Kong from DFW, and plans new DFW-Beijing service in May-2015.

See related report: American Airlines' triple play in greater China is part of a long-haul rejuvenation, with more to come
Charlotte commands an understanding of its role in American's network
Despite a smaller international footprint than some of American's other hubs, Charlotte remains a key element in the airline's network. An American official told the Charlotte Observer in 2014 that Charlotte serves a lot of unique points not served out of most of the airline's East Coast hubs.

Charlotte is located in the US Southeast, roughly 392km from Delta's megahub in Atlanta. That location provides American a key foothold in the region to flow passengers up and down the east coast. Although Charlotte does not have the revenue strength commanded by some of American's larger hubs, its status as a hub within American's network remains very much intact.

Charlotte recognises that while it remains competitive in the short term, its prospects for a significant amount of new long haul services are limited as American works to maximise the combined American-US Airways network.
But with the projected population growth, Charlotte's stature as a major banking centre and competitive costs, it stands improved chances of some additional service over the long-term as the new American develops the US' largest airline.