Caribbean Airlines' unrest continues as new government leadership faces an uphill climb to stability
Analysis
Excitement that Caribbean Airlines' acquisition of and merger with Air Jamaica would allow the airline business within the Caribbean region to turn a corner has essentially faded as the task at hand appears to be mere survival rather than Caribbean Airlines assuming a leadership position in the region's beleaguered airline industry.

Upheaval in the airline's board and executive ranks has become a main feature, and it was recently dealt a financial blow with cuts to its fuel subsidy on international operations.

As chaos seems to remain the norm internally for Caribbean Airlines, it continues to see pressure on some of its long-haul routes from its base at Port of Spain. WestJet upped competition with the carrier in late 2012 with the introduction of service to Toronto while JetBlue raises the competitive bar in 2014 with new service from Port of Spain to New York JFK and Fort Lauderdale.
See related reports:
Another board, another pledge to reverse Caribbean Airlines' fortunes
Leadership at Caribbean has been scarce since 2010 when then CEO Ian Brunton abruptly resigned.

Rabindra Moonan was then named Caribbean's chairman, and during his tenure the carrier encountered challenges in financing ATR turboprops and opted to launch perhaps an ill-advised re-entry into the London market with Boeing 767s, which served to add further complexity into its operations. The service had to be pushed back as Caribbean faced certification issues with the widebody aircraft.

During May-2013 the government of Trinidad and Tobago installed another interim board at Caribbean and named Phillip Marshall, who serves as director of the Strategic Office of the Ministry of Finance and the Economy for Trinidad and Tobago, as chairman.

The government formally declared the mandate of Mr Marshall and his new board is to "conduct a thorough and comprehensive diagnostic of the airline, with a view to formulating an action plan to take CAL forward".
It is a tall order for an airline that claims it wants to be less dependent on the government, but is now being run by an official from the Trinidad and Tobago government.

Mr Marshall assumed the chairmanship as a fuel subsidy for international flights reportedly ended in Oct-2013 and the Guyanese government made rumblings that Caribbean's fares were too high and the carrier's customer service was lacking. Caribbean offers flights to New York JFK from Georgetown airport in Guyana with a Port of Spain stopover.

Also as Mr Marshall was named chairman in May-2013, officials from Trinidad and Tobago's government reportedly stated to the Trinidad and Tobago Guardian that Caribbean's purchase of Air Jamaica did not go according to plan, and blamed carriers including WestJet and JetBlue for making a traffic grab on Caribbean's routes.

Those remarks show that Caribbean has a long road ahead in ending its dependence on the government and attaining self-stability. Competition is inevitable, and any so-called self sufficient carrier needs to ensure it has the proper tools and management to compete effectively, something that has evaded Caribbean during the last few years.
JetBlue brings a dependable and positive product to Port of Spain
In the short term the competitive pressure continues as JetBlue no doubt sees an opportunity to enter a market where the competitor is weak, and towards which customer sentiment is unfavourable.

Caribbean's loads between Port of Spain and JFK/Fort Lauderdale were extremely high during 1H2013, but that is likely largely due to the funnelling of traffic from Georgetown. Caribbean stands in the unique position of having a monopoly status on the route, which means passengers have limited options to the direct service and in some ways are at the mercy of Caribbean's pricing schemes. Passengers could possibly connect through Kingston to cheaper fares offered by JetBlue to JFK, but they would still need to pay what Caribbean charges for service from Port of Spain to Kingston.
Caribbean Airlines Load Factor from Port Of Spain Piarco Airport to New York John F Kennedy Airport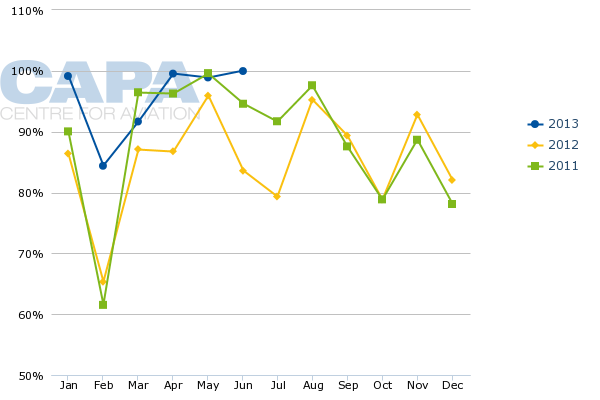 Caribbean Airlines Load Factor from Port Of Spain Piarco Airport to Fort Lauderdale-Hollywood Airport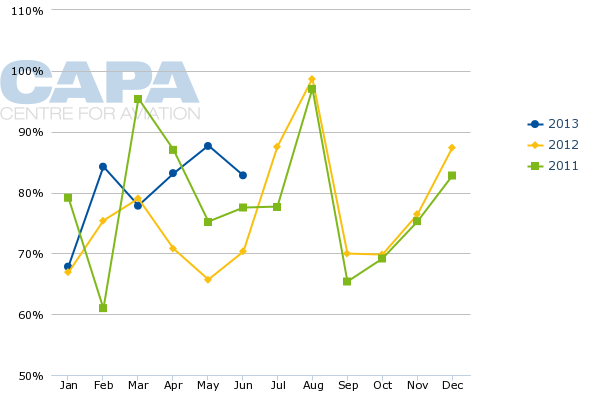 JetBlue brings a fresh alternative to service from Port of Spain to JFK and Fort Lauderdale (where service starts in May-2014). In essence the carrier enters the market with a positive message, a dependable product and a well-known and existing presence throughout the Caribbean. Furthermore, in comparison with Caribbean, JetBlue has the scale and stability to charge lower fares than Caribbean to quickly build-up passenger loyalty on the route.
Indeed, as it announced its new Port of Spain service JetBlue declared Trindad and Tobago's customers have dealt with high fares and cramped seating for long enough.
Caribbean also faces pressure from other airlines on key North American routes
In addition to pressure from JetBlue on some its major US routes, Caribbean has faced direct competition from Canadian carrier WestJet on service between Toronto and Point of Spain for more than a year. WestJet has the obvious advantage in point of sale Canada, which has no doubt hurt Caribbean. And the pressure will only continue now that Caribbean's fuel is no longer subsidised by the government of Trinidad and Tobago.
Upstart Fly Jamaica also says it is serving Toronto from Georgetown, and JFK from both Georgetown and Kingston. Although schedules on its website show limited service from Georgetown.
Fly Jamaica does serve JFK from Kingston, which is also a route served by Caribbean and JetBlue Airways. The new Jamaican carrier has also stated its intent to launch service from Kingston to Toronto, which currently features service from Air Canada, WestJet and Caribbean.
But Caribbean during the past year has pulled back its service in those markets from Kingston, dropping the number seats on offer year-on-year by nearly 43% to Toronto and 45% between Kingston and JFK, which indicates it could be feeling pressure from JetBlue and WestJet. However, given those are historical routes for Air Jamaica, Caribbean likely has some political obligations to retain a presence on the route.
Kingston Norman Manley to Toronto Pearson (seats per week, one way): 17-Dec-2012 and 16-Dec-2013

Kingston Norman Manley to New York John F Kennedy (seats per week, one way): 17-Dec-2012 and 16-Dec-2013

Even as Caribbean has pulled back some of its operations from Jamaica to North America during the past year, schedules in Innovata show that for the week of 16-Dec-2013 to 22-Dec-2013 North America accounts for nearly 42% of Caribbean's international seat deployment. So any competitive incursion can wreak havoc on a carrier whose state is as fragile as Caribbean's.
The added pressure from JetBlue and WestJet certainly does not bode well for a carrier attempting to flesh out a business plan.
Caribbean Airlines international capacity (% of seats) by region: 16-Dec-2013 to 22-Dec-2013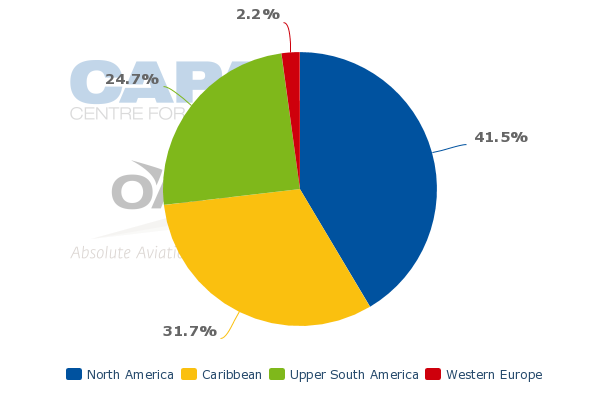 Caribbean has a long road ahead to achieve self reliability
Caribbean's disappointing performance since its 2010 acquisition of Air Jamaica confirms that any chance of a stable airline industry within the Caribbean remains slim. The short unhappy life of independent low-cost carrier REDjet shows that governments in the region still exert too much control over the commercial operations of carriers. And the decision by Trinidad and Tobago to place one of its own as the chair of Caribbean (the government still holds the majority stake in the carrier) shows there is little prospect of relinquishing its influence in the short term.
As of Apr-2013 Caribbean reportedly had USD200 million in debt and recorded an overall loss for 2012. Despite those weak results it blindly continued expensive long-haul flights to London despite both Caribbean and Air Jamaica recording negative results on service to London in the recent past.
All this points to a tough uphill climb for Caribbean to achieve in reasonable level of stability. With the government still exerting a significant amount of control over the carrier, any declarations of self-sustainability unfortunately seem to be empty promises.