JetBlue launches new markets from its pockets of strength – Boston, JFK and Fort Lauderdale
Analysis
Underlying JetBlue's recent headline grabbing release of its new premium product that includes semi-private suites, is a network strategy and expansion that continues unabated, resting on the pillars of expanding from Boston, Fort Lauderdale and its strategic base and headquarters of New York JFK.

The latest round of market additions adhere to the carrier's stated goals of broadening its reach into the Caribbean as Trinidad and Tobago is added to its growing network in the region. At the same time, JetBlue's milestone 50th destination from its ever-important Boston base is Savannah, Georgia, a largely leisure destination which presently is served by US majors with regional jets to their large hubs.

With the planned new service to Savannah, Port of Spain and Port Au Prince, JetBlue is taking a three-pronged approach, serving all those markets from its strategic bases – most notably Fort Lauderdale, a market JetBlue is growing as a launch pad for strengthened service to the Caribbean.
JetBlue Airways top 10 hubs/bases/stations by seats: 7-Oct-2013 to 13-Oct-2013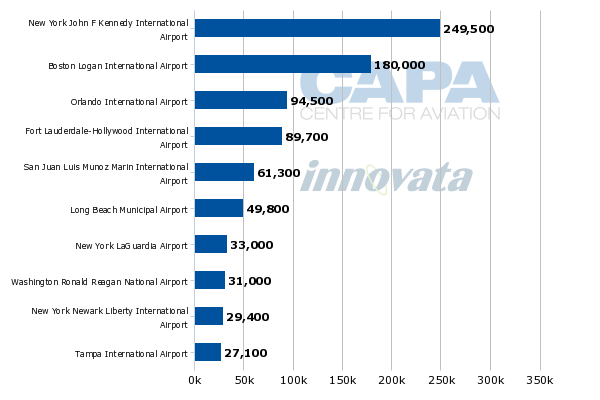 Both Port of Spain and Port Au Prince are points that will help JetBlue round out its expanding Caribbean network, which according to current schedules in Innovata presently accounts for roughly 44% of the carrier's international seat deployment.
JetBlue Airways international capacity by region (% of seats): 7-Oct-2013 to 13-Oct-2013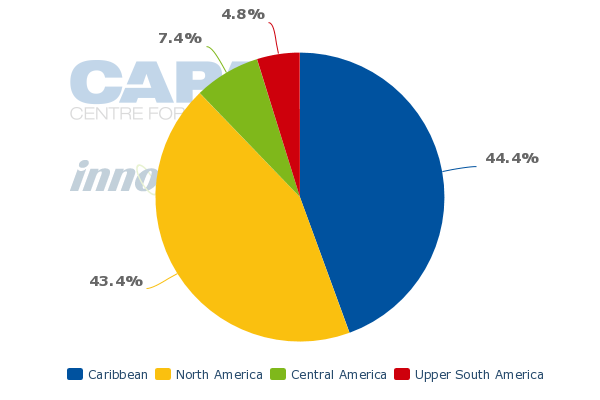 JetBlue's direct competition on its new service from its JFK base to Port of Spain set to launch in Feb-2014 is Caribbean Airlines. Caribbean is still struggling to record consistent profitability three years after its purchase of Air Jamaica.

Trinidad and Tobago fits well with visiting friends and relatives (VFR) and leisure passenger segments largely targeted by JetBlue. Trinidad and Tobago also has a significant oil and gas industry, which should also fetch some level of business traveller that might be attracted to JetBlue's fares – which will presumably be lower based on its declaration that customers to Trinidad and Tobago have dealt with high fares and cramped seating for too long.

Caribbean operates 154-seat Boeing 737-800s between Port of Spain and JFK (four more than JetBlue's 150 seat Airbus A320s). United Airlines also serves Port of Spain from its New York Newark hub with Boeing 737-800s. The carrier operates roughly three versions of that aircraft in either a 152, 154 or 160-seat configuration.

Current schedules in Innovata show that Caribbean is ending its direct flights from its Port of Spain base and headquarters to Fort Lauderdale the week of 7-Oct-2013 to 13-Oct-2013, and a search on the carrier's website for travel the week of 21-Oct-2013 shows one-stop service to Fort Lauderdale through Kingston. Caribbean's schedule change will result in JetBlue becoming the sole operator on service between Fort Lauderdale (its fourth largest base in terms of seats on offer) and Port of Spain. Caribbean still serves nearby Miami (roughly 45km from Fort Lauderdale) from Port of Spain alongside American Airlines.

With JetBlue dedicating so much effort to strengthening its network from Fort Lauderdale to the Caribbean, it should be able to tap its existing passenger base to quickly build-up new service to Point of Spain. Previously, JetBlue chief commercial officer Robin Hayes has described the opportunities from Fort Lauderdale to Latin America as rich, given how quickly the routes ramp up to profitability. It's not a stretch to assume the carrier applies that logic to Caribbean markets as well.
Key to JetBlue's ability to stimulate traffic in those markets is an ability to offer lower fares given Fort Lauderdale's lower cost structure versus Miami. JetBlue also enjoys feed from its other US northeastern markets into Fort Lauderdale, some of which is channelled to its routes in the Caribbean.
See related report: JetBlue sees an opportunity to mine Fort Lauderdale as Spirit turns its attention elsewhere
That same logic is likely a driver behind JetBlue's decision to launch flights from Fort Lauderdale and JFK to Haiti in Dec-2013. American serves Port Au Prince from both Fort Lauderdale and Miami while Spirit offers service from Fort Lauderdale. Once JetBlue's flights from Fort Lauderdale to Haiti's capital are launched, it will hold a roughly 30% share of the approximately 4,711 one-way seats on offer in the market.
Port Au Prince Toussaint Louverture to Fort Lauderdale-Hollywood (seats per week, one way): 19-Sep-2011 to 30-Mar-2014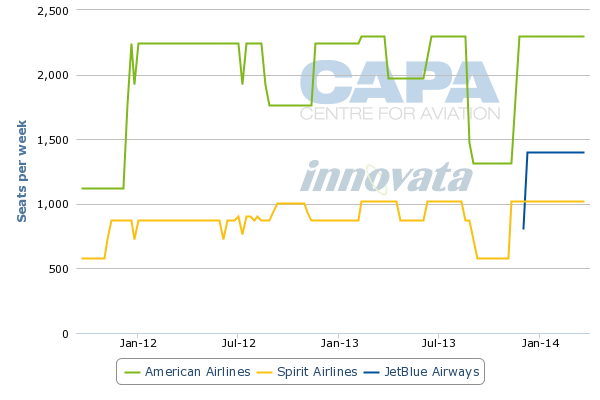 JetBlue efforts to expand from Fort Lauderdale into Latin America and the Caribbean during the last couple of years has resulted in increased competition with Spirit Airlines, which is based in Fort Lauderdale but has been working to build out its network in the continental US while JetBlue has made a near-international push from Fort Lauderdale.
Spirit is a competitor to JetBlue on the majority of its Caribbean and Latin American markets from Fort Lauderdale including Bogota (also served by Avianca and LAN group carriers), Cancun, Santo Domingo, Nassau, San Jose (Costa Rica), San Juan (also served by both AirTran and Southwest) and on service to Lima once JetBlue's new flights begin in Nov-2013.
In the case of Fort Lauderdale to Port-Au-Prince, the likely theory is that JetBlue can offer lower fares than American and an improved product (more seat pitch, complimentary drinks and snacks) for a slightly higher fare than Spirit charges.
JetBlue has recently stated that under this scheme it has struck a "sweet spot" with a cost structure in between the legacy and low-cost models that allows for an attractive product offering to cost-conscious consumers willing to pay a higher fare than those offered by bare-bones ultra low-cost carriers.
See related report: JetBlue enjoys a cost "sweet spot" in the consolidating US market
Given the substantial Haitian populations in both Florida and New York, it was just a matter of time before JetBlue launched service from its largest base to Port Au Prince, a market served by both Delta and American, both of whom are familiar competitors to JetBlue. Once JetBlue begins the new service in Dec-2013 it will account for about 28% of the roughly 3,745 one-way seats on offer on the pairing.
American will retain a commanding 42% share followed by Delta's 30% share. JetBlue's entry should be an initial benefit to consumers as its promotional fares should usher in overall lower fares as its competitors craft an initial response to a third carrier entering the market. United also offers flights to Port Au Prince from its New York Newark hub.
Port Au Prince Toussaint Louverture to New York John F Kennedy (seats per week, one way): 19-Sep-2011 to 30-Mar-2014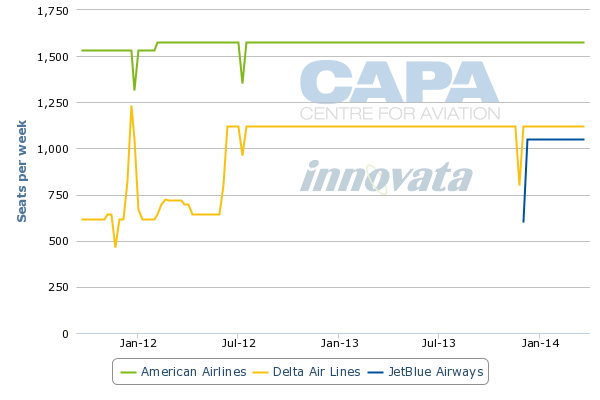 JetBlue also plans to launch a new domestic leisure market from both Boston and JFK in Feb-2014 with flights to Savannah, Georgia, which also serves the nearby leisure and golf destination of Hilton Head, South Carolina.
Presently, Savannah/Hilton Head airport is served by all the US majors on flights to their respective hubs – Delta from Atlanta, Detroit and New York LaGuardia; American from Dallas/Forth Worth; United from Chicago O'Hare, Houston and Washington Dulles; and US Airways from Charlotte, Philadelphia and Washington National. Delta is the largest carrier at the airport with respect to seats on offer, accounting for 54% share.
Savannah/Hilton Head Airport capacity by carrier (% of seats): 7-Oct-2013 to 13-Oct-2013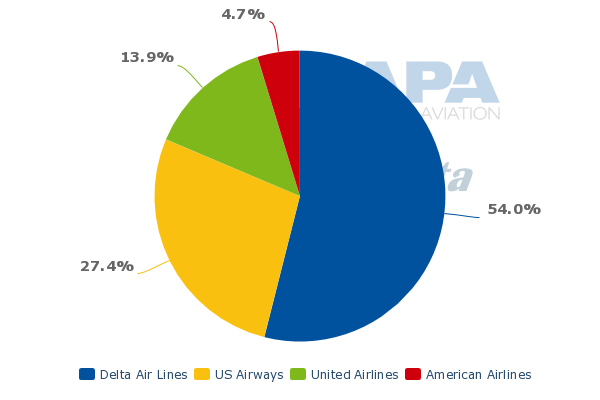 Savannah/Hilton Head should produce solid results on a year-round basis for JetBlue as it is a popular region for leisure travellers, and a fairly quick getaway from either New York or Boston. It is interesting that JetBlue's 50th destination from Boston is a leisure destination given the carrier has done a lot of work to build a significant presence among corporate customers in Boston.
The carrier announced Boston-Savannah after JFK-Savannah, and according to USA Today is receiving government subsidies for the Boston flights, so that could have been an element in the timing of Savannah becoming the memorable 50th market JetBlue will operate from Boston focus city.
JetBlue needs to show some financial improvement in 3Q2013 ahead of new route debuts
JetBlue's latest round of new market roll-outs reflects its focus on continuing to build out its service from Boston and strengthening its presence in the Caribbean in order to craft a network that is not too dependent on business travellers or VFR and leisure customers.
While the carrier has recently battled some cost inflation and its planned 5.5% to 7.5% capacity growth for FY2013 has sparked questions among investors, JetBlue is expanding in areas where it has turned a favourable performance, evidenced by its continuing top-line profitability.
But in the meantime its investors are looking towards 3Q2013 results to determine if JetBlue can meet its stated goal of an improved cost and revenue performance during 2H2013. So far the signs are reasonably positive, but the transcontinental battle for yield carries unpredictable elements.
See related report: JetBlue Airways continues to battle cost spikes compounded by weaker demand in 2Q2013