Bullish views on A320neos underpin Azul Airlines' positive outlook for 2H2017
Analysis
Brazil's third largest airline, Azul, is striking a positive tone as conditions in the country's domestic air travel market begin trending in the right direction and international demand begins to rebound. The airline is resuming growth to the US in late 2017 with the launch of service from Belo Horizonte to Orlando, and Belém to Fort Lauderdale, in Dec-2017.

Azul is planning up to 13% capacity growth in 2017, driven mostly by the addition of larger gauge Airbus A320neo narrowbodies to its fleet. The airline's capacity expansion may seem robust in the light of still tenuous conditions in the Brazilian market, but Azul is confident its growth will be absorbed – after the company posted a solid revenue performance in the typically weaker 2Q2017.

The airline is also examining additional product unbundling opportunities after becoming the first operator in Brazil to start charging for checked baggage in Jun-2017. Azul is studying ancillary models worldwide to craft its product unbundling strategy, since the concept is just beginning to take hold in the Latin American market.
The issue of Brazil's market conditions, Brazil's airport privatisation, and the outlook for Latin America's aviation are among topics for discussion at CAPA's Latin America Aviation Summit, to be held in Cartagena on 11/12-Sep-2017
For further information on attending or sponsoring please contact: info@centreforaviation.com
Azul cites positive trends in Brazil as new A320neos drive 2017 capacity growth
During 2Q2017 Azul recorded a 1.7% increase in passenger unit revenue (PRASK) as system capacity grew nearly 18%. The airline's load factor rose 1.9ppt year-on-year to 80.9%, and average fares increased 8%.

Azul is projecting that its ASKs will grow 11% to 13% for 2017, largely driven by the addition of Airbus A320neos to its fleet, replacing Embraer 195s that the airline is moving to higher frequency business markets.
Azul current and planned Airbus A320NEO routes: as of Jun-2017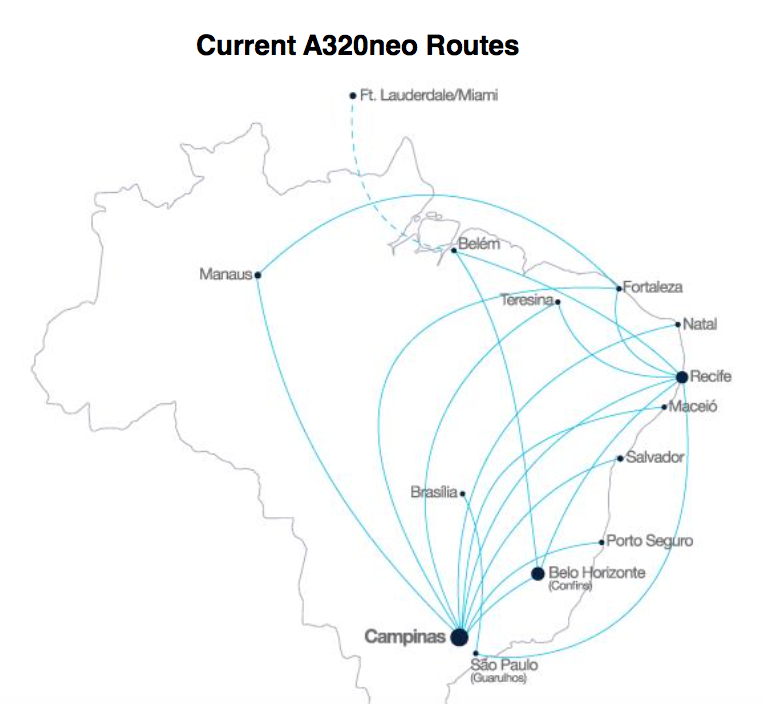 The company is operating its new next generation narrowbodies on domestic routes from its headquarters and largest base (measured by seats) – Campinas Viracopos – and Recife, its third largest operating base.
Azul system top ten hubs/bases/stations by seats for the week of 21-Aug-2017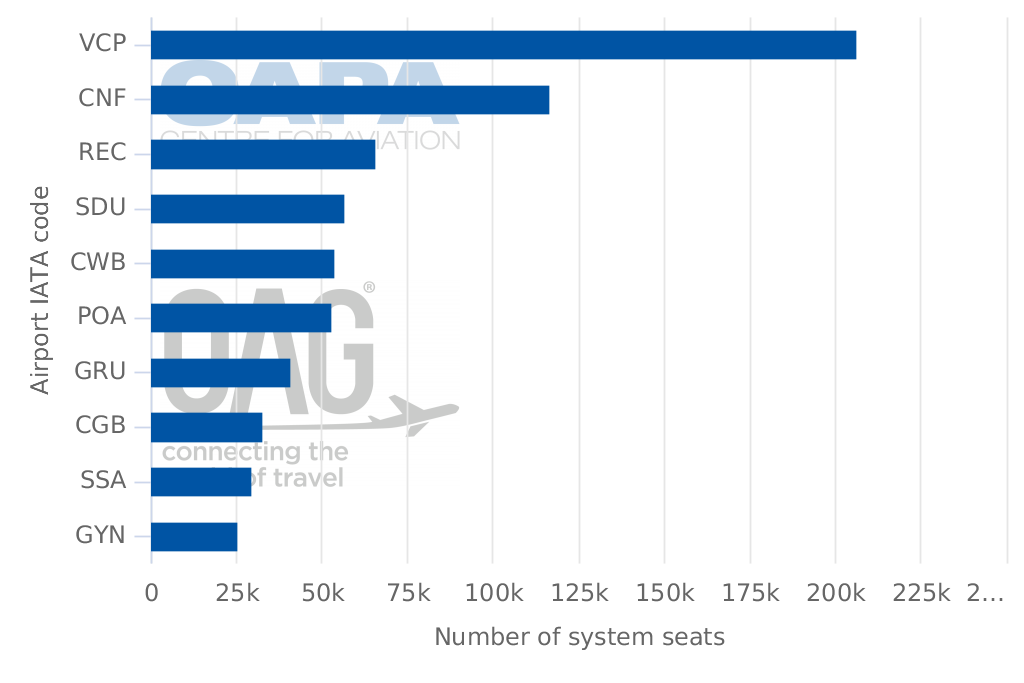 Average daily utilisation for Azul's eight A320neos is 14.2 hours per day, and company executives have stressed that the aircraft type allows it to add 56 incremental seats (vs Embraer 195s) at essentially no extra costs.
Azul is planning that the new narrowbodies placed on longer haul routes where it currently operates Embraer jets should increase connectivity and help grow its cargo and travel packaging businesses. It expects to operate 20 of the next generation narrowbody jets by YE2017.
Azul fleet summary: as of 21-Aug-2017

The airline feels comfortable with its planned double digit capacity growth in 2017, highlighting its 19% increase in top line revenues in 2Q2017, to BRL1.7 billion, during a typically weaker period in its network. (Overall, Azul lost BRL33.9 million in 2Q2017).

Although Azul has been expanding internationally to the US, Europe and within Latin America during the past few years, domestic operations remain the mainstay of its network, with 96% of its seats deployed on routes within Brazil.

Azul has added seven new domestic cities since Jun-2016, and is the sole operator on 72% of its routes. It is the only airline serving six of the cities it has added since Jun-2016 – Sorriso, Jericoacoara, Passo Fundo, Barra do Garças, Ponta Grossa and Lages.

Although Azul executives recently concluded that the macroeconomic backdrop in Brazil had not started to improve, they are encouraged by recent trends. They believe it would have been tough to achieve a nearly 2% increase in PRASK year-on-year in 2Q2017 if "domestic was terrible".

Echoing conclusions drawn by its Brazilian rival GOL, Azul cited an acceleration of domestic demand at the end of 2Q2017, driven mostly by leisure. Azul is experiencing some improvement in corporate revenues in 2H2017.
See related report: GOL Airlines SWOT: network expansion and cost containment are key in the new competitive era
Azul resumes US growth as it aims to capture demand in Northern Brazil
Azul's current international network includes flights from Campinas and Recife to Orlando, and Campinas to Fort Lauderdale. In Latin America, the airline operates flights from Campinas to Bariloche, Argentina; Belo Horizonte to Buenos Aires Ezeiza, Argentina; Porto Alegre to Montevideo, Uruguay; Belém and Fortaleza to Cayenne, French Guiana; and Campinas and Porto Alegre to Punta del Este; Uruguay.

At one point Azul aimed to serve New York JFK, but the downturn in Brazil thwarted those plans. As international markets from Brazil have shown some positive momentum, Azul has added flights in Dec-2017 – from Belém to Fort Lauderdale, and between Belo Horizonte and Orlando (a route it served briefly from late 2015 to early 2016).

Schedules in CAPA and OAG show that no airline operates from Belém to Fort Lauderdale, but LATAM Airlines Brazil offers flights from Belém to nearby Miami (46km from Fort Lauderdale, and a hub for its fellow oneworld airline American). Azul will be the only operator from Belo Horizonte to Orlando.

Airlines operating between Brazil and the US cut capacity during the country's recession, but US airlines (including Delta and American) have cited a rebound in Brazil unit revenues during the past couple of quarters, albeit off a low base.
Data from CAPA and OAG show that seats between the two countries are picking back up in early 2018, but will remain slightly below 2016 levels.
Brazil to the United States, one way seats per week: 2012 through early 2018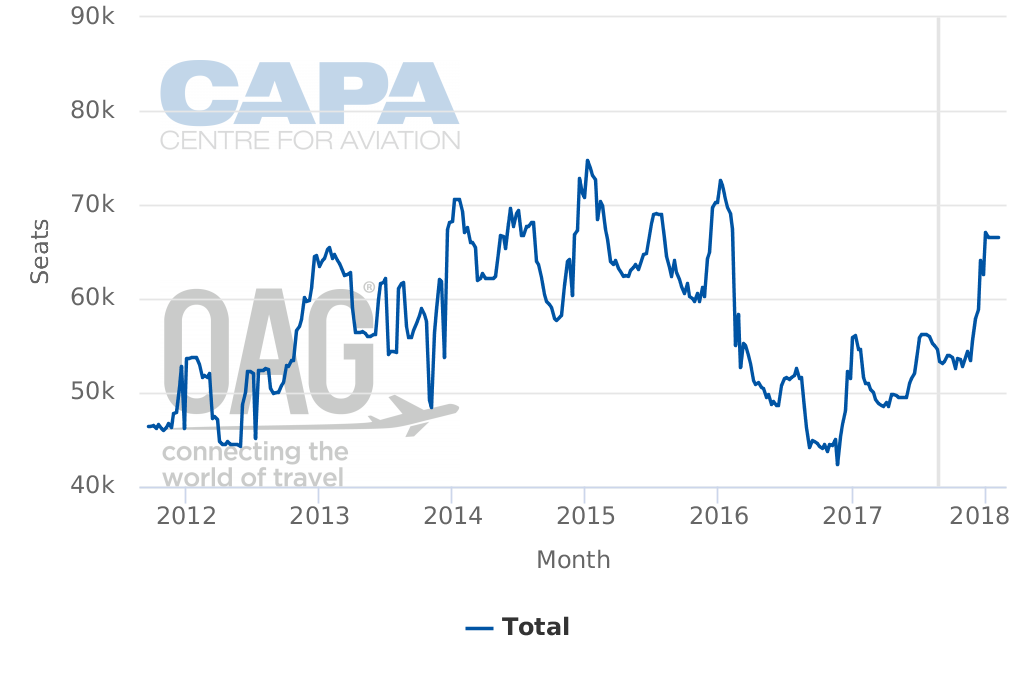 Belém-Fort Lauderdale will be the first international route for Azul's A320NEO. Company executives noted the aircraft's ability to operate approximately 14h per day with favourable unit costs. Additionally, the flights from Belém, located in Northern Brazil, offer direct service to the US without backtracking south to Brazil's main global gateway São Paulo Guarulhos.

Azul will be adding some competition with LATAM Airlines Brazil from Belém in the South Florida market, and through a new comprehensive codeshare with jetBlue it can offer numerous connections through jetBlue's major focus cities in Fort Lauderdale and Orlando.
Although LATAM Airlines Brazil and its partner American can still offer a denser network from American's Miami hub, Azul and jetBlue have an opportunity to capture their fair share of traffic flows from Northern Brazil to South Florida.
Azul contemplates its product unbundling strategy as bag charges take effect
After the Brazilian government lifted restrictions on airlines charging for checked baggage, Azul introduced a two tiered fare structure in Jun-2017. The lowest offering does not include checked bags, and if a passenger wishes to check luggage there is a BRL30 charge. If the customer chooses to check bags at the airport, the charge is BRL50.

Azul executives have acknowledged that the lifting of the ban on charging for checked bags is a significant change for Brazilian customers, but there has been little operational disruption on the charges, nor negative feedback.

Offering very preliminary results from the new fare structure, Azul executives have stated that approximately 50% to 60% of customers selecting the fare that does not include checked baggage arrive at the airport with a bag and end up paying the higher BRL50 charge.

The lifting of the ban on charging for bags opens up additional ancillary revenue opportunities for Azul and other Brazilian airlines. Azul executives have stated that the company is beginning to explore other elements of product unbundling, including seat assignments, in 2H2017 and into 2018.

Azul does not have middle seats on its ATR turboprops and Embraer fleet, but the A320NEOs coming online do feature a middle seat, and airline executives have highlighted that customers in Europe "absolutely pay for not having to sit in the middle seat".
Given that Azul is in the early stages of crafting a product unbundling programme, the airline has not offered specific guidance regarding how much revenue it could derive from introducing charges for specific aspects of the flight experience, but it is no doubt benchmarking itself against other low cost airlines to determine the revenue potential.
Azul's connectivity strategy means more competitive overlap with rivals
Fresh off an initial public offering earlier in 2017, Azul has a positive outlook for the remainder of the year and into 2018. The airline remains bullish on the network and cost opportunities offered by the incorporation of the Airbus A320NEO into its fleet as domestic demand within Brazil begins a slow recovery.

The biggest risks Azul faces are the market absorbing its capacity, and the increasing nimbleness of its competitors as LATAM Airlines Brazil and GOL devise their own tiered pricing structures and unbundling strategies.
Unlike other low cost airlines, Azul is building its network to maximise connectivity within Brazil and internationally, which means its competitive overlap with larger rivals will continue to grow.