Brazil's Natal Airport re-concession will test the continuing appeal of its airport infrastructure
Analysis
Brazil's airport concession programme is coming to a conclusion as CAPA has said often. But even as it does, one of a number of potential reconcessions is coming to a head after bubbling under for several years during the COVID-19 pandemic.
And it isn't any old airport. It is the Natal Aluízio Alves International Airport, a greenfield project that began in 2011 and was the very first privatisation, commissioned by an appointed 'dream team' of one of the world's largest airport operators and a major transport infrastructure company – both of them from Latin America.
It hasn't been a dream though, even if it didn't quite turn into a nightmare. The traffic projections were out of kilter with reality and Brazil's economic problems, followed by the pandemic, rendered the airport unable to realise expectations.
On top of that, the leading partner in the consortium then faced financial issues during the pandemic.
So the baton will soon be handed over to another investor – and there will undoubtedly be one, because for all the difficulties of operating in that environment, Brazil still seems to have some sort of hold over them.
(That investor revealed itself on 19-May-2023 to be Flughafen Zurich, which is currently the operator of four other Brazilian airports).
Summary
Brazil's Natal Airport to be reconcessioned immediately, after several years of vacillation.
An online auction will be held on 19-May-2023.
It was the very first airport concession there; now it is the first to be reconcessioned.
Disputes over the terms of the concession agreement versus the economic realities, and subsequent losses made by the major consortium partner, finished it off as a going concern.
The minimum bid level this time is half what it was in 2011.
The airport wouldn't be rated as 'outstanding' today, but there is nothing to lose sleep over either.
For all Brazil's woes, there will be bids, but it is not clear that they will be in multiples of the minimum when prior experience suggests that can't be justified
BREAKING 19-May-2023 Flufghafen Zurich is revealed as the successful bidder
Online auction for Natal Airport in Brazil to be held on 19-May-2023
Brazil's National Civil Aviation Agency, ANAC, announced early in May-2023 that on 19-May-2023 it intends to hold an online auction for the concession of the Natal Aluízio Alves International Airport (NAAIA), also known as São Gonçalo do Amarante Airport, in the northeast of the country. The concession will be granted for a 30-year period.
This is not a first-time concession in a process within the airport sector that has lasted for more than a decade now in Brazil, and one that is drawing to a close.
Indeed, it is a re-concession, the first in the country, and not only that – the original one was the first to take place in Brazil, as well as in the airport sector. This concession notched up several 'firsts', but they are not all positive ones.
Natal Aluízio Alves International Airport (NAAIA) is located 40 kilometres northwest of the Brazilian city of Natal, which is the capital and largest city in Rio Grande do Norte State.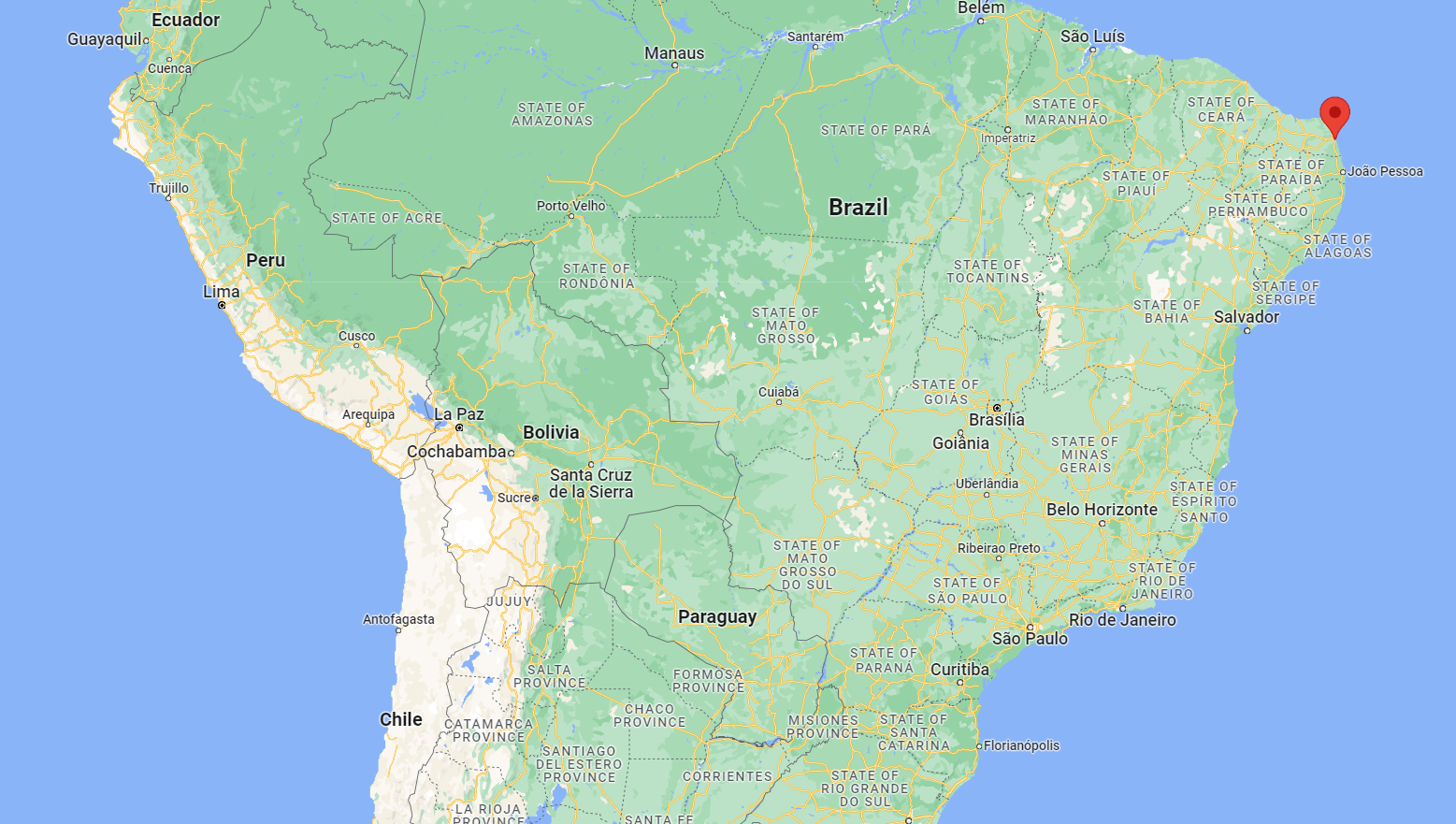 The BRL1 billion (USD435 million) green field facility opened for operations on 31-May-2014 replacing Natal Augusto Severo Airport and with a capacity of six million passengers annually.
The first airport concession in what became a multi-tranche cascade of them
NAAIA was the first airport in the country to receive a private operator's concession, following a bidding procedure which began in 2011. This predated by a year the first official tranche of auctions, which took place in 2012 and embraced São Paulo Guarulhos Airport, the country's busiest, Campinas Viracopos Airport north of São Paulo, and Brasília Airport serving the nation's capital.
It could be regarded as something of a 'test bed' for that series of major transactions which followed, and the auction process was won by a consortium, Inframérica, comprising Argentine-based Corporación America S/A and the Brazilian Infravix Empreendimentos S/A, which is a company controlled by the Engevix Group, a company offering construction of mass transport systems, including airports.
It might also be regarded as a marriage made in heaven – of Latin America's (and one of the world's) largest airport operators and a construction company specialising in major transport projects.
Inframérica went on a year later to bid successfully in the Brasília Airport auction, and as recently as a year ago had been expressing interest in the Congonhas Airport (São Paulo) concession, which was tendered in Aug-2022 and awarded to Spain's AENA in an 11-airport package in Mar-2023.
The original concession did not work out well
To put not too fine a point on it – the original Natal concession did not work out well for Inframérica.
While Inframérica was looking to pour almost a billion dollars into an airport city at Brasília, it was already (2016) requesting ANAC to recalculate the financial terms of the concession agreement, demanding up to BRL1 billion (USD308 million) in an economic re-equilibrium. Eventually it said it would return the concession contract in early 2020.
(Although eight other privatised airports have since been granted such a rebalancing [in 2020], NAAIA was not one of them).
Inframérica highlighted 21 radical changes in the country's macro-economic conditions, pointing the dichotomy between the feasibility study for the concession and the reality presented during operations, which could affect the sustainability of the concession project, which was to expire in 2039.
Then, in 2019 Inframérica was one of six parties notifying their interest in the reconcession of the Campinas Viracopos airport when the consortium there, Aeroportos Brasil Viracopos, became equally disillusioned with its investment at that airport.
In other words, Inframérica was seeking compensation for a concession while looking to take on another airport at which the concessionaire had similar difficulties and was also seeking compensation!
Official request to return the concession was made in 2020
Early in 2020 Inframérica formalised a request to return NAAIA's concession to the Brazilian government while continuing to manage it until another investor could be secured, and even perhaps thereafter, depending on the nature of the new concessionaire.
The government argued that "lessons would be learned" from five rounds of concessions to date and that this airport's concession was modelled in 2011, before several improvements had been applied to the model used for airports in the country, clearly mindful of how the spat might impact on future auctions.
Shortly after, the government approved the issue of tenders to appoint new operators for Campinas Viracopos and NAAIA airports.
In Jan-2021 Brazil's Minister of Infrastructure assured that the reconcession process for NAAIA would be completed by Dec-2021. Technical feasibility studies were in the final phase and the tender process was due to launch in Feb-2021.
That did not happen, primarily because of the lingering impact of the COVID pandemic, and the reconcession had disappeared off the radar until this month (May-2023).
Minimum bid level is USD46 million, less than half the successful original bid
On 16-May-2023 ANAC followed its earlier announcement by saying that the auction for NAAI's concession would feature a minimum bid level of BRL226.9 million (USD45.92 million).
In the original 2011 auction Inframérica beat out three other consortiums by offering a bid of BRL170 million (then USD106 million). That bid was more than three times higher than the reserve price set by the government of BRL51.7 million.
Those sets of figures are telling.
NAAIA is finally being transacted at a price level which is line with its true value, not an imaginary one based on the economic future for the BRIC countries generally, while overlooking Brazil's widely swinging economic and political fortunes and while overestimating the benefits that would accrue from the preparations then being made for the 2014 Soccer World Cup, which saw a massive investment in airports across Brazil for a competition that lasted three weeks.
Brazil was running on more hype at the time than the collective energy in a Rio Carnival samba dance.
Have investors learned anything?
Of course, the bids could come in again at high multiples of the asking price, but that would indicate that nothing had been learned by investors in the past.
In this instance, revenues over the 30-year concession period are estimated at BRL1.32 billion (USD267.16 million).
The initial expectations, back in 2011, have unfortunately been lost in the mists of time, so a comparison cannot be made.
Nothing outstanding about the airport's performance, but nothing to lose sleep over either
Passenger traffic at NAAIA grew marginally in the run-up to the COVID pandemic as indicated by the chart below, achieving just shy of 2.5 million passengers in 2018.
A robust recovery from the pandemic means that the final 2022 figure, at 2.27 million, was not far short of that benchmark.
Natal Aluízio Alves International Airport (NAAIA): annual traffic, passenger numbers/growth, 2016-2023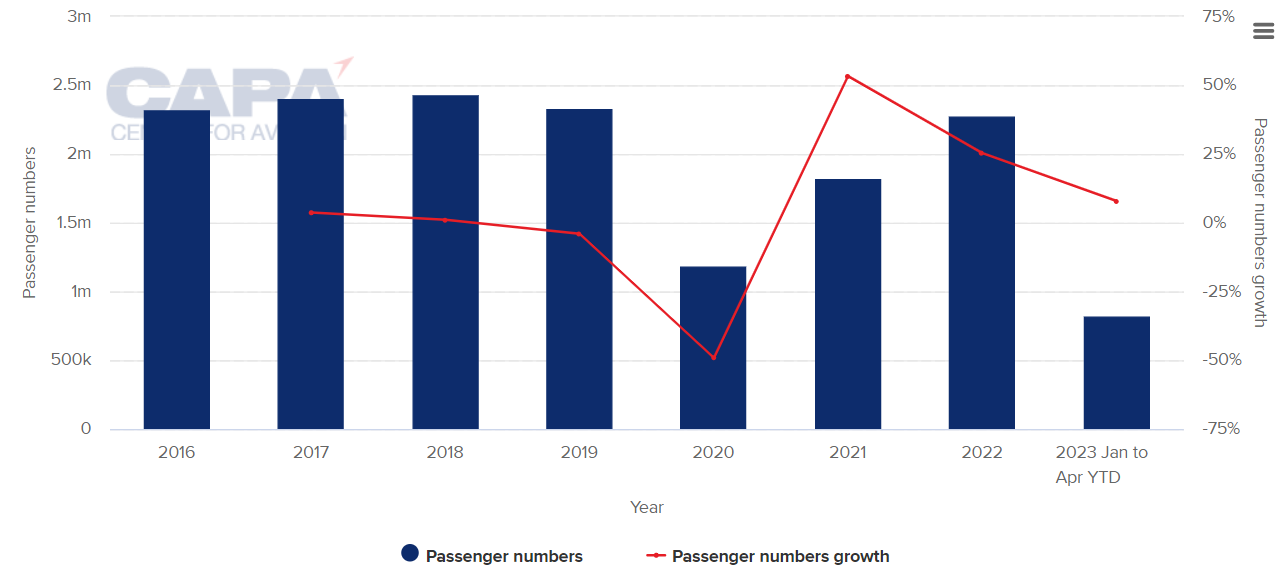 Seat capacity in 2023 is at a very similar level to that of 2019.
NAAIA is first and foremost a domestic airport, with 94% of its capacity in that segment.
Capacity and movements are fairly evenly split between the three main Brazilian airlines: Gol, LATAM and Azul.
However, 38% of capacity is taken by foreign airlines, partly on account of the presence of TAP Air Portugal, which operates a Lisbon service, thus providing a European gateway while the only other international route is to Buenos Aires in Argentina.
Natal Aluízio Alves International Airport: network map for the week commencing 15-May-2023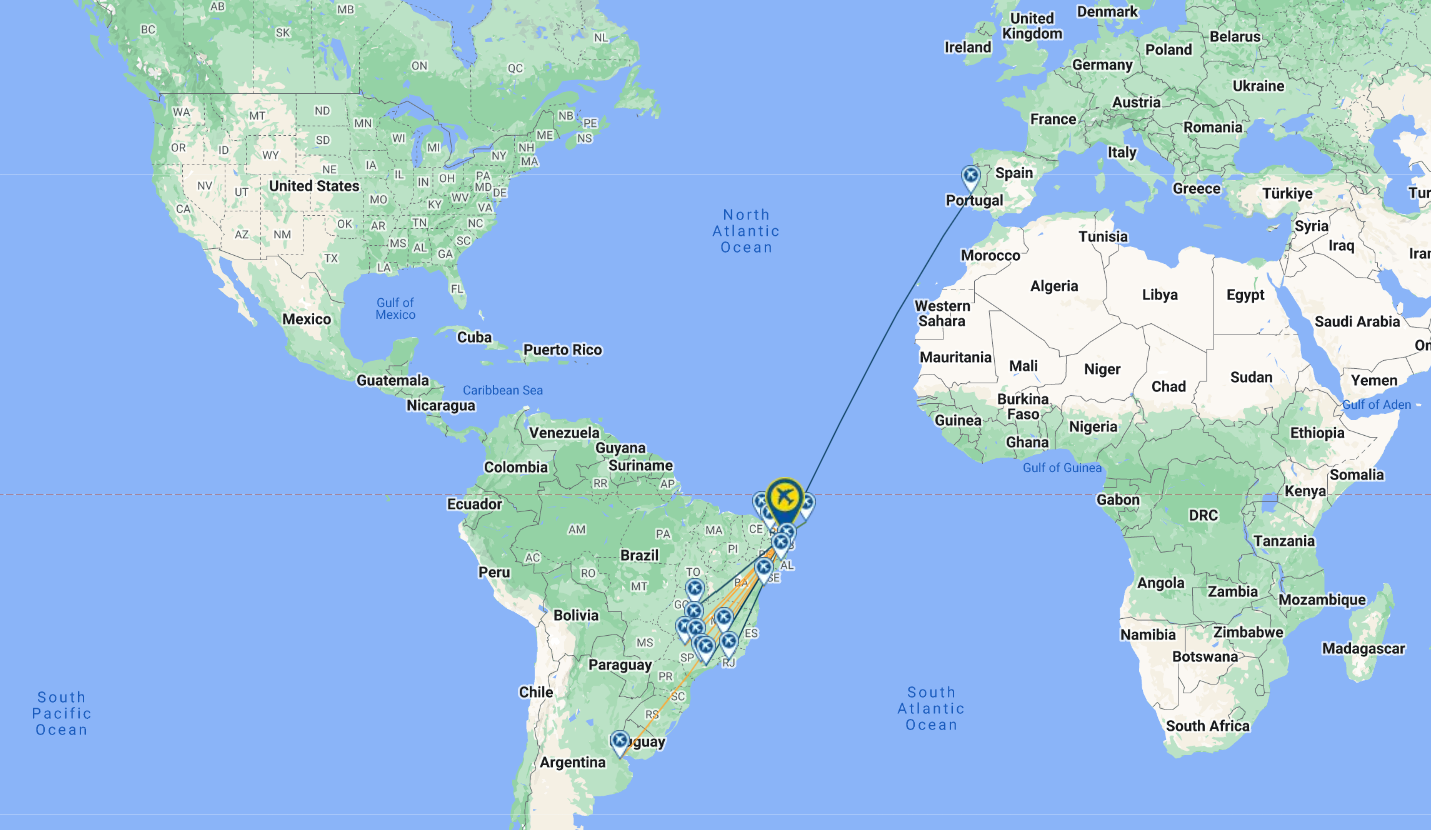 Low cost airlines have some two thirds of the capacity, but there is precious little representation from aligned airlines, at just 7%.
NAAIA is quite well used on a 24/7 basis, but sporadically with occasional hour periods with no activity.
The chart below is for capacity on 18-May-2023.
Natal Aluízio Alves International Airport: system seats per hour for 18-May-2023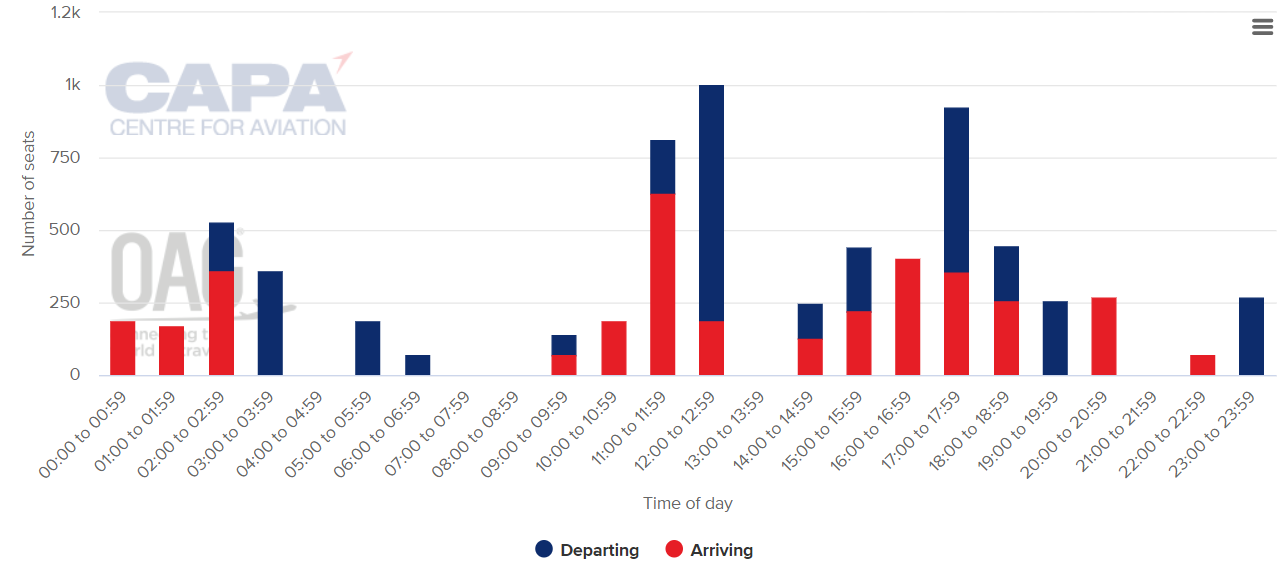 From a route development perspective, the outlook is encouraging, with Gol announcing five new routes from NAAIA beginning in Jun-2022, and LATAM has been increasing frequencies on some routes.
Meanwhile, the government has committed to the airport by way of the BRL40 million (USD7.4 million) construction of a 400 metre bridge in São Gonçalo do Amarante, with the aim of increasing connectivity between NAAIA and the city.
So overall, the outlook for the airport is a positive one.
The answer to the question 'why relinquish the concession now?' lies in Corporación América's finances when the decision was taken
In the past CAPA has speculated as to why Inframérica should wish to pursue the termination of its concession contract when the airport and the country at large have weathered the economic and medical storms, and when alternative airport investment opportunities in Brazil of the size and scope that Inframérica would seek are few and far between.
But the decision was made by Inframérica, and particularly Corporación América, at a time when the latter was making heavy losses. Its operating loss in 2Q2020 when it was deliberating on the termination was USD76.1 million, compared to a profit of USD76.5 million in the previous comparable period (p-c-p); while the net loss was USD75.8 million, compared to a profit of USD55.4 million in the p-c-p.
Corporación América Airports wasn't profitable in the full year to Oct-2020, and its share price fell by more than 50% in that period.
The situation is different now.
As reported in Airport Financials FY2022 – more 'back to black' for most operators but Asia Pacific still lags, revenue rose by 97%, to USD1.3 billion, in the 12 months ended Dec-2022, and operating profit leapt from USD6.5 million to USD306 million.
The friendly termination
But the decision had been taken. Martín Eurnekian, CEO of Corporación America Airports, has previously spoken of the "so-called friendly termination of the concession of Natal Airport" being "the best course of action for all stakeholders, as the operation of this airport has become financially challenging[,] given the current concession framework and the impact on passenger traffic from adverse economic conditions in Brazil".
He added, "In the meantime, we will continue to fulfill all our contractual obligations, serving passengers and partners, as well as executing all the contracts in force with employees and airlines, and we remain committed to assist when a new company takes over the management and operations".
Factors influencing the future success of private operation of the airport: framework, price, and investment commitment
The keys to the success or otherwise of the next contract will be the concession framework, the accepted price, the investment commitment and greater comprehension on the part of the government to the economic realities of running an airport.
All that, and of course the political direction the government takes in a country that is often in the news for all manner of events that would not be expected to be found in a stable democracy.
The previous president survived an assassination attempt (having been ousted in an election by a prior President who was previously jailed – and not for the first time), and only now to find himself accused of all manner of offences, including falsification of pandemic statistics.
All four Brazilian presidents that have served during the period of the airport privatisation programme have been jailed or faced criminal allegations at one time or another.
It begs the question why would anyone want to invest in infrastructure there? But as sure as eggs is eggs, someone will.
Another test will come in the Bahia State where there is no lack of enthusiasm for a PPP for another green field airport.
Brazil's Bahia State Government has invited bids for a partner for the construction and concession of New Costa do Descobrimento International Airport. The airport will feature a 48,000sqm terminal, 3000m x 45m runway and apron with capacity to park 27 aircraft, with investments projected at BRL1.3 billion (USD261.79 million). The winning bid will be announced in Jul-2023, with the concession term to last 30 years.
BREAKING – 19-May-2023 - Flughafen Zürich AG is the successful bidder
On 19-May-2023 Flughafen Zürich AG stated it was awarded the operation of Natal Airport by way of a public tender.
It added that the newly acquired Natal Airport "optimally complements the existing portfolio of Flughafen Zürich AG in Brazil and enables the use of synergies."
After signing the concession agreement, which is scheduled for the end of 2023, Flughafen Zürich AG will hold 100% of the airport and operate it for a concession period of 30 years.
No expansion investments (growth CAPEX) are required during the concession period and only minor re-placement investments (maintenance CAPEX) are pending. In connection with the concession agreement, an upfront payment of BRL320 million will be due. Additionally, Flughafen Zürich AG shall pay a yearly revenue-based fee starting on the fifth anniversary of signing the concession agreement.
After taking over operational responsibility, which is expected for the beginning of 2024, Flughafen Zürich AG estimates an additional EBITDA contribution in the high single-digit million range in Swiss francs (CHF) at group level.
It concludes "With the new and existing concessions, Flughafen Zürich AG will participate in the growth of the Brazilian aviation market and will implement its best practices developed in Switzerland while maintaining local values."
There is an evident shift in expectations here from the early auctions, with no CAPEX expectations of note.