Bangkok Airways outlook brightens as expansion at Samui Airport begins
Analysis
Bangkok Airways is pursuing expansion at Samui Airport in 2015, using some of the additional slots made available after Thai authorities agreed to raise the cap on movements by almost 40%. The expansion should result in the resumption of passenger growth at Samui, which recorded a 2% drop in passenger numbers in 2014.
The expansion should enable Bangkok Airways to increase the Samui portion of passengers in its overall network, which has been declining in recent years as the regional full-service carrier has pursued rapid expansion in the more competitive Bangkok market. The higher reliance on Samui should improve the airline's outlook for 2015 as its Samui routes are higher yielding than average due to the lack of competition.
Bangkok Airways owns and operates Samui airport, which gives it a huge competitive advantage in one of Thailand's largest and fastest growing leisure markets. Bangkok Airways was the most profitable airline in Thailand in 2014 although it was also impacted by the challenging market conditions.
Samui cleared for additional flights
Samui Airport secured permission from Thailand's DCA in late Nov-2014 to increase total movements from 36 return flights per day to 50 flights per day. The increase had been expected for some time as Bangkok Airways first applied to increase the cap in Jun-2013.
CAPA stated in a Jun-2014 analysis report that Bangkok Airways was anticipating it would secure approval within a few months to expand the Samui cap by 14 additional daily return flights for a total of 50 flights. CAPA subsequently highlighted in a Nov-2014 analysis report that the airline remained confident the cap on flights at Samui would be increased by early 2015, enabling flights to be added by the start of the 2015 northern summer schedule.
See related reports:
Bangkok Airways has already loaded into its reservation system a significant increase on flights on the core Samui-Bangkok route route as well as a small increase to Kuala Lumpur and Singapore
From the end of Mar-2015 Samui-Kuala Lumpur will be increased from seven to 11 weekly frequencies and Samui-Singapore will be increased from seven to 10 weekly frequencies. This will give Bangkok Airways a total of five daily international flights at Samui when also including Hong Kong, which was increased from daily to double daily at the end of 2012.
Meanwhile Bangkok Airways plans to expand its domestic operation at Samui from 27 to 32 daily flights as five frequencies are added on Samui-Bangkok. According to OAG data, the core Samui-Bangkok route will be served with 24 daily flights during peak periods of the 2015 northern summer schedule, primarily April and August. Bangkok Airways currently operates an average of 19 daily flights between Samui and Bangkok, which is by far its largest route, with reductions during off peak periods. (Bangkok Airways has always operated fewer flights on Bangkok-Samui during off peak periods and will continue to do so even as the total number of flights is increased.)
Bangkok Airways also currently operates five daily flights from Samui to Phuket and one each to three other domestic destinations – Chiang Mai, Krabi and U-Tapao/Pattaya. Bangkok Airways has not yet loaded increases on any of these routes but could make adjustments over the next few months as it is not yet using all the additional Samui slots.
Bangkok Airways plans to increase flights at Samui gradually in stages. Eventually some of the five Samui routes that have not yet seen increases will likely see more capacity. New routes from Samui are also expected at a later stage, including to China.
Samui sees slight drop in traffic in 2014
Bangkok Airways has been limited in recent years to 31 to 32 flights per day at Samui, with the other four to five slot pairs used by other airlines. Currently Samui is also served by Thai Airways, Singapore Airlines regional subsidiary SilkAir and Malaysia Airlines regional subsidiary Firefly.
The 36-flight cap had been in place for several years but Bangkok Airways was able to continue growing passenger traffic at Samui by up-gauging flights from ATR 72s to A319s. But opportunities for further growth were relatively limited without the increase in total movements because most Samui-Bangkok flights are now operated with A319s and the airport is unable to accommodate A320s. (The Phuket and Krabi flights are still operated with ATR 72s but as these are very short sectors turboprops is a more economical option.)
Samui's total traffic (includes other carriers) decreased by 2% in 2014 to 2.119 million passengers. This included a 1.8% decrease in domestic passengers to 1.746 million and a 2.9% decrease in international passengers to 373,000.
In 2013 passenger traffic at Samui increased by 10.2% to 2.162 million. International passenger numbers jumped by 31.9% in 2013, driven by the introduction of second daily flight to Hong Kong at the end of 2012. Domestic passenger traffic was also up by 6.4% in 2013 as Bangkok Airways up-gauged Bangkok-Samui flights in response to growing demand.
Seat capacity at Samui also increased slightly in 2014 but traffic was down as load factors dropped.
Samui Airport annual domestic and international passenger traffic (in millions): 2012 to 2014
Bangkok.png" alt="" width="500" height="298" />

The decrease in traffic and load factors in 2014 was driven by a decline in inbound visitor numbers to Thailand due to the prolonged period of civil unrest in Bangkok. While there was no unrest in Samui the island was impacted as demand for holidays in Thailand was down significantly because of the political instability. Several of Bangkok Airways' codeshare partners cut flights to Bangkok, impacting traffic on the core Bangkok-Samui route.
Bangkok Airways currently has 16 codeshare partners, including three which were added in 2014 (Aeroflot, Garuda Indonesia and Qantas). All of its partners except Cathay Pacific and SilkAir put their code on flights between Bangkok and Samui. (SilkAir and Cathay instead codeshare on Bangkok Airways' flights to the island from their Singapore and Hong Kong hubs.)
While Bangkok Airways also provides its codeshare and interline partners with access to other destinations in Thailand and neighbouring countries Samui has always been its bread and butter. Most of Bangkok Airways' other markets are highly competitive. On Bangkok-Samui Thai Airways is limited to two daily 737-400 flights.
In 2013 Samui accounted for 52% of Bangkok Airways' passenger revenues but 44% of its total passenger traffic. Samui clearly commands a yield premium.
While Samui's contribution has remained significant the portion of passengers that embark or disembark at its crown jewel has decreased in recent years. In 2011, Samui accounted for about 46% of total Bangkok Airways passengers. In 1H2014 this decreased to only 40%, according to the company's pre-IPO prospectus.
Bangkok Airways has not reported Samui passenger or revenue numbers for the full year. But its total passenger numbers in 2014 were up by 15% to 4.789 million. Assuming a 2% reduction in its Samui passenger numbers (based on the 2% reduction in total Samui passenger numbers), the Samui portion dropped to 38%.
Bangkok Airways annual passenger numbers (in millions): 2011 to 2014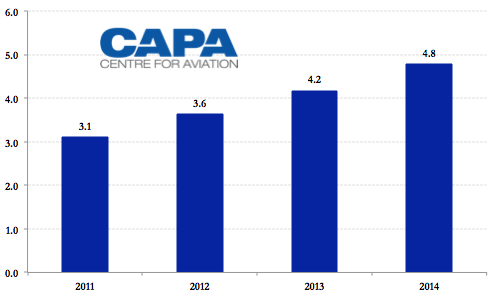 Bangkok Airways focused its expansion in 2014 on Chiang Mai, where in late Oct-2014 it opened its third base. All four of the routes the airline launched in 2014 were from Chiang Mai, including two daily flights to Udon Thani, one daily flight to Phuket, four weekly flights to Yangon and three weekly flights to Mandalay. Bangkok Airways previously only served Chiang Mai from its Bangkok and Samui hubs.
Bangkok expansion resulted in lower yields and load factors
The airline also increased passenger traffic in 2014 at Bangkok, driven primarily by capacity added in late 2013. Bangkok Airways launched services from Bangkok to Udon Thani in late 2013 and at about the same time added capacity on several other Bangkok routes. It also added capacity in 4Q2014 on four domestic routes from Bangkok – Chiang Mai, Chiang Rai, Krabi and Sukhothai.
See related report: Bangkok Airways to expand turboprop operation and Myanmar network with new Chiang Mai base
The expansion in Bangkok impacted the airline's profitability as it came at a time when competition intensified and market conditions deteriorated. Thailand's domestic market has particularly been challenging over the last year due to rapid LCC expansion, resulting in overcapacity and a reduction in yields for all carriers.
Bangkok Airways is now exposed to LCC competition at six of its 10 domestic destinations – Chiang Rai, Chiang Mai, Krabi, Lampang, Phuket and Udon Thani. Samui and three much smaller markets – Sukhothai, Trat and U-Tapao/Pattaya – do not have LCC competition but most of the domestic capacity that Bangkok Airways has added over the last year or two has come in the competitive markets.
Bangkok Airways posted a 61% drop in net profit in 2014 to THB386 million (USD12 million). Profits were also down by 46% in 2013 as the airline's exposure to competitive markets similarly increased.
Bangkok Airways annual net profit (USD millions): 2011 to 2014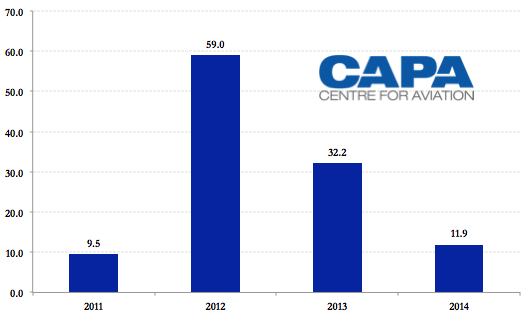 The airline's stock price has dropped about 22% since its debut on The Stock Exchange of Thailand in early Nov-2014. This includes a 12% drop on the first day of trading and a further drop of about 11% drop over the last four months.
See related report: Bangkok Airways stock debut reflects tough market conditions but long-term outlook remains bright
Bangkok Airways revenues were up by 7% in 2014 to THB22.124 billion (USD683 million) including a 7% increase in airline revenues to THB17.844 billion (USD 551 million). But domestic scheduled passenger revenues increased by only 2% to THB10.671 billion (USD329 million) despite a significant increase in domestic capacity as intense competition and challenging market conditions impacted yields and load factors.
International scheduled passenger revenues were up 14% to THB6.822 billion (USD210 million). International routes accounted for 39% of Bangkok Airways scheduled passenger revenues in 2014, up from 36% in 2013.
While demand in Thailand's international market declined due to the political instability the impact on yields and load factor was not as pronounced as in the domestic market. Bangkok Airways only faces LCC competition on four of its 15 international routes, including four of its 10 international routes from Bangkok. (LCC competitors primarily operate from Bangkok Don Mueang while Bangkok Airways operates from Bangkok Suvarnabhumi.)
Bangkok Airways load factor was only 65% in 2014
Bangkok Airways did not provide a domestic/international breakdown for its full year 2014 operating figures. But the intense competition in the domestic market – coupled with the reduction in the Samui portion of its traffic – clearly impacted its overall yield and load factor.
Total ASKs were up 39% while RPKs only increased by 34%, resulting in a 2.6ppts drop in load factor to only 65.3%. Passenger yield also dropped by an alarming 20%.
Bangkok Airways had always had relatively low load factors, including in the 67% to 68% range from 2011 to 2013. Traditionally its domestic load factor has been in the mid 70s while its international load factor has been below 60%, which is sustainable given the high average yields and focus on interline and codeshare connecting passengers. But the carrier's domestic load factor likely dipped below 70% in 2014 while domestic yields also declined significantly.
Bangkok Airways operating highlights: CY2014 vs CY2013
Bangkok Airways however sill performed well in 2014 given the very difficult market conditions in Thailand. Bangkok Airways has remained in the black while other airlines in Thailand have been in the red or seen even larger drops in profits. A USD12 million profit may seem modest but Bangkok Airways was the most profitable Thai carrier in 2014.
Bangkok Airways' outlook for 2015 should brighten further given the recent reduction in fuel prices and improvement in market conditions. The ability to again pursue growth in Samui is also a major positive for Bangkok Airways as it allows it to slow down expansion in Bangkok, where competition remains intense.
Bangkok Airways to expand A319 fleet as Samui operation grows
Bangkok Airways plans to expand its A320 family fleet to over 30 aircraft by the end of 2018. A large portion of this capacity can be allocated to the Samui market as Bangkok Airways gradually uses the 14 additional slot pairs.
The carrier currently operates 11 A319s and eight A320s, including one A319 which was delivered in Feb-2015. Its five-year business plan envisions two more A320 family aircraft by the end of 2015, four deliveries in 2016 and three deliveries in both 2017 and 2018.
Bangkok Airways plans to maintain its turboprop fleet at the nine aircraft level. But the carrier will renew its entire turboprop fleet by replacing ATR 72-500s with ATR 72-600s. It took its first ATR 72-600 in Nov-2014, which supported the new Chiang Mai base and was used to grow its turboprop fleet from eight to nine aircraft, and a second ATR 72-600 in Jan-2015. Three more ATR 72-600 deliveries are slated for 2015 followed by three more in 2016 and the final aircraft from its nine-aircraft commitment in 2017.
The fleet expansion over the next few years will likely focus on the A319 as the A319 is the largest aircraft type that is able to operate at Samui. The A319 is generally not the most popular aircraft type as it has relatively high per seat costs. But Bangkok Airways has the yields at Samui to be profitable with the A319, particularly as A319s have become relatively cheap to acquire.
Bangkok Airways has bright future as expansion opportunities at Samui open up
The increase in the cap at Samui will enable Bangkok Airways to pursue its long-held ambition to use the airport as a hub while further expanding Samui as a major leisure destination. In its IPO prospectus identified Beijing, Guangzhou, Kunming and Shanghai as potential international routes to Samui although services to China are not expected in the near-term.
Bangkok Airways existing and potential routes from Samui
Samui has come a long way since Bangkok Airways opened the airport in 1989 with domestic flights from Bangkok and Phuket. International flights to Singapore began in 1997 and initially operated with ATR 72s. Bangkok Airways acquired 717s in 2000, giving Samui its first jet service. A319s were acquired in 2007 after an airport upgrade project was completed.
Samui remains Bangkok Airways' biggest strength. Bangkok Airways strategically needs to continue pursuing growth from Bangkok, particularly on international routes. But expansion at Samui comes at a much lower risk level compared to other markets.