Avianca works to attain its leverage goals by slashing its capex commitments through 2019
Analysis
Latin American airline group Avianca Holdings is joining its counterparts based in the region by taking steps to de-lever in order to equip itself properly to withstand continuing economic weakness in the region. One of the most important changes Avianca has undertaken in 2016 is re-engineering its order book with Airbus to cut deliveries from 2017 to 2019, which is pivotal in order for Avianca to reach its leverage targets.

Nearly every Latin American airline group during the past year has taken several steps to slow its fleet growth as the region's economy is forecast to contract for a second consecutive year in 2016. Although Avianca's yield declines improved (reduced) sequentially from 4Q2016 to 1Q2016, the second quarter is typically the weakest period for the airline, which could mean that its yield performance will slide before possibly showing some slight improvement in 2H016.

Despite the tough conditions, Avianca has a relatively optimistic outlook as it works to rework its fleet commitments and cut costs. Avianca still plans to expand capacity in 2016, but its growth is falling well below the 8% increase that the company posted in 2015.
Avianca defers aircraft deliveries in order to meet its leverage targets
Avianca has reached an agreement with its aircraft supplier Airbus to reschedule 28 aircraft deliveries scheduled from 2016 to 2019, which should result in a reduction of USD2.4 billion in capital expenditure for that time period. Company officials explained the decrease in capital commitments should allow Avianca to reach its targeted leverage ratio of 5x by YE2019. At the end of 1Q2016 the company's adjusted net debt to EBITDAR was 6.6x. The leverage ratio for rival LATAM Airlines Group during that same time period was 5.9x.

Avianca has previously postponed the delivery of five jets scheduled for 2016. LATAM has also worked to reduce its fleet commitments in various phases during the last year.
In early 2016 LATAM executives explained that one year ago its financial commitments for its fleet totalled USD7.7billion between 2016 and 2018. The company has now reduced that by USD2.9 billion, for a total of USD4.8 billion. In May-2016 LATAM outlined additional plans to reduce its fleet assets by USD2 billion to USD3 billion over the next 18 months – through aircraft sales, redeliveries and renegotiations of future deliveries.

See related reports:
During the past year Avianca has also been working to rid itself of 12 Embraer 190s. It currently has five of the jets grounded, and it aims to phase out the subfleet by YE2016 or 1Q2017. The airline group is attempting to sell or lease the jets.
Avianca's fleet status as of Mar-2016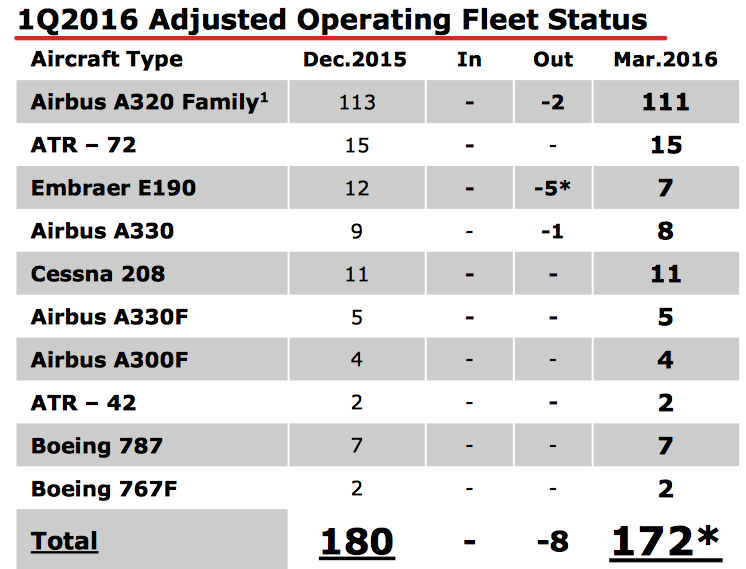 Avianca undertakes a cost reduction scheme to generate USD80 million in savings
As it works to reduce its capex obligations, Avianca has also launched a cost-reduction programme with an annual savings rate of USD80 million by YE2018.

The company is targeting USD33 million in maintenance savings, part of which stems from the near completion of a new maintenance hangar in Medellín. In Apr-2016 Avianca inducted the first aircraft used for facility certification, and believes that it can complete all the certification requirements by the end of Jul-2016. The new hangar allows Avianca to bring in-house some maintenance that it was sending out to third parties, which should lead to a 15% maintenance cost reduction by YE2017.
Avianca focuses on lifting yields in Colombia; sacrifices a couple of market share points
On a sequential basis, Avianca's decline in yields improved in 1Q2016 to a still significant 19% drop year-on-year versus a 22% decrease in 4Q2015.
Avianca's year-on-year yield decrease, 2Q2015 to 1Q2016
| | |
| --- | --- |
| 3Q2015 | 20.3% decrease |
| 4Q2015 | 22.1% decrease |
| 1Q2016 | 19% decrease |
The Avianca CFO, Gerardo Grajales, recently said that whenever fuel prices had decreased, yields dropped at a faster pace than fuel costs. When fuel prices rise, Avianca is not able to recoup its yields as quickly as prices rise.

Avianca is not offering specific yield guidance for 2Q2016 because, Mr Grajales highlighted, that was the company's low season. He said that the airline needs to determine whether markets are going to absorb fare increases during the high season in 3Q2016.

Copa Airlines, which recorded a 15% drop in yields year-on-year in 1Q2016, is bracing for a tough 2Q2016. It has previously assessed that its yields in Brazil and Colombia were dropping in the double-digit range in 2Q2016.

See related report: Copa Airlines margins compressed by continued economic deterioration in Latin America

Colombia is Avianca's largest domestic market, and capacity in its domestic operations (largely consisting of Colombia) grew 4.4% in 1Q2016, which Mr Grajales advised was slower than historical growth trends. In 3Q2015 Avianca's capacity growth in its domestic markets reached 7.8% year-on-year.

Avianca is working to improve Colombian yields denominated in the COP to close the gap in the devaluation of Colombia's currency during the last year, said Mr Grajales. During 4Q2015 the COP fell 40% against the USD. "So the name of the game for us was to improve yields in Colombia peso terms, and we reduced a little bit our market presence in Colombia domestic", Mr Grajales explained. Avianca's market share slipped year-on-year at the end of 1Q2016 – to 59% from 60.3%.

The slight reduction in Avianca's market share has not diminished its considerable power in Colombia's domestic market; it holds a 65% share of the country's domestic seats for the week of 30-May-2016 to 5-Jun-2016.
Colombia domestic capacity by airline (% of seats): 30-May-2016 to 5-Jun-2016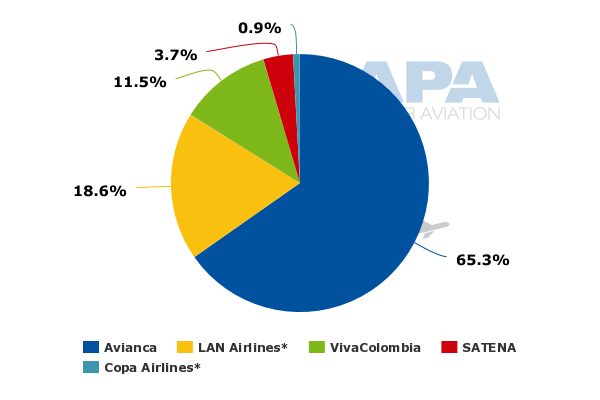 Avianca's 2016 capacity growth is higher than that of its peers, but notably lower than 2015
Avianca's projected capacity growth for 2016 is 3% to 5%, which is higher than forecast growth for LATAM or Copa. LATAM's capacity forecast for 2016 is a decrease of 1% to a rise of 1%, and Copa plans 2% capacity growth for the year, reduced from previous estimates of 3%.

Some of Avianca's growth in 2016 stems from the lapping of introducing flights from its Bogota hub to Los Angeles, and adding frequencies from Cali and Medellín to Madrid. "Due to the market growth that we have experienced since the visa was eliminated for Colombians, we are putting more capacity in terms of number of frequencies to reach to those markets," said Mr Grajales. Visa requirements for Colombians travelling to Europe were lifted in Dec-2015.

Although Avianca's forecast capacity growth for 2016 is higher than that of its peers, if the company's actual increase falls on the lower end of its guidance its annual growth will halve the 8% increase that the airline recorded in 2015. With the aircraft deferrals scheduled for 2017 to 2019 Avianca's capacity growth should slow further, unless conditions warrant lease extensions of current aircraft in its fleet.
Avianca Holdings annual ASK growth: 2010 to Mar-2016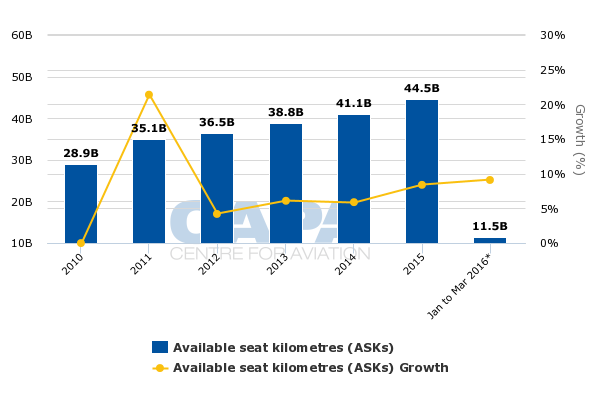 Avianca wisely moves to de-lever as difficult conditions in Latin America linger
It is doubtful that Avianca will renew expiring aircraft leases over the next couple of years, given the outlook for Latin America's economy. The company is wisely joining its peers – working to slash its capital commitments in order to retain balance sheet strength to ensure it can attain access to credit markets. Gol, which is suffering deeply from Brazil's recession, is cut off from credit markets and is attempting to restructure its debt by getting relief from aircraft suppliers and bondholders.

Avianca's planned capacity growth for 2016 seems a bit enlarged compared with that of its peers, but most of the growth stems from additions in presumably stronger long haul markets. Airlines with strong positions in many of Latin America's domestic markets – Avianca included– appear to be bracing for a tough 2Q2016, and hope that yields start a slow climb to stability in the latter half of the year.