Asian aviation outlook relatively positive despite continued weakness in Japanese inbound market
Analysis
Asian carriers continue to be impacted by weakness in the inbound Japanese leisure market as the recovery from the Mar-2011 earthquake and tsunami has been much slower than initially projected. But overall the outlook for Asian carriers is relatively positive as growth in Asia is expected to continue outpacing growth in mature markets, particularly Europe, by a wide margin.
In his welcome address at last week's Association of Asia Pacific Airlines (AAPA) assembly of presidents in Seoul, Asiana CEO Young-Doo Yoon said "the Asia Pacific outlook is bright as relatively strong economic growth will continue to allow our region to outperform others". AAPA director general Andrew Herdman said that "overall we're still bullish on the future".
Through the first nine months of 2011, AAPA members collectively recorded 4% year-over-year traffic growth in terms of both RPKs and total passengers carried. When excluding the impact of the Mar-2011 earthquake and tsunami in Japan, the growth would have been in the high single digits.
See related article: Asian airlines to see only 'modest revenue' growth in 2011; margins pressured
Mr Herdman says the Japanese business market and the outbound Japanese leisure market recovered quickly following the earthquake, but inbound leisure traffic is still down 20% to 30%. "It is recovering slowly and that is a matter of psychology," Mr Herdman said during a press briefing at last week's assembly.
Full recovery in Japan still 'months' away
Initially the expectation was for the Japanese market to fully recover by the end of this year. But tourists continue to avoid Japan due to the lingering nuclear crisis. As a result, Mr Herdman now expects it will be "months" before there is a full recovery in the Japanese inbound market.
On some key routes, however, stronger outbound traffic has already fully offset the weakness in the inbound market. For example, Asiana and Korean Air told CAPA during the assembly that traffic and capacity on Japanese routes is now back to normal although the mix of passengers has changed significantly. Traditionally Koreans have consisted for about half the passengers on Korea-Japan routes but in recent months Japanese have accounted for an overwhelming majority of passengers between the two countries.
Koreans remain reluctant to holiday in Japan but the appreciation of the Japanese yen against the Korean won have led to a big influx in Japanese tourists in Korea. Japan is a large source of revenue for most Asian carriers. Korean carriers particularly rely on Japan - for example, Japanese routes account for 19% of total revenues at Asiana.
Thailand floods should have only short-term impact on Asian carriers
This year has seen an unusual string of natural disasters in the Asia Pacific region, with the earthquake in New Zealand and floods in Australia also having a negative financial impact on several Asian carriers. The recent flooding in Bangkok is the latest crisis challenging the Asian airline industry but AAPA expects a fast recovery in Thailand compared to what has evolved in Japan. "Thailand has a history of strong recoveries," Mr Herdman says, adding the shock of the floods should only be short-term.
Even with the inbound Japanese market likely to remain weak into next year, the outlook for Asia is relatively positive. Most of the uncertainty in the AAPA 2012 outlook is driven by the Asia-Europe market, which could be impacted by the European banking crisis.
But a sluggish Asia-Europe market is not expected to prevent growth in Asia overall or derail profitability. AAPA, however, agrees with IATA projections that show reduced profitability in 2012 for carriers from all regions including relatively healthy Asia.
Asian carriers accounted for about half of the global airline industry's profit last year despite only transporting one quarter of the world's passengers. Mr Herdman says Asian carriers are expected to continue to lead the world in profitability in 2011 and 2012 but warned that all regions "are feeling the same squeeze".
Asian carriers lead the world when it comes to market cap and innovation
Mr Herdman pointed out during his presentation at last week's AAPA assembly that leading Asian carriers have the highest market capitalisations in the global industry. As a result, if ownership regulations are liberalised, global consolidation is more likely to be led by Asian carriers as European or US carriers would lack the cash needed to pursue acquisitions in Asia.
"It is money that talks," Mr Herdman said. "Think about that if we do get further liberalisation of control. Certainly Asian carriers will be even more important in terms of players on the global stage."
He added that "if you want to buy Air China start saving now. It's about a USD30 billion proposition."
Airlines enterprise value by region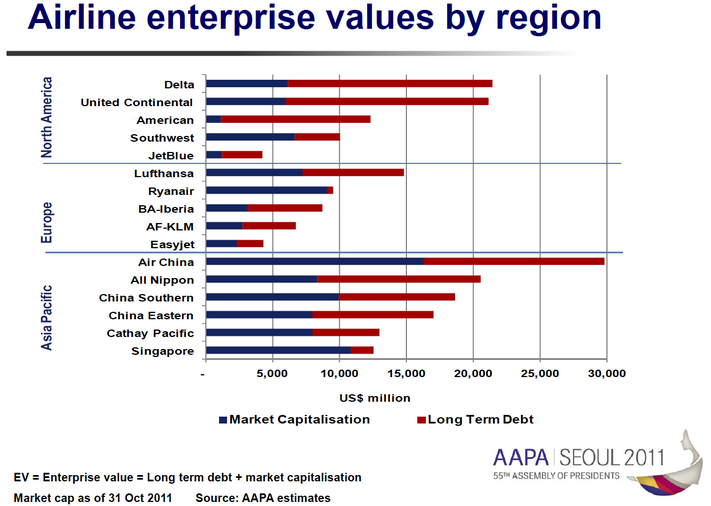 Mr Herdman also believes Asian carriers are well placed compared to their peers in other regions because of their more innovative strategies. He says the recent tie-ups between "pedigree LCCs" and traditional network carriers, which would have been unthinkable just a few years ago, particularly illustrates how Asia is uniquely innovative. "It will be interesting to see how this evolves," Mr Herdman says, but also warning that "not all these initiatives will survive".
In addition to the LCC-FSC tie-ups such as AirAsia-ANA, AirAsia-MAS and Jetstar-JAL, Mr Herdman sees the launch of several new budget brands at Asian full-service carriers as another example of Asian innovation. He says Qantas was the first to prove the multi-brand strategy can work in Asia "and the challenge is for everyone else to try to emulate that".
He believes the new LCC subsidiaries will allow Asian flag carriers to participate in the rapid growth expected in the region's budget sector. AAPA sees growth opportunities in the Asian LCC sector because it still hasn't reached the maturity of the LCC sectors in Europe and North America.
LCC sector in Asia remains relatively small
But Mr Herdman also sees rapid growth in the premium sector and points out that while they are investing in new LCC subsidiaries, Asian flag carriers also continue to invest heavily in their premium products. He pointed out that in Asia LCCs account for less than 5% of total revenues, proving that the "network model is alive and well".
Mr Herdman also pointed out LCCs only now account for about 16% of RPKs globally and that their share of global traffic is expected to increase to only 19% by 2030. The share of RPKs held by global network carriers is only expected to drop 3ppt from 59% to 56% over the next two decades.
Global growth by business model, 2010 vs 2030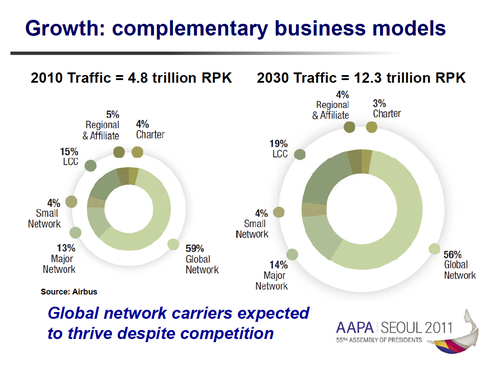 The total size of the passenger market will more than double in size over this timeframe to 12.3 trillion annual RPKs in 2030, providing ample growth opportunities for carriers of all business models including network carriers. The growth opportunities for Asian network carriers will be even bigger as Asia is expected to continue growing faster than other regions. As a result, "the centre of the globe is shifting east," according to Mr Herdman.
Traffic by airline domicile, 2010 vs 2030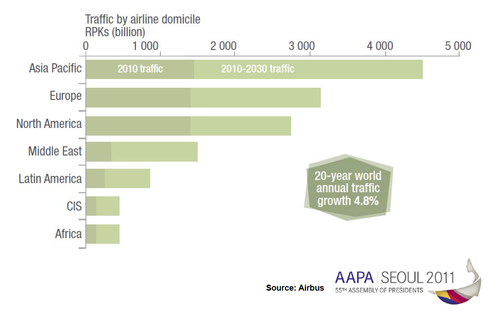 AAPA, which for now only counts full-service carriers as members although it is open to also representing LCCs, is not concerned the association's average load factor has dropped every month this year while LCCs in the region have generally recorded load factor improvements. Mr Herdman says the gap between LCC and FSC load factors has widened this year because LCCs are more aggressive at cutting fares and are more inclined to keep their aircraft filled.
AAPA sees recent slip in cargo traffic as 'artificial'
AAPA is also not overly concerned about the 4% drop through the first nine months of this year in AAPA member cargo traffic. Mr Herdman calls the minus 4% figure "artificial" because "last year was an odd ball recovery" driven by the need to re-stock inventories following the global economic downturn. Cargo traffic is now simply now back to pre-economic downturn levels.
"Cargo has ceased being normal," Mr Herdman says. "These are not normal times. We are still in the aftermath of the worst economic downturn."
The outlook for the cargo market remains uncertain but AAPA is fairly confident the bottom has been reached and eventually cargo traffic "will come back". Mr Herdman also does not believe that cargo this time will prove to be a leading indicator to passenger traffic, which should mean passenger traffic will continue to increase albeit at modest rates.
Cargo is of huge importance to AAPA members. While Asian carriers account for 25% of the world's passenger traffic, they account for 42% of the world's cargo traffic.
Overall, the outlook is unusually uncertain. Asian carriers have still not finalised capacity plans for 2012 as it is unclear what market conditions will look like next year, particularly on long-haul routes. Overall the Asian airline industry is expected to remain profitable but the margins in 2011 and 2012 will be thinner than 2010. As Mr Herdman pointed out, "it's still a very tough business".