American's revenue momentum continues as US Airways intensifies merger push
Analysis
Top management at US Airways continues to push its argument that a combination with American Airlines would address the severe network challenges American has created for itself during the last few years as it sat out a major wave of industry consolidation in the US. There is credibility in the theory that an American-US Airways tie-up would create a carrier of significant scale to rival the giants that United and Delta have become.
But at the same time US Airways is emphasising American's network weakness, the Dallas-based carrier is recording revenue gains that are industry-leading, which indicates US Airways maybe the the larger benefactor if the merger becomes a reality. On the same day that US Airways CEO Doug Parker lambasted American's "cornerstone" strategy that centres American's network around five hubs in Dallas, Chicago, Miami, New York and Los Angeles, American recorded a 2Q2012 rise in consolidated unit revenues of 9.1% and year-over-year growth in domestic unit revenues of 8.6%. The company's 5.5% rise in revenue for 2Q2012 to USD6.5 billion was the highest in its history, according to the carrier.
American Airlines unit revenue performance: 2Q2012 vs 2Q2011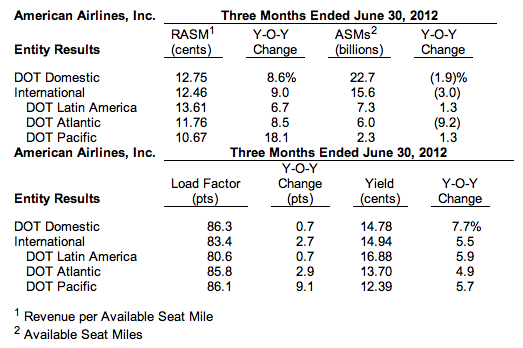 American's 1Q2012 unit revenue performance of 10% was also the second best among US network carriers. Delta topped the list in 1Q2012 with 14% growth while US Airways and United had consolidated unit revenue growth of 7% and 5%, respectively.
American explained the drivers behind its strong revenue growth during 2Q2012 were a 7.1% increase in passenger yields, load factors reaching nearly 85% and unit revenue increases across all five its hubs. While American was releasing its 2Q2012 results on 18-Jul-2012, US Airways CEO Doug Parker was making a highly promoted speech in Washington, DC, arguing that American's cornerstone strategy only helped exacerbate American's fall during the last five years from being one of the top domestic airlines in the US eastern, central and western regions to no better than fourth place.
Mr Parker argued American's cornerstone strategy does not address the network deficiencies it faces in the environment created after the mergers of Delta and Northwest and United and Continental. Mr Parker concluded those types of network gaps were acceptable five years ago, "when every airline had some gaps, but with the breath and scale of the new United and Delta, that is not longer the case".
American Airlines position in the US domestic market: 2006 vs 2011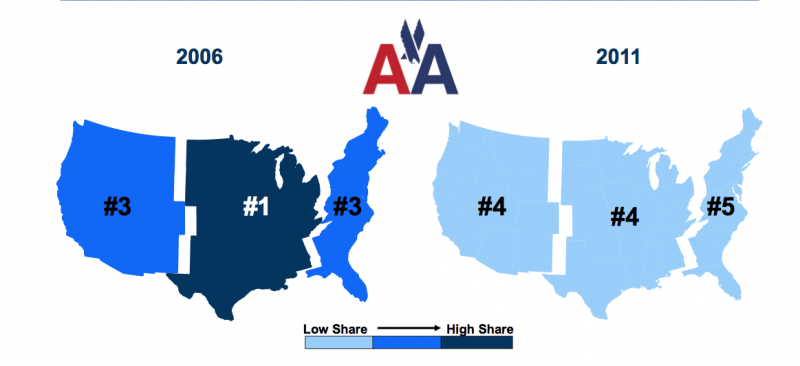 By combining with US Airways, the new American would have a prominent position on the lucrative US east coast, explained Mr Parker, a region where American currently has a glaring network gap, resulting in the carrier missing out on both lucrative corporate accounts and the large volumes of passengers travelling on the US eastern seaboard.
He provided the example of an American customer in Buffalo, New York having to connect through Chicago to reach an east coast destination, which is something customers are largely unwilling to do. Through a combination with US Airways that passenger has convenient connections in Philadelphia, Charlotte or Washington, DC, Mr Parker concluded. He believes American is steadily losing corporate share "and it will never be able to gain it back without a comparable network". Through their combination Mr Parker concludes a merged US Airways-American would attain a number one position in the US eastern and central regions.
Estimated domestic position of a combined American and US Airways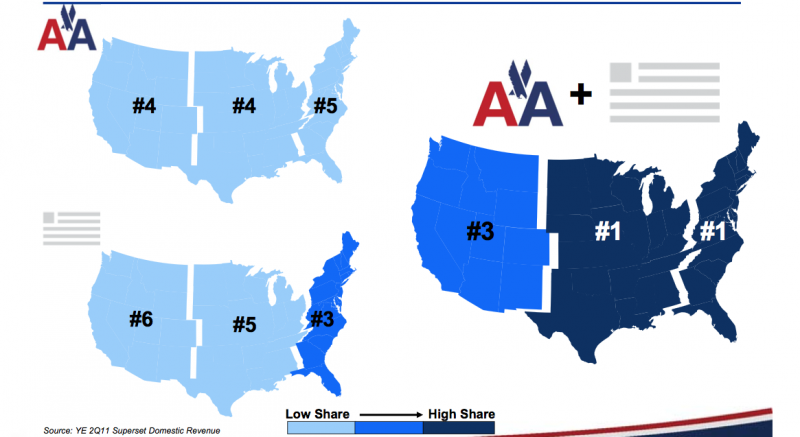 American's cornerstone strategy is a tactic used by all US network carriers
Despite US Airways' determination that American's strategy to redouble the bulk of its flying into and out of its five hubs has failed to create a viable long-term strategy to compete with the likes of Delta and United, the reality is all US network carriers have adopted the same tactic – centring their flying where they can command a leading position.
It is not a strategy that has been lost on US Airways as the carrier during the last few years has pulled down its operations significantly in places like Pittsburgh and Las Vegas to focus on bolstering a leading position at its three major hubs in Charlotte, Philadelphia and Phoenix. The airline is also now the dominant carrier at Washington National Airport after closing on a deal with Delta to gain slots at the airport while ceding slots to Delta that supported unprofitable flying at New York's LaGuardia Airport. In a less publicised manner Delta has done its own network pruning to bolster its strongest hubs, which has led to a significant pull-down of its Memphis hub.
US Airways transfer of the bulk of its flying to three hubs: 2006 to 2012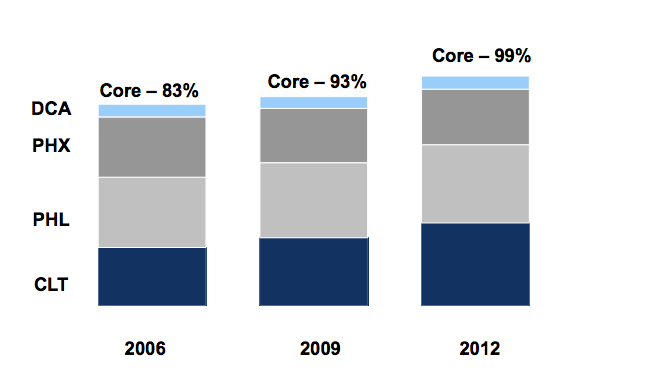 In late 2011 US Airways CFO Derek Kerr remarked that if a carrier is not first or a strong second in a given market, than the airline will lose money in those regions. While the long-term performance of American's cornerstone strategy is debatable, with the exception of New York JFK American is currently number one or two in all of those markets in terms of seat share, adhering to the philosophy espoused by US Airways.
American Airlines capacity share (% of seats) in its cornerstone markets: 23-Jul-2012 to 29-Jul-2012
Although Mr Parker stressed that the US Airways and American networks have little overlap which would eliminate the need to scale back current service levels offered by either airline, the merger would do little to bolster the combined carrier's position in the lucrative New York market. Mr Kerr cited a high level of market fragmentation in New York, making it difficult for US Airways to build the proper scale to compete in that metropolitan area. As a result, US Airways crafted the slot swap with Delta which resulted in that carrier rising to a leading position at both JFK and LaGuardia airports. The deal allows Delta to bolster its competitive position in the New York metropolitan market against United, which is the leading carrier at New York's Newark Liberty Airport.
Now that US Airways has essentially abandoned the New York market, a merger with American would do little to create a powerful third competitor in the east coast's busiest market. Based on estimates from Delta Air Lines, United and Delta combined during Sep-2012 will have roughly 70,000 domestic seat departures from the New York area, compared with about 20,000 for American. The combination of US Airways and American would not materially increase the combined carrier's share.
Estimated daily seat departures in the New York metro area: Sep-2012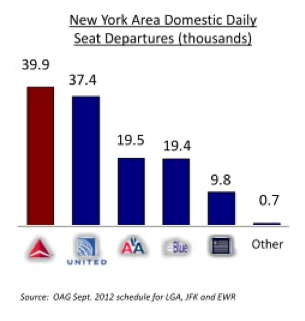 US Airways stands to gain the most from a merger
Even as Mr Parker highlights American's network deficiencies, the reality is US Airways stands to benefit the most from a merger with American, which would give US Airways instant access to key regions such as Asia and Latin America that are currently weak spots in the stand-alone US Airways network. Only about 20% of US Airways' operations are dedicated to international flights, compared with roughly 38% at American.
Due to their relative larger size, international operations account for a larger portion of flying at Delta and United. During 2011 international flights accounted for 48% of Delta's total flying and 49% at United. The majority of US Airways' long-haul international flights are concentrated in Europe, with the exception of service from its Philadelphia hub to Tel Aviv.
As it works through the Chapter 11 process, American has continued to strategically build its Latin American network, particularly Brazil. In Jun-2012 American launched direct flights from Miami to Manaus, and increased frequencies from Miami to Belo Horizonte and Brasilia. In Oct-2012 American plans to launch a second daily JFK-Rio de Janeiro flight and a second daily offering from Miami to Rio and convert its daily Miami-Recife-Salvador route to five weekly non-stop flights to each destination.
See article: American Airlines and TAM continue to expand US-Brazil as other markets show signs of weakness
American is the dominant carrier from the US to upper Latin America, offering roughly 42,200 weekly seats from the US to upper Latin America, which translates into about a 33% capacity share. The second largest carrier in the market, Brazil's TAM Airlines, has 12% share, which is about 21 ppts lower than the capacity share from American. In contrast US Airways only serves a single destination in Latin America, with flights to Rio de Janeiro from its Charlotte hub.
US to Upper South America capacity by carrier (seats per week, one way): 19-Sep-2011 to 13-Jan-2013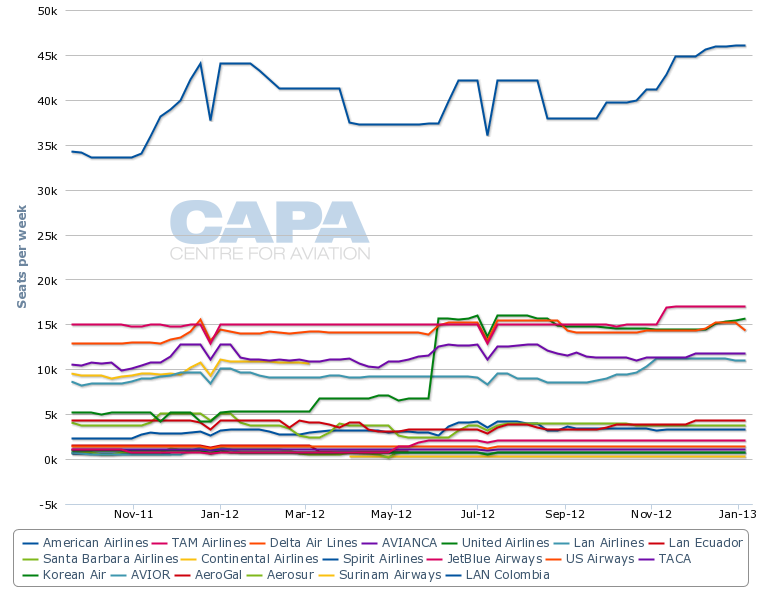 US Airways would also benefit from American's strong position at its largest Latin American gateway Miami. Data from the US Department of Transportation (DoT) show that from Jan-2012 to Apr-2012 Miami had the largest number of international enplanements, recording 9% growth year-over-year. Combined, American and US Airways would have a leading position in three of the top 10 US airports in terms of international enplanements versus two for Delta. United would be the leader with a top presence at five of those airports.
Top 10 US airports ranked by international scheduled enplanements: Jan-Apr 2012 vs Jan-Apr 2011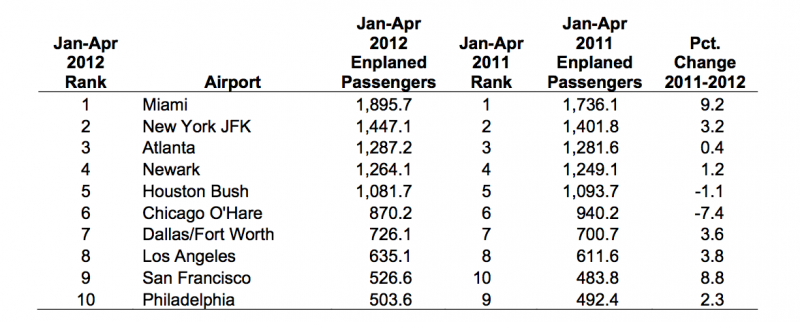 United and Delta have a larger presence in the US-Asia market, but American during 2Q2012 posted strong unit revenue growth in its pacific markets of 18% year-over-year on yield growth of nearly 6%. After opting to relinquish rights to serve Beijing from Philadelphia in 2009, US Airways does not have a presence in Asia. A merger with American would automatically give it access to Tokyo, Beijing and Shanghai, and access to the Asian networks of American's partners, fellow oneworld carriers Cathay Pacific and Japan Airlines as well as Hainan Airlines and Taiwan's EVA Air (which is now in the process joining the Star Alliance).
Unsurprisingly, Mr Parker said that merged carrier would remain in oneworld. US Airways is a member of Star but does not benefit from being a member of the trans-Atlantic joint venture among Star members Air Canada, Lufthansa and United.
Domestically, a combination of American and US Airways would have a leading position at three of the top 10 airports (Dallas, Phoenix and Charlotte) based on passenger enplanements from Jan-2012 to Apr-2012. Delta would have leading position at its Atlanta hub while United is the top carrier at four of the airports – Chicago, Denver, Los Angeles, and San Francisco.
Top 10 US airports ranked by domestic scheduled enplanements: Jan-Apr 2012 vs Jan-Apr 2011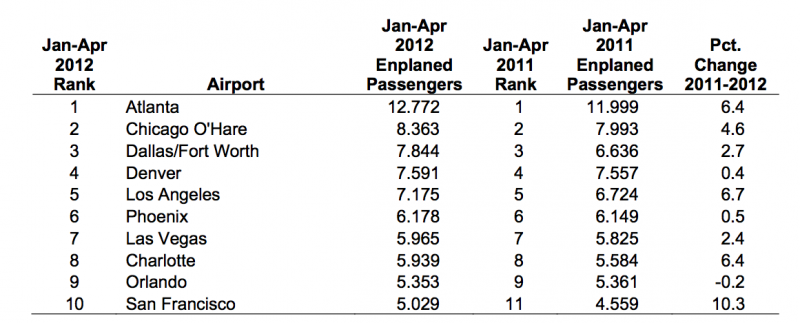 US Airways would also benefit from access to American's hubs, which generate higher revenue. Phoenix-based US Airways has long said it has a revenue generating disadvantage at its Philadelphia, Phoenix and Charlotte hubs compared with the hubs of its major network competitors. In 2010 US Airways had a 10% revenue market share compared with 28% at United, 26% at Delta and 18% at American. Based on those figures, a combined American and US Airways would have a 28% share, equal to United.
US airlines 2010 market share by revenue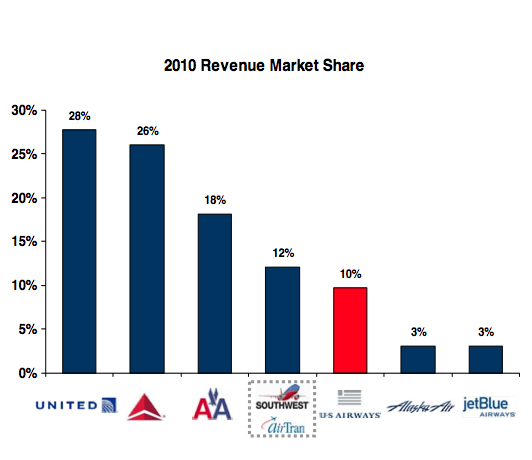 While the case for combining American and US Airways is justified from the standpoint of building a carrier with the scale necessary to compete with United and Delta, US Airways' arguments that American's strategy of centring flying at its hubs has created a weak network is somewhat disproved by industry-leading revenue performance recorded by American during the 1H2012. American's 1Q2012 unit revenue performance of 10% was the second best among US network carriers. Delta topped the list with 14% growth while US Airways and United had consolidated unit revenue growth of 7% and 5%, respectively. Clearly US Airways stands the most to gain from a merger with American, gaining access to key international markets and adding hubs to produce higher levels of profitability.
Background information
American Airlines unit revenue performance: 1H2012 vs 1H2011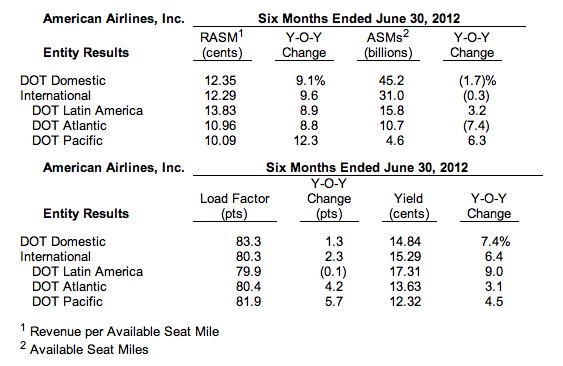 American Airlines financial highlights: 2Q2012