Allegiant Air sees plenty of opportunities to source used Airbus narrowbodies - on its own terms
Analysis
Alleigant Air during the last three years has capitalised on opportunities to acquire used Airbus narrowbodies at favourable costs; in some cases striking unique deals to bolster the number of the jets in its fleet.

A solid balance sheet allows Allegiant to quickly seize on aircraft acquisitions that it deems favourable, including an agreement forged in 2015 to purchase three A320s from defunct Hamburg Airways. Allegiant expects those types of deals to surface periodically in the future. Those predictions should materialise given that next generation Airbus narrowbody deliveries start in 2015, which should in some cases result in favourable rates for existing models.

The pattern of used Airbus aircraft deals Allegiant has brokered during the last couple of years shows the airline aims to be opportunistic in the market while also willing to walk away from agreements that do not meet its financial criteria.
Allegiant walked away from one of its initial deals to source used Airbus narrowbodies
Allegiant entered the market for used Airbus narrowbodies in 2012 after the MD-80 became the foundation of the airline's fleet in the early 2000s. The company began adding six Boeing 757s in 2011 for service to Hawaii, but that fleet type is not a planned permanent fixture in the airline's fleet. In late 2014 Allegiant took a USD43 million write down of the 757 fleet, and is opting to retire the jets prior to their next heavy maintenance check.

The first Airbus narrowbody transaction Allegiant forged was for 19 A319s in 2012 sourced from Cebu Pacific and easyJet via GECAS. But the initial agreement to acquire the Cebu Pacific A319s had to be cancelled after the Philippine LCC was unable to get out of an engine maintenance commitment.

See related report: Allegiant's addition of A319s offers both network expansion opportunities and fleet flexibility
Allegiant follows up with creative Airbus deals including garnering leasing revenue
Allegiant then opted to purchase nine A320s previously operated by Iberia, and in 2013 concluded an agreement to purchase another single A319 previously operated by easyJet. During 2014 the airline entered into three separate transactions for 14 A320 family aircraft. It opted to purchase 12 A319s from a European airline, and estimated that until the aircraft entered its fleet it would recognise roughly USD30 million in lease revenue from Jun-2015 through 2018 when the aircraft leases expire.

Also in 2014 Allegiant purchased two leased A319s in its operating fleet, and stated it would purchase the remaining six aircraft executed under a 2012 leasing agreement at the time of their delivery in 2014 and 2015.

The deal Allegiant brokered in 2014 for the 12 Airbus aircraft generating leasing revenue was a bit unorthodox. As part of the arrangement, Allegiant assumed USD142 million of secured debt and estimated that the 12 aircraft would generate USD6.5 million in depreciation expense in 2014 due to the fact that the aircraft were not generating ASMs. However, the airline stressed that the return on capital of 12 jets was slightly lower than the company's corporate return during the previous 12 months. For the 12 months ending 2Q2014, Allegiant achieved a 17.5% return on capital employed.

See related report: Allegiant cites strong opportunities in the US market as new Mexico service falls in importance
Allegiant marks its 50th Airbus transaction, plans to hold a fleet of 49 of the type by YE2018
In 2015, Allegiant forged a new deal with Cebu Pacific to acquire six A319s, with deliveries scheduled from 2H2015 to 2017. It has also concluded a transaction to purchase two A320s flown by Philippine Airlines and three A320s previously operated by Hamburg Airways. Additionally, Allegiant in 2015 tabled the forward purchase of four A320s, scheduled to enter the airline's fleet in 2017.

During Aug-2015, Allegiant heralded an agreement to purchase its 50th Airbus aircraft from Airbus financial services. At the time Allegiant stated its fleet at YE2015 would reach 82 aircraft including 15 A320s and 10 A319s. The remaining 25 Airbus jets are scheduled for delivery through 2018.

It is a dizzying array of transactions given Allegiant took delivery of its first Airbus narrowbody in 2013. Now the airline expects that by YE2016 it will be a majority Airbus airline measured by available seat miles.
Allegiant believes sellers of used Airbus narrowbodies will become more active
Allegiant's pursuit of used Airbus narrowbodies is essentially an extension of the strategy to operate older MD-80s. Although older aircraft are less fuel efficient, the lower ownership costs, coupled with Allegiant's model of low frequency service from small US cities to large leisure destinations make the aircraft highly viable for Allegiant. The CAPA Fleet Database shows that the average age of Allegiant's Airbus jets is 13.3 years.
Allegiant Air average fleet age as of 07-Oct-2015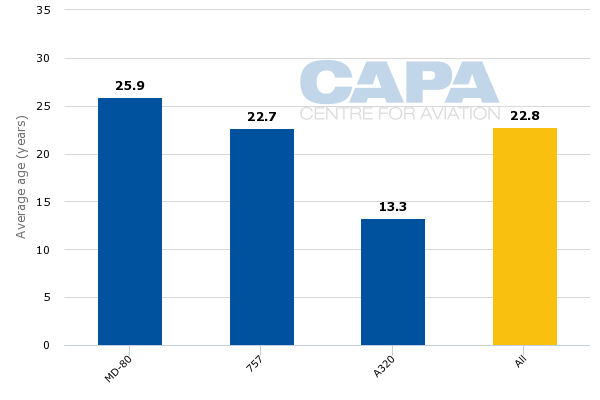 Although Airbus narrowbodies are featuring more prominently in Allegiant' fleet, it will be some time before its MD-80s are fully phased out. CAPA's Fleet Database shows that as of 07-Oct-2015, nearly 68% of Allegiant's seats are still allotted to the MD-80.
Allegiant Air seat allotment by seat type: 07-Oct-2015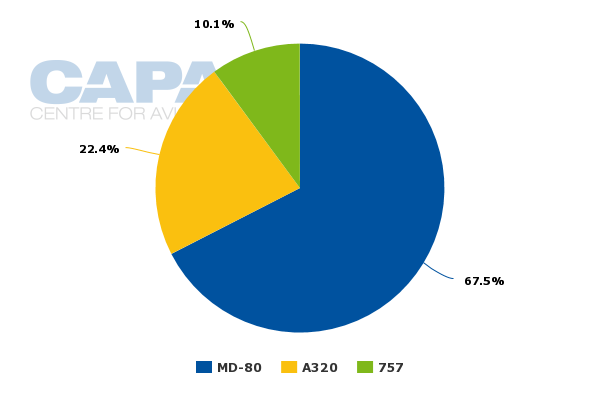 Allegiant's projections show that it will still operate 50 MD-80s by YE2018. During 2015 the company's CEO Maurice Gallagher concluded that "as a general rule of thumb older airplanes get more valuable. The economies of an MD-80 while they worked very nicely for us just get that much better".
Allegiant Air fleet projections: 2015 to 2018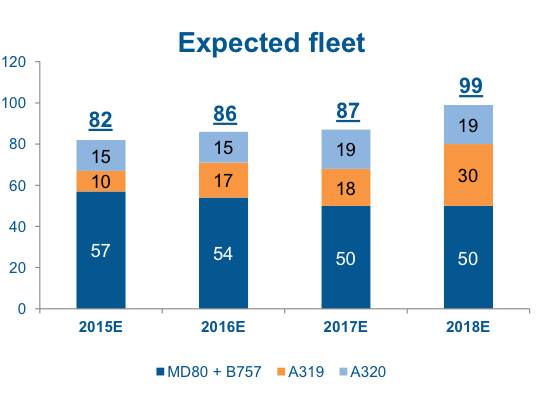 Company SVP Jude Bricker has also explained that Allegiant cannot take delivery of more than one Airbus narrowbody per month on a sustained basis due to challenges of inducting used equipment.

With fuel prices making the MD-80s even more attractive, Allegiant will likely continue its strategy of selectively pursuing Airbus deals with favourable terms. However, Mr Bricker has concluded there are plenty of aircraft available, "particularly the A319, there is a lot of softness there. So I don't think availability or price of aircraft will be a constraint for our growth". He highlighted Allegiant purchased the three aircraft last operate by Hamburg Airways on repossession. "It's the kind of deals we like to do. I would expect those to pop up periodically often in the future."

Larger airlines are also taking advantage of the softness of the A319 market. United Airlines in 2015 struck a deal with AerCap to lease up to 25 A319s previously operated by China Southern Airlines. Mr Bricker stated that Allegiant has had more interest from sellers in 2015 than 2014, concluding that "I think the market is coming our way."

See related report: US airline fleet strategy and finance Part 1: The Big 3 take differing approaches to fleet revamps
Allegiant uses its Airbus fleet to captialise on off peak and utilisation flying
One of the factors cited by Allegiant back in 2012 when it entered into its first Airbus transaction was the operating capability of the A319 (range and hot and high takeoff performance), which would allow it to access markets not operationally viable for the MD-80, particularly Mexico. Plans to launch service to Mexico have continually been pushed back, with no real target date for transborder service to begin.

Mr Bricker has concluded that even with lower fuel prices it does make sense for Allegiant to substitute the MD-80 with used Airbus narrowbodies "at the prices we're transacting at today".

Allegiant has opted to use the Airbus jets on longer routes such as Bismarck to Orlando Sanford (2647km), and on off peak day flying including Columbus to St Petersburg on Wednesdays and Saturdays in Sep-2015. The narrowbodies are also used for off-peak seasonal flying, including Syracuse to St Petersburg in Sep-2015.

The Airbus jets have helped Allegiant increase utilisation flying. For the 12M ending 2Q2015 the average utilisation of Allegiant's Airbus fleet was 9.6h.
Allegiant Air aircraft utilisation by aircraft type: 12M ending 2Q2015

Increased utlilisation flying does create some unit revenue pressure, but Allegiant has previously concluded that as fuel prices come down, the utilisation flights during off-peak times are a big catalyst for the company's growth. The expanded aircraft utlisation also drives down unit costs, which for Allegiant are projected to fall 8% to 10% excluding fuel in 3Q2015.
Allegiant aims to continue striking used Airbus deals on its own terms
With the rapid addition of 25 Airbus narrowbodies during the last three years from a small base of less than 60 MD-80s, Allegiant's profitability has remained steady and its leverage – measured by adjusted debt to adjusted EBITAR – was 1.7x for the 12M ending 2Q2015. During 2015 it plans to repurchase a total of USD408.9 million of shares and is issuing total dividends of USD147.6 million.

As prices of used current generation narrowbodies fall with the delivery of the first Airbus A320neo in 2015, the buyers market that Allegiant is enjoying will likely grow stronger. Allegiant seems poised to further exploit the favourable pricing environment, albeit on its own terms.