Allegiant's addition of A319s offers both network expansion opportunities and fleet flexibility
Analysis
Underpinning the economics behind Allegiant Air's decision to introduce 156-seat Airbus A319 narrowbodies into its fleet during 4Q2012 are the network expansion opportunities the aircraft provide and a new level of fleet flexibility to ground nearly depreciated aircraft if market conditions take a change for the worse. At the same time the carrier's third fleet type comes online, Allegiant is adding new Boeing 757 service to Hawaii, giving the small US domestic markets of Boise, Idaho and Spokane, Washington direct access Honolulu.
The Boeing MD-80 was the foundation of Allegiant's fleet from the early 2000s until the carrier began operating 757s in 2011 as it worked to gain requisite approvals to operate those aircraft on their original mission to Hawaii. Allegiant inaugurated flights from its Las Vegas base and Fresno, California to Honolulu in late Jun-2012, and during 4Q2012 and 1Q2013 the carrier plans to add more service to Hawaii, expanding its strategy of connecting small cities to large leisure destinations beyond the US mainland.
See related article: Allegiant's latest round of Hawaii flights reflect its network strategy
With the addition of a total of 19 A319 aircraft delivered through 2Q2015 (sourced from Cebu Pacific and easyJet via GECAS) Allegiant also believes it can further broaden its business model to true international markets and serve cities in the US not feasible for its MD-80 aircraft. During a discussion to explain Allegiant's decision to select used Airbus narrowbodies as the centre of its fleet in the future, company president Andrew Levy noted the short-field, hot and high operating capability of the A319 was far more meaningful than the range advantage of the newer aircraft compared with the MD80. Allegiant cites an Airbus-published range of 3600nm for the A319 and 1400nm for its fleet of 58 MD-80 jets.
Bolstered access to the US and Mexico
Mr Levy offered more insight into the route opportunities created by the A319 to analysts as Allegiant reported a 111% jump in 2Q profits to USD25 million. Outlining the "whole new leg of growth" afforded with the A319, he stated Allegiant estimates the aircraft would provide the carrier access to 20 or more new airports in the US where Allegiant would not be able to operate with the MD80, while the A319 would provide Allegiant scope to operate to 10 additional markets in Mexico.
Using an average of Allegiant operating roughly three routes from each small US city it serves, Mr Levy calculated that the A319 could potentially open up more than 50 routes for Allegiant in the continental US. As of 31-Dec-2012 Allegiant will operate 183 routes with 62 aircraft, including 66 small US cities and 13 leisure destinations. He also believes the A319 would operate efficiently at some of the airports Allegiant serves in the western US.
Allegiant route map: Jul-2012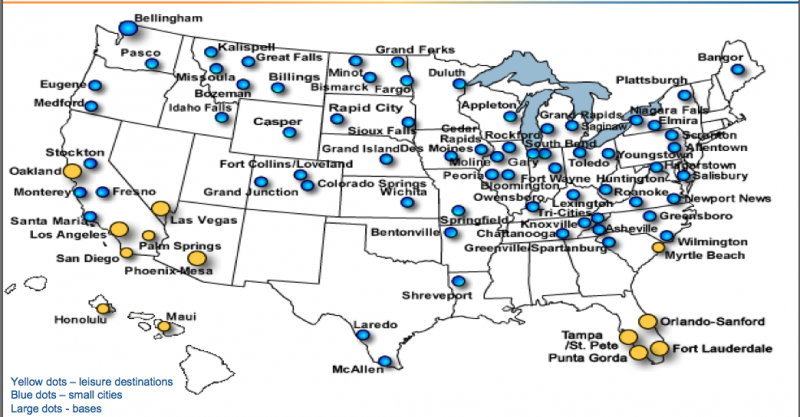 While Mr Levy noted there are certain number of routes within Canada and Mexico that the A319 would allow Allegiant to serve, it would seem likely that Mexico is at the forefront of the carrier's network planning given the high airport costs in Canada. Allegiant has also deftly exploited opportunities in drawing cost-conscious Canadian travellers to US border airports including Bellingham, Washington (82km from Vancouver) and Plattsburgh, NY (99km from Montreal).
Mexico has been in Allegiant's sights for several years. As far back as 2008 the carrier identified Cabo San Lucas, Puerto Vallarta and Cancun as potential destinations that would fit into its model. The A319 would allow the carrier to operate into those leisure markets from a number of its US small city destinations while enabling Allegiant to stick to its strategy of avoiding large-scale direct competition with larger US carriers.
In the past Allegiant has also alluded to opportunities to operate into upper South America, bringing in-bound international customers to its Las Vegas base, which would be feasible with the A319. Other airlines are also seeing opportunities in the Latin America-Las Vegas market. In Jun-2012 Panama's Copa Airlines became the first non-Mexican carrier to serve Las Vegas when it inaugurated flights to the gambling and entertainment mecca from its Panama City hub.
See related article: Panama's Copa pursues more rapid expansion with Las Vegas, Curacao, Liberia and potentially Recife
Allegiant's highlighted prospective Mexican markets: 2008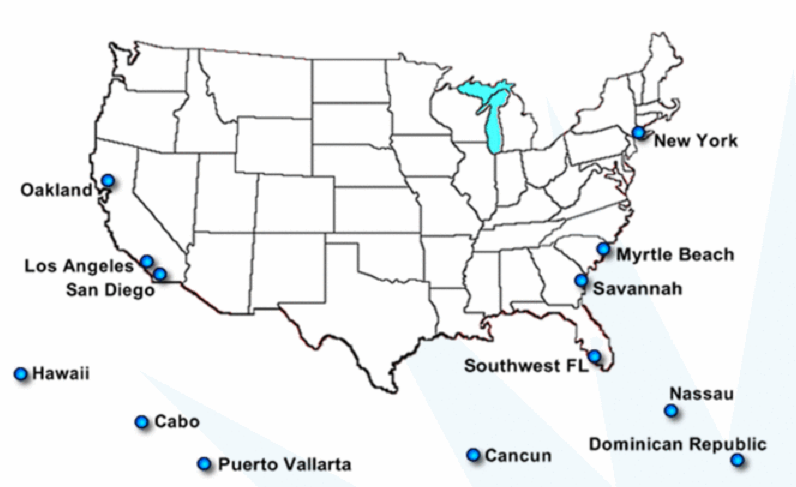 Using newer narrowbodies on higher utilisation routes
Although Allegiant's business model is built on low-frequency service to leisure destinations from smaller US cities, there are certain routes where aircraft utilisation is as high as 9 hours per day compared with the carrier's system average of 5-6 hours per day. The carrier sees opportunity to operate the incoming A319s on those higher-utilisation routes, where the A319's improved economics will be felt most.
Allegiant seasonal utilisation and average market frequency: Jul-2012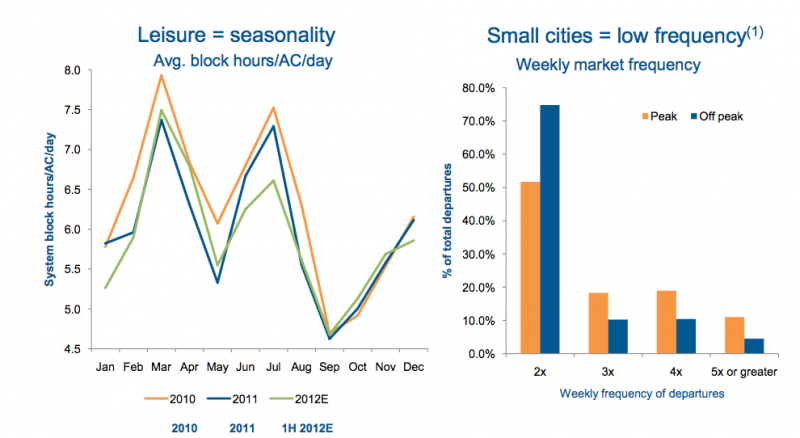 Using the 9-hour utilisation baseline with a 90% load factor and fuel prices at USD3.25 per gallon, Allegiant estimates the cost per passenger on the A319 is USD10 dollars less per passenger even at USD5 dollar higher ownership cost on the MD80. The carrier also believes the A319 should produce USD1 million in incremental net income annually.
Allegiant estimated cost per passenger MD80 vs A319: 2012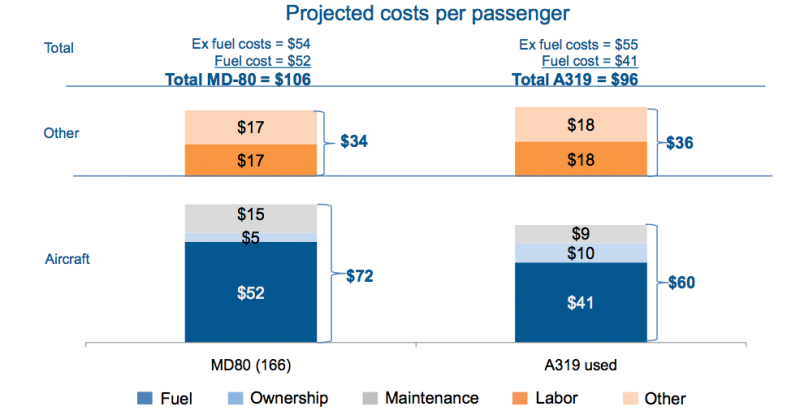 Allegiant will likely convert some of its smaller destinations to all A319 markets but operate a combination of the newer narrowbodies and MD80s from the larger bases to take advantage of the higher utilisation lines, said Mr Levy.
Managing capacity expansion up or down
With the addition of the 19 A319s exiting the fleets of easyJet and Cebu Pacific, Allegiant's fleet will increase from 62 aircraft at year-end 2012 to 81 by the end of 2015.
Allegiant's projected fleet plan: 2012 to 2015

Similar to flexibility cited by Aeromexico's management in the carrier's recent aircraft order to manage capacity depending on market conditions, Allegiant believes it has similar advantages with its decision to add A319s to its fleet. Mr Levy stated that since Allegiant owns all 56 of its MD80s outright, and with several of those aircraft fully depreciated, Allegiant has "great flexibility" to manage any potential fleet opportunities and respond to changing market dynamics if demand weakens.
See related article: Aeromexico sees domestic slowdown as it places landmark aircraft order
Allegiant is also retiring two 130-seat MD87s that are somewhat of an anomaly in the carrier's fleet. The company has a project underway to add 16 seats to its MD80s configured with 150-seats, and has completed reconfigurations on more than 30 aircraft.
Now that Allegiant has settled on the Airbus narrowbody as the backbone of its fleet in the future, the carrier will look for additional Airbus transactions, but nothing is imminent, said Mr Levy. Allegiant currently feels no pressure to forge additional transactions at this point as the carrier feels comfortable with its growth through 2015. But Mr Levy caveated that it is possible more Airbus deals could transpire, but nothing at this point is close to being executed.
Early returns for Hawaii are promising as Boise and Spokane come online
Despite only having a short nine-week selling window for its initial routes to Hawaii, Mr Levy stated that the performance of service from Las Vegas and Fresno to Honolulu was strong, citing 97% load factors in the Las Vegas market and 97% loads in Fresno for the month of July.
He also remarked that forward bookings for those markets and new markets debuting in Nov-2012 remain strong. During that time Allegiant is introducing flights from Eugene, Oregon and Santa Maria and Stockton, California to Honolulu. The carrier is also introducing flights from Bellingham, Washington to Honolulu and Maui.
Mr Levy explained Las Vegas was not typical of Allegiant's regular service pattern as the route has a higher percentage of visiting, friends and relative (VFR) traffic due to the high number of Hawaiian living in Las Vegas. Allegiant also works with various hotels in its leisure markets, and Mr Levy remarked that hotel take rates were strong in both new Hawaiian markets.
Allegiant is adding its fifth and sixth 757 during 1Q2013 and with the introduction of those aircraft is launching flights from Boise, Idaho and Spokane Washington to Honolulu in Feb-2013. Both small cities are more reflective of the carrier's typical service pattern.
During four of the first five months of 2012 Boise's traffic has fallen, dropping almost 5% in May. Southwest Airlines is the largest carrier serving the airport in terms of percentage of seats, and most service from airport is to large and medium-sized cities in the Western US.
Boise Air Terminal (Gowen Field) monthly passenger numbers: Jan-2010 to May-2012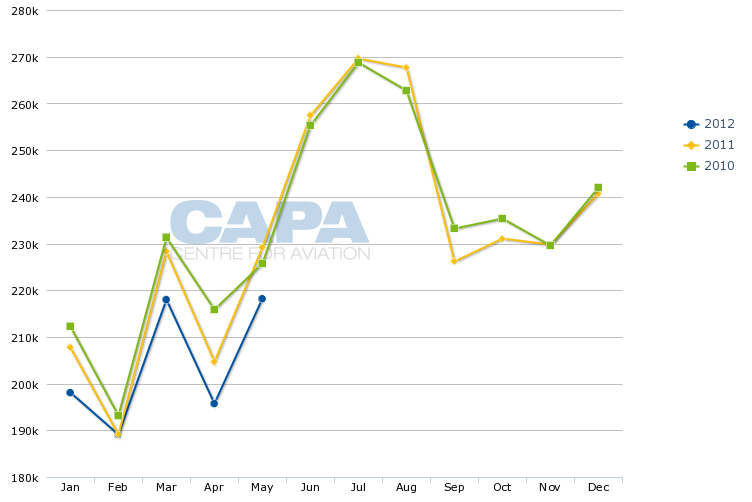 Boise Air Terminal (Gowen Field) capacity by carrier (% of seats): 06-Aug-2012 to 12-Aug-2012
Allegiant should be able to stimulate enough traffic in the Boise market to operate favourable loads on its low frequency flights to Honolulu. Just before its Boise-Honolulu launch, Allegiant is inaugurating flights from Boise to its Las Vegas base in Oct-2012, competing with Southwest Airlines in the market.
Boise reportedly was one of the first airports to approach Allegiant about its service to Hawaii, and the carrier should be able to stimulate traffic to Honolulu with its low-frequency service. Boise-Las Vegas becomes the fourth market where Allegiant and Southwest compete directly. As of Jul-2012 Allegiant only had direct competition in 15 of its 183 markets.
Routes where Allegiant faces competition: Jul-2012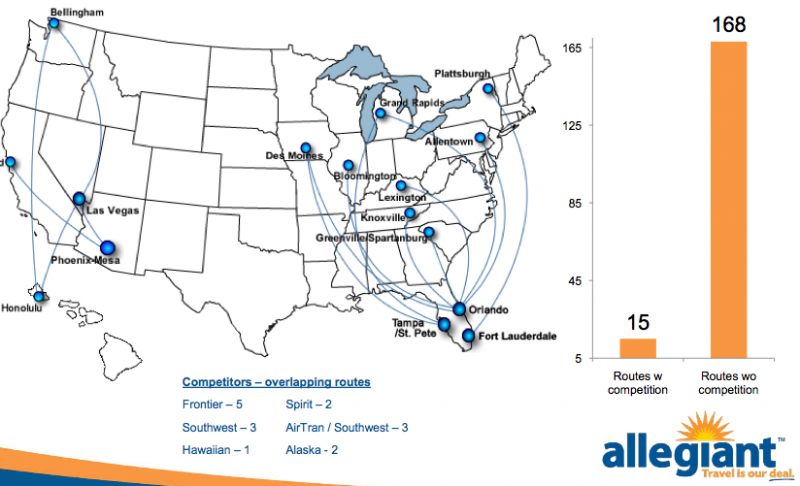 In contrast to Boise, Spokane's traffic has grown throughout 2012. Alaska Airlines is the largest carrier serving the airport by seats, and most of the service from Spokane is operated by larger US carriers to their hubs. The top five markets from the airport in terms of seating capacity are Seattle, Denver, Portland, Salt Lake City, and Minneapolis.
Spokane International Airport monthly passenger numbers: Jan-2010 to Jun-2012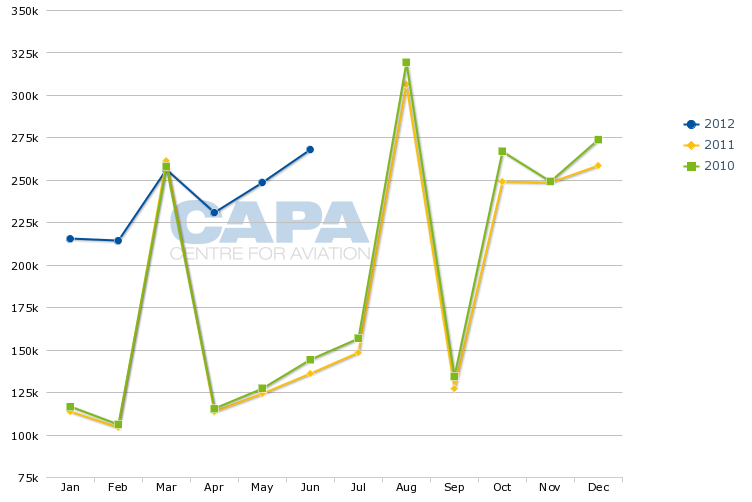 Spokane International Airport capacity by carrier (% of seats): 06-Aug-2012 to 12-Aug-2012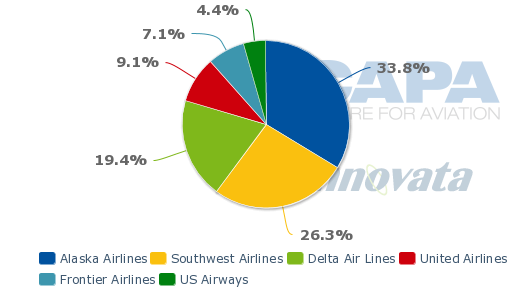 Both Boise and Spokane are new markets for Allegiant, and it is likely the carrier could introduce additional service to other US leisure markets from those two airports. At a minimum Allegiant offers service to at least two markets from its small city destinations, which means the carrier is likely to add another market from Spokane.
Allegiant also cited favourable performance during 2Q2012 in its Orlando base on a 30% increase in departures as Mr Levy noted the carrier remains bullish on Orlando. The carrier expects its Orlando departures to grow by roughly 20% during 2H2012.
As it embarks on the next phase of its development, Allegiant believes the efficiencies it will gain with the A319 outweigh the complexity of introducing a third fleet type. The carrier appears to be managing its growth prudently by building in flexibility to manage capacity if economic uncertainty ultimately weakens demand. The majority of its flights to Hawaii mimic its well-tested strategy of market stimulation by avoiding intense competition with large US carriers.
Background information
Breakdown of Allegiant A319s sourced from Cebu Pacific: 2012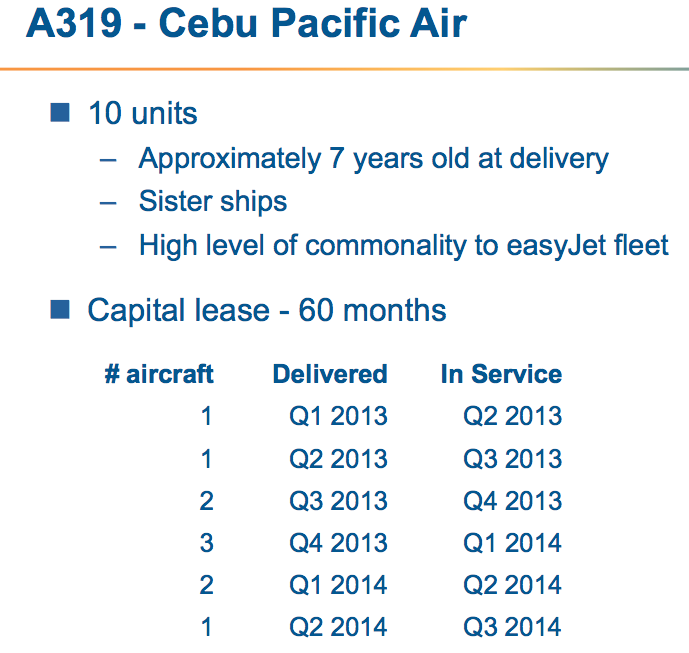 Breakdown of Allegiant A319s sourced from easyJet and GECAS: 2012