Allegiant cites strong opportunities in the US market as new Mexico service falls in importance
Analysis
Allegiant Air continues to stress there are ample opportunities to expand in the US domestic space as its planned transborder service to Mexico appears to be diminishing in priority.

The company believes that its niche is still highly relevant within the US market, highlighting its major advantage of being largely shielded from competition in its markets, a theme consistent with Spirit's thinking too. The logic is prominent in Allegiant's new routes coming online in late 2014 from Florida leisure markets to small cities, which epitomise Allegiant's strategy.

But despite strong top line financial results Allegiant is facing cost headwinds in FY2014 from a transaction it concluded earlier in the year to acquire Airbus narrowbodies and crew training expense that could drive up unit costs excluding fuel in 2014 by as much as 8%.
Aside from Cincinnati, Allegiant sticks to its tried and true business model
One of Allegiant's selling points to investors over the years is the shield its business model creates from competition. The airline offers low frequency service from leisure destinations to places like Bloomington, Illinois or Huntington, West Virginia. Those routes are unattractive to large network airlines, and most of the low cost airlines operating in the US that have concluded there are stimulative opportunities in larger markets. Spirit in particular has adopted a strategy of targeting passengers in large metropolitan areas that generate yields network airlines find unattractive.

See related report: Spirit Airlines joins the dots in 2014, with also some new growth in Kansas City; US ULCCs Part 3

Aside from a recent push from at Delta's hub in Cincinnati, Allegiant largely shies away from major airline hubs, and targets price conscious leisure segment which does not view schedule as a major attribute in travelling.
The bulk of Allegiant's routes feature twice weekly frequencies, which is achievable through its still largely MD-80 fleet that have low ownership cost and do not require high levels of utilisation.
Allegiant Air routes served by frequency/week: 25-Aug-2014 to 31-Aug-2014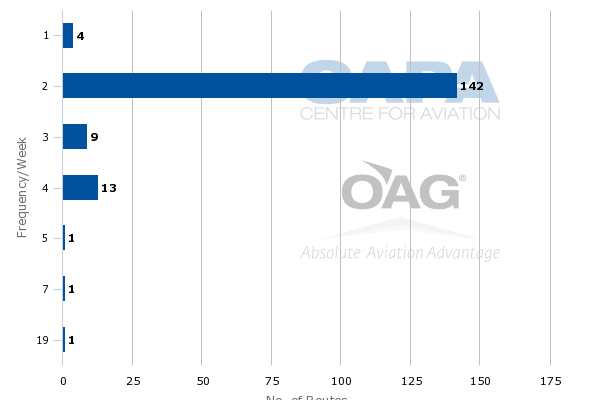 Even as Delta's drastic pulldown from Cincinnati has created a unique opportunity for Allegiant, the majority of its markets are selected for their potential to target customers in small cities looking for cheap travel to leisure destinations such as Las Vegas, Orlando, St Petersburg or Palm Springs.

Allegiant estimates that in 62% of the cities it added in CY2013, the population in a 40km catchment area its 600,000 or less, and since 2007 the percentage of routes where it faces no competition has remained at 90% or above.
Population within 40KM of Allegiant Air's originating cities: 2006 vs 20013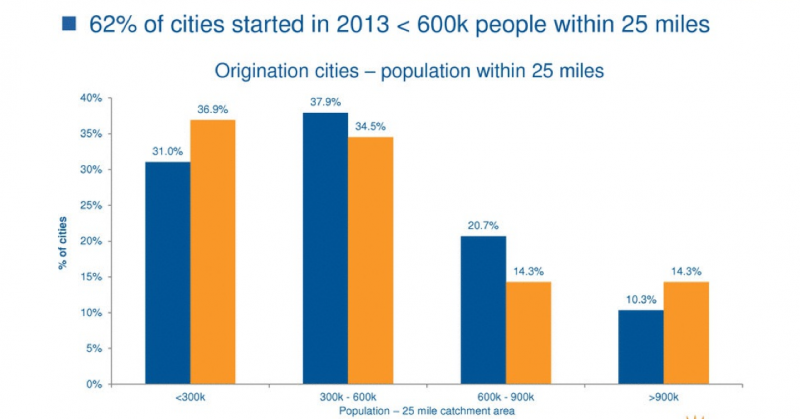 Allegiant Air percentage of routes without competition: 2007 to 2013

During 2Q2014 Allegiant estimated that "same store routes" those operated in both 2Q2013 and 2Q2014, generated a 5.7% rise in total revenue per available seat mile (TRASM), which includes scheduled passenger revenue, ancillary air revenue and ancillary third party revenue.
That performance offers some indication that its routes achieve maturity in a relatively short period of time, which seems logical given that Allegiant is linking small cities to its established bases in large leisure markets.

A roll-out of new service in late 2014 reflects Allegiant's niche business strategy. It is adding service from its base at St Petersburg Clearwater International airport to Belleville and Bloomington, Illinois and Concord, North Carolina. Other service additions include Punta Gorda to Huntington, Orlando Sanford to Peoria and Cincinnati to Las Vegas.
Among those new routes Allegiant only faces competition in a single market, vying against Delta on service from Cincinnati to Las Vegas. Allegiant's main base and headquarters is in Las Vegas, and it is only operating two frequencies per week from Las Vegas to Cincinnati, so any competitive threat to Delta is presumably minimal.
Allegiant believes ample growth is available in the US domestic market
By Feb-2015 Allegiant estimates it will operate 232 routes from 13 large leisure destinations to 83 small cities with a fleet of 69 operating aircraft. Its route map reflects nearly blanket coverage of small cities across the US and some operations in Hawaii.
With the comprehensive coverage it already enjoys, is it possible that Allegiant is close to maxing out its niche in the continental US?
Allegiant Air route map as of Feb-2015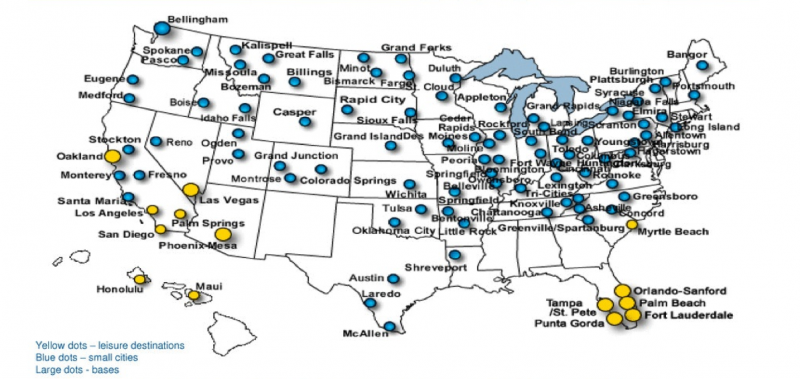 Allegiant thinks not; it concludes US consolidation, the ensuing capacity decreases and the continuing inefficiency of 50-seat jets, still present ample opportunity for it in the US. The company is declining to supply a specific growth target forecast, but recently told analysts that, theorectically it is comfortable in the 15% to 20% growth range during the next few years. Its growth estimates For FY2014 are lower than those levels as it expects an ASM increase of 9% to 13% after recording 9% capacity growth in CY2013.

The company is also stressing that the bulk of its growth is in markets that neither Spirit nor Southwest are interested in, which also, in Allegiant's reasoning, results in still untapped opportunities in the US domestic space.
From CY2009 to CY2013 Allegiant concluded the thrust of its growth was into small airports, compared with a push by Spirit into larger markets and a decline by Southwest (including Southwest and AirTran) in smaller airports.
Allegiant, Spirit and Southwest change in seats by airport type (small, medium and large): 2009 to 2013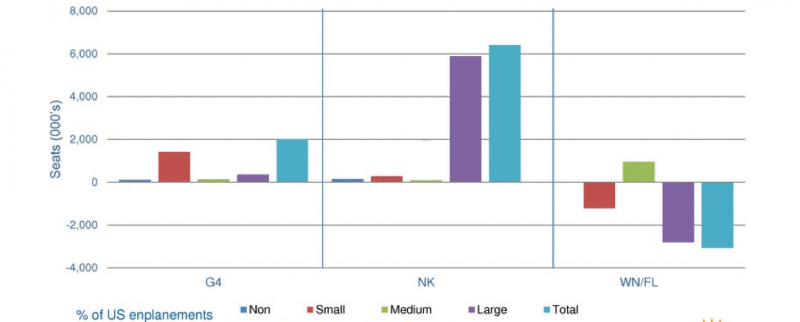 Allegiant believes the risk-reward equation is more favourable in the less-competitive US
As it touts numerous opportunities still available in the US domestic space, a service introduction into Mexico by Allegiant appears to be lessening in importance to the airline. It pushed a start date for service to Mexico from 2014 to 2015, and recently declared it was still hopeful that it would debut transborder service in Mexico in 2H2015.

Allegiant has now concluded that even as Mexico is a valuable opportunity, the need to introduce service to the country is not urgent.

"We've had our eye on Mexico for probably 10 years now," Allegiant president Andrew Levy recently told analysts. "And the reason that we hadn't gotten serious about it until the last year was for the exact reason that the risk-reward is just higher in the domestic US."

For now demand in the US domestic market is definitely more robust than Mexico, whose economy has been weak the last couple of years. The result is soft demand in the domestic market and a lack of pricing traction for Mexican domestic airlines, some of whom are opting to deploy more capacity into the US transborder market. Perhaps Allegiant believes it could be prudent to start its service to Mexico once its economy shows more signs of stability.

Allegiant also needs to ensure it has the proper technology necessary to operate to international markets, which Mr Levy believes is not overly complex, but more a matter of prioritising all the IT projects Allegiant has underway.
See related report: Allegiant Air takes a conservative approach to Mexico as it works to learn the nuances of Hawaii
Allegiant sees benefits in its unorthodox aircraft transaction, but at a cost
Allegiant is facing cost pressure in 2014, which could also be a factor in its decision to push back investing in launching new international service to Mexico. Allegiant is forecasting a unit cost rise excluding fuel in 3Q2014 of 8.5% to 10.5% and an increase of 6.5% to 8.5% for CY2014.

In Jun-2014 Allegiant struck an agreement to purchase 12 Airbus A319 narrowbodies operated by a European airline until 2018. As each lease expires the aircraft will join Allegiant's fleet. The company estimated that it would record USD30 million in annual lease revenue beginning in Jun-2014, and also assumed USD142 million of secured debt under the transaction.

Even as Allegiant garners leasing revenue, it is recording depreciation and amortisation expense on the Airbus narrowbodies, without those jets generating ASMs. It estimates the expense would represent 2 points of unit cost growth in 3Q2014 and and a single point for FY2014.
Effects of Jun-2014 deal for 12 Airbus jets on Allegiant's 3Q2014 and FY2014 financial performance

Despite the cost pressure, Allegiant believes that the return on capital of the 12 Airbus narrowbodies is just slightly lower than the company's corporate return during the last 12 months. For the 12M ending 2Q2014 Allegiant achieved a 17.5% return on capital employed.
The deal does seem unusual given that the aircraft are represented on Allegiant's balance sheet, yet will not be operated by the airline until 2018. Even as Allegiant stresses it is not actively looking to participate in the aircraft trading market, "we think it is a great use of capital", said Mr Levy.
Allegiant has also faced other cost headwinds in 2014 from crew training and availability and increased salaries as it headcount increases. It is refraining from offering unit cost guidance for CY2015, but believes that comparisons year-on-year are somewhat easier since it will be operating more Airbus jets that are more unit cost friendly, and relief from USD3.4 million in reoccurring expenses in 2Q2014 driven by crew training delays and the resulting passenger displacement.
Solidifying plans for Mexico could help give certainty to Allegiant's long-term strategy
Allegiant has taken what seems like a completely unexecutable niche on paper and achieved a high level of success with its low frequency model that targets pure leisure customers. Its net income jumped 17% year-on-year during 1H2014 to USD68 million and its leverage ratio was debt to EBITAR of 2.7x.
With the US market place settling into a solid state of maturity after the merger of American and US Airways, Allegiant is likely to field more questions about the remaining opportunities in the US market. Despite still being bullish that it can continue to record robust growth, at some point in the short to medium term Allegiant could get pressure to outline its long-term strategy beyond US borders too.
Firming up its plans for Mexico could quiet the questioners beginning to scrutinise the long-term viability of Allegiant's model. But for now the US domestic market, with its remarkable stability, is offering save haven.