Allegiant Air and Hawaiian try to mitigate growing pains in new markets
Behind solid financial performances recorded by US carriers Allegiant Air and Hawaiian during 2Q2013 were challenges each carrier continues to face in their respective expansion strategies – Allegiant from the mainland to Hawaii, and Hawaiian on its rapid long-haul expansion into Asia and Australasia.

Allegiant is introducing a slight shift in its Hawaii strategy by launching service from Los Angeles to Honolulu, which runs somewhat counter to its long-standing model of offering service from small US markets to large leisure destinations. Hawaiian, meanwhile, assures its long-haul expansion will slow in the near future as it works to improve its performance in some of those markets, which have been challenging for a number of reasons.

As each carrier works to improve its fortunes in new areas of expansion, Allegiant and Hawaiian did post respectable results during 2Q2013 as Allegiant's top-line revenues increased nearly 11% to USD256 million while year-on-year profits grew 2% to USD26 million. Hawaiian grew top-line revenues by 10% to USD533 million, and recorded a healthy increase in profits from roughly USD4 million to USD11 million. (See background information.)
Allegiant tweaks Hawaii strategy with new service from Los Angeles
Allegiant's ambitious expansion into Hawaii during 2012 with Boeing 757s has not quite produced the results the carrier expected. The dampened expectations were driven by overall excess capacity between the US mainland and Hawaii (which has been well-documented by both Alaska Airlines and Hawaiian Airlines), and perhaps some miscalculations by Allegiant in seasonal demand. As a result the carrier has made certain adjustments in its schedule to Hawaii with seasonal service suspensions beginning in Aug-2013 from Honolulu to Boise, Eugene, Phoenix (Mesa), Spokane, Fresno, Stockton and Santa Maria.
See related article: Allegiant Air re-calibrates Hawaii as its expectations in trans-Pacific markets are tempered
A portion of the capacity being cut in those markets will be absorbed with the introduction of twice weekly service from Los Angeles to Honolulu in Oct-2013, which is a bit atypical of Allegiant's route profile. Providing a rationale for the launch of the route Allegiant president Andrew Levy told analysts during a 2Q2013 earnings discussion that its Los Angeles-Honolulu offering was a bit of an experiment.

Allegiant has a decent operating footprint from Los Angeles International airport, offering service from LA to Bellingham, Des Moines, Fayetteville (Arkansas), Grand Junction, Idaho Falls, Eugene, Billings, Wichita, Missoula and Pasco.

Mr Levy explained Allegiant has a decent sized database in Los Angeles that it can use to market its service to Honolulu, which was one of the factors which led the carrier to begin service on the route.

But another major factor behind Allegiant's decision to launch Los Angeles-Honolulu is the carrier's realisation that "in Hawaii... some of the smaller markets that we serve – there are just not enough bodies there to support year-round service at prices that make sense", Mr Levy concluded. The traffic density in a market like Los Angeles is much higher, and so far Allegiant is pleased with advanced bookings as the density allows price-sensitive passengers to gravitate towards Allegiant's lower fares, which during 2Q2013 fell 1.6% to USD88 for scheduled service. Allegiant's business model is also built on generating significant revenue from ancillary sales split between revenue from third party products and air travel related services (such as checked and carry-on luggage).

Mr Levy further believes that a market such as Los Angeles to Honolulu "is something that can help us drive the returns that we anticipated when we decided to go into Hawaii". While Allegiant's twice weekly service will not create any huge competitive challenges, it is a well-populated market served by United, Hawaiian, American and Delta Air Lines.
Los Angeles International to Honolulu International (seats per week, one way):19-Sep-2011 to 12-Jan-2014
Hawaiian believes US mainland-Hawaii capacity will rationalise in 2H2013
As Allegiant adds some incremental capacity in the US mainland-Hawaii market, Hawaiian recorded a 2% decline in passenger unit revenues on its service to North America during 2Q2013. Carrier CEO Mark Dunkerley remarked that he was pleased with that result given that overall industry capacity increased 5% year-on-year during the quarter. He compared those stats with a 13% rise in industry capacity during 2Q2012 with a corresponding 13% decline in Hawaiian's passenger unit revenues. For 1Q2013, industry capacity jumped 11% year-on-year which pressed Hawaiian's unit revenues down in its North American markets 6% year-on-year.
Mr Dunkerley is optimistic with respect to industry capacity discipline on Hawaiian's North American routes for the remainder of 2013, noting that industry capacity is set to decline by 1% during 3Q2013 and 5% in 4Q2013. He remarked that "speculative capacity" introduced during the market during the last year is being withdrawn.

See related article: Hawaiian Airlines looks to rebound from tough competitive market conditions in 2H2013
Hawaiian's long-haul routes continue to produce disappointing results
Hawaiian recorded a disappointing performance in its long-haul routes during 2Q2013 as unit revenues plummeted 20% year-on-year. Mr Dunkerley outlined three major factors contributing to the decline – foreign currency pressures (most of Hawaiian's long-haul markets are in Japan, where the yen has steadily depreciated against the dollar), market-specific capacity pressures and the natural process of route maturation, which Hawaiian estimates is two to three years in long-haul markets.

Despite the weakening of the yen, Hawaiian overall has not seen a softening of demand for vacations to Hawaii from Japanese customers, and absent the USD12 million effect from currency fluctuations, Mr Dunkerley stated that Japan's overall contribution to the carrier's results remained constant year-on-year during 2Q2013 despite the introduction of three new markets since 2Q2012.

The 20%-plus capacity increases introduced by Hawaiian and other carriers serving the Honolulu-Sydney route have easily been absorbed during the last three years, Mr Dunkerley remarked. But during 2Q2013 the 19% rise in overall industry capacity "was a bridge too far", Mr Dunkerley concluded. Hawaiian, Jetstar and Qantas operate on the route, and at the end of 2Q2013 Hawaiian represented about 40% of the one-way weekly seats offered on the pairing.
Honolulu International to Sydney Kingsford Smith (seats per week, one way): 19-Sep-2011 to 12-Jan-2014

Given the longer booking curve for Australia, "and frankly, our being a little slow to sense the moment when capacity wouldn't be absorbed by the market", helped to undermine Hawaiian's results on the route, said Mr Dunkerley. He stated that "repairs are underway"; however, he did warn that some gains would be offset by the strengthening US dollar.

Demand on Hawaiian's flights from Honolulu to Seoul is not building as fast as the carrier would like, said Mr Dunkerley, citing a 21% rise in industry capacity on the pairing year-on-year. The jump in available supply was a result of both Hawaiian and its competitors upping their service to daily. Hawaiian's competitors on the pairing are Asiana and Korean. The excess capacity is being absorbed, said Mr Dunkerley, but not at a pace Hawaiian would like.
Hawaiian works to take a breath after aggressive international expansion
Hawaiian's launch of flights from Honolulu to Taiwan in Jul-2013 marked a hiatus in international route launches that have grown fivefold since 2010, according to Mr Dunkerley. No new market launches are scheduled until the inauguration of service to Beijing in Apr-2013.
Now Hawaiian will work to mature the raft of new international markets introduced during the last three years as Mr Dunkerley concluded that of the 10 routes introduced during that time, two are fully mature.

While Hawaiian's long-haul strategy seems logical, and should eventually produce returns, investors are presently antsy as one analyst remarked to Hawaiian's management that the carrier's planned USD355 million to USD365 million planned capex during 2013 was equal to, or lower than, its USD365 million market capitalisation (based on data from Yahoo Finance on 24-Jul-2013). During 2013 Hawaiian will take delivery of five Airbus A330s followed by another six widebodies through the end of 2014 (though only one is being delivered in 2H2013). While all of those aircraft have financing, investors may be correct to question if Hawaiian should dial its planned growth back to digest the rapid expansion into international markets it has undertaken during the last three years.
Hawaiian faces tougher execution of its expansion strategy than Allegiant
The strategy shifts undertaken by both Allegiant in Hawaii and Hawaiian in long-haul markets are naturally rife with challenges and growing pains. Allegiant's moves are less risky given its Hawaii experiment entails the operation of just six Boeing 757s which the carrier could presumably rid itself of if its latest moves in its Hawaiian markets don't bear fruit. Obviously the stakes are higher for Hawaiian as its sound strategy of international expansion is not expected to produce favourable results until those markets reach an acceptable level of maturity. The carrier has no doubt carefully plotted out what appears to be an acceptable diversification strategy for its future, but in the short term, investor impatience its likely to grow as the results in its long-haul markets will remain weak until they spool-up properly.
Background information
Allegiant select financial results: 2Q2013 vs 2Q2012 and 6M2013 vs 6M2012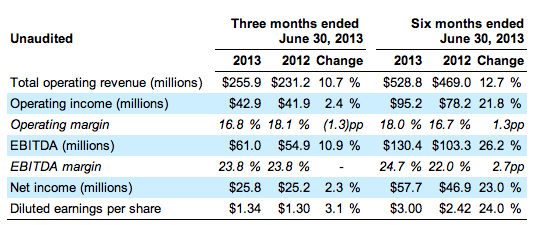 Hawaiian Airlines select financial results: 2Q2013 vs 2Q2012 and 6M2013 vs 6M2012