Hawaiian Airlines looks to rebound from tough competitive market conditions in 2H2013
Analysis
Hawaiian Airlines believes industry-wide capacity cuts and decreases in its own unprofitable supply will allow the carrier to post a stronger performance during 2H2013. This is after currency pressures, a somewhat too ambitious expansion into inter-island markets and competitive pressure on its routes to the US mainland dulled the carrier's 4Q2012 performance.
The company recorded a USD3.4 million loss during the last three months of 2012 compared with a USD21 million profit for the year prior.
Despite the decline in profits Hawaiian recorded a 14% increase in top-line revenues to USD493 million during 4Q2012; but a 20% jump in operating expenses to USD481 million drove operating income down 64% to USD12 million.
Hawaiian's rapid international expansion, growing 30% in 4Q2012
A rapid and ongoing international expansion by Hawaiian continued during the quarter, which triggered substantial growth in available seat miles of 30%. During 2012 Hawaiian made a push further into Japan with the introduction of flights to Fukuoka in Apr-2012 and Sapporo in Oct-2012.
Service to Japan now accounts for a significant portion of Hawaiian's international network from Honolulu after the carrier increased its markets on offer to the country from zero to four during the last two years, and now serves Fukuoka, Haneda, Osaka and Sapporo from its Honolulu hub.
Hawaiian during 2012 also broadened its reach into Australia with the introduction of flights to Brisbane during Nov-2012. Service to Auckland, New Zealand begins in Mar-2013 followed by new flights to Taipei in Jul-2013.
Hawaiian Airlines route network: 2012-2013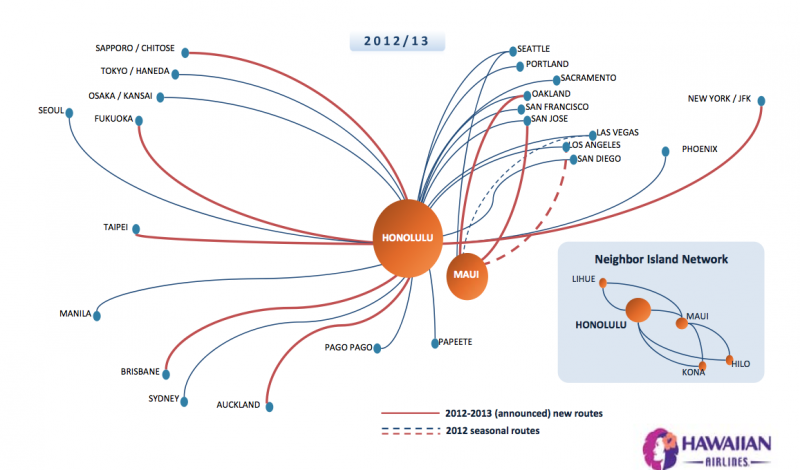 The carrier also added four 294-seat Airbus A330s to its fleet during 2012, bringing the total of the type operated by the carrier to nine. Since 2009 only two 253-to-270 seat Boeing 767s have exited the carrier's fleet.
Hawaiian Airlines fleet plan: 2009 to 2015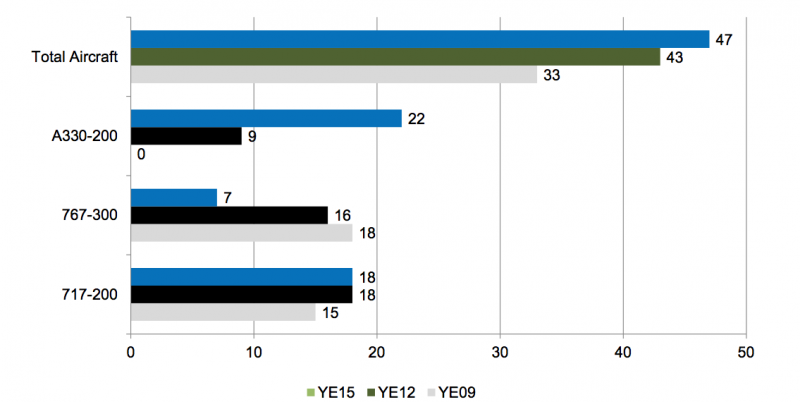 Growing reliance on the strong Japan leisure market hurt by weaker yen
Hawaiian's evolution in the Japanese market is a direct result of the substantial contribution Japanese travellers make to Hawaii's tourism business. Using data from the Hawaii Tourism Authority Hawaiian estimates that 96% of customers travelling between the island nation of Japan and the Hawaiian Islands originate in Japan – the highest among the major tourist regions to Hawaii.
Estimated number of Hawaii O&D passengers at origin markets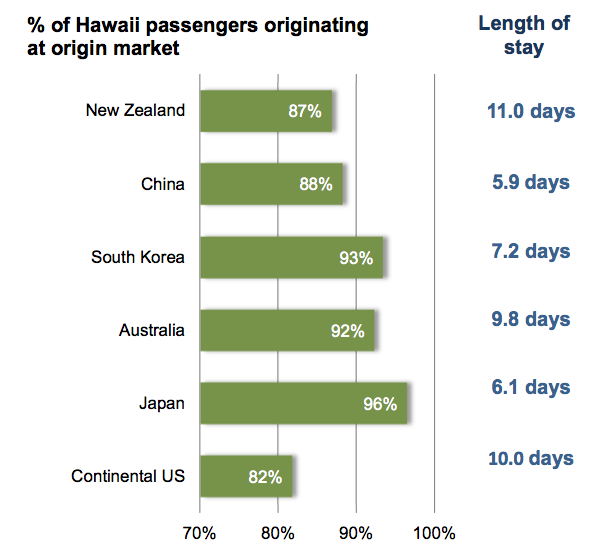 But the weakening of the Yen as a result of deflation pressured Hawaiian's performance in its international markets during 4Q2012 as unit revenues from its international network fell 11.8% year-over-year, with 7.7ppt of the drop attributable to performance on new routes, stated carrier CEO Mark Dunkerley. Depreciation of the Yen and the resulting effect on the exchange rate with the dollar reduced Hawaiian's receipts from its Japanese flying by USD6 million as over half of the carrier's foreign receipts are in Yen.
US major carrier Delta Air Lines (the largest airline operating to Japan) also experienced similar challenges in its Japanese routes during 4Q2012 as the weakening of the Yen triggered a 6% drop in yields on the carrier's Pacific routes.
See related article: Delta sees solid demand as it diversifies its Asian network to offset Japan's weakness
Both Hawaiian and Delta also cited increased industry capacity in the Japanese market as another driver in weakening the results of their respective services to Japan. Previously, Mr Dunkerley has stated that Hawaiian's service to Fukuoka ramped up at a slower pace than previous route launches to Japan. Delta inaugurated seasonal service between Honolulu and Fukuoka in Dec-2011, offering six weekly flights, and when the carrier resumed the route in Oct-2012 it expanded its offering to a daily service.
See related article: Hawaiian's revenues come under pressure from every region across its network
Mr Dunkerley believes the currency exchange pressure created by the Yen should decline as Hawaiian increases its service to Australia (service from Honolulu to Sydney increases from daily to 10 weekly flights in May-2013), introduces the new flights to Auckland in Mar-2013 and inaugurates service to Taipei, Taiwan in Jul-2013. Hawaiian unveiled plans to serve Taipei after Taiwan was ushered into the US visa waiver programme in late 2012.
Excess capacity in US mainland markets, with no relief expected
Competitive pressure Hawaiian experienced during 3Q2012 on its routes to the US mainland carried over into 4Q as Mr Dunkerley stated that year-over-year total industry capacity in those markets increased 13%. He noted that Hawaiian accounted for 3ppt of that increase. Capacity in the markets to the US West Coast, which account for the majority of Hawaiian's mainland flights, grew 12% year-over-year during 4Q2012, with Hawaiian representing 2ppt of the rise.
Mr Dunkerley concluded that while capacity growth in the Hawaii-US mainland markets was similar to 3Q2012, "the fourth quarter has proportionately fewer high season dates which can absorb high levels of capacity". The capacity growth led to a weak pricing environment, he explained, which resulted in Hawaiian having to introduce deeply discounted fares to maintain its passenger volume on those routes.
While Hawaiian's long-haul trans-Pacific flights have markedly increased during the last few years, service to the US mainland still accounts for about 47% of its revenues, which means the 10% drop in passenger unit revenues in those markets during 4Q2012 was a significant hit to the carrier's overall unit revenue performance. During the last quarter of 2012 Hawaiian's unit revenues per seat mile fell 12.4% while yields plummeted 10%.
Hawaiian will not see any relief in industry capacity expansion from the islands to the US mainland until 2H2013 after supply growth of 11% during 1Q2013 and 4% during 2Q2013.
Mr Dunkerley maintained that the moderating industry capacity growth beginning in 2Q2013, followed by an actual decline during 3Q2013, has created favourable conditions for Hawaiian to increase fares on its mainland flights.
Hawaiian's own system-wide capacity growth will drop to 13% during 2H2013 after growing 25% in 1H2013. Much of the growth during 2013 is the maturing of new markets introduced in 2012, including Brisbane, Sapporo and New York, and the upgauging of aircraft.
Hawaiian Airlines capacity breakdown: 1H2013 and 2H2013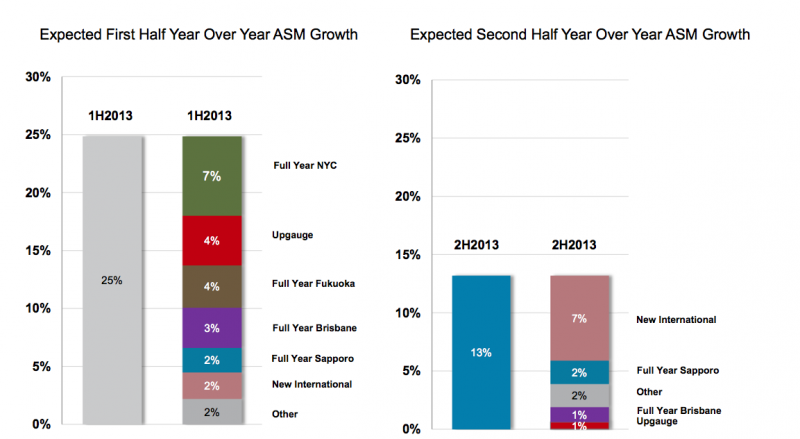 Early 2012 Hawaiian inter-island expansion backfired
An aggressive capacity expansion by Hawaiian into inter-island markets during early 2012 through the creation of a hub in Maui backfired on the carrier. As a result Hawaiian spent the better part of the year working to adjust its supply in the inter-island market to reverse negative fortunes in a region that was previously a solid performer for the carrier.
See related article: Hawaiian attempts to reverse negative inter-island performance dragged down by new Maui hub
The carrier improved its inter-island unit revenue performance during 2Q2012, but during the following quarters demand fell short of Hawaiian's capacity increases, driven somewhat by a drop-off in passengers from other airlines connecting onto its inter-island network.
Hawaiian cut capacity in its inter-island markets by 4ppt during 4Q2012 but Mr Dunkerly admitted the carrier did not make the adjustments soon enough or deeply enough "so our neighbour island results were utterly unsatisfactory for the quarter [4Q2012]", he stated. Unit revenues in those markets dropped nearly 10% on a roughly 11% rise in capacity.
However, all the capacity Hawaiian ambitiously added to its inter-island markets during early 2012 has now been removed, and the adjustment in supply has allowed the carrier to push through targeted fare increases on four separate occasions in Dec-2012 and Jan-2013. Mr Dunkerley stated the capacity cuts have allowed the fare increases to be absorbed without a negative effect on load factors.
Despite miscalculating the supply it introduced from Maui, Hawaiian remains committed to its newly-established hub at Kahului Airport. "The contribution of the Maui hub reinforces our confidence in our overall Neighbour Island strategy," said Mr Dunkerley. "While at the same time we fully acknowledge that we simply added too many seats in the market as a whole."
Presently Hawaiian believes that market conditions will turn more favourable during 2H2013, after recording frustrating financial results during the final quarter of 2012.
But first the carrier has to persevere through similarly tough times during 1H2013 when 1Q2013 yields are expected to be flat to down 2% and unit revenues is forecast to drop 6% to 9%. While Hawaiian's management remains confident that performance will improve during the latter half of 2013, external forces could easily wipe out the more benign market conditions forecast for that period.
In order to ensure a reversal of fortunes, Hawaiian might need to re-examine some of its own ambitious growth plans - instead of counting on competitors to decrease excess capacity in the market.