Alaska, Delta and JetBlue zero in on managing seasonality in an attempt to preserve profitability
Analysis
US carriers are fine-tuning their revenue management mechanisms to better manage seasonally weak periods and avoid climbing out of losses recorded during those times. By shifting their networks into higher revenue generating markets during slow travel periods they are starting to challenge the historical status quo of losing money during low demand periods. Both low cost and legacy carriers alike are changing their strategies for managing down periods to flatten out the peak and trough patterns that have wreaked havoc on their attempts to remain profitable during the more challenging off-peak times of the year.
Alaska Airlines, Delta Air Lines and JetBlue Airways are three such carriers making specific changes during off-peak periods to increase profitability. Alaska Airlines has shifted away from west coast routes to focus on Hawaii, Delta has bucked industry trends to decrease trans-Atlantic capacity while JetBlue has focussed on its Boston hub to drive corporate traffic.
Alaska Airlines recently recorded it third consecutive first quarter profit, one of the most challenging periods in the US airline business cycle. The carrier this week posted a USD28 million profit for 1Q2012 even though fuel expenses increased USD62 million. Alaska CEO-elect Brad Tilden remarks the company for years accepted losing money during the first quarter only to attempt to dig itself out of that rut during the remaining nine months of the year.
Alaska's strategy to break the historical bust cycle in first quarter profitability entailed redeploying aircraft to more profitable markets, reducing its flying and aligning its staffing levels to better match the volume of its operations. The carrier rejigged its operations by moving flying out of some markets in California and increasing services to the midwest and Hawaii, which has been a focus for Alaska during the last four years.
Alaska Air Group's capacity distribution: 2001-2012F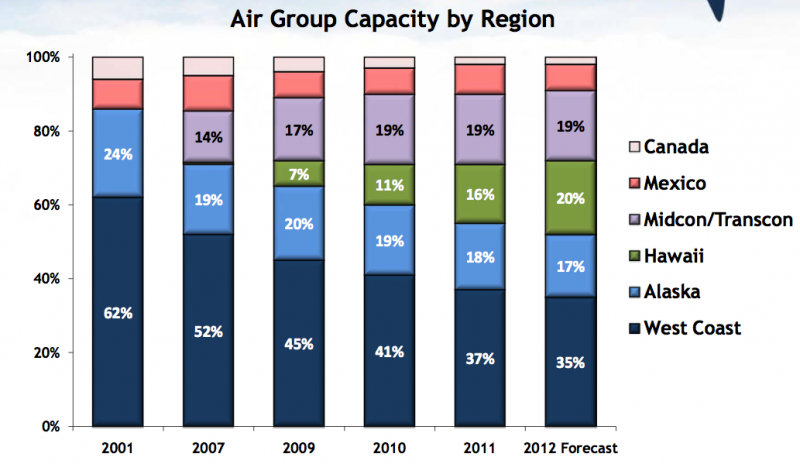 Alaska currently serves all the main Hawaiian islands from Anchorage, Alaska and seven points on the US mainland: Bellingham and Seattle, Washington; Portland, Oregon; and Sacramento, Oakland, San Jose and San Diego, California. New flights from Oakland and San Jose to Honolulu debuted on 10-Apr-2012.
Alaska Airlines expansion into Hawaii from 2007 through 2012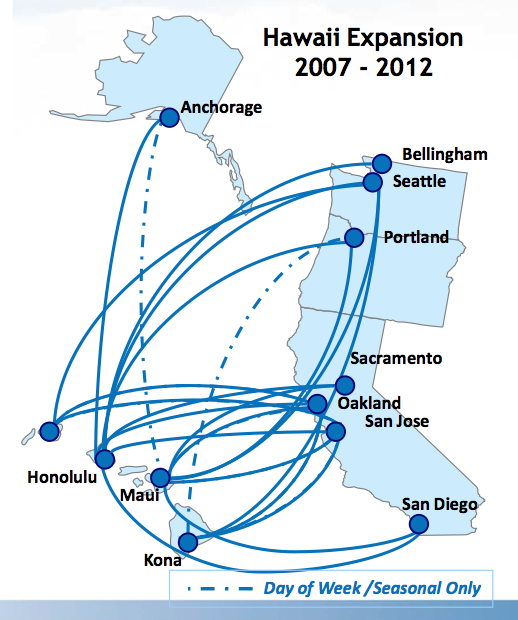 Flights to Hawaii accounted for 25% of Alaska Air Group's mainline capacity for the winter 2012 timeframe, and routes to Hawaii will account for the majority of the overall 6% expansion of supply the company is planning for 2012. Mr Tilden expresses encouragement over Alaska's ability to stimulate its Hawaiian markets, pointing to US Department of Transportation data that show the carrier featuring the lowest fares from the US west coast to Hawaii for six consecutive quarters.
Most of Alaska's capacity to Hawaii is deployed from secondary US gateways, which provides an opportunity for market stimulation. Allegiant Air is also now turning its focus towards Hawaii with new routes from secondary US gateways.
See related article: Allegiant faces pivotal year as it seizes on AirTran cuts and works toward Hawaii launch
Percentage of Alaska's Hawaii flights from secondary cities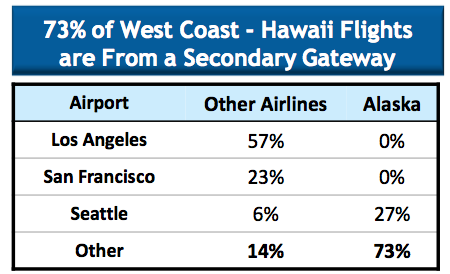 Alaska sees some additional opportunity to further stimulate the Hawaiian market, Mr Tilden says. Although there was a void created by the demise of both ATA Airlines and Aloha Airlines in the Hawaiian market in Mar-2008, it has since largely been filled.
Notably, the price differential offered by Alaska on flights from San Jose to Honolulu, a market where it competes directly with Hawaiian Airlines, is not that substantial. The lowest fare for roundtrip flight for travel 10-Jun-2012 to 12-Jun-2012 from San Jose to Honolulu on Alaska is USD694.40 compared with USD733.70 on Hawaiian Airlines, a slight USD39 difference.
Some of Alaska's tactics to better manage supply in weaker markets has spilled over into the second quarter. The carrier acknowledges it had too many seats in the state of Alaska during 2Q2011 and has cut capacity in those markets by roughly 10% in Apr-2012 and May-2012.
Alaska Air Group's change in regional capacity from 2008 to 2011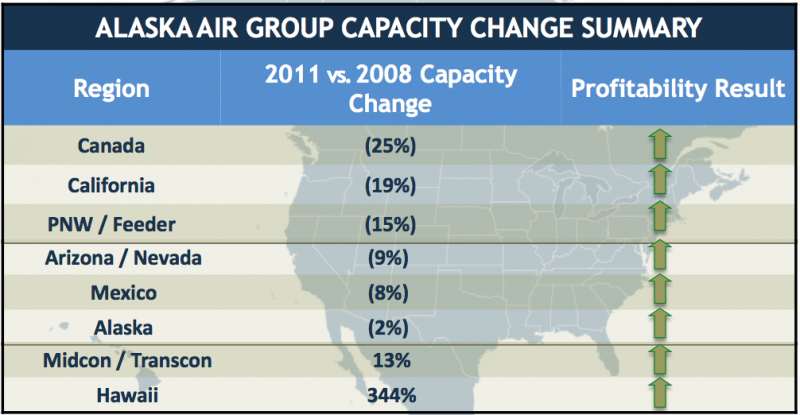 Alaska also takes different approaches in its load factor and yield management in slower demand months versus periods with stronger travel patterns. In January and February the carrier typically moves aircraft into leisure markets producing higher load factors, and when the carrier enters heavy travel periods it focusses on yields to convert excess capacity into higher prices.
The company's mainline load factors during 1Q2012 grew 2.6ppt points year-over-year to 85.7%. Alaska does admit that it has received questions regarding the higher loads and their relationship to the 4.7% growth in consolidated passenger unit revenues that caused Alaska's pre-tax margin to fall by roughly one point to 4.5%. Alaska cites other elements that pressured its passenger unit revenues during 1Q2012 including a 8% drop in bag fee revenue, growth of capacity in medium-haul markets and a decline in its mileage plan redemption revenue.
As it moves into seasonally stronger months, Alaska remains cautiously optimistic about the remainder of 2012. Mr Tilden observes currently Alaska sees no signs in the economy or its forward bookings that would cause the carrier to alter its strategy of managing for higher yields during high-demand periods. For the moment the carrier feels reasonably confident about its ability to recoup the higher costs of fuel throughout the year and remain profitable during seasonal troughs.
Delta embarks on seasonal capacity adjustments
Delta Air Lines has also heightened its focus on seasonally managing its capacity, and cut its supply 20%-25% from 4Q2011 to 1Q2012. The impetus of the strategy to strengthen its seasonal adjustment of capacity was to essentially "not give back the money it makes during the summer months", the carrier has previously stated.
The carrier has taken significant steps during the last year to manage its trans-Atlantic capacity as the European economy remains on shaky ground. During 4Q2011 it cut trans-Atlantic capacity by 8% while SkyTeam joint venture partners Air France-KLM and Alitalia cut their collective supply by 6%. Delta believes the cuts create a competitive advantage as other carriers collectively increased their capacity across the Atlantic by 4% during 4Q2011.
Delta's cuts in trans-Atlantic capacity versus other carriers: 4Q2011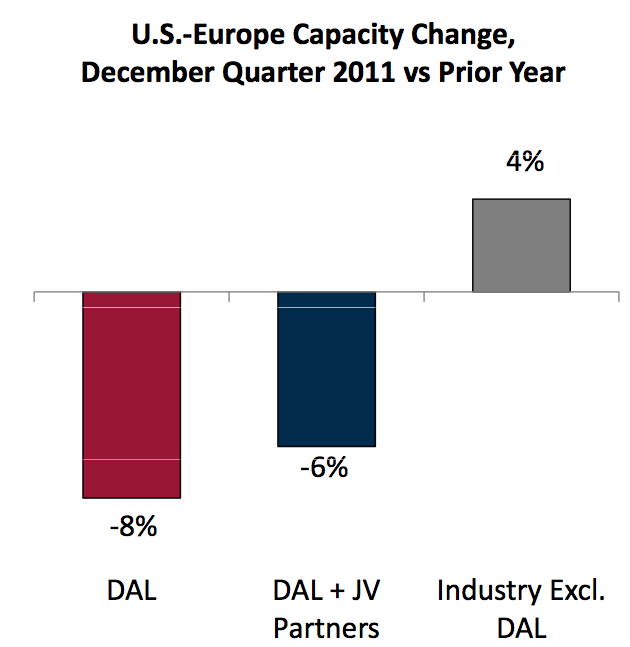 Delta's Atlantic unit revenue performance: 4Q2008 to 3Q2011
Delta expects its trans-Atlantic supply to drop 6%-7% in 2012, driven by the elimination of under-performing routes and market optimisation among its trans-Atlantic joint venture partners Air France-KLM and Alitalia. Delta has already opted to cut flights from Miami to London Heathrow and Atlanta to London Gatwick this month.
Four carriers currently serve Miami-Heathrow: American, British Airways, Delta and Virgin Atlantic. With Miami serving as a hub for oneworld partners American and British Airways, and with Delta not having Virgin Atlantic's local London base, it was difficult for Delta to gain a foothold in the trans-Atlantic market from Miami. British Airways and American currently account for approximately 76% of the capacity from Miami to London Heathrow.
Miami to London Heathrow capacity by carrier (seats per week, one way): 19-Sep-11 to 14-Oct-12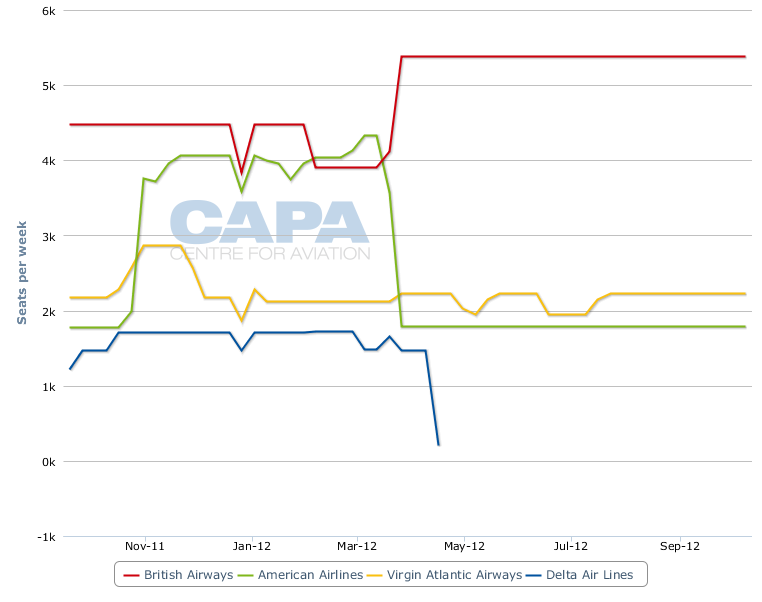 JetBlue turns to business travellers to balance out peaks and troughs
JetBlue Airways has also crafted a network diversification strategy to balance out the typical low periods of leisure demand by increasing its business traveller mix, which now accounts for 15%-20% of its passenger base. The carrier has mainly used its Boston focus city as the launch pad to attract more business customers, and will likely slowly build out more business destinations from Boston.
Using the strategy to capture business customers and making a push into visiting friends and relatives markets in Latin America and the Caribbean helped JetBlue to grow its unit revenues in seasonally slow months between 2007 and 2012 by 37% in January, 36% in May, 45% in September and 38% in October.
See related article: JetBlue continues to see benefits and growth opportunities from its hybrid business model
Speaking at CAPA's Airlines in Transition CEO Summit last week in Istanbul, JetBlue CEO David Barger said focusing on its home base at New York JFK, which has a catchment area of about 20 million people, was critical during the carrier's early years as it gave it a foundation. Without this foundation Mr Barger doesn't think JetBlue would have survived. But over the last several years the carrier started to realize that to maintain growth and profitability it needed to diversify.
In addition to establishing additional bases and trying to attract corporate traffic by entering the GDSs, Mr Barger pointed out the carrier has diversified by adding a second aircraft type and pursuing connecting traffic. He says connecting traffic, including connections between JetBlue flights and with flights operated by partners, now accounts for 14% of its passenger traffic. The fleet diversification strategy, which started by adding smaller Embraer E190s to complement its fleet of Airbus A320s, will continue next year when larger A321s are added.
"This hybridization, this diversification has been so important these first 12 years of flying. Without it we'd be in the history books," Mr Barger says. The JetBlue CEO believes continued evolution of its model is crucial. "Staying in place isn't necessarily progress," Mr Barger says.
JetBlue and Alaska have no interest in mergers or global alliances
Similar to Alaska, JetBlue has pursued its unique network strategy as an alternative to pursuing mergers and global alliances. Both carriers have proven big is not necessarily beautiful and that there is room in the US market for smaller independent carriers.
Mr Barger says JetBlue has no interest in joining the mergers and acquisitions trend which has hit the US in recent years, with the Delta-Northwest, United-Continental, Southwest-AirTran and now the proposed American-US Airways combinations. JetBlue and Alaska are also keen to pursue interlines and codeshares with carriers from all global alliances without joining any of the three big groups.
"We are attempting to do something differently," Mr Barger says. He points out that JetBlue has succeeded in remaining non-unionized, which would make pursuing mergers challenging as other US carriers are generally unionized. He added that "we are a public company so have to take the call if someone is interested" but mergers, acquisitions and global alliances are not at all part of JetBlue's strategy.
For a long time – too long – US carriers focused on maintaining or increasing market share, a practice that primarily led to red ink. The last few years have seen a revolution in which carriers learned they could decouple market share from profitability, an exercise that, as shown by Alaska and JetBlue, requires fine-tuning networks and understanding local nuances. With greater exposure and increased availability and understanding of data, US carriers are poised to continue heading down this new – and welcomed – path.