Alaska Airlines: A brand outgrowing its geography
Analysis
WEEKLY REFLECTIONS WITH RON KUHLMANN & THE CENTRE. Alaska Airlines might more appropriately be called Seattle, West Coast and Alaska Airlines since over its history its network operations have moved ever more southward. Add to that ten destinations in Mexico served from a variety of western cities as well as Hawaii.
Chart 1 - Traffic by Market
| | 2008 | 2007 |
| --- | --- | --- |
| West Coast | 41% | 46% |
| To/Within Alaska | 23% | 21% |
| Transcontinental | 20% | 17% |
| Mexico | 8% | 11% |
| Hawaii | 5% | 1% |
| | 3% | 4% |
All of this goes to say that while Alaska Airlines remains Alaska's primary airline, that Eskimo on the tail really gets around and is probably overdressed on arrival at many of the airline's destinations.
The origins of a now-substantial airline
Network, Winter, 1979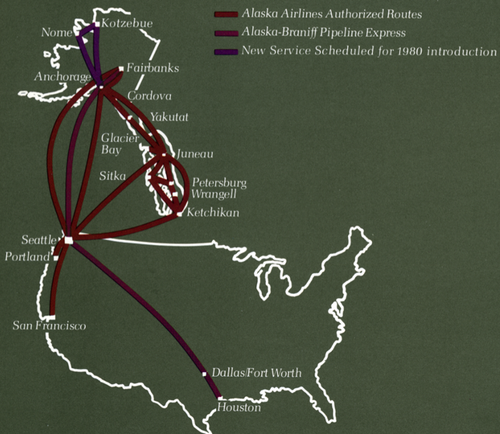 Source: Alaska Website
Alaska Air (AS) dates officially to 1944, though there was a predecessor. As might be assumed, it was based in Alaska and ventured only as far south as Seattle for many years. Gradually it became a more prominent player on the West Coast and in 1985 a holding company, the Alaska Air Group, was formed. A year later, Horizon Air (QX), with a separate origin, was fully integrated into the Group. That structure has been maintained to this day.
Alaska operates trunk routes with a fleet of 116 B737s, with the -800 series being the largest sub-group. Horizon supplements and enhances the Alaska operations with a dense network that is operated primarily by the DH-8-400 series. Alaska still has some jet operations with remaining CRJ-7s but these are being phased out. Consequently, the schedules, operated with a single type each (soon), bears more resemblance to the LCC model than to its network peer group.
Expansion from Seattle southward dates to 1979 and for decades following, the airline restricted its network to the western US, operating B727s and MD-80s. But by 2001, the airline began an eastward expansion that now gives it transcontinental reach. With the demise of the MD80 program, the airline moved to B737 types that allow economical operation across its varied stage lengths.
Moving towards a low cost model
All of this history has resulted in an airline that has commonalities which straddle the legacy carriers and new generation models. Already mentioned is the fleet commonality, which links it firmly with the new business model.
It is also, by virtue of the location of its Seattle hub, far more focused on point-to-point travel than on a vast connecting network. Travellers coming from the east or south probably want to be either in the Pacific Northwest or Alaska as most of the rest of Alaska's network happens before you get to Seattle. As hubs go it displays few of the attributes often sought which include size (New York), location (Chicago, Denver), international proximity (Miami, San Francisco) or capacity (Atlanta, Dallas). But it works.
Moving Seattle via Alaska
And Alaska enjoys a powerful position in its neighborhood. Chart 2 shows the market shares of the primary carriers serving Seattle. The Alaska group controls just under half of the market, with Southwest coming in second.
As was noted in our article on West Coast hubs, Alaska has no international presence other than transborder to Canada and Mexico. Nonetheless, Horizon, with its turboprops and RJs, carries over 25% Seattle's international passengers with frequent service to Vancouver, Victoria and other Canadian points.
Northwest, with flights to Tokyo/Hong Kong and Amsterdam, places second followed by Alaska and British Airways. So while the Alaska group carriers also dominate the international marketplace, they don't take you far in the process.
Current destinations: Alaska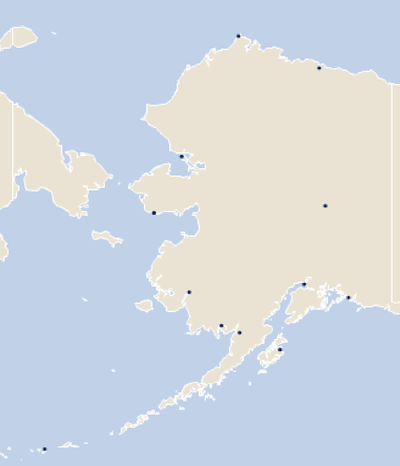 And the rest...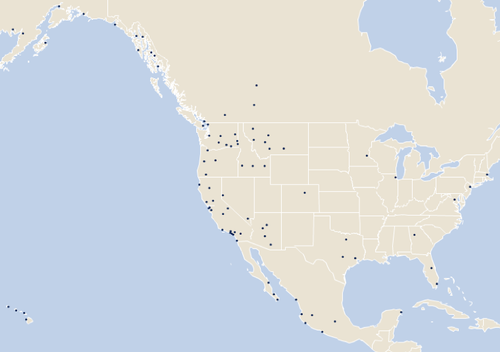 Chart 2 - SEA pax market share 1/1-8/31 09
In addition to Seattle, the Alaska Group also has a predominant position at Portland, Oregon (PDX), 129 air miles south of Seattle. Unlike Seattle, where Alaska dominates, Horizon is the larger presence at PDX. Portland is the only city besides Seattle from which Alaska operates transcontinental flights – with the exception of its single flight between Washington/Reagan and Los Angeles.
The effect of the smaller aircraft operated is shown in the passenger versus operations disparities in Chart 3 and 4. Alaska accommodated 13.4% of the passenger with 10.8% of the airports operations. Southwest and Horizon carried similar passenger percentages but Horizon operated nearly double the flights to do so. Use of the smaller -400s allows much higher frequency.
For instance, to Boise, Idaho, Southwest operates 3 737s daily as opposed to Horizon's offer of 5 DH-4/CR-7 operations.
Chart 3 - PDX Pax Market Share
Chart 4 PDX Operations by carrier, August 2009
Two airlines, one code, loose alliances
For the other legacy carriers, much of their regional partner flying is done by contracted carriers as described in our issue in Republic and the interesting interweaving of regional service airlines.
Alaska and Horizon operate as a closed system, with all flights being listed in the OAG as AS, albeit with an asterisk when operated by Horizon (QX), which operates no flights with its own code.
Additionally, alone among the network carriers, it belongs to no Global Alliance though its Mileage Program tie-ins encompass an interesting combination of oneworld and SkyTeam members – but not all. There are no links at all with Star alliance carriers and its previous links to Continental have been terminated by that carrier's move to Star.
As such, codeshares provide yet another interesting differentiator as Alaska flights carry an interesting assortment of partner codes. All AS services from Seattle to San Francisco, for instance, carry an AA code, with AA having no flights using its own equipment. But a number of those daily services also carry an NW code – not all, but some. The same is true to Los Angeles. It is increasingly rare to find multiple alliance partners "cohabiting" the same partner flight.
Yet its two transcontinental nonstops from Washington's Reagan airport, to Seattle and Los Angeles, include a DL code. It is of interest because Delta is not a big player in the Washington market, but the two that are, and might have the greatest interest, US Airways and United, are part of Star.
Still dominant at home, but cultivating strength outside
Though now much more widespread geographically, Alaska maintains its roots (and routes) in that state. It is the primary trunk carrier both intrastate and interstate as shown in Chart 5. In addition to Anchorage, its nonstops to Seattle are the only direct links from Juneau, Fairbanks, Ketchikan and Sitka as well.
Chart 5 - ANC Domestic Nonstops
However, there is an equal and counterbalancing network strength at the southern end. Chart 6 displays the predominant role played by Alaska in linking Los Angeles (LAX) to the huge market in Mexico. Alaska serves more Mexican destinations nonstop than does either of the Mexican carriers and, surely in the leisure market, is the prime player.
Chart 6 - Nonstop Operators From
And not to skimp on warm weather destinations, it is becoming an increasingly prominent player in Hawaii as shown in Chart 7.
Chart 7 - AS Hawaii Service
Improving product perception
While still ranking below some of its new generation competitors, specifically JetBlue and Virgin America, Alaska continues to rank number one in its network carrier group. It has been the recipient of the top domestic airline award from J.D. Power for the past two years and with the exception of Continental, far outranks its network peers. Additionally, it has also garnered the Conde-Nast Traveler top spot for network carriers.
According to the US DOT rankings, it received the fewest number of complaints per thousand passengers of any of the network group. The industry average was 1.15 per thousand and at 0.45 Alaska outperformed the worst record, US Airways with 2.01, by a huge margin. As of August, 2009, the latest month available, AS continues to have the fewest complaints of any network carrier.
Route innovation strategy has been successful
Yet another link to the new generation carriers is its willingness to expand when opportunity knocks as well as knowing when it is unlikely to gain an advantage. In Chart 7, Kona and Maui are served from Oakland. American Trans Air formerly had numerous services from Oakland to Hawaii and with ATA's demise, Hawaiian began daily B767-300 service to Honolulu. Rather than challenge HA directly to its primary hub, Alaska has chosen to operate its smaller aircraft to other Hawaiian points.
Similarly, for years American linked Silicon Valley (San Jose) with Austin, Texas, also a center of high tech research. The flight, dubbed the Nerd Bird by frequent patrons, was recently cut by American and that gap was quickly filled by Alaska, which has lower unit costs and higher unit revenue according to the latest Q2 2009 figures from the DOT.
Using Horizon propjets, it has tapped the wealthy communities north of San Francisco by flying direct from Santa Rosa to Seattle, Portland, Las Vegas and Los Angeles. This is a growing part of the Bay Area that sits on the far side of often-congested bridge links to both SFO and OAK, making AS the region's only local option.
And the bottom line: hanging in there
Looking at ten years' worth of figures in Chart 8, one realizes that the group, along with many other airlines of any business model, shares a spotty history of profitability. As operating airlines, the years in which revenues exceeded expenses are relatively few.
Alaska has seen a generally upward trend in its yields while Horizon, by 2008, had yet to replicate the yields seen in 1999-2001.
Cost containment has been relatively effective, with the predictable 20% increase last year as fuel costs took their toll.
Chart 8 - A decade of selected results
| Alaska | 2008 | 2007 | 2006 | 2005 | 2004 | 2003 | 2002 | 2001 | 2000 | 1999 |
| --- | --- | --- | --- | --- | --- | --- | --- | --- | --- | --- |
| Yield per pax mile | 14.13 | 13.81 | 13.76 | 12.91 | 12.47 | 12.65 | 12.65 | 13.12 | 13.56 | 12.86 |
| Operating revenues/ASM | 12.06 | 11.52 | 11.5 | 10.76 | 10.02 | 9.74 | 9.47 | 9.48 | 10.2 | 9.75 |
| Operating expenses/ASM | 12.54 | 10.55 | 11.93 | 10.14 | 10.07 | 9.81 | 9.87 | 10.24 | 10.35 | 9.81 |
| Horizon | | | | | | | | | | |
| Yield per pax mile | 27.43 | 24.3 | 23.53 | 21.98 | 22.61 | 26.96 | 26.02 | 28.15 | 29.82 | 28.77 |
| Operating revenues/ASM | 20.29 | 18.06 | 17.73 | 16.36 | 16.2 | 18.06 | 17.29 | 19.02 | 19.27 | 18.96 |
| Operating expenses/ASM | 21.42 | 18.07 | 17.41 | 15.5 | 15.57 | 17.79 | 17.87 | 21.02 | 19.53 | 17.74 |
| Group Net ($millions) | -135.9 | 124.3 | -54.5 | 5.9 | -15.3 | 13.5 | -118.6 | -43.4 | -67.2 | -129.4 |
An LCC wolf in network airline's clothing?
While the legacy carriers and their new generation counterparts continue to seem more hybridized, Alaska exhibits some traits that separate it from either group. Time will tell if this varietal model works. For now, it seems to.
It is the only US network carrier that has no intercontinental reach and is the only US major that remains predominantly regional;
But like many of the LCCs, Alaska has a substantial reach into cross-border markets;
It is the only network carrier with no formal Alliance affiliation, although bilateral codeshares exist;
Despite absorbing some Alaskan carriers and one regional start-up (Jet America), Alaska's growth has been far more organic than the other network players, all of whom have swallowed a big fish or two in their history;
It operates from a hub which it dominates. But the hub is at the periphery of the national grid and, and while it has strength at other airports, Portland for instance, the vast majority of its flights begins or ends in Seattle;
The carrier is far more akin to the new entrants in terms of customer satisfaction than it is to its legacy peers;
Alaska has not been immune to the financial ups and downs that characterize almost all industry players. However, unlike many others, it is expected to show some profitability in 2009, quite a feat in the current environment;
A quick overview of various fares revealed that Alaska prices in line with competition, even if that competitor is Southwest, though by imposing bag charges that are absent from Southwest, the trip cost for passengers will be higher for those with checked bags. Interestingly, in a search for nonstops between New York and Seattle, Alaska's fares were identical to Delta and American, all having the lowest, but this group undercut Continental by $20 and JetBlue by nearly $100. Making any definitive, all-inclusive statement about pricing is folly, but in the examples researched, Alaska always had some services priced equal to the lowest available fare. In no case was it the lowest.
So if the industry is moving towards hybrid business models, the Alaska Group demonstrates some ways in which that might come to pass. It seems to hold its own against varied competitors, please its customers, and has opted out of the "nationwide" model as well as alliances. Now if only Alaska could consistently be profitable.