Alaska Air Group-Virgin America: Alaska ups it leverage to expand US market share
Analysis
For most of its history Alaska Air Group has quietly built up strength in the Pacific Northwest. Beginning in the 2000s, the company undertook a balance sheet restructuring that won Alaska coveted investment-grade status in 2014. That milestone occurred in 2012 after Delta Air Lines began a massive incursion into Alaska's largest hub and headquarters in Seattle.

Alaska arguably held its own under attack from Delta, and has now made a bold move to acquire Virgin America. Alaska's motivation is to build scale and remain relevant in the consolidated US market place. The three large US global network airlines (American, Delta and United) dismiss market share grabs as an outdated concept in the current industry environment, largely due to the fact that those airlines – along with Southwest – control 82% of US domestic seats.
If Alaska is successful in pursuing an acquisition of, and merger with, Virgin America, its scale in the US market, notably on the west coast, improves.
Inevitably there are inherent risks in Alaska's decision to acquire its smaller rival. Aside from challenges of execution, the company could see its favourable credit ratings reduced as it opts to take on debt to finance the transaction. In the short term, Alaska's shareholder returns will also shrink as it works to complete the acquisition.
Over the longer term, Alaska is betting its investment would allow the combined airline to become a powerful force along the US west coast, which Alaska believes would be worth the higher price tag that Virgin America has fetched.
In pursuit of Virgin America, Alaska risks some short term pressure on its credit ratings
The proposed purchase price will be heartwarming for Sir Richard Branson and his Virgin Group, wiping off the establishment losses suffered, with interest. The Virgin Group has never been accused of being soft negotiators and a bidding contest between two keen buyers would have been a welcome scenario that could hardly have been envisaged just a couple of years ago.
Alaska plans to use USD600 million in cash and issue USD2 billion in new debt to acquire Virgin America for USD2.6 billion in equity, and USD1.4 billion in net debt and assumed leases at Virgin America. The selling price quickly drew scrutiny from the industry. Before the news of a potential sale surfaced, Virgin America's market capitalisation was approximately USD1.5 billion.

Alaska feels confident of gaining favourable rates to finance the Virgin America transaction, citing 92 unencumbered Boeing 737 narrowbodies in its fleet.
Alaska executives stated that the company has not accessed the debt markets since 2009, and many partners have expressed an interest in helping the airline finance the deal. Alaska believes that it can forge financing arrangements with interest rates "south of 4%", depending on how much of the debt is structured with floating and fixed rates.

The company acknowledges that acquiring Virgin America will alter some of it current financial metrics. Its debt-to-capitalisation will grow from 27% in 2015 to 58% at the close of the merger. Alaska has a stated goal of driving its debt-to-capitalisation to 45% by mid-2020, and it stresses that even with the jump to 58% its leverage remains below those of Spirit, Allegiant, United, Hawaiian and American.
Alaska Air Group post-merger debt-to-capitalisation compared with YE2015 metrics of US airlines
In 2014 Alaska joined Southwest as the second North American airline with investment grade status. Canadian low cost airline WestJet followed shortly thereafter. Alaska stated that it had held preliminary discussions with ratings agencies about the acquisition of Virgin America, and those entities will need to conduct a review of the transaction.
Alaska feels the examination should produce a favourable outcome. The company highlighted that half of S&P 500 Industrials have leverages ranging between 40% and 60%.

However, shortly after the merger announcement, the ratings agency Fitch placed Alaska on a negative rating watch, citing incremental debt that the company is raising to fund the transaction and general integration risks. Fitch estimated that with the new debt Alaska's total net debt to EBITAR would fall between 2.9x to 3.2x on a pro forma basis, versus Alaska's stand-alone of 1.6x at YE2015. The ratings firm expects that ratio to settle at 2.5x by 2019.
Alaska plans to slow share repurchases as it works to bring in Virgin America
In addition to taking on debt to fund the Virgin America acquisition, Alaska has also stated that it will slow its share repurchase programme in 2016 and 2017 to support the transaction, but in 2018 it plans to resume buybacks at levels it has achieved during the last couple of years.

In 2015 Alaska spent USD505 million in stock buybacks and USD348 million the year prior. Company executives stated that repurchases for 2016 and 2017, while slowing, would not fall to zero.
Alaska opts to buy US west coast market share; jointly the airlines have 22% of the market
Alaska concluded that the acquisition of Virgin America would allow it to establish a foothold in key markets that would have been difficult to attain organically. It highlighted valuable real estate that Virgin America holds at competitive airports – eight gates at San Francisco, six at Los Angeles, 23 slots a New York JFK, 12 at New York LaGuardia, 15 at Newark Liberty and 10 at Washington National.

Virgin America also has two gates at Dallas Love Field, which it gained as part of concessions required by the US Department of Justice in order for American and US Airways to proceed with their merger. Alaska serves its hubs in Seattle and Portland from Dallas/Fort Worth, but it is not clear whether it would be interested in moving its operations to Love Field.

In essence, Alaska has bought its way into becoming a formidable force on the US west coast, where there are competitive north-south flights and transcontinental services.
Alaska estimates that after the merger's completion it will hold a commanding 22% seat share on the US west coast.

After the merger, Alaska jumps to a number two position in San Francisco. Based on current schedules, combined Virgin America and Alaska would hold a 13% seat share in San Francisco.
San Francisco International Airport capacity by airline (% of seats): 4-Apr-2016 to 10-Apr-2016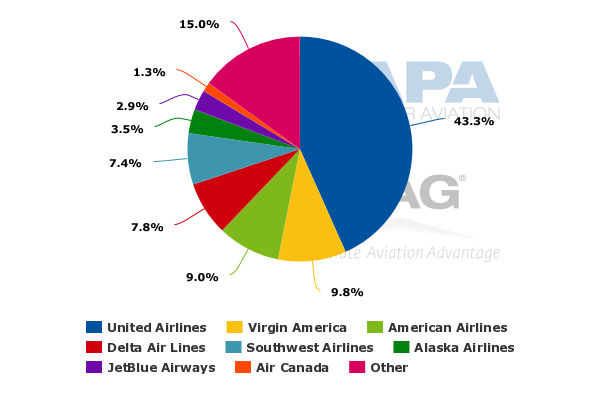 At present Alaska serves one of the top ten markets from San Francisco – its hub in Seattle. Once the merger with Virgin America closes, it will have a presence on all of those routes, building its competition with US major airlines.
Airline seat share on the top 10 routes identified by Alaska from San Francisco: Week of 4-Apr-2016
Alaska also gains more prominence in the fragmented Los Angeles market. Based on the seat share allotment for 4-Apr-2016 to 10-Apr-2016, a combined Alaska and Virgin America would represent nearly 9% of the seats deployed from the airport.
Los Angeles International Airport capacity by airline (% of seats): 4-Apr-2016 to 10-Apr-2016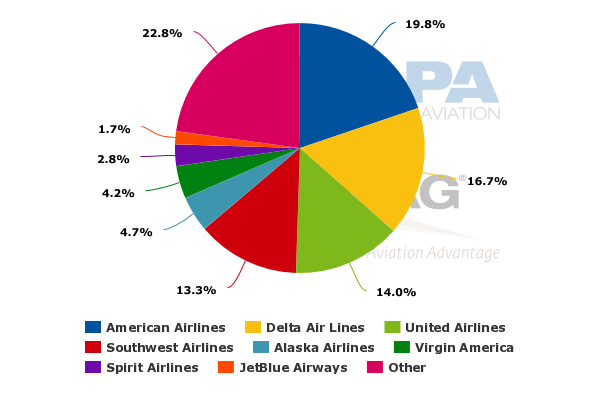 Similarly to San Francisco, from Los Angeles Alaska only serves one of the top 10 markets – Seattle. Combined with Virgin America it gains access to all the top markets from the airport with the exception of Atlanta and Honolulu, although Virgin America is scheduled to launch flights from Los Angeles to Honolulu in May-2015.
Airline seat share on the top 10 routes identified by Alaska from Los Angeles: Week of 4-Apr-2016
For years Alaska has been making a transcontinental push from Seattle, and has added some cross-country flights from San Diego including Orlando International and Boston . The merger with Virgin America creates an expedited path to enlarge that type of growth on a larger scale from facilities that are constrained. (see background info.)

Once the merger is complete Alaska will retain hubs in Seattle, Portland, San Francisco and Los Angeles, and have access to important transcontinental markets. For the cross-country flights to JFK, in particular, Alaska is competing with airlines that offer premium cabins with fully lie-flat seats. Neither Virgin America nor Alaska offers a similar product.
Virgin America's logic has always been that the cost-benefit analysis does not produce a favourable *N for a sub-fleet of aircraft configured for special transcontinental routes, but with a combined fleet of 282 aircraft, perhaps the logic changes for Alaska and Virgin America.
Virgin and Alaska have a small but thriving - and complementary - business in international on-carriage
As CAPA observed in Jan-2016, "Alaska Air Group is making subtle changes to its business in 2016, which include the introduction of a premium economy product and a decision to enlarge its fleet of larger regional jets, as the airline positions itself to compete more effectively with its rivals."
In this respect Alaska, with its powerful north-south west coast network, holds a unique position in being able to service international airlines' on-carriage along the coast and into Canada. An intermediate premium product enhances Alaska's attraction to a mix of travellers connecting from or onto the international partners.
See also: Alaska Airlines braces for more ULCC competition as it makes subtle shifts in its business strategy
This dovetails well with Virgin America's inflight product and reputation, as a high quality but low cost operation. And, given the extension of Alaska's network into many more transcontinental markets through the Virgin acquisition, the combination represents a significantly improved range of options for their international partners.
Interestingly Virgin America brings with it a list of partners that offers a net addition to the airlines served by Alaska. In most cases too, these airline partnerships extend to linked frequent flyer programmes, a valuable asset for a short haul operator.
Alaska Air and Virgin America codeshares with international airlines
Virgin America's leases could add heft to Alaska's off-balance sheet debt
The possible fleet composition of a merged airline always ignites a high level of intrigue, and Alaska-Virgin America is no different. Speculation is rife about the fate of Virgin America's Airbus narrowbody fleet, given the fact that Alaska is an all-Boeing operator.
Alaska Airlines Fleet Summary as of 6-Apr-2016
Virgin America fleet summary as of 6-Apr-2016
Alaska is being coy about what would be the fate of the Airbus aircraft. The company intends to study the Airbus operation, and will essentially determine the fate of the fleet at a later date. Alaska did confirm that most of Virgin America's fleet is leased (90% according to the CAPA fleet database), and Alaska executives have stated that leases for approximately 25 of Virgin America's existing aircraft become eligible for renewal in the 2020 to 2022 timeframe.
Virgin America owned vs leased for aircraft as of 6-Apr-2016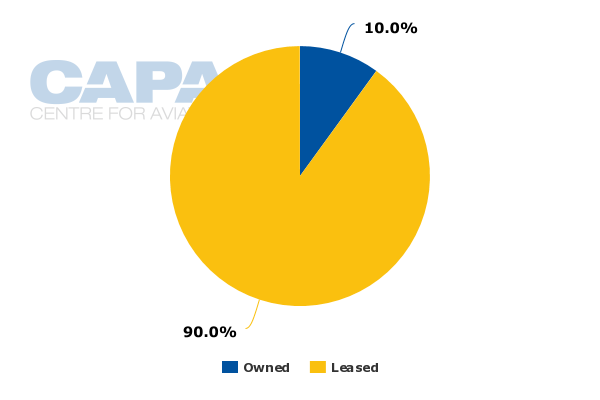 Fitch concluded that Virgin America's leased aircraft would add substantial off-balance sheet debt for Alaska outside the new debt issued to fund the transaction. The ratings agency calculated that Virgin America's aircraft rent expense in 2015 was USD219.8 million, which would equate to USD1.76 billion in off-balance sheet debt. Based on those factors, Alaska's appetite to retain the Airbus fleet may not be very healthy. Alaska has also cited favourable cancellation provisions on 30 A320neos that Virgin America has on order.

Alaska still intends to place an order for 30 larger regional jets to join 52 of the 70 seat Bombardier Q400 turboprops operated by its subsidiary Horizon, and 15 Embraer 175s flown by SkyWest on behalf of Alaska. Those smaller aircraft provide flexibility to feed the west coast hub from longer thinner routes not viable for larger jets.
The regulatory response to Alaska-Virgin America holds many unknown variables
One unknown variable in Alaska's intention to acquire and merge with Virgin America is the reaction of US regulators, who have adopted a hostile attitude to mergers that have created the present iterations American, Delta and United. Although there is little route overlap between Alaska and Virgin America, there could be some general concern about the further concentration of US share among a handful of airlines. Alternatively it could be considered that enhancing the shares of some of the smaller players helps offset the dominance of the Big 4.
At the least some sort of divestiture will almost certainly be required. The ultra-low cost airlines Spirit and Frontier have been expanding on the west coast, and may argue that in order to protect consumer interests ultra-discounters should gain enlarged access to west coast markets.

The 2016 US presidential election also presents another unknown factor as Alaska works toward gaining approval to buy Virgin America. At the very least it could disrupt Alaska's planned integration timeframe, which presently targets achieving a single operating certificate in 1Q2018.
Alaska's balance sheet has prevailed in the contest to acquire Virgin America
Alaska executives recently told investors that it approached Virgin America about a potential acquisition in late 2015. According to numerous media reports, jetBlue at some point decided to pursue Virgin America as well. Alaska executives admitted that submitting the winning bid was a "hard-fought battle" and ultimately – Alaska's balance sheet "let us go farther".

Although Alaska is potentially jeopardising its balance sheet strength in the short term, jetBlue would have to assume much deeper debt to pursue its transcontinental rival. At YE2015 jetBlue's cash balance was USD318 million and its short-term investments totalled USD558 million, along with an undrawn revolver of USD400 million. jetBlue's YE2015 leverage ratios of 1.1x were actually better than Alaska's, but jetBlue likely would have had to take a greater level of higher interest debt to fund the Virgin America acquisition.
Alaska's management is very competent, but executing a successful merger is a new challenge
How the Alaska-Virgin America merger will ultimately shape the industry remains unknown. It seems fairly clear that Virgin America's preference would have been to be left to its own devices. But with investor patience wearing thin, and with Wall Street analysts potentially pushing further consolidation, it was becoming tougher for Virgin America to escape being an acquisition target.

Virgin America is falling into very capable hands.
Alaska's management team has proven its competency in shoring up its balance sheet and meeting formidable competitive threats head-on. But merger integration is an altogether different beast, and could be Alaska's biggest challenge yet.
background info
Alaska and Virgin America combined route map as of 4-Apr-2016