Air Canada LCC offers lower new hire pay, tries to follow Asia
Air Canada's plans for a low-cost carrier subsidiary has taken one small step forward with a tentative agreement with the Canadian Union of Public Employees. The union is recommending its members accept the new, five-year contract, which calls for an annual 2% wage increase, rising to 3% after three years. But Air Canada still has to overcome several challenges before the LCC can be launched.
The deal was cut after the airline agreed that the LCC would be limited to low-cost carrier markets and would not replace mainline service on routes that are now financially viable. The LCC would mean 1,400 flight attendant and 460 pilot jobs by 2015.
Despite ambitious plans and progress with at least cutting a deal with CUPE, it still faces major hurdles. The flight attendants may follow the Air Canada Pilots Association in rejecting the proposed deal, which calls for lower wage rates for LCC new hires just as the pilot contract did in May before it was rejected shortly thereafter. Indeed, CEO Calin Rovinescu has stated there will be no LCC if it does not achieve union agreement.
Following Asia
Having already failed, along with United and Delta, at previous attempts at an LCC subsidiary, this is Air Canada's third run at developing an LCC. Tango was launched in 2001 and shut down in 2003. Zip Air was launched in 2002 and closed in 2004.
Now, however, Mr Rovinescu says Air Canada is trying to emulate Asian carriers. But the carriers he cited during Air Canada's recent earnings call - Thai, ANA, JAL and Singapore Airlines - are only in the process of now establishing LCCs and certainly do not present the track record needed to engender confidence in the plan. High-growth Asia is also a very different market from the slow-growth North American market. Plus Asia doesn't have the labour issues that North American carriers face in trying to establish LCC subsidiaries.
The best-known and longest-lasting legacy/LCC combination is Qantas Group subsidiary Jetstar. The LCC launched in 2003 as a domestic carrier in Australia but has since expanded into the long-haul market as well as into Asia with affiliates in Singapore and Vietnam. Qantas remains one of the few airlines with a successful dual-brand strategy.
Air Canada's deal with flight attendants
If the deal is approved by CUPE members, flight attendants of the new Air Canada LCC would start at CAD22.99 per hour, the rate mainline flight attendants were paid in 2008. It would be 10 years before the LCC flight attendants achieve the CAD36.08 wage rate that mainline attendants now get after four years.
Rates at the mainline top out at CAD48.27 after nine years or about CAD3,137 per month according to union documents issued to members in advance of union meetings this week. Air Canada currently has 6,800 flight attendants.
Costs for the LCC are targeted at the charter and leisure sector, where it would compete against Air Transat, WestJet and Sunwing. Air Transat and Sunwing follow a leisure carrier business model while WestJet is the only Canadian low-cost carrier. But all three carriers also have large charter operations.
WestJet currently accounts for 18.3% of scheduled capacity (seats per week) in the Canadian market, compared to 42.3% for Air Canada, 3.6% for Air Transat and only 0.8% for Sunwing.
Canada capacity (seats per week to/from/within) by carrier, 08-Aug-2011 to 14-Aug-2011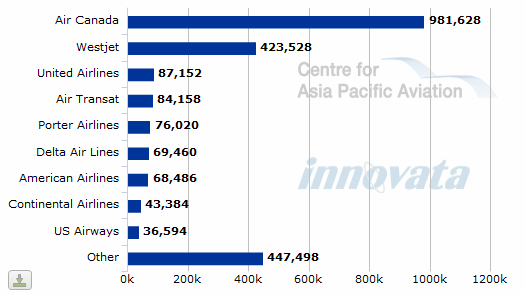 The LCC penetration rate in Canada is currently only 18.4%, with WestJet accounting for nearly the entire LCC market because very few foreign low-cost carriers now serve Canada. According to Innovata data, only four LCCs currently serve Canada – Westjet, Germany's Air Berlin, Dutch carrier Arkefly and Iceland Express. US LCCs have stayed away from Canada primarily because of the country's high airport costs, with Virgin America dropping its Toronto service in Apr-2011 after less than one year in the market.
Canada capacity (seats) share by carrier type, 08-Aug-2011 to 14-Aug-2011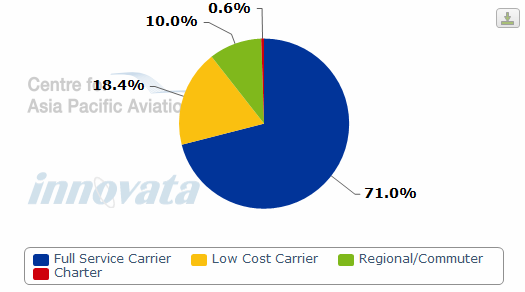 Low-cost carriers serving Canada, ranked by capacity (seats per week, 8-Aug-2011 to 14-Aug-2011)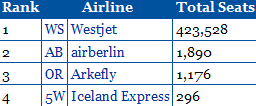 When Air Canada first discussed the LCC, it indicated it would have both long- and short-haul aircraft as it would not only serve sun destinations south of the border but Europe as well.
See related story: Air Canada brings depth to LCC plans
While Air Canada is making progress in its LCC plans, it clearly has major hurdles beyond unions to overcome at a time when economies are in turmoil and financing will likely tighten. The Asian LCC start-ups will likely benefit from the rapid economic growth taking place in Asia and a relatively positive environment in Asia for securing financing. That is not true of the North American market.