Aeromexico works to strengthen its global network as Mexico's economy start a slow path to recovery
Analysis
Grupo Aeromexico is embarking on 2015 with several initiatives under way to strengthen its network to ensure it maintains its stature as Mexico's leading airline. The company is rebanking its strategic hub at Mexico City while resuming limited operations at nearby Toluca to alleviate some operating constraints at Mexico City Juarez.

Aeromexico is also in the midst of building up its hub at Monterrey and touting a new shuttle product from Mexico City to the country's busiest business markets. At the same time, the airline is expanding its international footprint with new destinations in Latin America as well as new North American markets.

The network optimisation occurs as Mexico's economic performance measured by GDP growth looks to improve year-on-year in 2015. Some of the challenges Aeromexico faced in 2014 are lingering into 2015, including pricing traction in Mexico's domestic market. But Aeromexico seems to be taking the necessary steps to blunt the weakness that still may be present in Mexico's domestic aviation market through efforts to maximise the vast connectivity it can offer compared with its rivals.
Aeromexico works to shore up market share through higher loads and lower yields
For roughly a year Aeromexico has been working to shore up its domestic market share after fast expanding low-cost airlines Volaris, Interjet, and to a lesser degree VivaAerobus, rapidly built their share in the market.

Part of Aeromexico's strategy in regaining some of its market share was trading in loads for yields in an already weak yield environment driven by a sagging Mexican economy, evidenced by the country's GDP growth in 2014 of 2% to 2.5%. Aeromexico's yields for the 9M ending Sep-2014 fell by 10.3% year-on-year. But the airline's load factor grew 3.5ppt to 80.2%, reflecting the shift in its revenue management strategy.

Aeromexico has projected 12% overall ASK growth in CY2014 and during 4Q2014 anticipated 5% to 6% growth all directed toward international markets. In late 2014 it launched flights from Mexico to Managua, Monterrey to New York JFK and increased frequencies from Mexico City to Orlando and Miami.

During 2014 Aeromexico's domestic market share has generally settled around 36%, which was its share for the 11M ending Nov-2014. Interjet held a 24% domestic share, Volaris posted a 23% share and VivaAerobus held a 12% share. Smaller airlines Magnicharters and Aeromar held approximate shares of 3% and 2%, respectively.
In addition to moving towards a 12 bank structure at its main hub and headquarters at Mexico City Juarez that entails the phase out of 50-seat jets operating at the airport, Aeromexico also made a push from Monterrey in 2014, which is its second largest base measured by seats.
Presently, (12-Jan-2015 to 18-Jan-2015) Aeromexico is Monterrey's largest airline measured by seat deployment with a 29% share. It added nine new destinations from Monterrey in 2014 – Los Cabos, Puerto Vallarta, Cancun, Aguascalientes, San Luis Potosi, Tokyo Narita, Houston, Torreon and New York JFK. During Jun-2014 Aeromexico also introduced a four-bank connecting framework at the airport to leverage traffic flows between North, Central and Eastern Mexico. Its SkyTeam partner Delta operates flights from its US hubs in Atlanta and Detroit to Monterrey as well as offering service from Los Angeles, which also supplies connecting feed other airlines serving Monterrey do not have the benefit of leveraging.


Aeromexico global top 10 hubs/bases/stations by seats: 12-Jan-2015 to 18-Jan-2015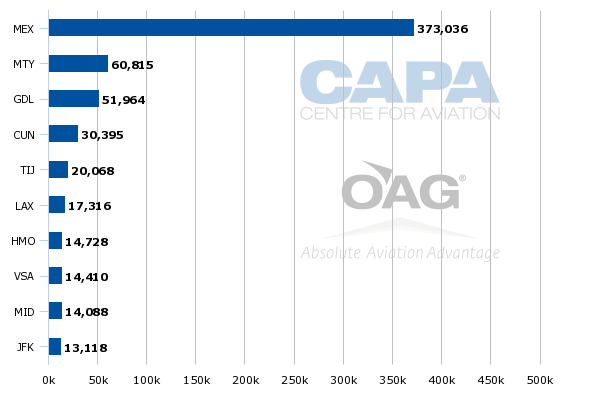 Monterrey Escobedo International Airport capacity by airline (% of seats): 12-Jan-2015 to 18-Jan-2015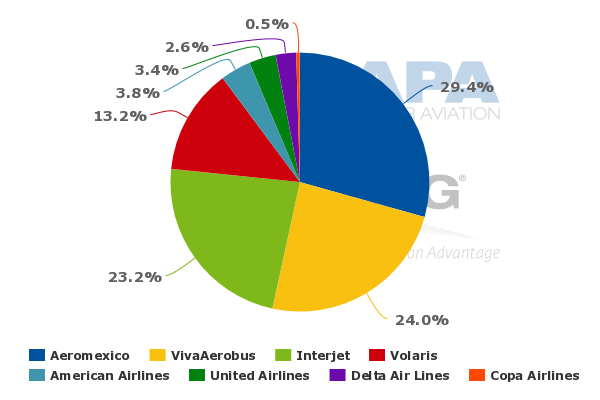 Aeromexico estimated that once all the changes are complete in Mexico City, the airline would offer increased connections to 35 additional cities. Prior to initiating the changes to banking, Aeromexico had four connecting banks per day at its Mexico City hub.
Aeromexico's connecting banks in Mexico City Juarez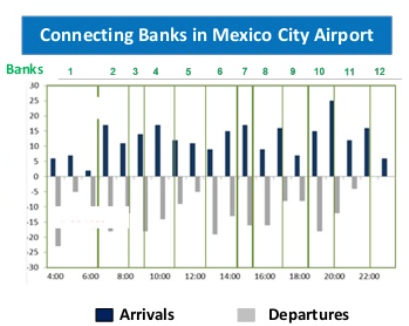 For the 9M ending Sep-2014 Aeromexico estimated that 30% of its system-wide passengers were connecting onto other destinations, compared with 26% in 2013 and 21% in 2012.
Aeromexico connecting passengers percentages: 2010 through Sep-2014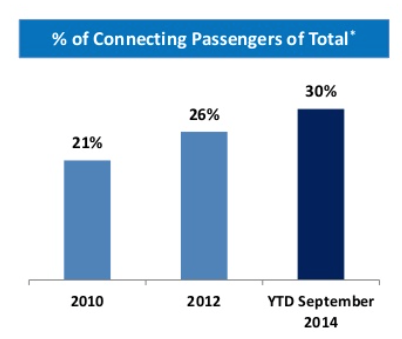 Presumably the connecting passengers are higher yielding, and in some ways could give Aeromexico an advantage over its domestic rivals that offer point to point flights due to Aeromexico's ability to market a much broader network, especially in conjunction with its partner Delta Air Lines, which holds a minority stake in Aeromexico.
Aeromexico opts to resume flights at Toluca with smaller regional jets of Aeromexico Connect
The operational constraints of slot-controlled Mexico City Juarez have resulted in Aeromexico resuming flights to Toluca (66km from Mexico City) after cutting service from the airport in 2014. Beginning in mid-Jan-2015 it started flights operated with 50-seat Embraer ERJ regional jets to Guadalajara and Monterrey.

Schedules in CAPA and OAG for the week of 12-Jan-2015 to 18-Jan-2015 show that Aeromexico has no direct competition from Toluca to Guadalajara while competing with Interjet on flights to Monterrey.

Although Mexico City Juarez is operationally constrained, Aeromexico also likely needed somewhere to place 50-seat jets exiting operations at Mexico City Juarez. Aeromexico has a stated goal of migrating its fleet from its current composition of ERJ-145s, Embraer 170s/190s, Boeing 737-700/800NGs, 767s, 787s and 777s to Embraer 170s/190s, 737-800NG and 737-800MAX and 787s by 2018.
But according to the CAPA Fleet Database Aeromexico Connect still operates 26 of the aircraft, so some of the jets exiting Juarez needed to be deployed elsewhere in Aeromexico's network.
Aeromexico Fleet Summary as of 16-Jan-2015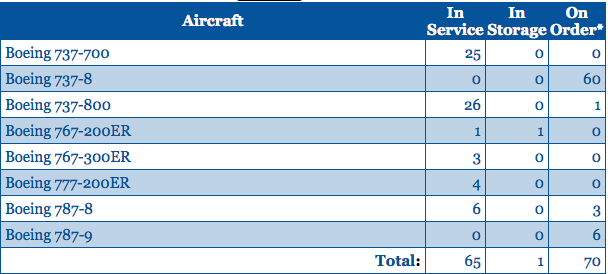 Aeromexico Connect Fleet Summary as of 16-Jan-2015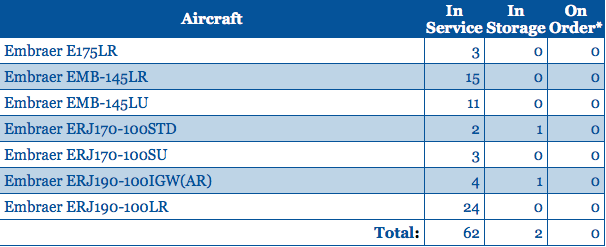 Aeromexico starts a business shuttle to capture corporate customers
Aeromexico is also offering a new shuttle service "Aeropuente" from Mexico City to Guadalajara and Monterrey, and between those two cities. The airline highlights that those are the three largest corporate markets in Mexico, representing approximately 20% of Mexico's domestic business market. It is offering hourly flights on aircraft with two-class service and improved onboard amenities.

Data from CAPA and OAG for the week of 12-Jan-2015 show that Aeromexico's seats on offer from Mexico City to Guadalajara have grown 16.3% year-on-year, with the airline holding a commanding 37% seat share. Its rival Interjet has a 32% share with Volaris and VivaAerobus holding respective shares of 23% and 8%. Total seats on offer have grown nearly 16% year-on-year.

Between Mexico City and Monterrey, Aeromexico's seats have increased nearly 19% year-on-year, and it holds a 39% seat share in the market. Interjet has a 35% share followed by VivaAerobus' 14% share (Monterrey is VivaAerobus' headquarters and largest base) and an 11% share by Volaris. The total number of seats in the market has grown roughly 18% year-on-year for the week of 12-Jan-2015.

From Guadalajara to Monterrey, Aeromexico's seats have actually fallen 4% year-on-year, but it still holds a commanding 32% seat share. Interjet's share is 25%, VivaAerobus has a 25% share and Volaris holds a 17% share. Overall seats in the market have declined approximately 2% year-on-year, with Volaris posting the largest decline of 20%.

The shuttle product is no doubt an effort by Aeromexico to improve its schedules for higher yielding business passengers, as well as touting better connections for those customers through Mexico City onwards to other long-haul destinations. Given Aeromexico's nearly 42% seat share at Mexico City Juarez, an ability to market easy connections through Mexico's largest airport is a competitive lever not available to its rivals.
Through its SkyTeam membership and its own long-haul footprint, Aeromexico also is able to market a much broader network to business passengers than its rivals, particularly Interjet, which is more of a hybrid LCC that courts business customers. On its own Aeromexico operates to roughly 80 destinations compared with 53 for Volaris, 47 offered by Interjet and VivaAerobus' 26 destination network. (All data is from CAPA and OAG as of 18-Jan-2015).
Mexico City Juarez International Airport capacity by airline (% of seats): 12-Jan-2015 to 18-Jan-2015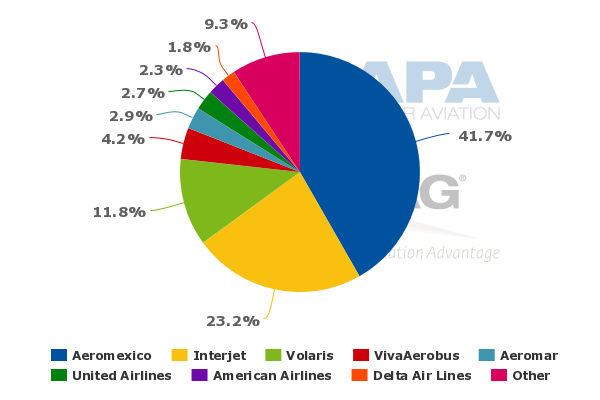 Aeromexico opts for a mix of new routes in 2015 to both North and Latin America
Aeromexico during 2015 is planning to inaugurate a mix of new international routes to North and Latin America. Following the launch of flights from Mexico City to Managua, Nicaragua in late 2014, Aeromexico is introducing flights to Panama City and Medellin.

Panama City is the only market where Mexico faces competition from Panama's Copa Airlines. Both Panama City and Medellin are logical markets for expansion as the economies of Panama and Colombia are generally stronger than other Latin American countries. Panama's GDP growth in 2015 is projected at 6.4% and Colombia is forecasted to grow GDP by 4.5%. Medellin is also home to numerous domestic and international firms, so a direct flight to Mexico City, in theory, should hold promise. Medellin is also Colombia's second largest airport measured by arrivals.

Other new international routes planned by Aeromexico during 2015 include the launch of service from Mexico City to Boston and a return to Toronto. It is a nice addition for Boston, where Aeromexico partner Delta Air Lines is the second largest airline with a 15% seat share for the week of 12-Jan-2015 to 18-Jan-2015. Presently, Boston has no links to Mexico City, so demand on the pairing should be fairly solid as Aeromexico can market better access to its network through improved connections in Mexico City.

Aeromexico previously dropped service to Toronto and Montreal in 2010, citing low demand. Once it resumes flights Aeromexico will compete with Air Canada on the pairing. But operating dynamics may have improved. Air Canada recently cited 10% passenger growth on its routes to Mexico during 2014, noting that visa requirements have eased. In addition to Mexico City, Air Canada's other markets in Mexico include Cancun, Cozumel and Puerto Vallarta. It is also launching flights from Montreal to Mexico City in May-2015. Aeromexico no doubt also sees opportunities from an easier visa process and perhaps now feels that it can make the route viable.
Aeromexico's broader diversification could prove fruitful in 2015
Aeromexico is starting 2015 with a lot of moving parts in its domestic network as the country's economic recovery is progressing slowly, and could be hampered by recent outbreaks of violence in Mexico.

Those are not unfamiliar challenges to Aeromexico, which is likely to slow its domestic capacity growth in 2015 even with the push to improve its connecting banks in Mexico City and Monterrey. The airline is also diversifying its route structure into stronger economies where it faces little competition, for now.

At this point it is tough to predict how Mexico's airlines will perform in 2015 as the country's larger airlines are turning their attention to international markets, mostly to transborder service to the US. But Aeromexico seems to be making logical moves to withstand the still tenuous domestic market while expanding its global presence, something that is unattainable for its domestic rivals.
During 2015, bigger could prove to be better for Aeromexico.