Aegean narrows 1H loss despite difficult conditions
Aegean Airlines, Greece's largest airline by passenger numbers, narrowed losses in 1H2011 (six months to 30-Jun-2011) despite myriad trading difficulties across Europe and sharp fuel price rises. While economic problems have been much more acute in Greece than elsewhere, Aegean Airlines has turned the business around following cost reductions and a network overhaul, leaving it less exposed to the Greek market.
Aegean Airlines reported a net loss of EUR19.82 million in 1H2011, a reduction from EUR32.56 million in 1H2010 despite pressing economic conditions at home and abroad as well as the global rise in fuel prices during the period. At the EBITDAR level, though, which more accurately captures operating costs, earnings fell 18% to EUR16.12 million, despite a 10% increase in top line revenue.
"Despite the difficult economic environment, we have invested in new markets, in view to enhancing [Aegean's] position internationally and taking advantage of opportunities related to the strengthening of Greek tourism," managing director Dimitris Gerogiannis said. "We need to translate our positive commercial performance into profits in coming years." The environment for Aegean continues to be challenging, the MD noted, with the recession in Greece and higher fuel costs expected to lead to losses for the full year, despite its productivity improvements. "Our priorities remain the provisions of innovation and quality to our customers, increasing cost efficiencies as well as retaining the financial and operational flexibility for rapid adjustments within an uncertain business environment."
Revenue growth offset by cost increases
Aegean's revenue increased 10% in 1H2011 to EUR295.2 million on a 1% increase in passenger numbers, to 2.9 million. The strong revenue growth was a result of the airline's move into international markets and a general recovery in pricing conditions and fare increases to help offset the impact of higher fuel prices.
While the net result improved in the period, the airline's EBITDAR result fell 18% to EUR16.1 million. The EBITDAR result, rather than the net result, more accurately captures input cost and highlights the sharp increase in operating expenses in the period. The EBITDAR margin fell 1.9 ppts to 5.5% as a result of higher input costs.
Aegean Airlines revenue (EUR millions) and EBITDAR margin (RHS) 1H2007 to 1H2011
Expenses, as taken by top line revenue less EBITDAR, increased to EUR279.1 million, a 12.6% increase. Fuel costs increased 43% year-on-year to EUR81.8 million. Aegean said it achieved substantial cost efficiencies in the period as a result of its transition to an all-Airbus fleet. It now has 32 aircraft in it fleet.
Pax traffic up slightly on network changes
Passenger numbers were up 1% in the period to 2.9 million. The 1% increase in passenger numbers resulted in a 10% increase in revenue, which reflects Aegean's aggressive move into higher-revenue generating international markets.
Aegean Airlines domestic, international and total passenger numbers, and share (%) of total traffic, 1H2009-1H2011
Aegean's central strategy, a prudent one in light of local economic conditions, has been to expand into short-haul international markets, Greece's largest source of business and tourism traffic. Aegean has been diversifying away from the troubled Greek market, where domestic passenger traffic has been in decline for almost 18 months, although the year-on-year falls in the domestic travel market are slowing. Traffic still remains below 2009 levels, however. As a percentage of overall seat capacity, Aegean now has far less exposure to the domestic Greek market than one-time merger partner Olympic Air, which has re-focused on domestic and regional markets.
Aegean operates 35 international and 24 domestic scheduled routes, excluding a large number of international routes served by its charter operations.
While Olympic and Aegean offer the same amount of domestic seats, as a proportion of total capacity, Aegean's exposure to the Greek market is far below Olympic's.
Greece domestic capacity, seats per week 29-Aug-2011 to 04-Sep-2011
Aegean is the single largest international carrier operating in the Greek market.
Greece international capacity, seats per week 29-Aug-2011 to 04-Sep-2011
Forty-seven percent of Aegean's capacity is deployed to international markets, while the same figure for Olympic is 17%.
Aegean Airlines international vs. domestic capacity, 22-Aug-2011 to 28-Aug-2011
Olympic Air international vs. domestic capacity, 22-Aug-2011 to 28-Aug-2011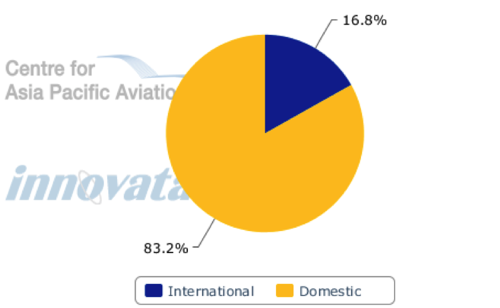 Aegean and Olympic, one-time merger partners, have pursued diverging strategies since the European Commission rejected their merger application in Jan-2011. Aegean focuses on the short-haul international market and Olympic focuses on the regional Balkan and domestic markets. The two airlines' networks could be described as complimentary, and furthermore they codeshare on the vast majority of their domestic services and compete directly on only two international routes (Istanbul Ataturk and Larnaca). In Mar-2011, Aegean acquired four slots at London Heathrow and Paris CDG from Olympic. Olympic codeshares on both services.
Aegean, which became a member of the Star Alliance in Jun-2010, has also been boosting its international offering by launching and expanding codeshare agreements with other Star partners. The airline has codeshare agreements with bmi, Brussels Airlines, Continental Airlines, Lufthansa, SAS, Spanair, TAP Portugal and US Airways. It does not co-operate with nearby Star member Turkish Airlines. Aegean's short-term strategy will be to grow major inbound tourist markets such as the UK, France, Italy, Spain, Russia and Israel.
Full-year loss expected
Mr Gerogiannis reiterated his forecast of a full-year loss, despite the airline's productivity improvements, saying "the environment continues to be particularly challenging, with the recession in Greece and higher fuel costs leading to losses."
While Aegean's short-term outlook is weak, the story is the same across Europe and Aegean's performance is solid in light of economic conditions in its home market. Despite the ongoing crisis in Greece, the company has narrowed its losses, improved productivity and load factors, increased revenue and operating cash flow. It had EUR205 million on the balance sheet at the end of Jun-2011, which "ensures the company's capacity to operate seamlessly in this challenging environment."
In line with seasonal trends, Aegean reported a strong second quarter, its first whole quarter following the European Commission's merger rejection. After changing tack, revenue was up 24% year-on-year in 2Q, with passenger numbers up 15%, led by international passengers, which increased 29%. Average passenger numbers per flight increased 10% to 110. Aegean is trending in the right direction in the vast majority of metrics, but a weak spot for the airline remains average load factors. At 64.6% (1H2011), Aegean's loads are among the weakest in Europe. While Aegean's loads have been approximately this level for the past five years, the airline's aim of achieving profitability, combined with stagnant economic conditions across much of Europe and high fuel prices, should bring this issue to the fore.
APPENDIX:
1H2011 highlights