Outlook of Jetstar Pacific uncertain with possible Vietnam Airlines stake
The future of Jetstar Pacific, the Vietnamese low-cost subsidiary of the Qantas Group, is uncertain following various reports state-owned Vietnam Airlines may takeover the 70% local shareholding from other state-owned companies, Saigontourist and the State Capital Investment Corporation. Vietnam Airlines already has dealings with the Qantas Group by way of a codeshare on flights between Australia and Vietnam.
While the transfer, if it proceeds in the medium- or long-term, may appear to be a paperwork exercise, it could change Vietnam's emerging low-cost carrier market, which at 18.6% has one of the lowest domestic penetration rates in Asia and the world. It is an evolving story we have been following, and one that shifted when Vietnam Airlines announced its intention to launch its own LCC unit by 2014, as we reported last month.
With Vietnam Airlines planning its own LCC and potentially acquiring a majority stake in Jetstar Pacific, two scenarios emerge.
The first is that Jetstar Pacific becomes Vietnam Airlines' LCC, removing the launch legwork and also enabling Vietnam Airlines to have a LCC much earlier than its hoped 2014 timeframe. It is not clear if Vietnam Airlines would let the Jetstar brand continue to operate or if a re-branding would be in order.
Jetstar and the Vietnamese government have clashed over a local airline using a foreign brand, with the government's reckoning apparently that a foreign brand could disadvantage Vietnam Airlines. Earlier this month AirAsia pulled out of its planned joint-venture with VietJet to establish AirAsia Vietnam since there was no approval for the carrier to use the AirAsia brand. VietJet may now proceed to launch without AirAsia.
Both AirAsia and Jetstar are pursuing pan-Asian networks with subsidiaries in multiple countries. A unified brand is critical for the groups to build awareness. The Vietnamese government may, however, allow Jetstar Pacific to keep the Jetstar brand in order to placate the Qantas Group, who has had an antagonistic response from the government.
The second scenario is that Jetstar Pacific remains in operation and becomes complemented with a LCC from Vietnam Airlines. Such strategy was most recently in play in Japan where the country's All Nippon Airlines agreed in Jul-2011 to be the local partner with AirAsia for an AirAsia Japan venture after previously committing to launching its own LCC, Peach. As with ANA, the reckoning at Vietnam Airlines may be to fill the market with your own LCCs – even if there is overlap – than leave a void a competitor could take advantage of. Here too the outlook of the Jetstar brand is not clear.
In either scenarios it is not clear if a closer link to the government will increase bureaucracy – major decisions of companies with a government stake are reviewed by the government – or potentially reduce it if the government feels Vietnam Airlines has a tight grasp on Jetstar Pacific's operation.
Jetstar helped tiny Pacific Airlines, which only operated four B737-400s, adopt the LCC model. That transition was capped in 2007 with the re-branding to Jetstar Pacific. Although Jetstar at the time envisioned a sizeable number of A320s operating domestically within and internationally from Vietnam, its growth stalled as the Vietnamese government investigated fuel hedging loses – which included the high-profile move of prohibiting Australian management from leaving the country. Jetstar Pacific's fleet today consists of the four B737-400s and two A320s, all operating only on domestic routes.
Jetstar Pacific's seven domestic routes by capacity (seats per week for 24-Oct-2011 to 30-Oct-2011)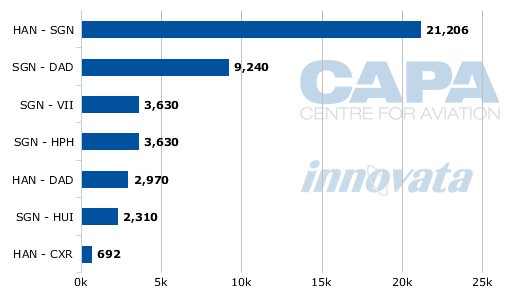 The carrier now plans to have an all-A320 fleet of ten aircraft by the end of 2013, which will help reduce costs. Initial international routes are expected to be to China.
Jetstar Group CEO Bruce Buchanan previously told CAPA that Vietnam "is a rapidly growing market" which should be able to absorb additional capacity as Vietnam's middle class expands. "There's huge growth."
Vietnam total domestic seats (millions): 2001 to 2010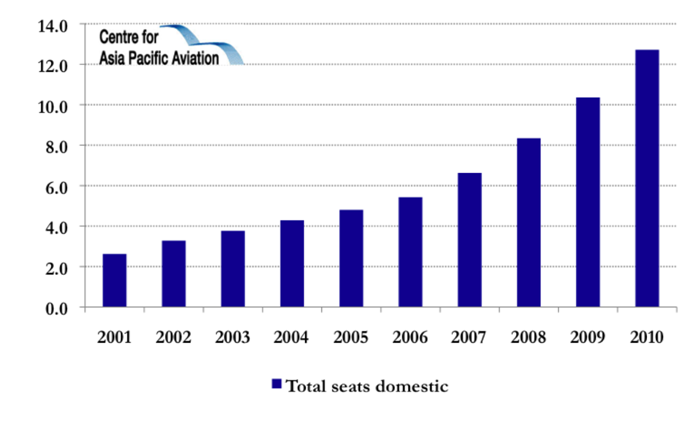 He also acknowledge the growing pains Jetstar Pacific has undergone. "The Vietnamese market is tightly controlled. It's not an easy market to succeed in. It's taken a number of years to get our business to where we are now. I think it's got very strong, bright prospects," he says. "There's a great opportunity there but it's a long road."
Read more: Vietnam's LCC market poised for explosive growth
At the same time Mr Buchanan said conditions were improving within the Vietnamese air market, partially thanks to the government's decision earlier this year to de-regulate fare caps, creating more room for growth.
Whether these conditions are still existent and if they will have a positive outcome for Jetstar Pacific if Vietnam Airlines takes a stake remains to be seen in the country's nascent market.