WestJet's 767 operational problems cloud a significant low cost long haul revenue opportunity
Analysis
The operational challenges Canadian low cost airline WestJet has encountered in its launch of widebody flights to London has done little to quell investor concern about the carrier's ability to execute low cost long haul flights successfully. Mechanical problems with the Boeing 767s have triggered cancellations and operational challenges, which has created passenger frustration, and resulted in reaccommodation and other expenses that are not insignificant.

WestJet has been working to smooth out the operational teething pains of the twin aisle jets, and is assuring that the hiccups are temporary. However, the less than ideal launch could call into question WestJet's ability to spread the low cost model and stimulate traffic from Canada in the North Atlantic market. The company is attracting a higher level of scrutiny since it is the first LCC based in North America to attempt to spread the model on long haul flights.
Despite the shaky launch of its long haul flights with widebodies, WestJet cannot ignore long-term opportunities presented by the long haul market from Canada – with a value in the billions. WestJet can ill-afford to cede all the revenue to rival Air Canada and non-Canadian airlines operating on trans-Atlantic routes. In the short term the airline finds itself in a position of now attempting to engender passenger confidence that its operational snafus are temporary, and its product proposition remains intact.
Investors had some trepidation about WestJet's long haul experiment prior to launch
Approximately a year ago WestJet outlined plans to launch service to London Gatwick from multiple Canadian cities – St John's, Toronto, Winnipeg, Edmonton, Calgary and Vancouver. WestJet opted to make the transition to four Boeing 767 widebody flights after operating narrowbody jets on one-stop service to Dublin and Glasgow for a couple of years.

WestJet is projecting 7% to 10% system capacity growth in 2016 with roughly 6ppt attributed to the 767 operations. The airline launched its Gatwick service in May-2016. Data from CAPA and OAG for the week of 18-Jul-2016 to 24-Jul-2016 show the UK represents 11% of WestJet's international seats.
WestJet international capacity (% of seats): by country: 18-Jul-2016 to 24-Jul-2016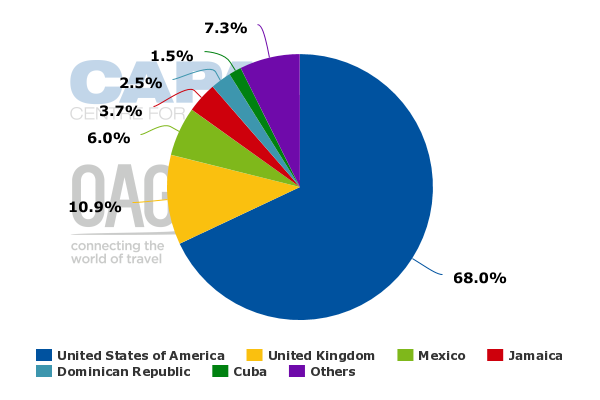 Approximately 28% of WestJet's ASM's are dedicated to long haul flights to the UK.
WestJet internatonal capacity (% of ASMs): by country: 18-Jul-2016 to 24-Jul-2016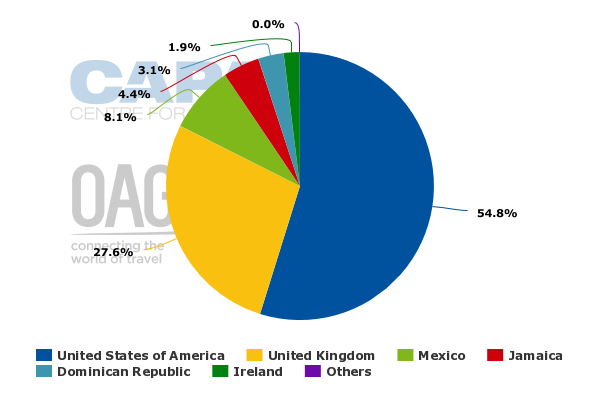 Even before the less than ideal launch of its Gatwick flights, in late 2015 WestJet encountered some pushback from analysts and investors who questioned the timing of the launch. WestJet has experienced yield and unit revenue pressure driven by weakness in the province of Alberta, which has experienced softened demand due to a depressed oil and gas sector. Additionally, Canada's GDP is forecast to grow less than 2% in 2016, which further fuelled concern about taking a risk with long haul flights.

See related report: WestJet pushes ahead with its widebody evolution as its stock valuation has fallen by half

WestJet's counter-argument has been that the 767s allowed the company to conduct a low-risk long haul experiment, given the lower levels of capital expenditures required for the aircraft, and current fuel prices making fuel efficiency less of an issue.
WestJet tries to get on top of maintenance headaches created by older Boeing 767s
The used 767s that WestJet is operating on flights to London – which were previously operated by Qantas – have an average age of 24 years. During the first months in service the aircraft's age proved challenging for WestJet. Widespread reports have cited maintenance issues with the aircraft that triggered flight delays and cancellations.
WestJet average fleet age as of 19-Jul-2016
Indeed, in an employee video airing in mid-Jun-2016 WestJet CEO Gregg Saretsky characterised the 767 flights as a hobbled operation, and admitted that the aircraft had been creating grief and mechanical problems for the airline.

The news outlet CBC news reported that WestJet had hired Omni Air International to operate services when the 767s needed repairs. In the internal video Mr Saretsky stated that from 19-Jun-2016 to 5-Jul-2016 WestJet was assigning an entire line of flying to Omni, so as to rotate the 767s out of service into proactive maintenance, including conducting more checks on the aircraft.
Amid a shaky 767 launch, WestJet offers an improved 2Q2016 unit revenue forecast
As WestJet works to improve the maintenance reliability of the 767s it has encountered some unexpected expense. This is driven by the hiring of Omni and the compensation of EUR600 (USD661) that airlines are required to pay passengers under European law for flights originating in Europe that are delayed more than three hours.

Some teething pains with the operation of an older aircraft type are to be expected; WestJet's fleet is limited to Boeing narrowbodies on the mainline and Bombardier Q400 turboprops operated by its regional subsidiary Encore.
WestJet mainline fleet summary as of 20-Jul-2016
WestJet Encore fleet summary as of 20-Jul-2016
Even so, the operationally challenged operation likely has some investors worried about WestJet's ability to execute its long haul strategy. Passenger dissatisfaction manifests quickly in the age of social media, and the negative publicity could make potential passengers think twice before booking a flight with WestJet - with an impact on pricing.

Potential investor trepidation may be alleviated as WestJet recently declared that its projected unit revenue decline for 2Q2016 will not run as deep as originally forecast.
The company now expects a decrease of 5.5% to 6% versus previous projections of a drop of 7.5% to 9.5%. WestJet attributed the better than expected performance to higher than anticipated 2Q2016 load factors.
WestJet's unit revenues include both passenger and non-ticket revenues, which have been growing rapidly – increasing 7% per passenger in 1Q2016. But the airline's yields are still likely to fall in 2Q2016, given the pricing pressure that has occurred in the Canadian market.

The better than expected unit revenue forecast offered by WestJet seems to be helping to keep the airline's stock valuation steady. Its share price in mid-Jul-2016 was trending at approximately USD22, which is higher than the trough of USD15 in mid Feb-2016.
Westjet share price: mid-Jul-2015 to mid-Jul-2016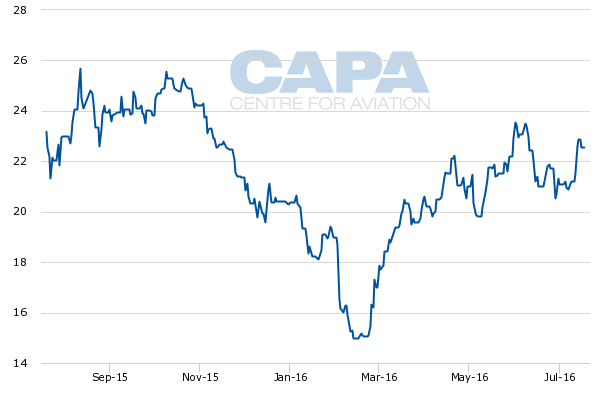 Despite the operational hiccups, WestJet cannot walk away from the long haul opportunity
Even with the improved unit revenue forecast, investors may still be wondering if WestJet is attempting to make significant changes to its business too rapidly by adding long haul flights to its network. But the reality is that WestJet cannot walk away from the revenue opportunity presented by long haul flights. The company has valued the Canadian long haul market at CAD10 billion (USD7.7 billion).
WestJet executives have cited the "tremendous profits" enjoyed on services to London by the markets leaders – Air Canada and British Airways. Those two airlines represent 63% of the seats available between Canada and the UK.
Canada to United Kingdom: seats per week, one way, 20-Jul-2015 and 18-Jul-2016
Airline

Seats

week of 20-Jul-2015

Week of 20-Jul-2015

percentage share

Week of 18-Jul-2016 seats

Week of 18-Jul-2016

percentage share

Air Canada
24,181 seats
50.17%
25,256 seats (4.45%)
46.26%
Air Transat
12,087 seats
25.08%
12,369 seats (2.33%)
22.66%
British Airways
10,976 seats
22.77%
9,562 seats (-12.88%)
17.52%
WestJet
952 seats
1.98%
7,406 seats (677.94%)
13.57%
Total
48,196 seats
100%
54,593 seats (13.27%)
100%
WestJet is part of Canada's long-standing airline duopoly, and unlike airlines in the US where there are numerous long haul players it cannot sit out of the long haul market indefinitely and leave a significant amount of potential revenue on the table.

However, the airline now needs to work diligently to combat a negative image of unreliability on its long haul flights. WestJet has outlined an opportunity to stimulate traffic on its routes to London Gatwick with lower fares. In order for it to achieve maximum traffic stimulation, its passengers need to feel confident about operational integrity – arriving and departing on time, and no missed connections.
WestJet needs to regroup and move on to exploit the LCC opportunity in the trans-Atlantic
WestJet's operational mishaps with the launch of widebody flights are unfortunate, given concern by investors over the airline's undertaking of long haul expansion. It seems the airline is working feverishly to improve the operational reliability of the aircraft, so to restore customer confidence in its low cost long haul operations.

But any calls for WestJet to reconsider long haul flights or jump quickly to order new widebodies are premature. The opportunity for WestJet to exploit low cost demand across the Atlantic outweighs any short term challenges the company faces.
If WestJet can recover quickly from its initial problems, then significant revenue opportunities are there for the taking.