WestJet takes a measured approach in crystallising its international widebody aspirations in 2015
WestJet's official declaration that it intends to start operating widebody aircraft in late 2015 is not surprising given the airline's commentary about acquiring twin-aisle jets has grown more robust throughout the past year.

However, within the span of two years WestJet is rapidly changing its business model: the introduction of both smaller 70-seat turboprops to compete in regional markets; and widebodies to go international, each adding new layers of complexity that requires absorption. But as with the shorter-haul regional market, WestJet has concluded that the opportunity in the long-haul space – nearly double the value of the transborder market – is too large to leave to its Air Canada competitor.

WestJet's crystallising of its widebody ambitions caps off a raft of changes in the Canadian domestic market as the country's incumbent airlines face potential pressure from upstart ultra low-cost carriers who believe Canada is ripe for the pay-for-frills model that exists in most other markets.
Widebody service is the latest step in WestJet's strategy to capture the corporate market
WestJet's decision to acquire four used widebody jets for routes from Alberta to Hawaii in late 2015 is a measured approach to entering longer-haul markets. An agreement between WestJet and Thomas Cook that entails the operation of two Boeing 757-200s from Calgary (to Honolulu and Maui) and Edmonton (to Maui) is ending, allowing WestJet to use the knowledge it has gained through the two-year old partnership with Thomas Cook to further test the waters in trans-oceanic operations.

The four aircraft joining WestJet's fleet during the next year are the precursor for a new widebody order in the medium term as the airline is no doubt studying both trans-Pacific and trans-Atlantic markets. It launched one-stop service from Toronto to Dublin in late Jun-2014 and claims the market is performing beyond expectations.

WestJet's migration to widebody aircraft may seem like the most drastic deviation from the low-cost model the airline adopted at its inception, but the reality is WestJet during the past few years has been driven to make its overall product proposition more robust for business travellers, while attempting to remain attractive to more cost-conscious customers.

In early 2013 WestJet estimated that it only represented 10% of the managed corporate share in Canada, and concluded its small penetration in that space represented a huge opportunity for the airline. Its strategy to enlarge that share includes the introduction of fare bundles, changes to its frequent flyer programme and increasing its schedule in the contested eastern triangle – Toronto, Montreal and Ottawa.
WestJet's evolution from a low cost to a hybrid airline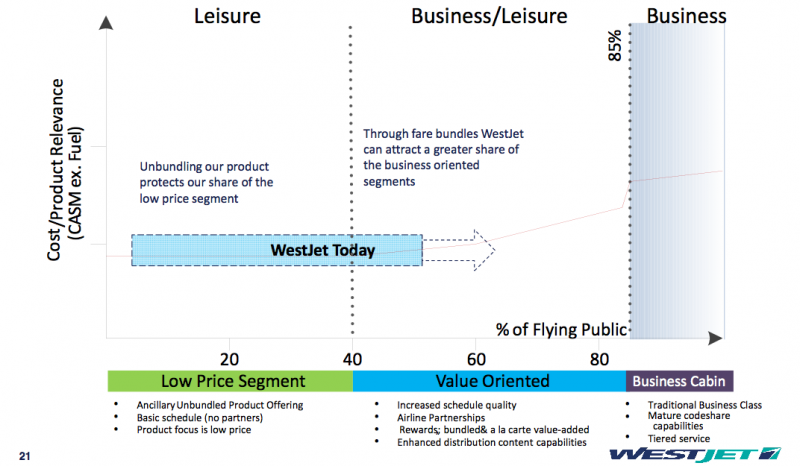 See related report: WestJet continues its hybrid evolution, watching costs as it weighs a potential widebody operation

WestJet's introduction of its new regional subsidiary Encore during 2013 was also driven in part by its desire to capture more corporate share as the smaller Q400 turboprops allow it to increase frequency on certain routes to improve schedules.
WestJet cannot walk away from a market it values at CAD10 billion
Given Canada's smaller population relative to the US (35 million Canadian residents compared with 319 million in the US), the country's domestic space is somewhat finite. Presently, Air Canada and WestJet combined represent roughly 98% of Canada's domestic ASKs – Air Canada represents a 59% share and WestJet accounts for a 39% share.
Canadian domestic capacity by carrier (% of ASKs): 7-Jul-2014 to 13-Jul-2014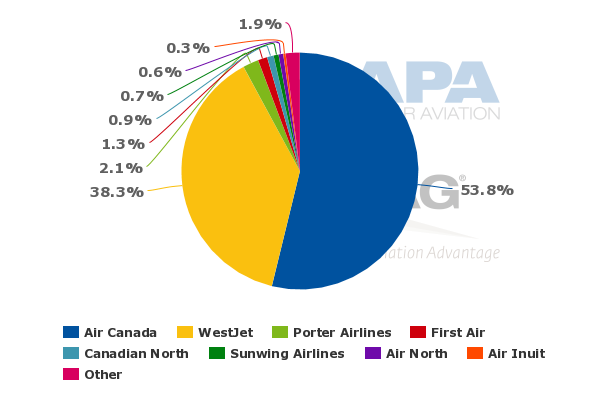 Now that WestJet is further capitalising on the domestic space with Encore, the airline has most of the domestic market covered in addition to the transborder market and routes to the Caribbean and Latin America.
Data in CAPA and OAG show that for the week of 7-Jul-2014 to 13-Jul-2014 nearly 31% of its ASKs are deployed in its international markets, which presently span the Americas.
WestJet international vs domestic capacity (% of ASKs): 8-Jul-2014 to 13-Jul-2014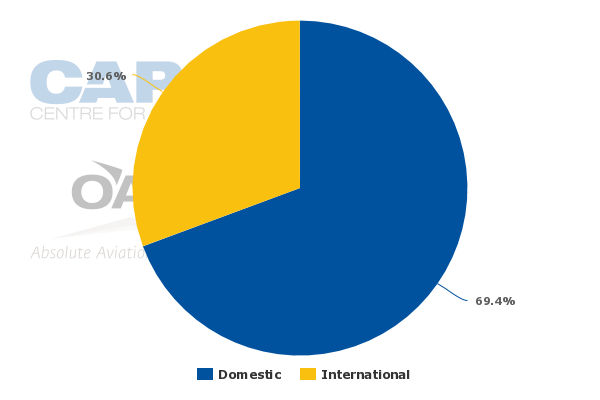 Entering the long-haul market is a natural progression for WestJet if the airline intends to broaden its scale and revenue.
With WestJet's solidified presence on shorter-haul international routes and the transborder market, coupled with the CAD10 billion value it places on a business space its presently does not occupy, the airline has determined it cannot walk away from the opportunity to try and capture some of that revenue.
WestJet's estimated value of each geography in the Canadian airline industry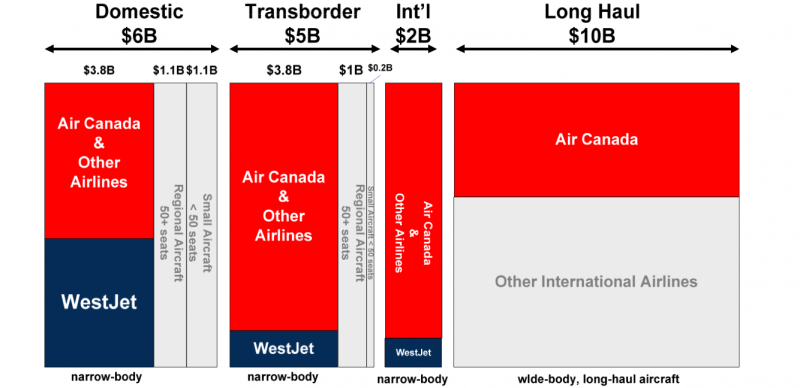 WestJet can leverage its partnerships in building a long-haul international network
Presumably WestJet intends eventually to operate widebody aircraft from its top bases of Toronto, Calgary and Vancouver in the trans-Atlantic and trans-Pacific markets.
WestJet top 10 hubs/bases/stations by seats: 8-Jul-2014 to 13-Jul-2014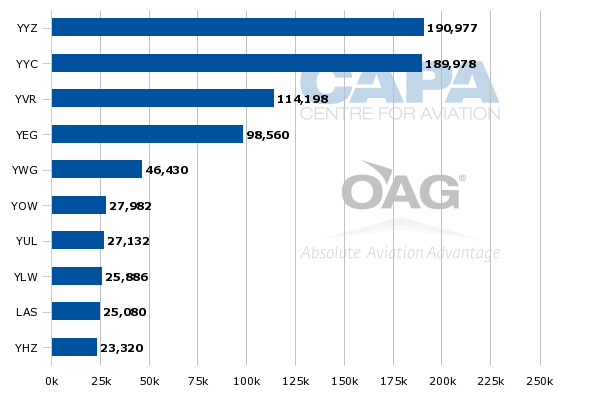 As the "neutral" Canadian domestic operator (where Air Canada is a Star Alliance member and connects mainly into Star partners), the airline has amassed numerous partnerships over the years. Expanding into the long-haul space may thus step on some toes, but equally could help WestJet deepen those partnerships as it can feed more passengers into the hubs of its partners for connections throughout the networks of airlines including British Airways, Air France-KLM, Cathay Pacific, China Airlines and China Southern.
Leveraging those partnerships could possibly allow WestJet to enjoy a faster spool-up period for its long-haul flights given some infrastructure is in place for the airline to market a broader network as it enters into long-haul markets.
WestJet codeshare and interline partners as of Jul-2014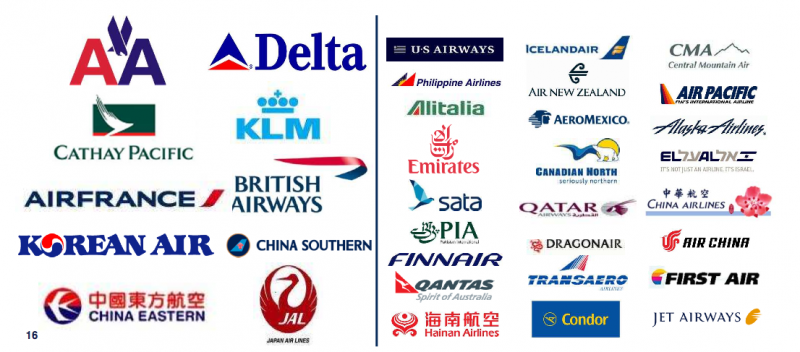 WestJet is likely to build in fleet flexibility with its widebody acquisition
There are substantial risks alongside the opportunities WestJet seeks to exploit by entering long-haul markets. The introduction of Encore has pressured the airline's unit costs and unit revenues during the past year and for CY2014 WestJet projects unit cost increases excluding fuel of 1.5% to 2.5%.
WestJet has refrained from offering unit revenue projections, but with capacity growth estimates of 5% to 6% it is not likely the airline is going to see a huge jump in unit revenues, which were essentially flat during 1Q2014.

See related reports:
The airline did recently achieve investment-grade status, which should help it attain favourable rates on the used widebodies it plans to acquire. WestJet will most likely lease those aircraft to ensure that it keeps some level of fleet flexibility if its widebody experiment does not perform to expectations.
Beginning in 2015 and continuing through 2023 WestJet will have a certain number of leased aircraft up for extension, which allows for some flexibility with its capacity if demand wanes. By 2023 roughly 27% of WestJet's 737 fleet will eligible for lease extensions.
WestJet narrowbody fleet projections and lease extensions: CY2014 to CY2023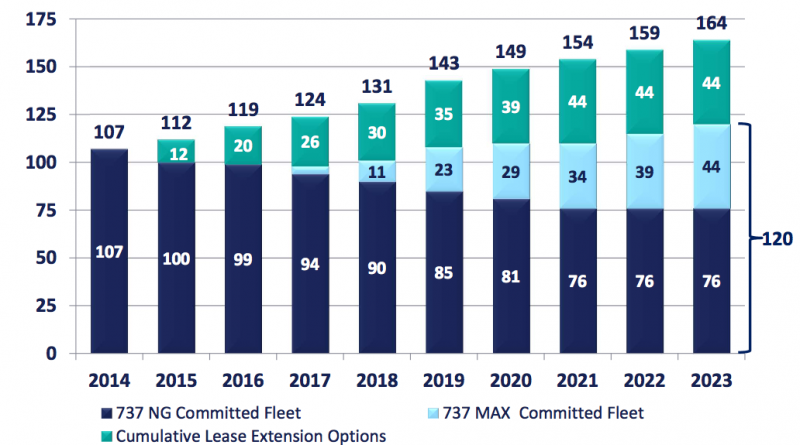 WestJet aims for the long-haul as wanna-be ULCCs spring up in Canada
WestJet has publicly dismissed any potential threat from two Canadian upstarts that aim to operate an ultra low-cost model in Canada, but in reality both it and Air Canada will be watching for the slightest signs of consumer response if either or both of the proposed airlines take off. WestJet co-founder Tim Morgan is heading one of the fledging carriers, Jet Naked, so he comes with a strong LCC pedigree and a significant understanding of the Canadian market.

Canada Jetlines declared its ULCC aspirations for Canada in late 2013. A recent report in Canadian news outlet National Post indicated that Jetlines has completed a reverse takeover agreement with Inovent to raise CAD10 million (USD9.4 million) and list on TSX's Venture Exchange. Jetlines' executives estimated a capital requirement of CAD40 million (USD37.4 million) at launch and indicated that CAD1 million (USD936,600) has been raised. With a targeted launch now slipping into 2015, Jetlines has its work cut out to raise the necessary funding, and the reverse takeover may indicate tough conditions for convincing investors that the ULCC model can be successfully replicated in Canada.

See related report: Jet Naked. Another ULCC for Canada – how will Air Canada and WestJet respond?

If either of these two airlines is successful in actually launching operations, it means WestJet will have to dedicate a portion of its energy to preserving its original niche – the price sensitive traveller looking for value at a reasonable cost. Jetlines argues Air Canada and WestJet have made a dive to the middle – Air Canada with its low-cost subsidiary rouge and WestJet with its hybridisation – in the process creating passenger confusion over their respective products.

WestJet no doubt believes in the power of its brand as it works to ensure the proposed upstarts do not siphon off passengers at a time when the airline undergoes a cycle of massive change. Any shift of competitive dynamics in the small Canadian market place creates an immediate effect for the incumbent airlines.
WestJet's odds of international success seem high as Air Canada braces for a new long-haul threat
WestJet's evolution into a hybrid airline has no doubt picked up steam during the past couple of years. Alongside the challenges in lifting unit revenues and lowering cost, WestJet has also encountered some labour strife as unionisation drives have occurred within the airlines pilot and flight attendant groups.

The airline's launch of Encore can be deemed a success, and should reach a certain level of maturity and revenue contribution by the time WestJet launches long-haul service.
Given the relatively smooth introduction of the Q400s, WestJet's management of the transition so far suggests it can also achieve success in its long-haul operations, creating a new level of pressure for its familiar rival Air Canada.