WestJet continues attempts to recoup its revenue slide as new international service debuts
Analysis
In a role reversal that has transpired during the past year, WestJet finds itself staving off cost creep while its major rival Air Canada continues to enjoy benefits of its cost cutting initiatives driven largely by adding seats to aircraft to operate more high-density jets.

But in addition to rising unit costs, WestJet also faces some unit revenue pressure as the roll-out of its new subsidiary Encore continues to weigh down the airline's unit revenue performance. Even as the airline believes that positive unit revenue trends will continue, it is refraining from offering specific guidance on its unit revenue performance for CY2014.

WestJet's restraint in supplying unit revenue guidance could be an indication of its expectations that growth in that metric during 2014 could be scant. For the moment it seems the Canadian domestic market is absorbing the capacity additions by Air Canada and WestJet; but whether long-term pricing traction is achievable remains uncertain.
Both WestJet and Air Canada post solid traffic results for the first five months of 2014
For the five months ending May-2014 WestJet and Air Canada increased their system-wide capacity by 7% and 5.4%, respectively. Air Canada's domestic ASKs grew by 3.6% during that time while WestJet has previously projected a 4% to 4.5% rise in its domestic supply during 2Q2014.
WestJet load factor, ASM and RPM growth: Jan-2014 to May-2014

See related reports:

WestJet's traffic from Jan-2014 to May-2014 grew 6%, which was slightly below its capacity growth. But its load factor fell almost 1ppt year-on-year to 82%. Air Canada recorded 5.6% traffic growth for the same time period, which was also a notch higher than its capacity expansion. However, its load factor increased 1ppt from 81% to nearly 82%.

The results are encouraging from both airlines; but those solid figures do not necessarily translate into huge revenue gains for CY2014.
WestJet's cost headwinds grow as Air Canada enjoys favourable cost declines
Both WestJet and Air Canada offered favourable commentary regarding demand at the end of 1Q2014 for 2Q2014. The bulk of WestJet's domestic capacity increases are driven by continued expansion by Encore, which is projected to operate 100 daily departures to 18 destinations by the end of Aug-2014. The latest additions include Encore's debut in eastern Canada with service from Toronto to Thunder Bay and Winnipeg. Encore's fleet projections are 25 70-seat Bombardier Q400 aircraft in operation by YE2015.
Projected route network of WestJet Encore: Aug-2014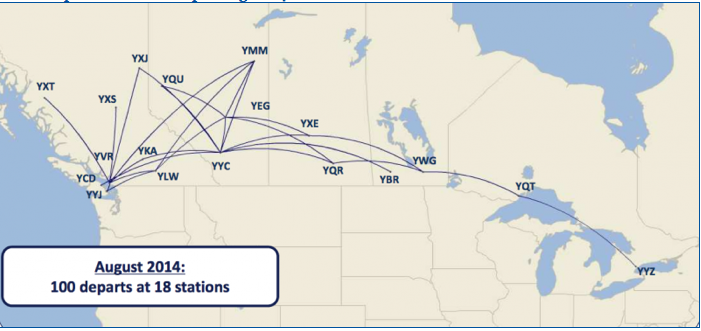 See related report: WestJet attains investment-grade as it faces near-term cost creep

The continued roll-out of Encore and the airline's short-haul operations are creating near-term cost pressure for WestJet. Encore's expansion along with pressure created by the depreciation of the CAD against the USD triggered an upwards revision by WestJet of its CY2014 unit costs excluding fuel to 1.5% to 2.5% compared with previous estimates of flat to 1% growth.

In contrast, Air Canada expects its unit costs in CY2014 to fall 3% to 4% as its new low-cost subsidiary rouge marks a full year of operations, and it reaps cost benefits from the operation of five higher-density Boeing 777s on long-haul routes that tilt towards more leisure travellers.
It is likely WestJet will not post a huge revenue rebound anytime soon
Accompanying Air Canada's cost declines in the last year is flattish growth in yields and unit revenues as the cost benefits of long-haul flying do produce some revenue dilution. WestJet has recently stated that even as Encore creates pricing pressure, its subsidiary does make a positive revenue contribution. Previously, WestJet has estimated that roughly 50% to 60% of Encore's passengers connect onto mainline flights, which does create some overall revenue benefit for WestJet.

But the scope of that benefit remains unclear, and arguably, for the time being Encore's revenue benefits are not at their full potential. During 1Q2014 WestJet's yields rebounded with 1.2% growth year-on-year after falling 0.4% in CY2013. Its unit revenues dropped 0.2% in 1Q2014, which was an improvement from the 1.6% decline recorded in CY2013.

WestJet has only concluded that its improving revenue trends will continue, which leaves much room for interpretation. But it is unlikely the airline will record a huge jump in unit revenues or yields given that the expectation is the Canadian dollar will trade at CAD1.10 to USD1.00 throughout 2014. WestJet also faces continued pressure from Encore as the regional carrier enters more contested markets in eastern Canada. Both Air Canada and WestJet mainline operate service from Toronto Pearson to Thunder Bay and Winnipeg, and Porter offers flights from Toronto Billy Bishop to Thunder Bay.

Airlines operating in eastern Canada have had difficulty with pricing traction over the past year, reflected in Air Canada's 3.5% decline in yields on its domestic routes in 1Q2014. Given all those dynamics, it is unlikely WestJet's yields will make a robust recovery in CY2014, and the trend of overall slowing top-line passenger unit revenue growth will continue. In CY2011 WestJet recorded approximately 16.7% growth in passenger operating revenues. In CY2013 its passenger revenue growth fell to 6.5%, reflecting the start-up headwinds created by Encore. The airline recorded an even sharper decline in its operating income from 46.5% growth in CY2012 to a 6.3% increase in CY2013.
WestJet annual operating revenue (Passenger): CY2011 to CY2013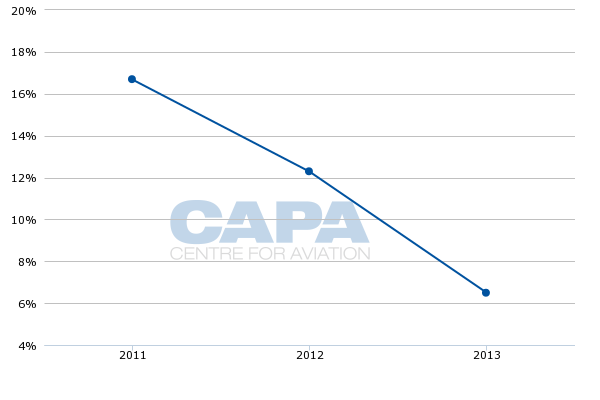 WestJet annual operating profit (loss): CY2011 to CY2013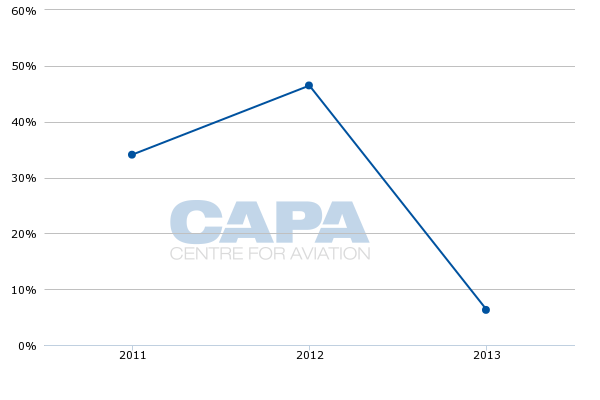 WestJet and Air Canada both face pressure in striking the right cost-revenue balance
WestJet cannot be criticised too harshly for the decline in top-line passenger and unit revenues during the past year given the numerous projects it has underway to further its evolution from a pure low-cost carrier to a hybrid airline, including the establishment and launch of Encore, the creation and introduction of a premium economy cabin segment and the launch of fare bundles. It caps off a raft of new initiatives in Jun-2014 with the launch of its first long-haul international flights from Toronto to Dublin via St John's.

All of those initiatives should create long-term revenue gains for WestJet. But in the short term it is not clear that WestJet or its rival Air Canada will enjoy a huge revenue boost from the solid demand patterns within Canada; but neither airline at the moment has any plans to curtail capacity growth – 5% to 6% for WestJet and 6.5% to 8% for Air Canada as the airlines feel their supply is being absorbed by the market place.

It is the market place where the two largest players each appear to be laying the foundation for a sustainable future. But the challenges at hand for each airline – essentially achieving the optimal balance between cost and revenue – could linger for quite some time.